If you find yourself Googling "where's the best corn maze near me?", you're going to love our list of local corn mazes!
We rounded up all the Cincinnati corn mazes we could find and created a handy list for you. From kid-friendly to tougher adult corn mazes, our area family-owned farms will be happy to have you enjoy a bit of outdoor fun with them this season!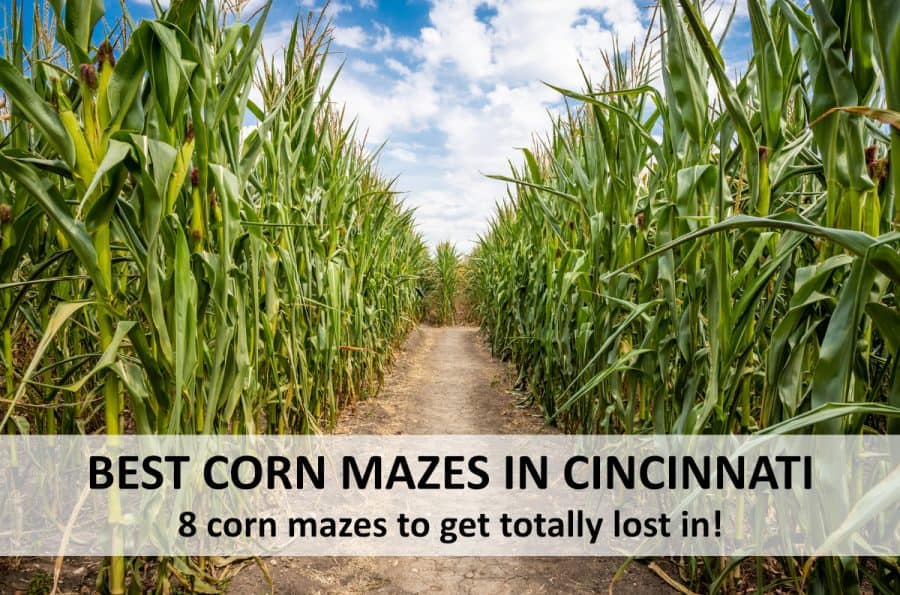 Use our corn maze list to plan your fall fun for 2022. And if you're looking for more fall fun, don't miss our list of pumpkin patches, fall festivals, and haunted houses.
Corn Mazes in the Cincinnati area
This is a sponsored section.
Fall on the Farm at Blooms and Berries Farm Market
9669 S. OH-48 Loveland, OH 45140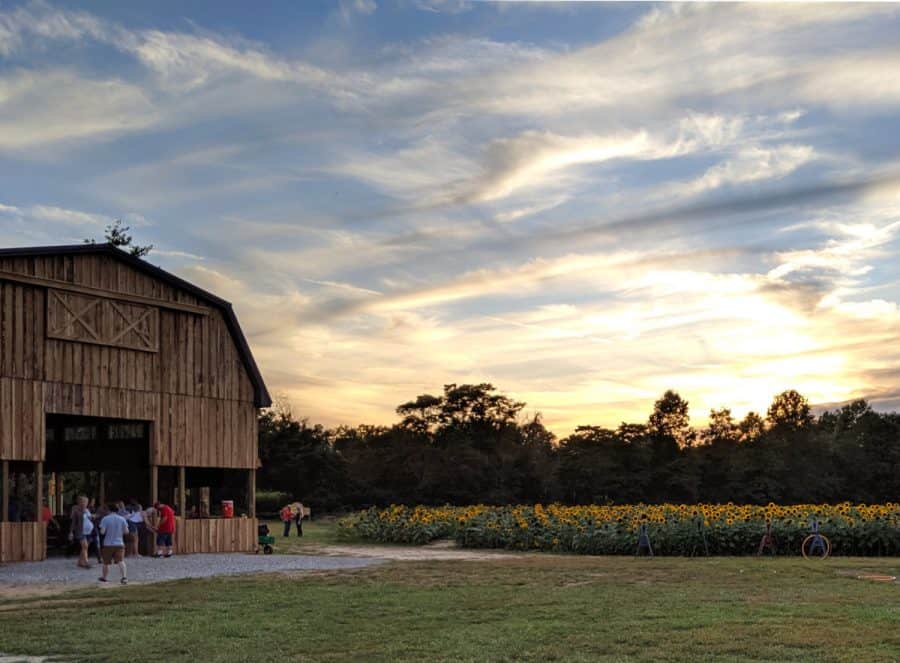 Fall on the Farm at Blooms and Berries Farm Market is one of our favorite fall outings – one we make sure to do each year. They have corn mazes, pumpkins, hayrides, sunflowers, a beer garden, a market barn, and more.
Take your pick of two corn mazes at this farm – a traditional corn maze (5 acres) and one just for the littles.
This year's corn maze, "Barnyard Escape", is all about some of the favorite things around the farm – animals! Be sure to watch for the games stations as you make your way through the field.

Open: Sept. 17 – October 31, 2022

Enjoy Fall on the Farm at Blooms and Berries Farm Market
(513) 697-9173
Brown's Family Farm Market
Brown's will have their corn maze again this year. Head out to get some fresh farm air and while you're there, be sure to check out the hayrides, the Barrel Train, corn maze, all play areas, and farm animals, picnic areas and food trucks (weekends only)

The fall activities and play areas are open starting Sept 17/18th and going through end of October. Hayrides and Barrel Train typically run on all Saturdays and Sundays from 11-6, weather permitting. Their store and free play area is open every day, 9am-7pm.
Watch for updates on their Facebook page; 11620 Hamilton – Cleves Road, Hamilton, Ohio 45013
Burwinkel Farms
Burwinkel Farm offers two traditional corn mazes each year. During the whole month of October, this family farm offers a variety of activities including a skid maze (you can see the kids through it – great for the younger set), a Halloween scavenger hunt, a Red White and Blue maze, and weekend hayrides to their pumpkin patch and sunflower field (when in bloom). Don't miss this farm during their sunflower season!

Fall festival begins Sept. 24th, 2022 and will be open all the way through Halloween.

More info on the fall fun; 4359 Hamilton Cleves Road, Ross, OH 45013
Iron's Fruit Farm
The Corn Maze at Iron's Fruit Farm is cut into a 12 acre field of corn. Opening day for the maze is TBD at this time (as of 8-25-22).

Open for weekends, usually September and October

Irons Fruit Farm; 1640 Stubbs Mill Road, Lebanon, OH 45036
Niederman Family Farm Maze
Make some memories at Niederman Family Farm this year! Their 4 acre corn maze is included in the general admission ticket that will also include wagon rides, a jumping pillow, adult trikes, and more.
Open Thursday through Sunday, Sept. 23 – Oct. 30, 2022

Get more info on Fall Fun 2022 here; 5110 Lesourdsville West Chester Rd, Liberty Twp, OH 45011
Shaw Farms
Another fall favorite of ours is Shaw Farms. They have one of the biggest mazes around, coming in at 15 acres.
This year's maze will feature both an interactive GPS friendly online guide or use your game card. "Use your game card to find your way through our twisting maze and locate all of the destination spots. If you manage to find all six of the destinations head on out to receive a spooky pumpkin as a prize!"

Opens September 17, 2022; weekends only

Check out the details on Shaw Farms here; 1737 Ohio 131, Milford, Ohio 45150
Corn Mazes in Northern Kentucky
Country Pumpkins
Enjoy loads of fall fun with their 4 acre corn maze plus a kiddie corn maze. They offer free admission to the farm and that includes the kiddie corn maze (among other things). The traditional sized corn maze is $5 per person if you purchase it as an individual item. They also offer bundled packages that include multiple items.

Open September 10 – October 30, 2022.

The corn maze, cotton wagon, turbo slide, and Chunkin' Pumpkin at Country Pumpkins are all listed as open daily. Rides & U-Pick available Friday evenings and weekends only. Rides and Corn Maze are weather permitting.
Learn more about Country Pumpkins here; 1835 Sherman Mt. Zion Road, Dry Ridge, KY 41035
Kinman Farms Fall Fest Adventure
Fall Fest Adventure includes a hayride, bonfires, games, The Great Pumpkin Express Rides, 5 acre Corn Maze, Kinman's Carnival Tent, live music, tricycle ride for the little ones, and lazer tag!
Open: 2022 are still TBA (activities are typically available Friday – Sunday; farm store is open during the week too).
Find more info about Kinman Farms here; 4175 Burlington Pike, Burlington, KY 41005
Neltner's Farm
Admission at Neltner's includes horse drawn wagon rides and the 3+ acre corn maze. They also offer a Toddler Corn Maze for those tiny ones that might be overwhelmed by the big one. In addition to the above, you will also gain access to their model train display, a petting zoo, wine tasting, home-cooked food, farm stand with all of your fall item needs, plus acres to roam.

Open: weekends, Sept 23 through October 31, 2022. They are also open weekdays but with limited offerings – see site for full details.

More info on fall at Neltner's Farm; 6922 Four Mile Rd, Melbourne, Ky, 41059
Corn Mazes North of Cincinnati
Apple Country Farm Market
This family owned and operated farm has a 2022 corn maze that promises to be their "largest maze ever"! Details are still to come for 2022. They have a 9 acre traditional corn maze and a free mini straw maze for the kids.
Opens on September 18 and runs through October 30, 2022; Friday evening, Saturday, Sunday
Find out more about ACFM here; 2323 US-42, Spring Valley, OH 45370
Lucas Brothers Fall Festival
Celebrating their 6th year for Fall Fest, Lucas Bros Farm is located southeast of Dayton. They will have a children's corn maze (with sticker find) and a 6 acre corn maze.
Open September 24 – October 23, 2022; Friday evening, Saturday, Sunday
Learn more about Lucas Bros here; 3229 Ferry Rd., Bellbrook, OH 45305
Majestic Nursery and Gardens
Navigate through the 15 acre Amazing Maze at this farm that is located just west of Dayton. The maze includes a treasure hunt along the 3.5 miles of corn maze trails. See it all from atop their observation deck, located on a high knoll to provide a view of the entire corn maze and surrounding area.
Opens September 17 and goes thru October 30, 2022; weather permitting
Get all the details on Majestic Nursery and Gardens here; 2100 Preble County Line Rd., West Alexandria, Ohio 45381
Tom's Maze
It's the 25th year for a-maze-ing fun at Tom's Maze in Germantown (west of Dayton). While you're finding your way among the paths of this 8 acre corn maze, you'll be solving a puzzle to escape the maze. Your challenge will be to find 12 puzzle pieces located throughout the Maze at roadside mailboxes. The American flag flies proudly over the Victory Bridge which is the exit and your final goal. Maze workers are stationed at observation bridges to help you if you need assistance. They also have an orange path that will lead you to the exit if needed.
Open September 9 through October 30, 2022, Thursday thru Sunday; weather permitting
Find out all about Tom's Maze here; 4881 Germantown-Liberty Rd., Germantown, OH 45327