Make some Christmas memories with an Ohio holiday train ride! Whether it's a new holiday tradition or one you'll continue this year, Christmas train rides are a great way to celebrate the season with your family and friends.
From the Polar Express (TM) to a Santa train ride, you're sure for find some holiday fun near you! Plan ahead as many of these Christmas train rides fill up in advance.
All aboard for these Polar Express and Christmas Train Rides in Ohio
1. The Santa Christmas Train Rides with Hocking Valley Scenic Railway
The Santa Train is a 40+ year annual event that you'll want to make part of your Christmas traditions!
Two trains depart the historic Nelsonville Depot, traveling round-trip to East Logan and back.
Santa boards each train and visits with the children as the train makes its way through the Hocking River Valley.
Your kids will love being able to hand-deliver their list to Santa! Each heated coach is heated and decorated for the holiday season. Christmas music plays throughout the train and after Santa visits, the children get a special candy cane treat.

Santa Train Rides begin November 27 and continue each Friday, Saturday and Sunday through December 19, 2021. More information found here.
---
2. The Polar Express (TM) at The Dennison Depot
Dress up in your jammies and hop aboard The Polar Express (TM) at the Dennison Depot.
Your adventure begins on board one of their decorated vintage coaches as Storytellers read the story aloud. As the train heads north toward the North Pole, festive elves will entertain you with songs, games, and activities. As you travel to the North Pole enjoy a beverage and delicious cookies, specially made by Mrs. Claus just for you.
When the train arrives at the North Pole, you will see Santa and his workshop out your train window (passengers do not get off the train.) Your visit to the North Pole lasts long enough to pick up the most important person – Santa!
Once onboard, Santa will visit with children and gift them all with a special jingle bell taken from his reindeer's harness. When you hear the bell ring…you truly believe!
Tip: Book your Polar Express (TM) Train Ride tickets for Fridays at 6, Saturdays at 2 or 6, Sundays at 2 or 6 and you'll get to see the Elf Parade! Approximately 45 minutes before departure, the elves board the train and you can wave to them as they march by you!
You can even rent out an entire car for a very intimate Polar Express (TM) experience! When you rent a private car you have the additional opportunities to have Santa pass out gifts that you supply, minimal additional snacks, and the ability to seat your group as you like.
Book your 2021 Polar Express (TM) train rides for December 3 ,4, 5 and December 10,11, and 12. More information found here.
---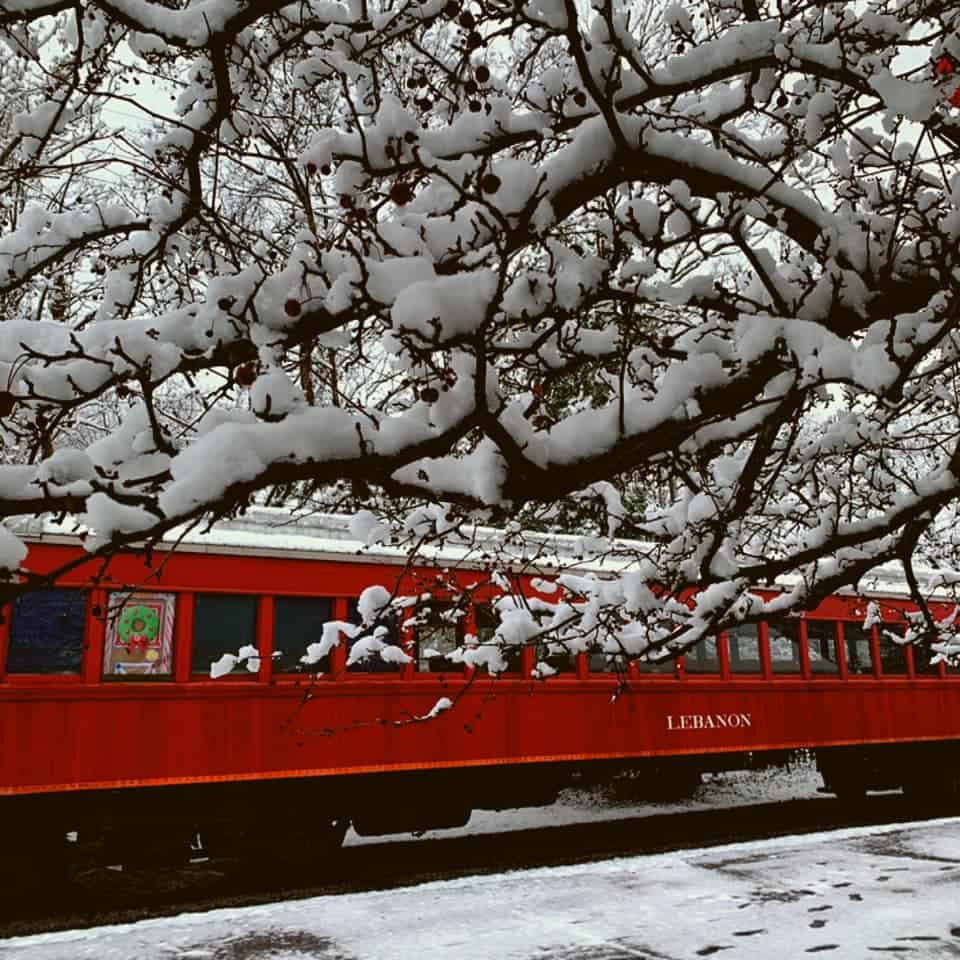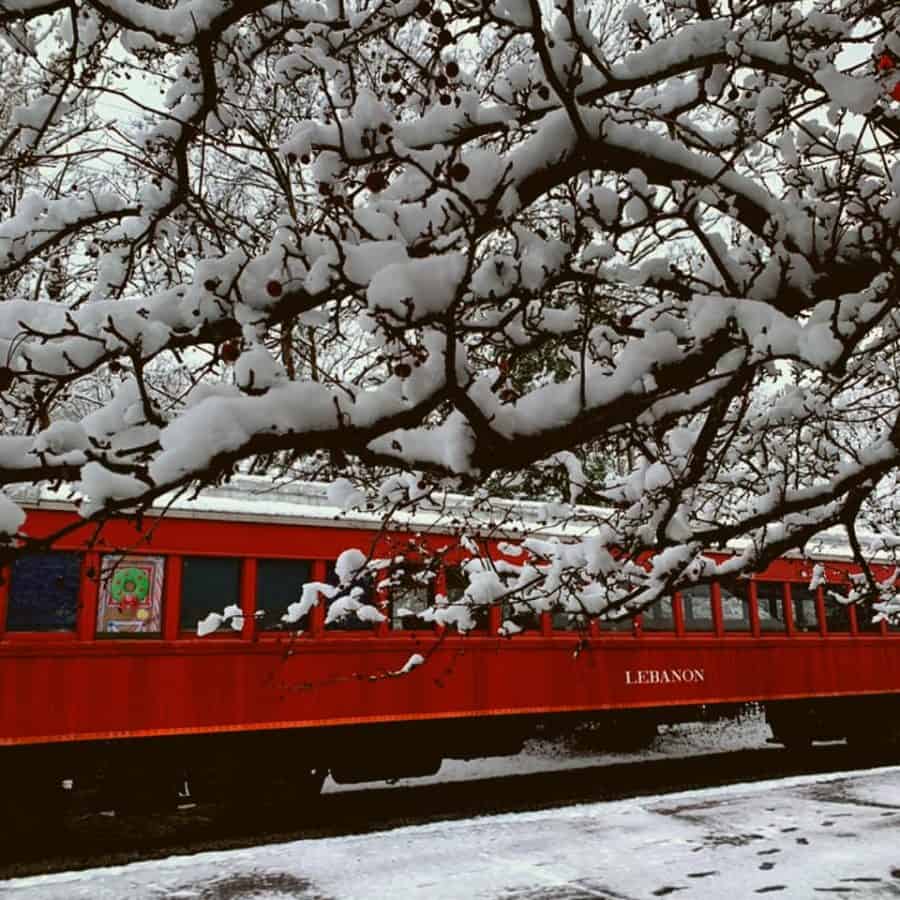 3. The North Pole Express from LM&M Railroad
Take a ride on the Holiday Express with LM&M Railroad. Sit in their jolly, festive rail cars and travel through Lebanon and cross over the Turtle Creek.
Passengers will spend time with Santa and his elves on this 75 minute decorated train ride. Each passenger will receive a souvenir bell and prepackaged cookie.
The Holiday Express train ride will be running on these 2021 dates:
November 19, 20, 21, 24, 27, 28.
December 3, 4, 5, 9, 10, 11, 12, 16, 17, 18, 19, 22, 23, 24, 26.
Advance ticket purchase required (online).
---
4. North Pole Express with Northwest Ohio Railroad Preservation
Hop aboard the North Pole Express in Findlay, Ohio. You'll enjoy quarter scale Christmas train rides along the track that's surrounded by festive lights and holiday decorations.
See delightful toy trains running in their beautifully decorated museum and train barn. Hundreds of decorated trees are inside and out, plus Santa and Mrs. Claus are there to visit on select nights.
The North Pole Express runs Friday-Sunday from Nov. 26, 2021 through January 2, 2022. More information can be found here.
---
5. The North Pole Adventure with the Cuyahoga Valley Scenic Railroad
Climb aboard and watch the magic unfold as you make the journey of the North Pole Adventure™.
Enjoy hot cocoa, cookies, and festivities as you navigate the sweeping curves of the Cuyahoga Valley and across the globe for the mighty journey to the North Pole to hand-deliver your letter to Santa to the North Pole's very own Postmaster.
The North Pole Adventure™ train will run from Friday, November 5 through Sunday, December 19, 2021. More information can be found here.
---
6. Letters to Santa at Ohio Railway Museum
Letters to Santa is a family friendly event for kids of all ages. And, let's face it, a visit with Santa might just be the treat we all need this year! Take a train ride on Ohio Public Service #64, a beautiful 1925 Interurban car. Kids can write their very own letter to Santa Claus and mail it in the museum's 1920 Railway Post Office Car. Get creative when you make your own Christmas crafts and ornaments in one of the museum's train cars. As one of the oldest railroad museums in America, they have various trains on display – tour the cab of the Norfolk & Western #578 steam locomotive, Union Pacific #163 cab, and the CSX 'Love Shack' caboose.

2021 events have not been listed yet. More information found here.
---
Here's a quick run down of Christmas Train Rides in Ohio (in random order):
1. The Santa Christmas Train Rides with Hocking Valley Scenic Railway
2. The Polar Express (TM) at The Dennison Depot
3. The North Pole Express from LM&M Railroad
4. North Pole Express with Northwest Ohio Railroad Preservation
5. North Pole Adventure™Train Ride with the Cuyahoga Valley Scenic Railroad
6. Letters to Santa at Ohio Railway Museum