Did you know Ohio is home to the country's largest outdoor/indoor flea market? And it doesn't stop there: Ohio is packed with unique flea markets throughout the state where you can find one-of-a-kind antiques, vintage finds, Amish goods, home furnishings, and more.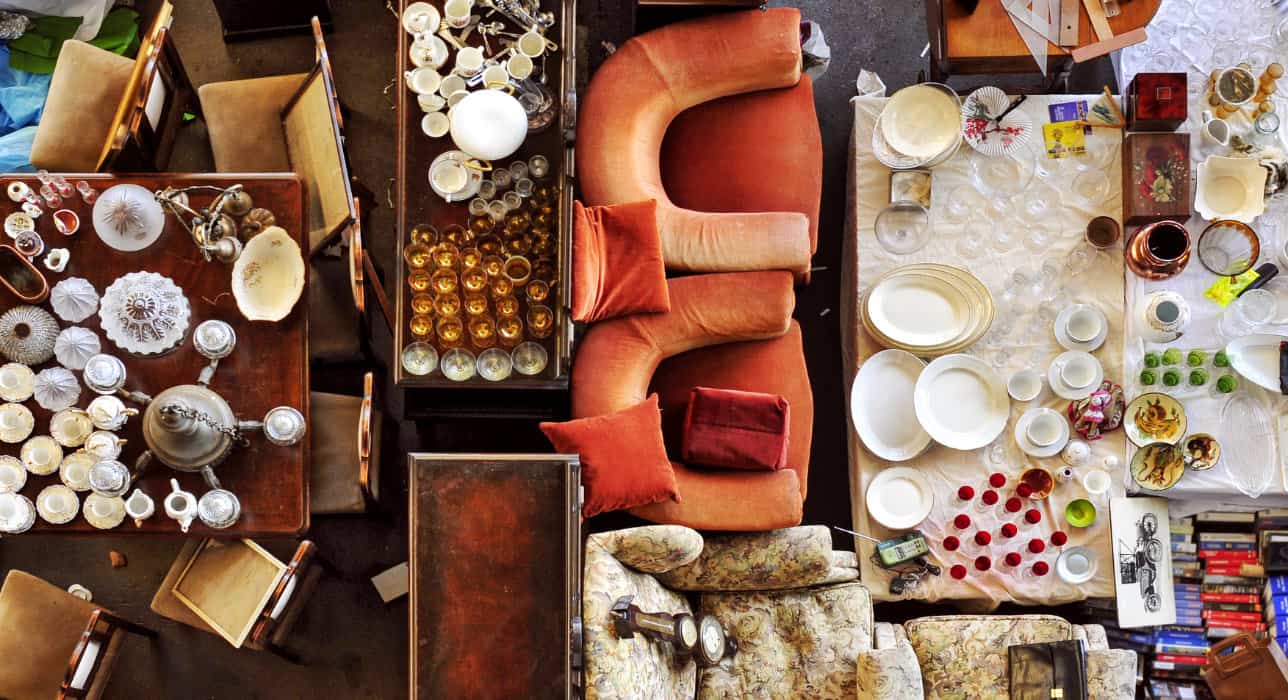 ---
---
Map of Ohio Flea Markets
Enjoy our guide for Flea Markets in Ohio:
Rogers Flea Market and Community Auctions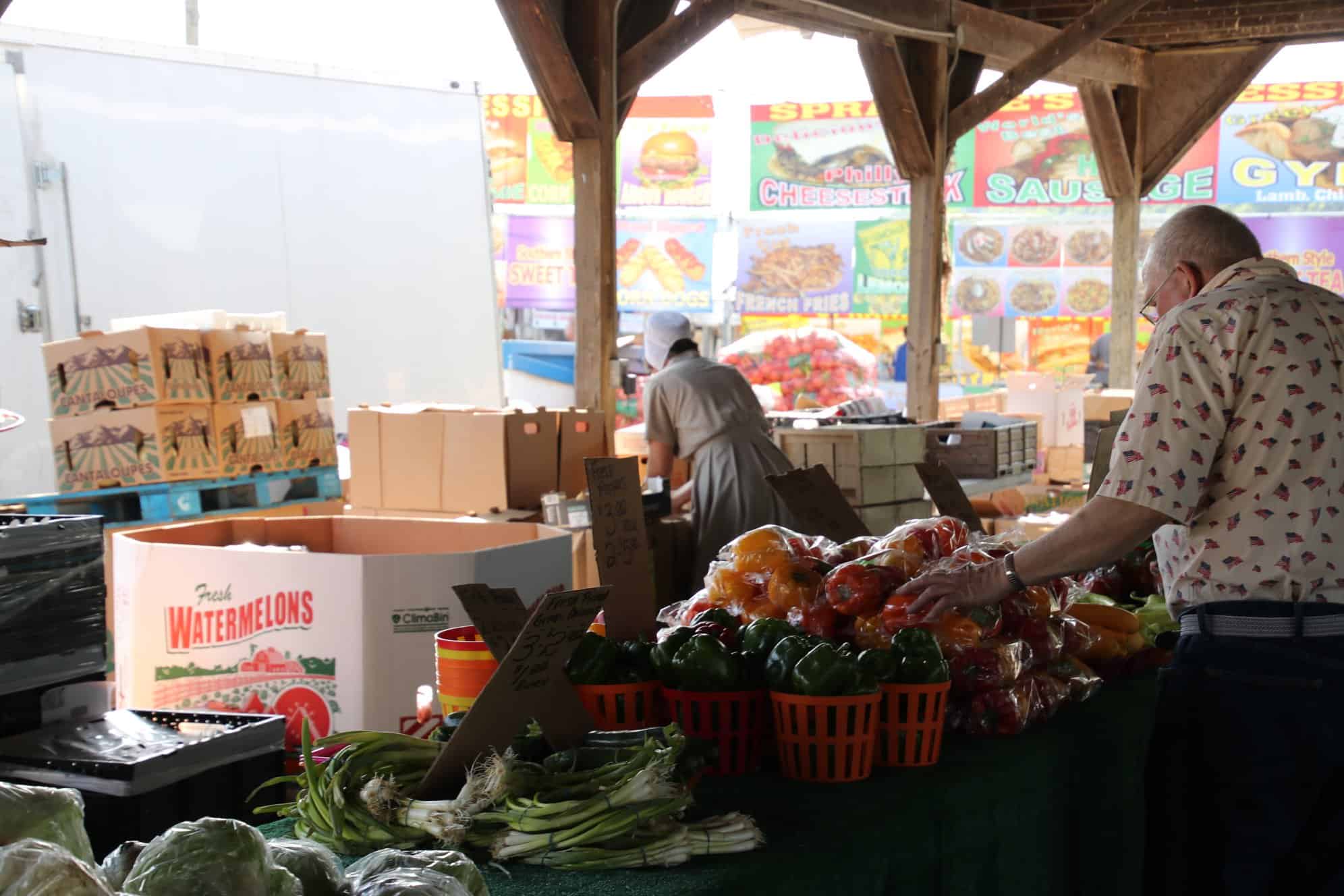 Rogers Ohio Flea Market is one of the largest open-air flea markets in Ohio. Located about halfway between Cleveland and Pittsburgh, the flea market grounds cover 250 acres and 1600+ vendor spaces. The parking lot itself spans 70 acres and is free for visitors.
You can find everything from antiques to home furnishings and farm equipment at Rogers Community Flea Market. They're open every Friday starting at 7:30 am. Due to popular demand, they are also open on the first Saturday of each month (June to October) from 8am – 4pm. Throughout the week you can also attend auctions for antiques, livestock, hay & grain, machinery, and more.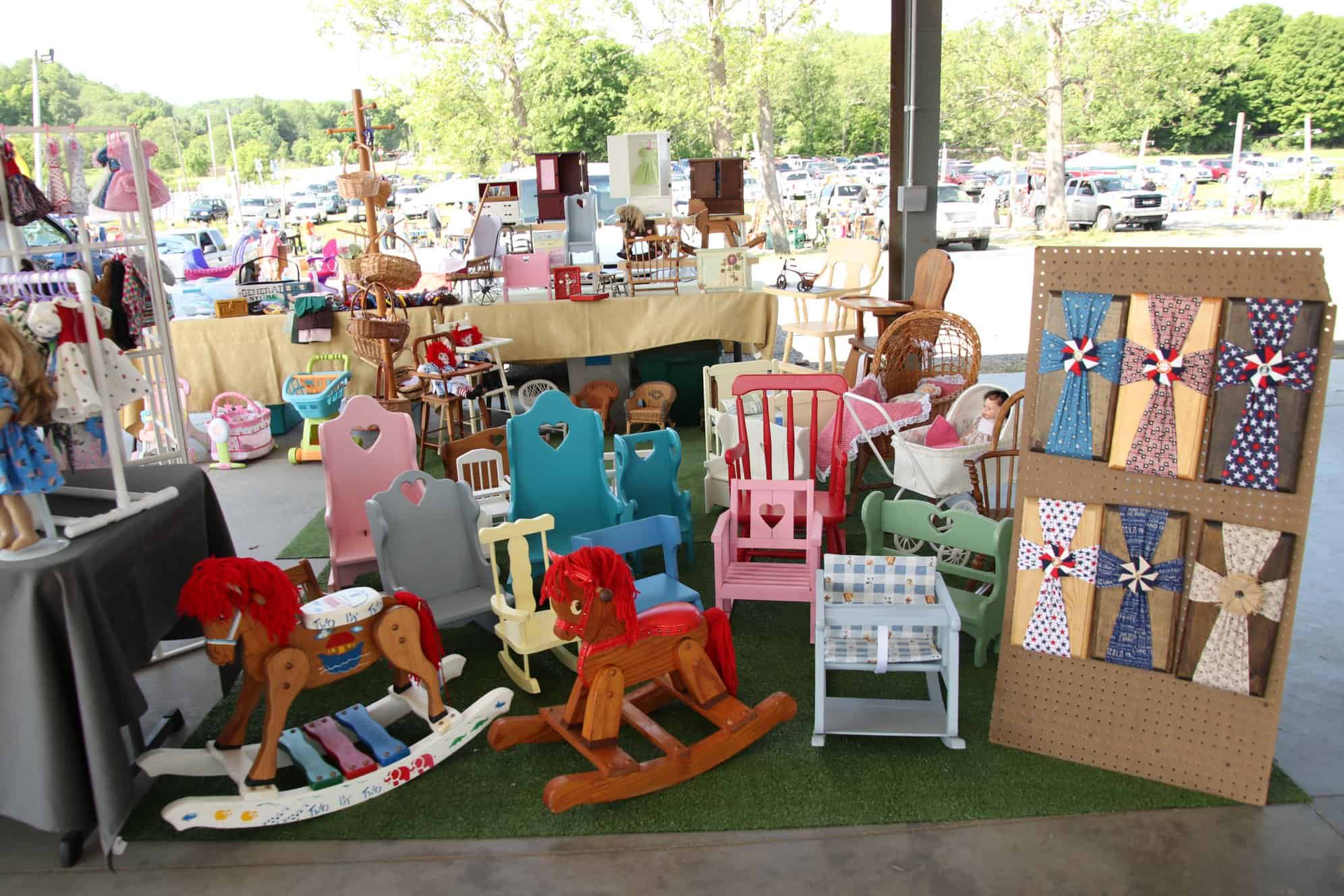 With nearly 5 miles of indoor and outdoor walking space, you'll definitely want to wear some comfortable shoes! Scooter rentals are available, if needed.
Some vendors accept debit and credit cards, but it is advised to bring cash to pay for your item. Several ATMs are located on the flea market grounds if you forget or need more cash.
Indoor restrooms are available, and additional portable restrooms can be found outside.
Bring your own shopping bag on your visit, as shopping carts and wagons are not available on site. The flea market does have food vendors, and you can also pack a picnic meal to eat at the James Burkey Family Picnic Pavilion.
Rogers Community Flea Market: 45625 St. Rt. 154, Rogers, OH 44455
Alternate GPS Address: 45625 Walnut Street, Rogers, Ohio 44455
Website
---
The City Flea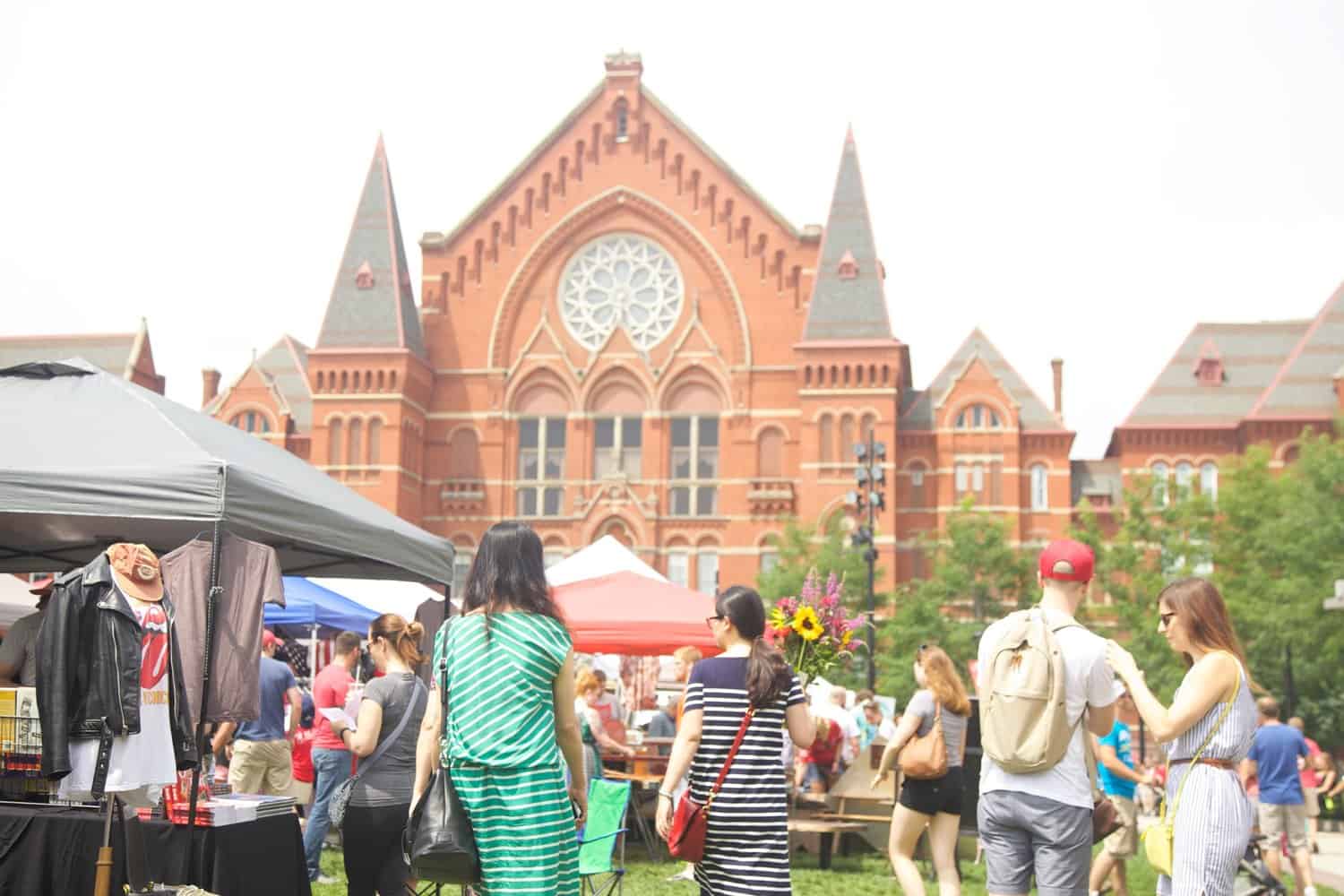 The City Flea is an urban, curated flea market located in downtown Cincinnati, Ohio. This Cincinnati, Ohio flea market showcases one-of-a-kind items like handmade leather shoes, vintage purses, home decor, and unique gourmet baked goods. Some vendors are there every show, and some are new – so you never know what you'll find!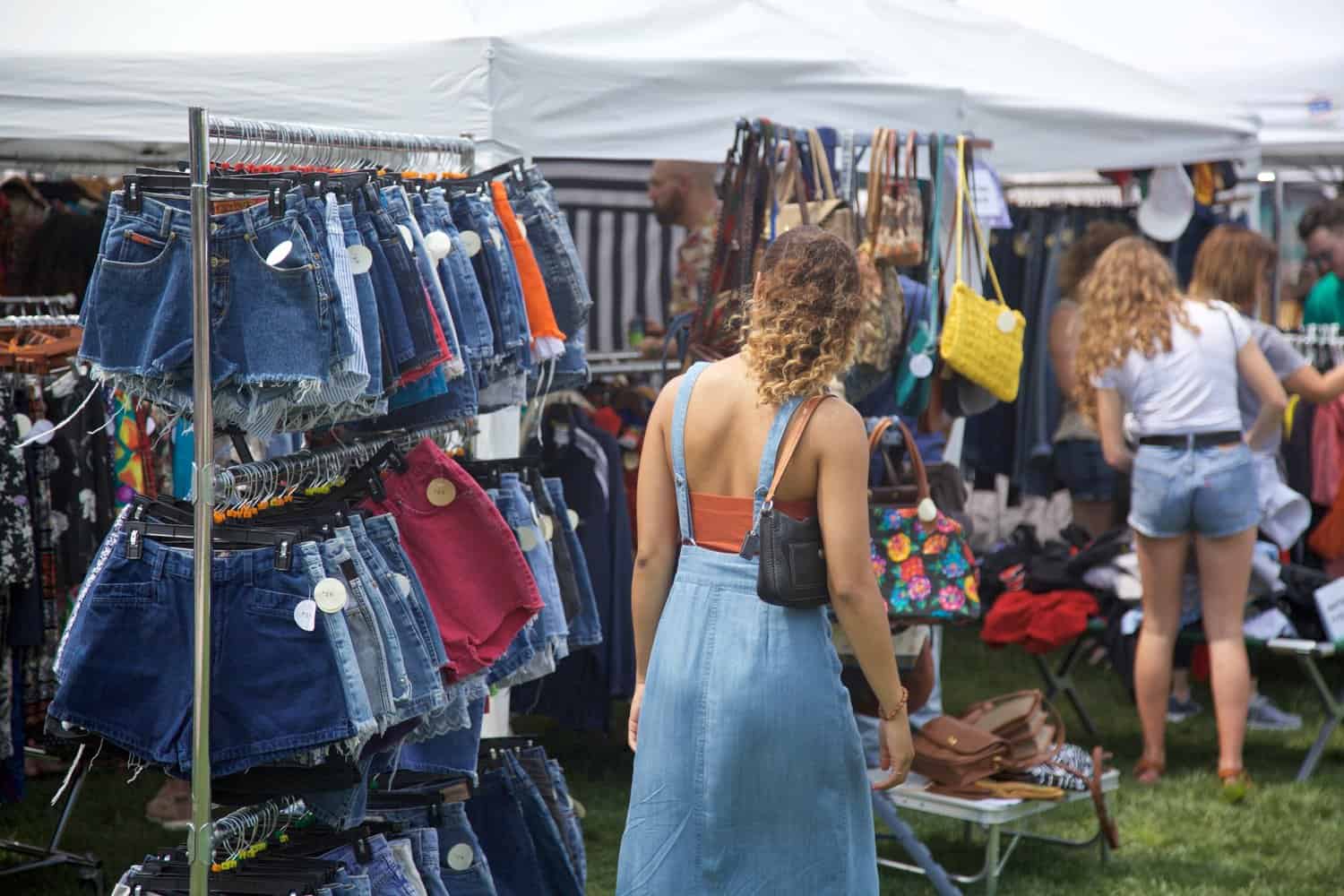 City Flea is held one weekend a month from March to December at Washington Park in the heart of historic Over-the-Rhine. Street parking is available and and there is also a parking garage located directly under the park. Public restrooms are available at the park.
City Flea typically has food trucks on location and there are also some delicious locally-owned restaurants within walking distance. Or pack a picnic and enjoy it in the park.
Washington Park: 1230 Elm Street, Cincinnati, Ohio 45202
Get the scoop on Washington Park here: 10 Reasons to Love Washington Park

Website
---
Springfield Antique Show & Flea Market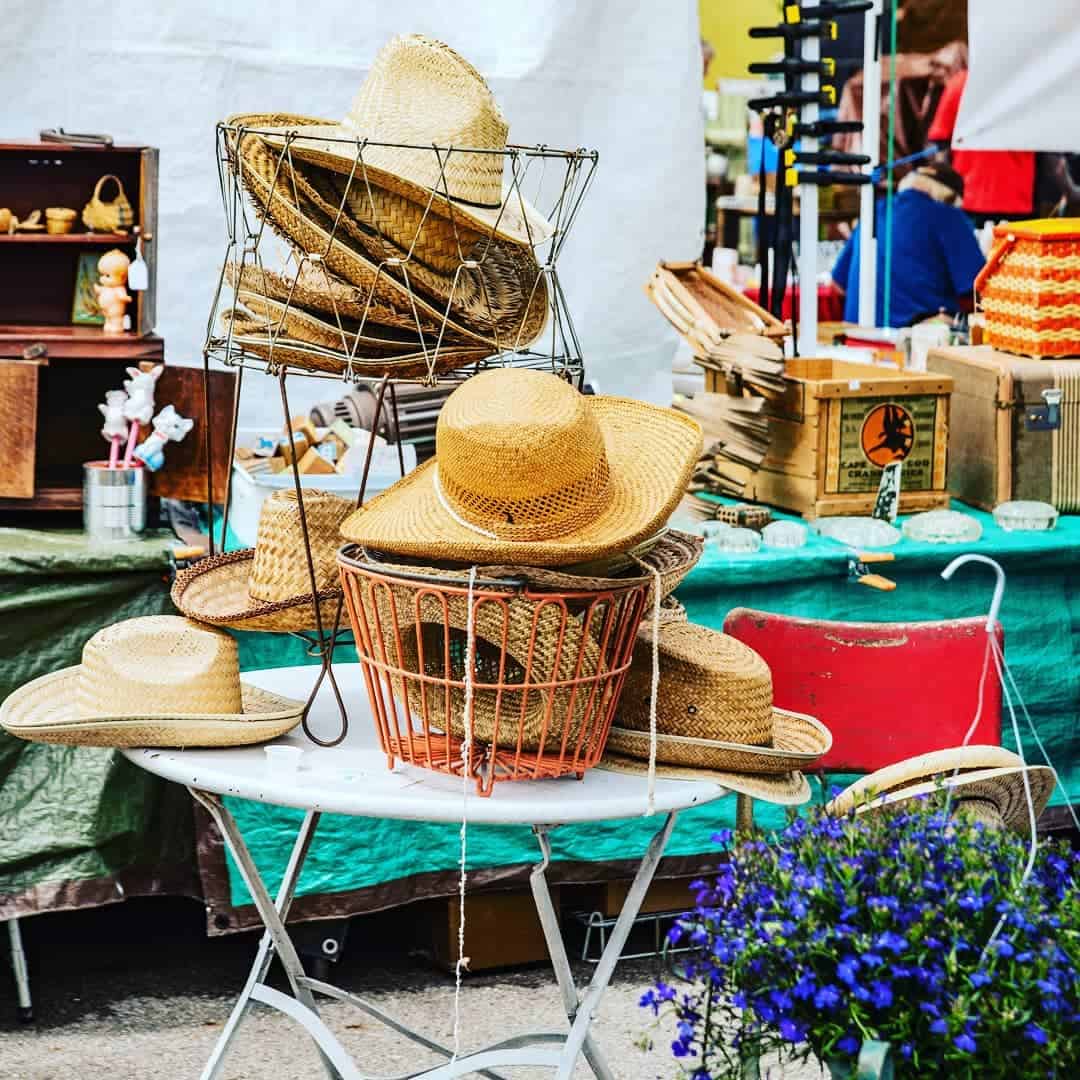 When it comes the best flea markets in Ohio, we couldn't forget about The Springfield Antique Show & Flea Market! Held on 9 weekends throughout the year, this favorite to many is held at the Clark County Fairgrounds.
They have the once-a-month flea market events and then they have their semiannual Extravaganza events in May and September. These special flea events showcase over 20,000 vendors with antiques, vintage items, art, and unique finds.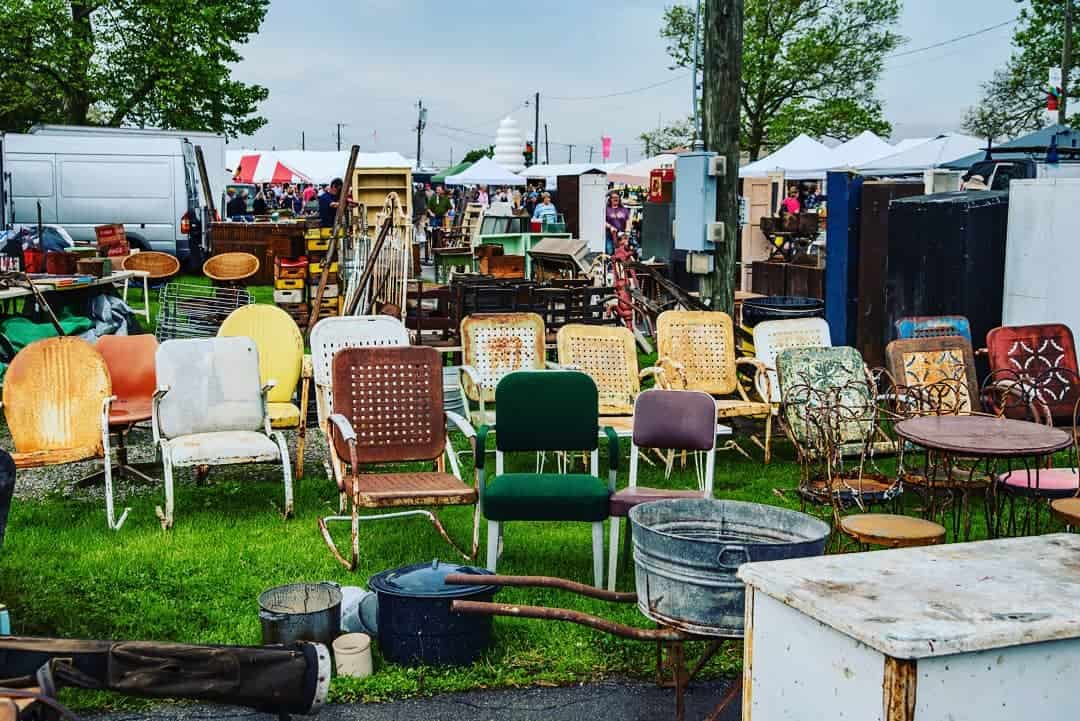 Admission is required for this Springfield Ohio flea market. Regular admission is $3 for adults and free for those ages 16 and under. Extravaganza weekends are $10, with an early bird ticket available for $15. Cash only at the gate.
2022 weekend dates are currently scheduled for January 15-16 (inside), March 19-20 (inside), April 9-10, May 20-22 (Extravaganza), June 18-19, September 16-18 (Extravaganza), October 15-16, and November 19-20 (inside).
Clark County Fairgrounds: 4401 S Charleston Pike, Springfield, Ohio 45505
Website
---
Hartville Marketplace & Flea Market
If you're looking for the largest of all the flea markets in Ohio, the search is over! Not only is the Hartville Marketplace & Flea Market the biggest in Ohio, it is also the largest outdoor/indoor flea market in the U.S.!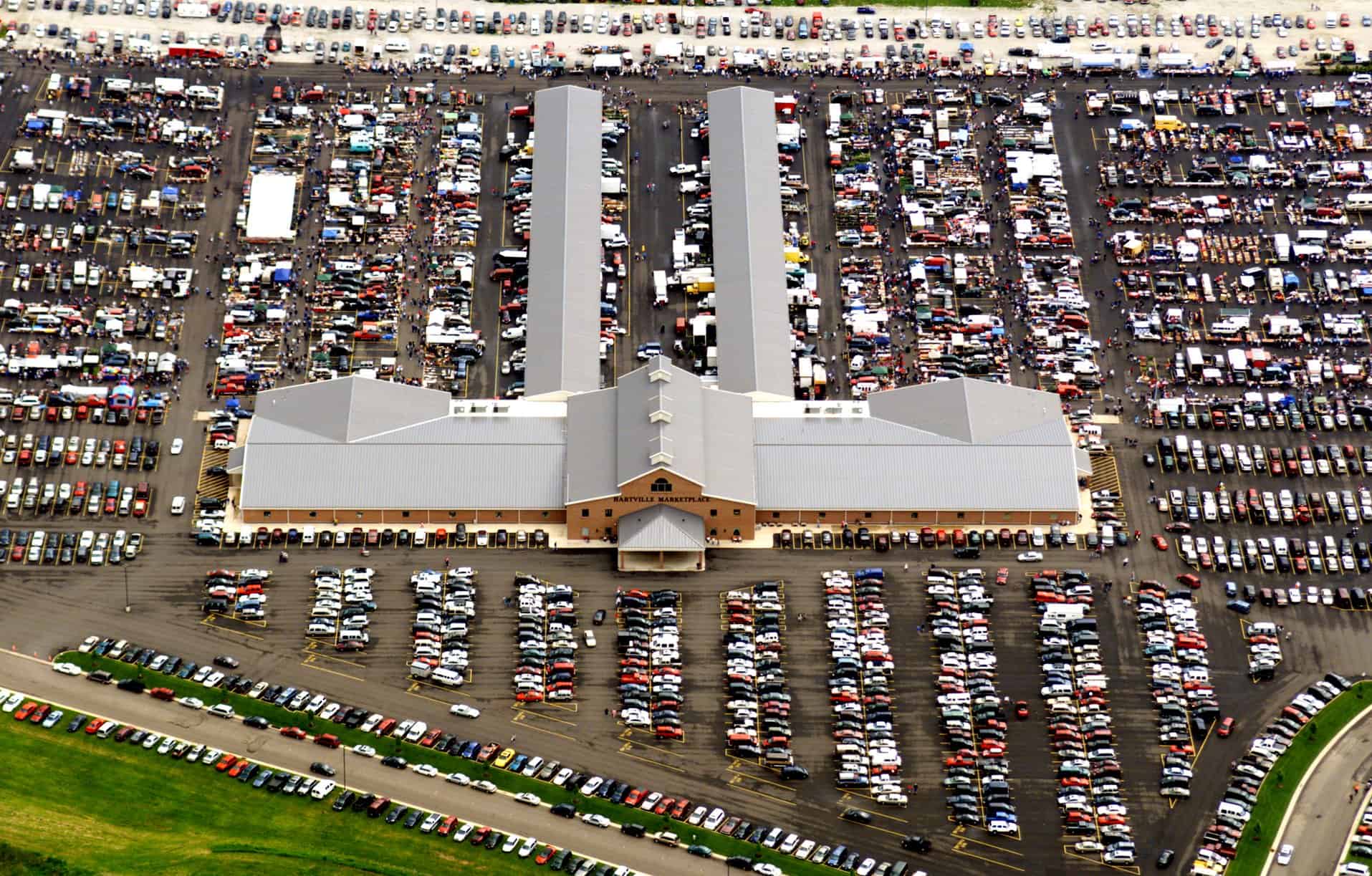 You can find antiques, collectibles, handmade items, Amish goods, fresh produce, and more at this indoor and outdoor flea market. It covers over 12 acres and welcomes more than 1 million visitors each year, so you know it's good!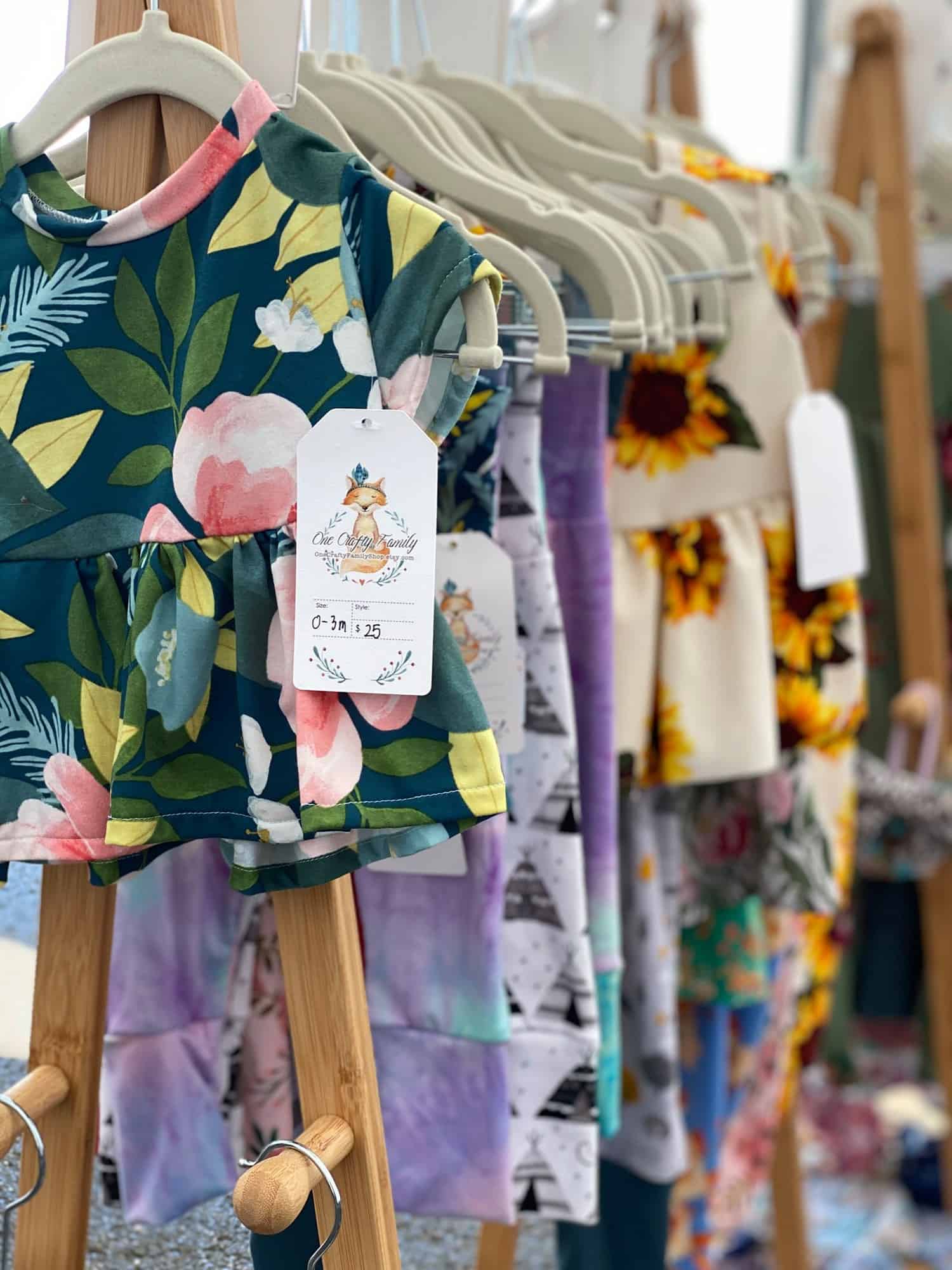 The Hartville Marketplace & Flea Market is located about an hour south of Cleveland and holds quite a few of market-themed events throughout the year. Events include Moonlight Markets, coin shows, sports cards shows, and Maker Markets.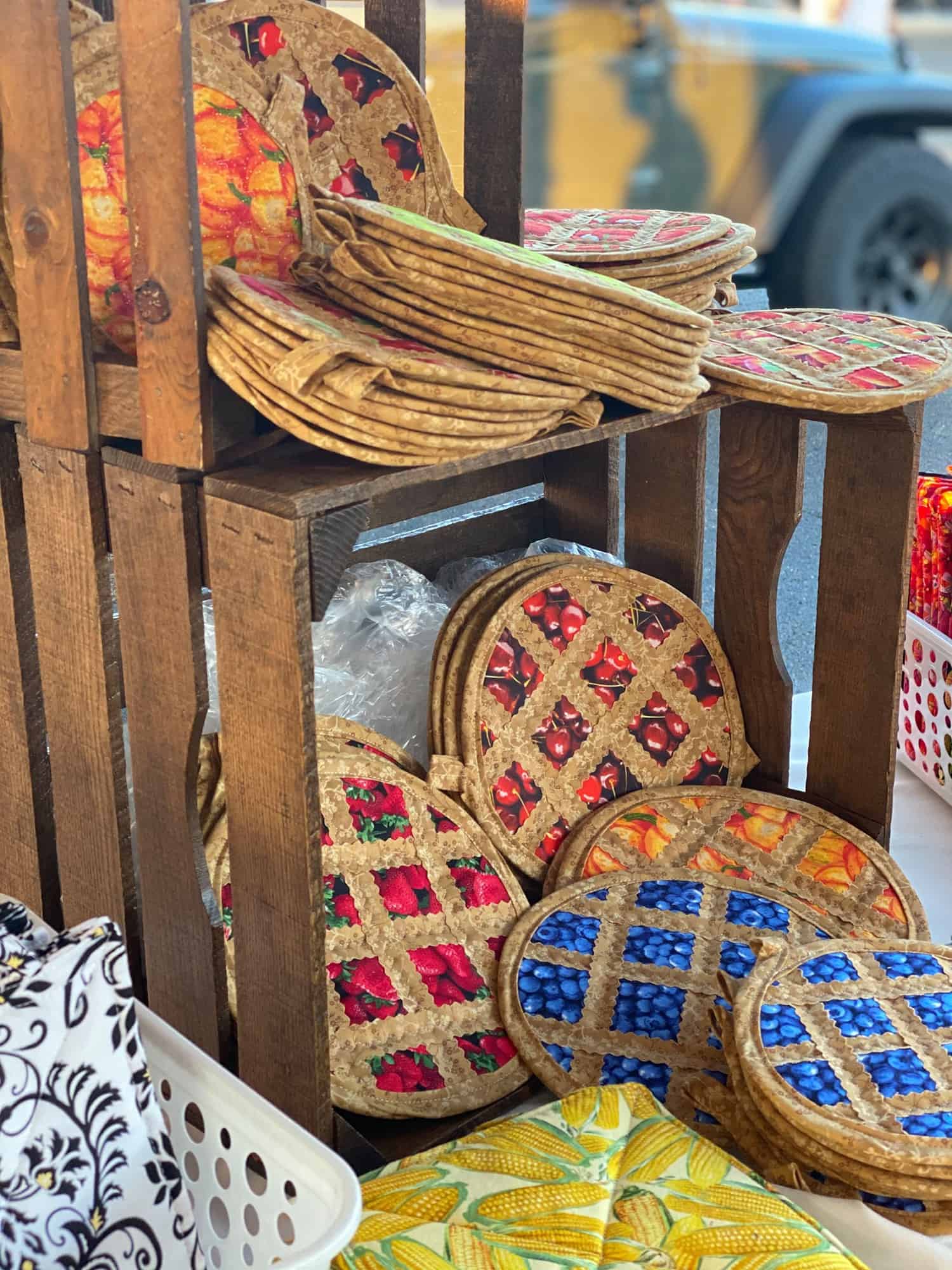 The Marketplace & Flea Market are open Monday, Thursday, Friday, and Saturday from 9AM to 5PM. Sarah's Grill & The Coffee Mill open daily at 7AM on days the Marketplace & Flea Market are open.
Hartville Marketplace & Flea Market: 1289 Edison St. NW, Hartville, Ohio 44632
Website
---
Traders World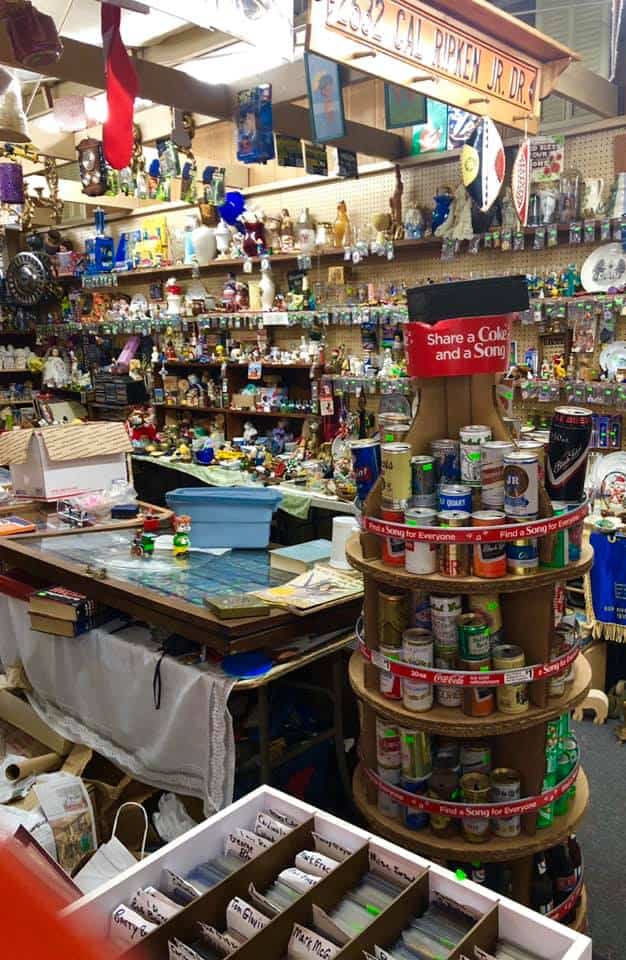 Traders World is one of the midwest's largest flea markets with 16 buildings, 400 outdoor vendor spaces, and 850 indoor vendor spaces. Search for your diamond-in-the-rough flea market find at the market's many antique, collectible, and used goods vendors.
You won't be able to miss this spectacle of flea markets in Ohio when you pass it on I-75, about halfway between Cincinnati and Dayton. The first thing you will notice is the giant giraffe sculptures on the sign!
Traders World is open Saturday and Sunday from 9am to 5pm. Parking is $2. There are several food vendors available by the main stage. The indoor vendor buildings are climate controlled, and there are several ATMs located around the flea market grounds.
Traders World: 601 Union Road, Lebanon, Ohio 45036
Website
---
Treasure Aisles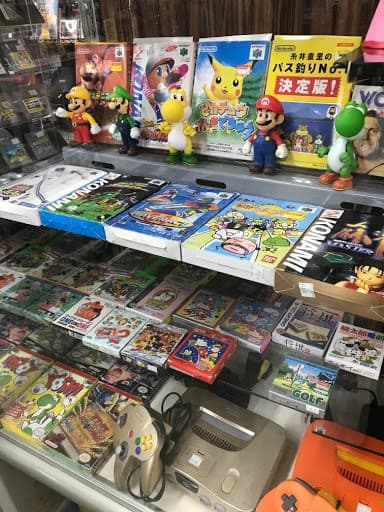 Treasure Aisles flea market is located right across I-75 from Traders World, about halfway between Dayton and Cincinnati, Ohio. With over 100 vendors, you're sure to find something unique to take home.
If you're headed to one, why not visit the other?
Treasure Aisles is open on weekends from 9am to 5 pm.
Treasure Aisles: 320 N. Garver Road, Monroe, Ohio 45450
Website
---
Tiffin Flea Market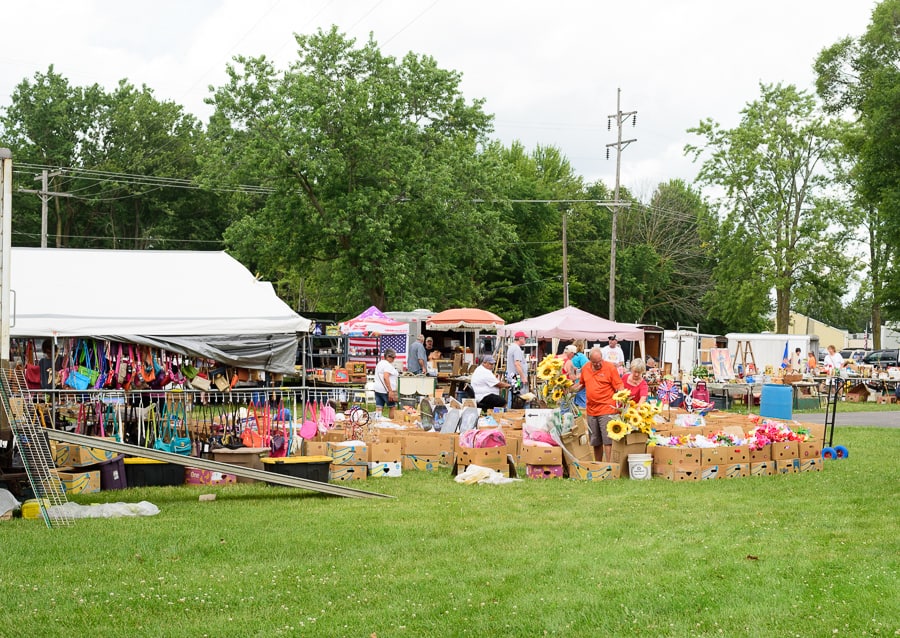 The Tiffin Flea Market is the largest show of its kind in northwestern Ohio. With 250 to 400 vendors at each show, this best of flea markets in Ohio spot allows one to peruse the indoor and outdoor booths to find that one-of-a-kind item you just can't leave without.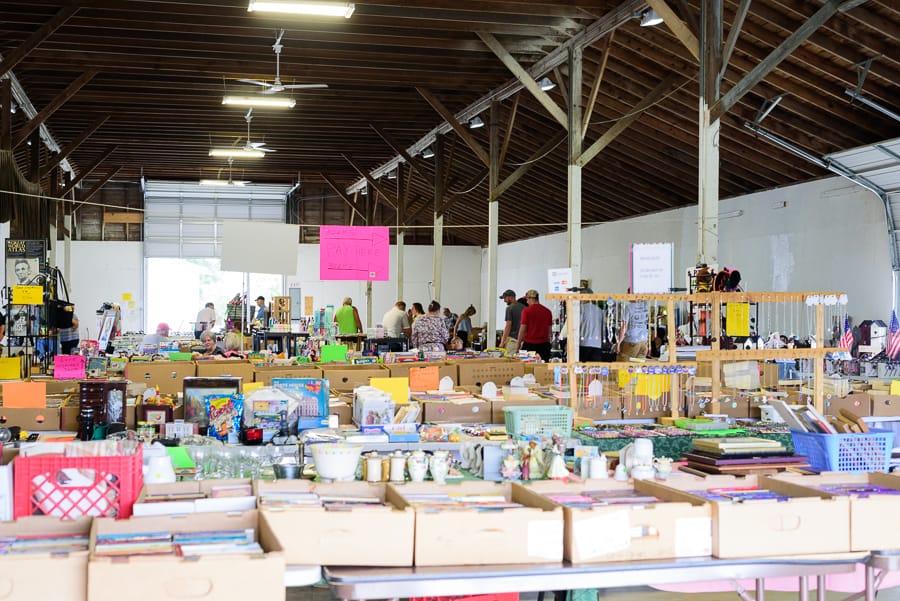 2022 Tiffin Flea Market dates are April 23-24, May 14-15, June 11-12, July 2-3, August 20-21, Sept. 10-11, Oct. 1-2. Saturday hours are 9AM to 4PM, and Sunday hours are 9AM to 3PM, rain or shine. Admission and parking for the flea market are totally free. Food is available for purchase at the market.
Seneca County Fairgrounds: 100 Hopewell Avenue, Tiffin, Ohio 44883
Website
---
Walnut Creek Amish Flea Market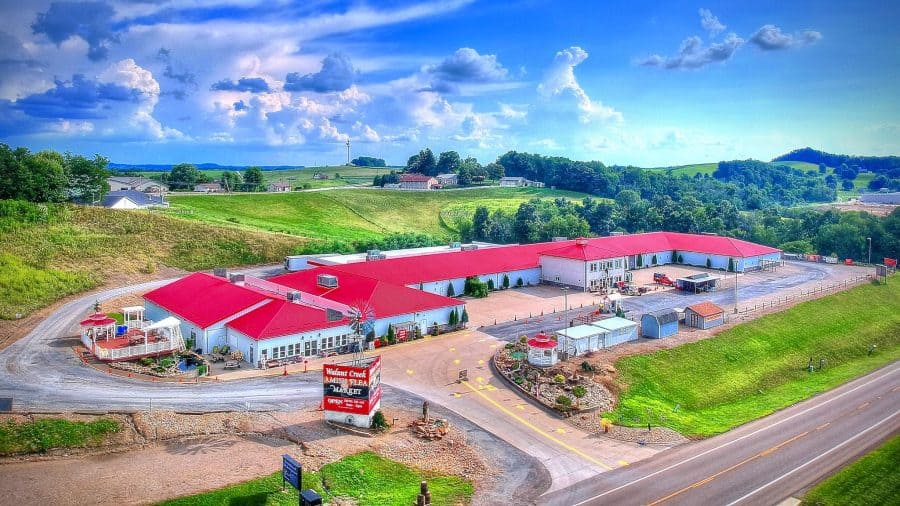 When it comes to flea markets in Ohio, you have to consider a visit to Amish Country!
Walnut Creek Amish Flea Market features over 200 vendors in an indoor facility. Shop from Amish vendors and other unique sellers for items like quilts, kitchenware, antiques, and more. Their market is all one level, all indoors, and is ADA compliant.
The market is open on Thursday, Friday, and Saturday from 9am to 5pm, March thru December. There is no admission and a $1 parking fee (as of March, 2022).
Walnut Creek Amish Flea Market: 1900 OH-39, Sugarcreek, Ohio 44681
Website
---
Caesar Creek Flea Market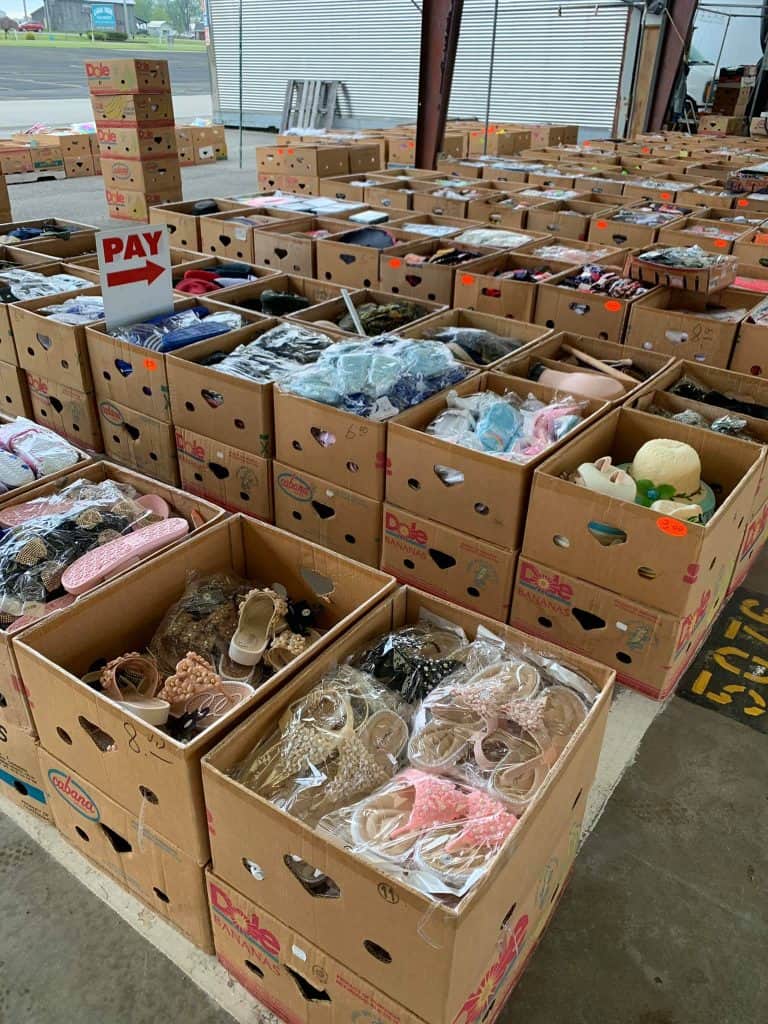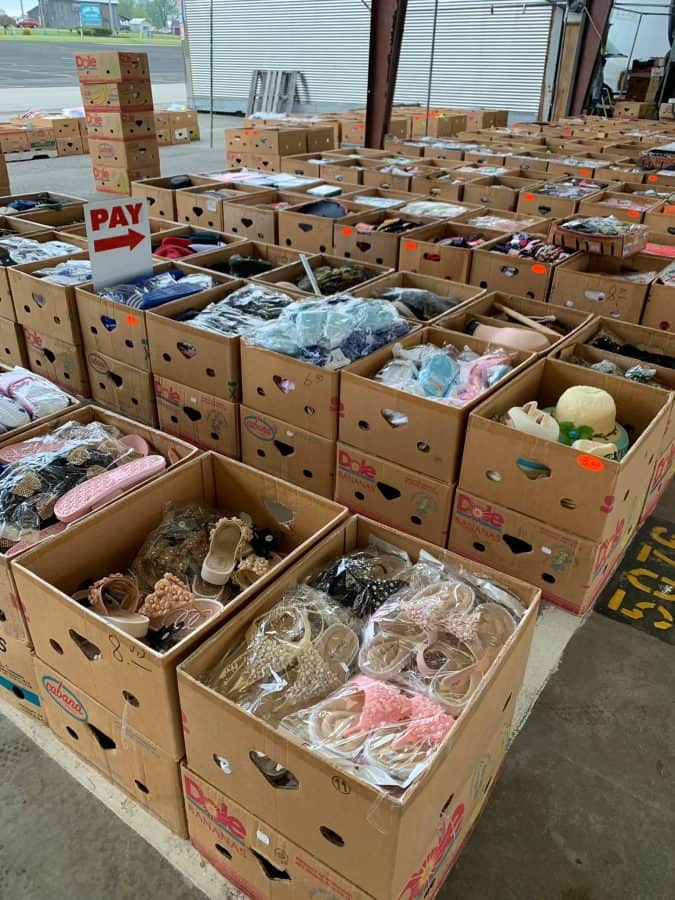 Find everything from handmade jewelry and antiques to NASCAR collectibles and Amish baked goods at the Caesar Creek Flea Market.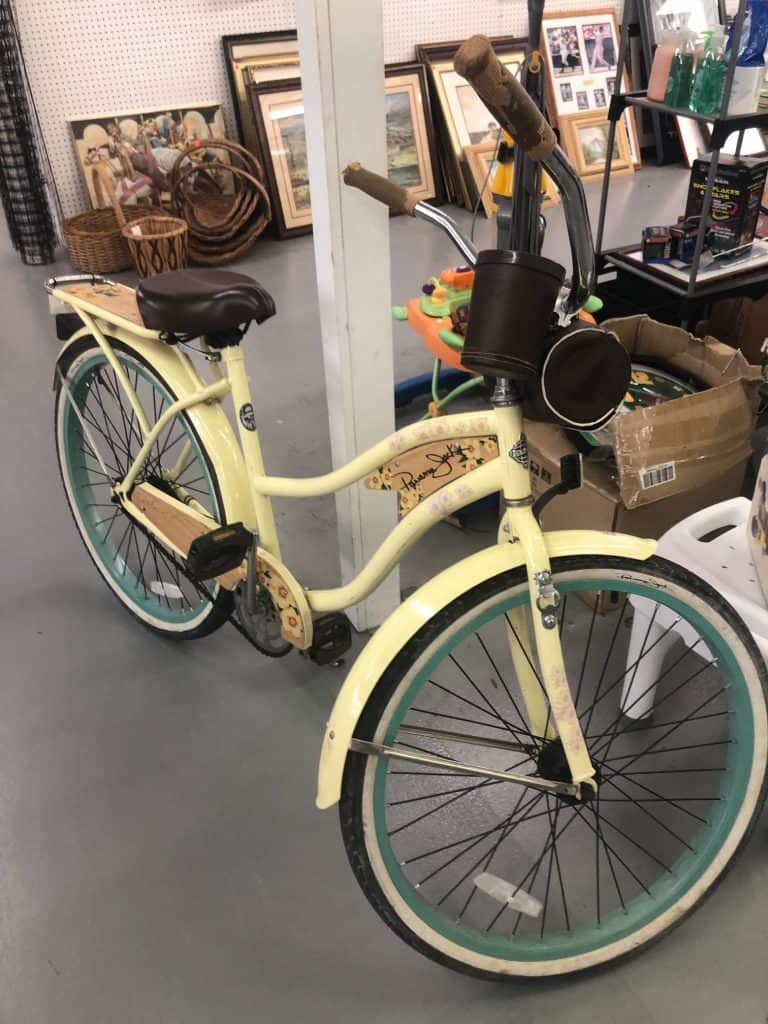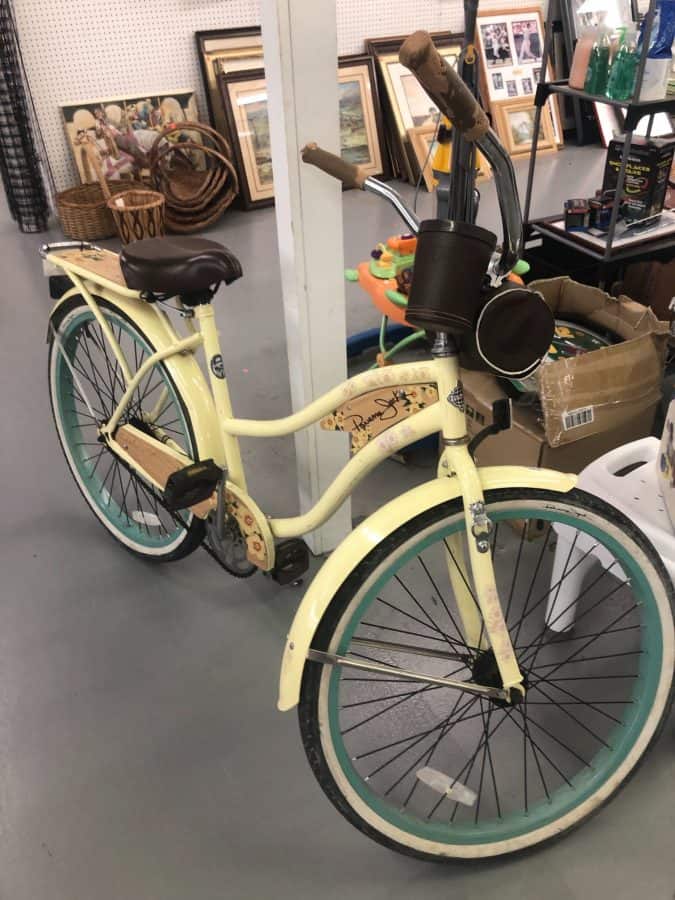 The Caesar Creek Flea Market is indoors/outdoors and open from 9am to 5pm on Saturdays and Sundays.
Food is available for purchase, and on the weekends there is live music to listen to while you shop.
Watch their Events tab for unique happenings like "Junkorama", a special market of vintage and collectible dealers. They have car shows during the warmer months as well.
Parking is $2 during the outdoor market season and $1 November-February (as of June, 2022).
Caesar Creek Flea Market: 7763 W St Rt 73, Wilmington, Ohio 45177
Website
---
Peddlers Flea Market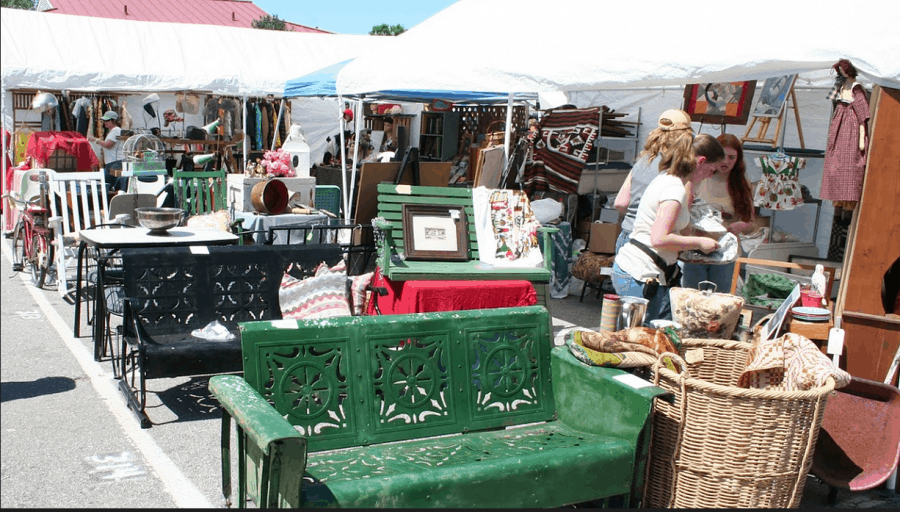 Peddlers Flea Market has been a staple in the Ohio flea market scene for over 30 years. Buy, sell, or trade these unique finds with hundreds of indoor and outdoor vendors. They have 75 indoor booths and over 300 outdoor booths (as of 7-2022) and they're open year round.
Peddlers Flea Market is open on Fridays from 10am to 2pm, and Saturdays & Sundays from 7am to 5pm. Visitor parking is free.
Food is available for purchase all day while the market is open.
Peddlers Flea Market: 4343 Kellogg Avenue, Cincinnati, Ohio 45226
Website
---
South Drive-In
Don't let the name fool you! This fine example of flea markets in Ohio has been around since the 1970s. You'll find this one to be more like a really huge garage sale. Over 200 vendors sell interesting finds including housewares, art, antiques, electronics, and more.
True to its name, South Drive-In is just that – a drive-in where you can also catch some outdoor movies this summer (find them on Facebook for more info and showtimes).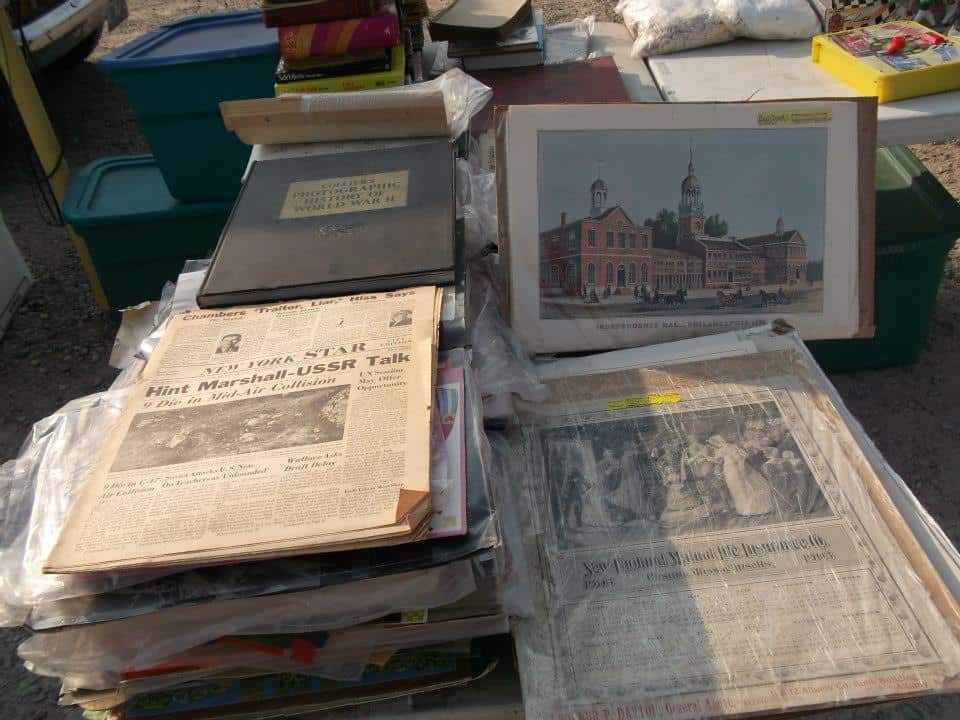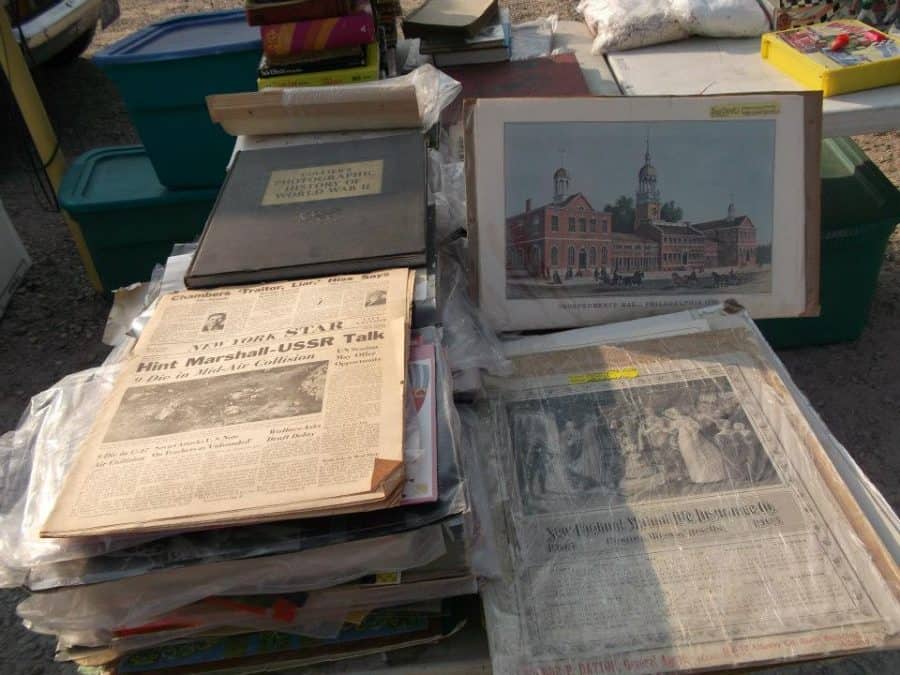 The early bird gets the worm at this Columbus, Ohio flea market. South Drive-In Theatre opens for business at 5am, and the most dedicated shoppers know this is when to find the most unique flea market finds.
South Drive-In is open in mid-March to mid-November every Wednesday, Saturday, and Sunday from 5am to 1pm. Parking is available for $1 per car. ATMs are available on site.
Food is available at the theater snack bar. In addition to the theater menu, they offer an expanded menu for the flea market including breakfast sandwiches and coffee. They also have an outdoor grill operating with delicious brats and Polish sausages along with French fries and bottled drinks.
South Drive-In: 3050 S. High Street, Columbus, Ohio 43207
Website
---
Columbus Flea
This Columbus Ohio flea market is held at different locations throughout the Columbus area. Past venues have included Strongwater Food and Spirits, The Fort Columbus, and Seventh Son Brewing. Check out their Facebook page for the most up to date info on this unique variation for flea markets in Ohio.
---
Westland Flea Market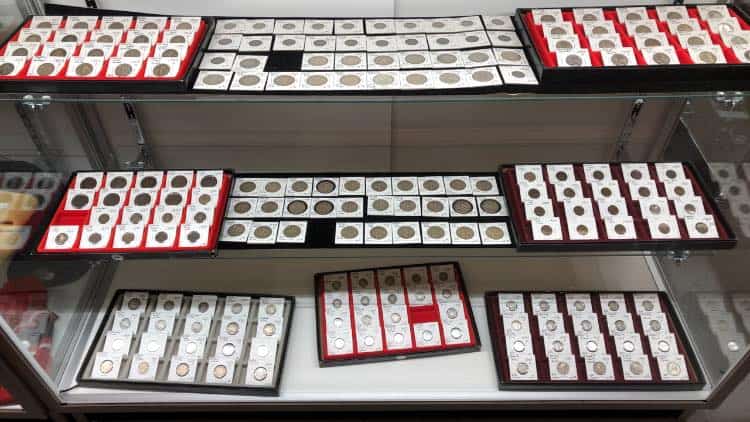 Westland Flea Market is an indoor market located in Columbus, Ohio. Choose from a huge variety of flea market finds from collectibles and coins to shoes and apparel.
A concession stand is open inside the market if you get hungry while you're shopping.
This flea market in Columbus Ohio is open on Friday, Saturday, and Sunday from 10am to 7pm.
Westland Flea Market: 4170 W. Broad Street, Columbus, Ohio 43228
Website
---
Hamilton Flea
Another one of the more unique flea markets in Ohio, Hamilton Flea is an outdoor artisan market. Featuring a number of artisans and creators, this seasonal flea market is held at downtown Hamilton's Marcum Park.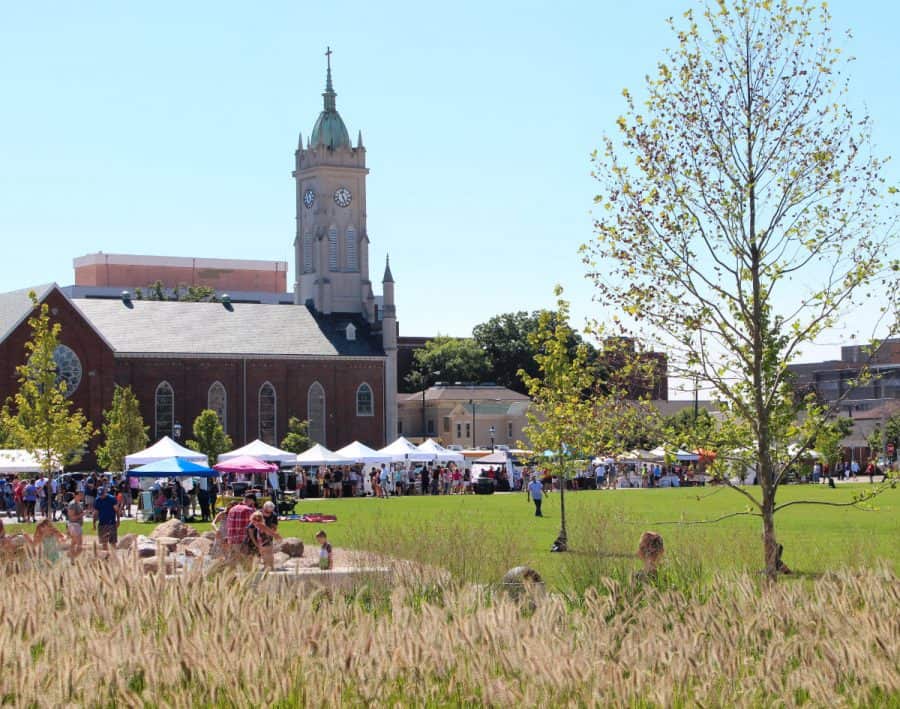 Make a day of it with our list of the Top Things to See and Do in Hamilton, Ohio
The Hamilton Flea is held once a month during the warmer months. Find the current schedule here.
Pack a picnic lunch or eat at any of the fine establishments that surround Marcum Park. Marcum Park is part of the D.O.R.A. (designated outdoor refreshment area) so plan to have a cold one while you're there!
Hamilton Flea at Marcum Park: 116 Dayton Street, Hamilton, Ohio 45011
Website
---
Four Seasons Flea and Farm Market
Head to Youngstown, Ohio for this indoor and outdoor market. It's located just 3 miles west of the border of Pennsylvania and barely makes it for our list of flea markets in Ohio!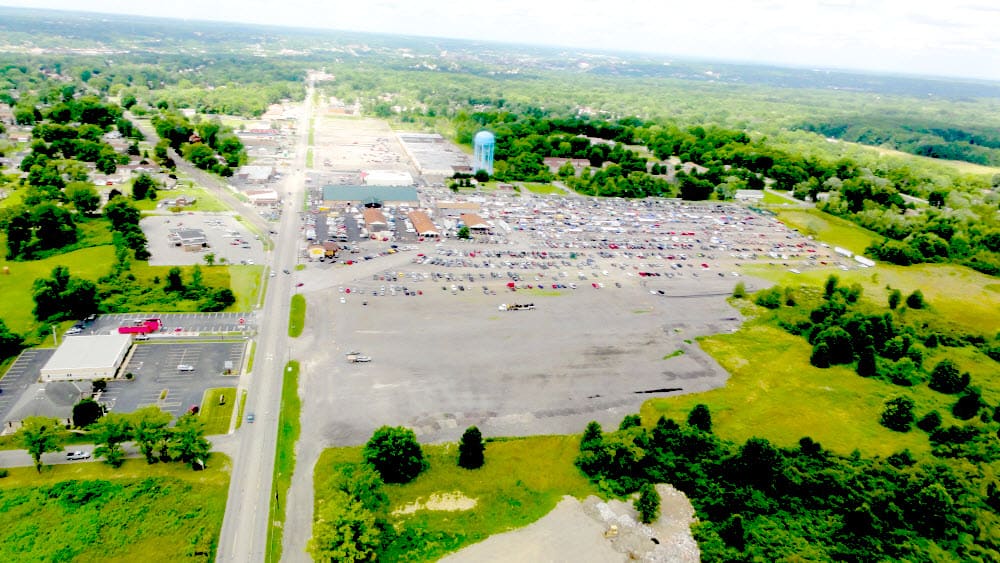 Located at what used to be an airport, they have 22 acres of blacktop for the outdoor market and a 88,000 square foot indoor space.
There's no admission and no parking fee for this one.
Four Seasons Flea Market is located at 3000 McCartney Road in Youngstown, Ohio 44505
Website
---
Litchfield Storage and Flea Market
This market doesn't have a lot of info out on it but the reviews are GREAT! One says, "Best place to find real antiques!" and another says, "Great place to go shopping or just spending time on a Sunday morning. All the vendors seem happy and friendly. You can find everything from plants to household items to mechanical stuff to whatever you're looking for, or didn't know you needed."
Located west of Medina, this market has both indoor and outdoor space.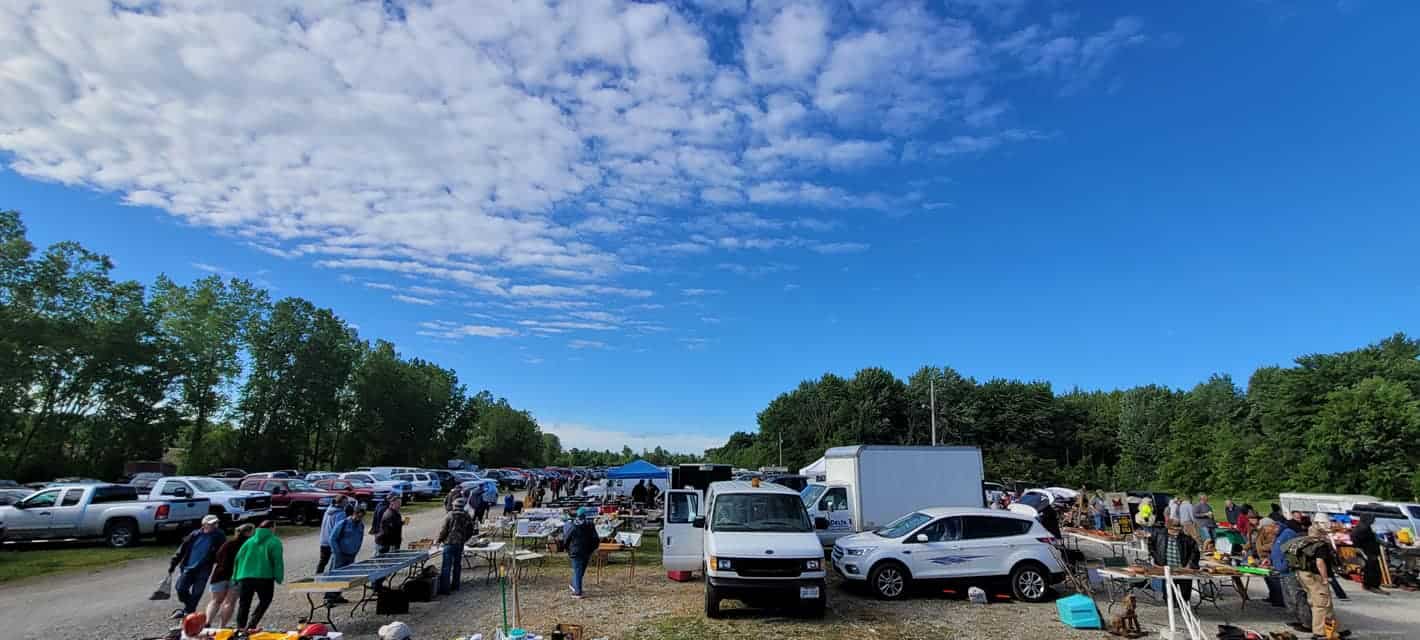 There's no fee for admission or parking.
They have indoor restrooms and offer food, drinks, and ice cream.
Hours vary with the season. They're open Saturday and Sunday, 8am until 3pm from May thru September and Saturday and Sunday from 8am to 2pm in April, October, and November. They are open Sundays only from December to March, 8am to 2pm.
Litchfield is located at 9170 Norwalk Road (Rt. 18) in Litchfield, Ohio 44253
Website
---
Mac's Attic
Located in Alliance, this is one of our newer finds for flea markets in Ohio.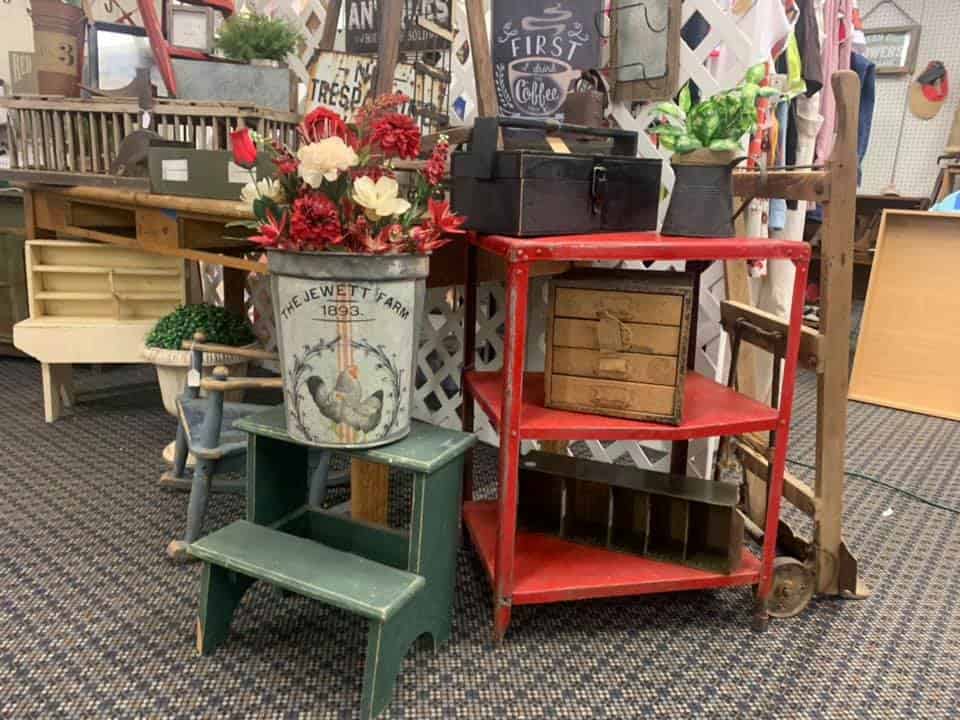 Mac's Attic is a smaller indoor flea market with 40+ vendors. They have a variety of items for sale from vintage collectibles to furniture to tools to clothes. Vendor goods change up often so you never know what you might find!
Customers have LOTS of good things to say about Mac's. "This place is a DESTINATION stop for pickers, junkers or those that just like to look at a bunch of weird cool stuff! It has 3 floors packed full of goods, they have everything from vintage to flea market finds. There is a whole floor dedicated to just Christmas stuff! The staff is very helpful and friendly!" from Jenelle O.
Hours are Monday thru Saturday, 9:30am to 4:30pm and Sunday noon to 5pm.
Mac's Attic Flea Market is located at 358 East Main Street, Alliance, Ohio 44601
Stay on top of their updates on their Facebook page.
Website
---
The Paris Flea Market
Not to be confused with the flea market in Paris (France)… this one is in the Buckeye State!
Up for your Sunday consideration when it comes to flea markets in Ohio, the Paris Flea Market is open every Sunday morning from 6am to noon, April thru October.
This is an outdoor flea, held on the grounds of a Dayton, Ohio area drive-in!
They do offer breakfast at the concession stand starting at 7am.
Customer admission is $1 per person or $2 per carload (as of 7-2022)
Located at the Dixie Drive-In, 6201 Dixie Drive in Dayton, Ohio
Website