Make a splash this summer when you visit some of the coolest outdoor waterparks in and around Cincinnati!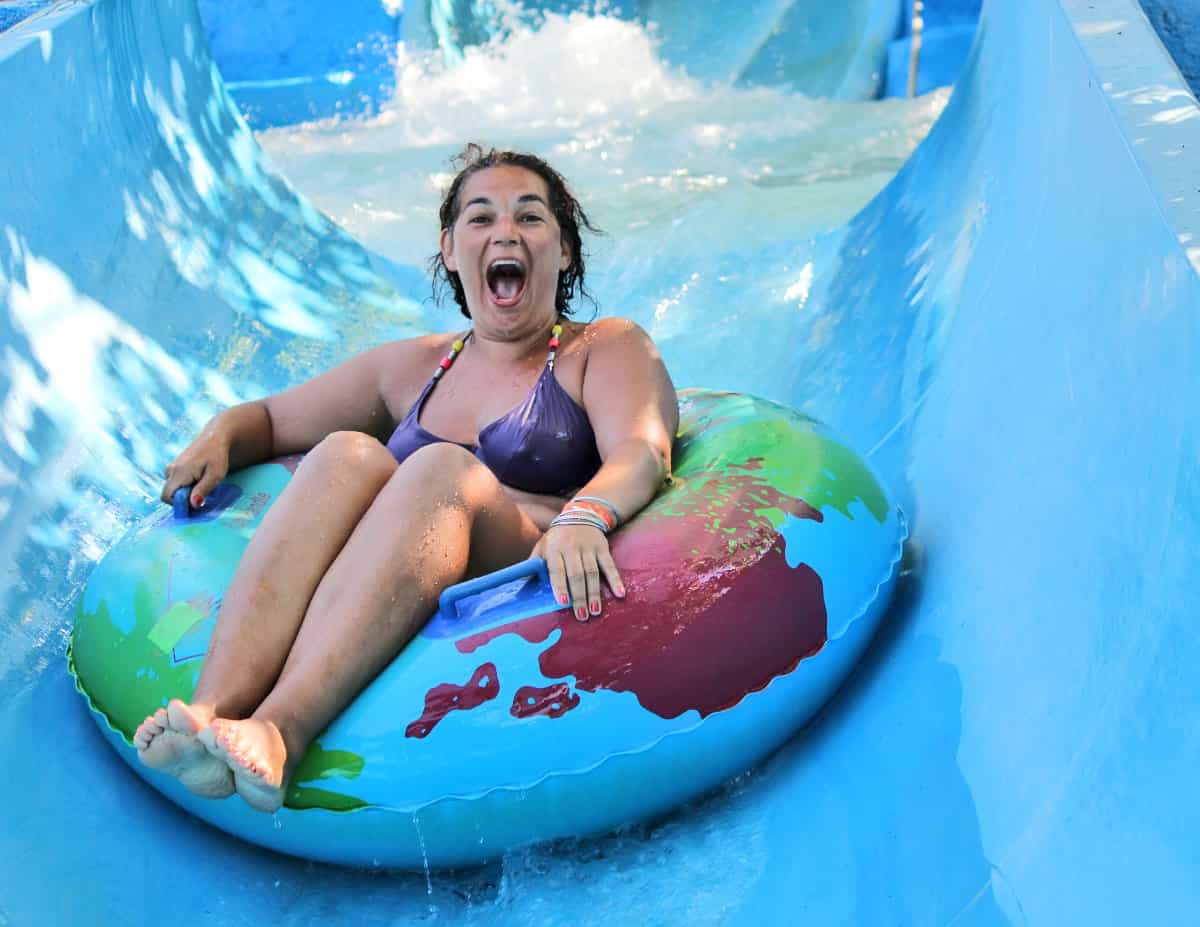 As I was planning out some things to do this summer I thought it would be fun to visit some new waterparks with the kids. I did a little digging to see if I could find some "new to us" locations and I was surprised to find quite a few within just a few hours from home. So I did what I do and made a list.
I thought I'd share my list of waterparks "near me" with you, too!
So whether you're looking for something to do for the day or planning a mini-vacation for the family, be sure to check out these outdoor waterparks that are all located within 3 hours of Cincinnati.
NOTE: Most pools and waterparks close when the weather is bad. They can also close due to other unexpected issues. Be sure to check with the park of your choice to be sure they're open before you head out!
Outdoor Waterparks Near Cincinnati:
Have all kinds of fun in the sun with 36 water slides, two wave pools, lagoons, rivers, pools, and much more. Keep up with openings and closings on their calendar page.
Location: 6300 Kings Island Drive, Mason, OH 45040
Season: May 27 – Sept. 4, 2023 (waterpark is closed on weekdays after Aug. 20)
---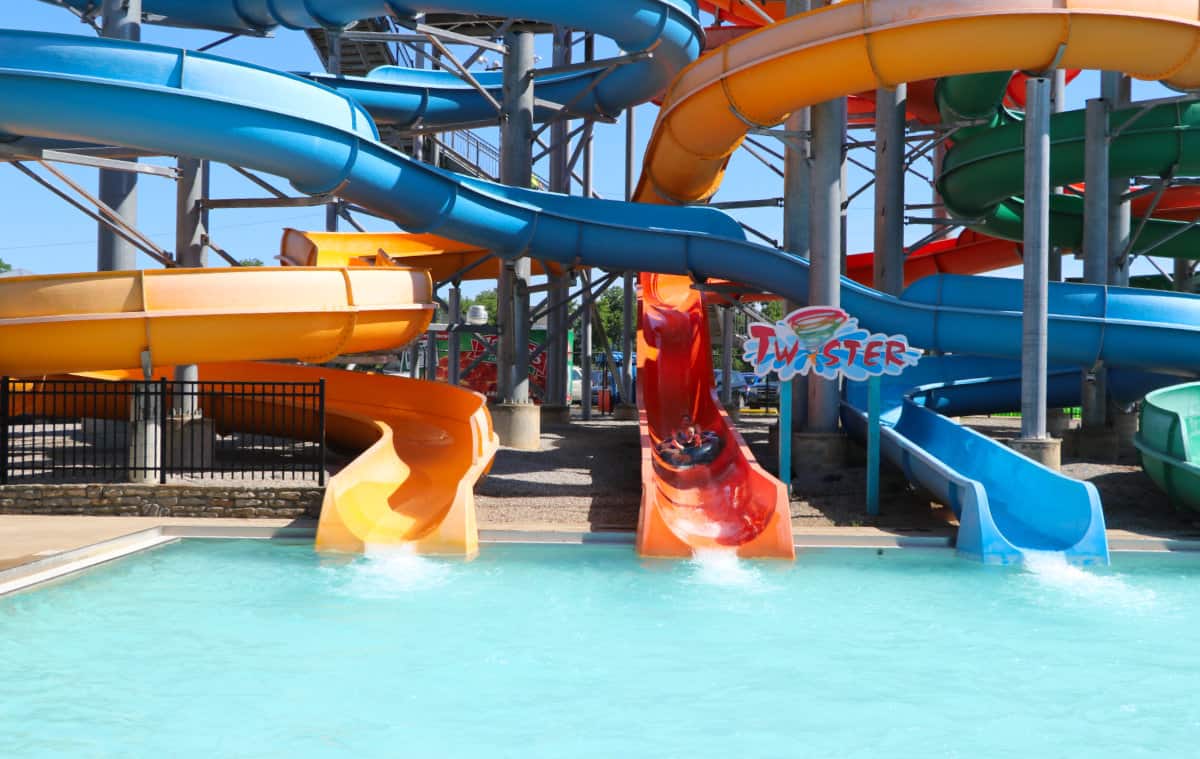 A list of Cincinnati water parks just wouldn't be complete without a mention of Coney Island's Sunlite Pool. In addition to the world's largest recirculating pool, this spot has a floating obstacle course, water slides, a splash pad, and more outdoor adventures.
Location: 6201 Kellogg Avenue, Cincinnati, OH 45230
Season: May 27 – August 13, 2023
---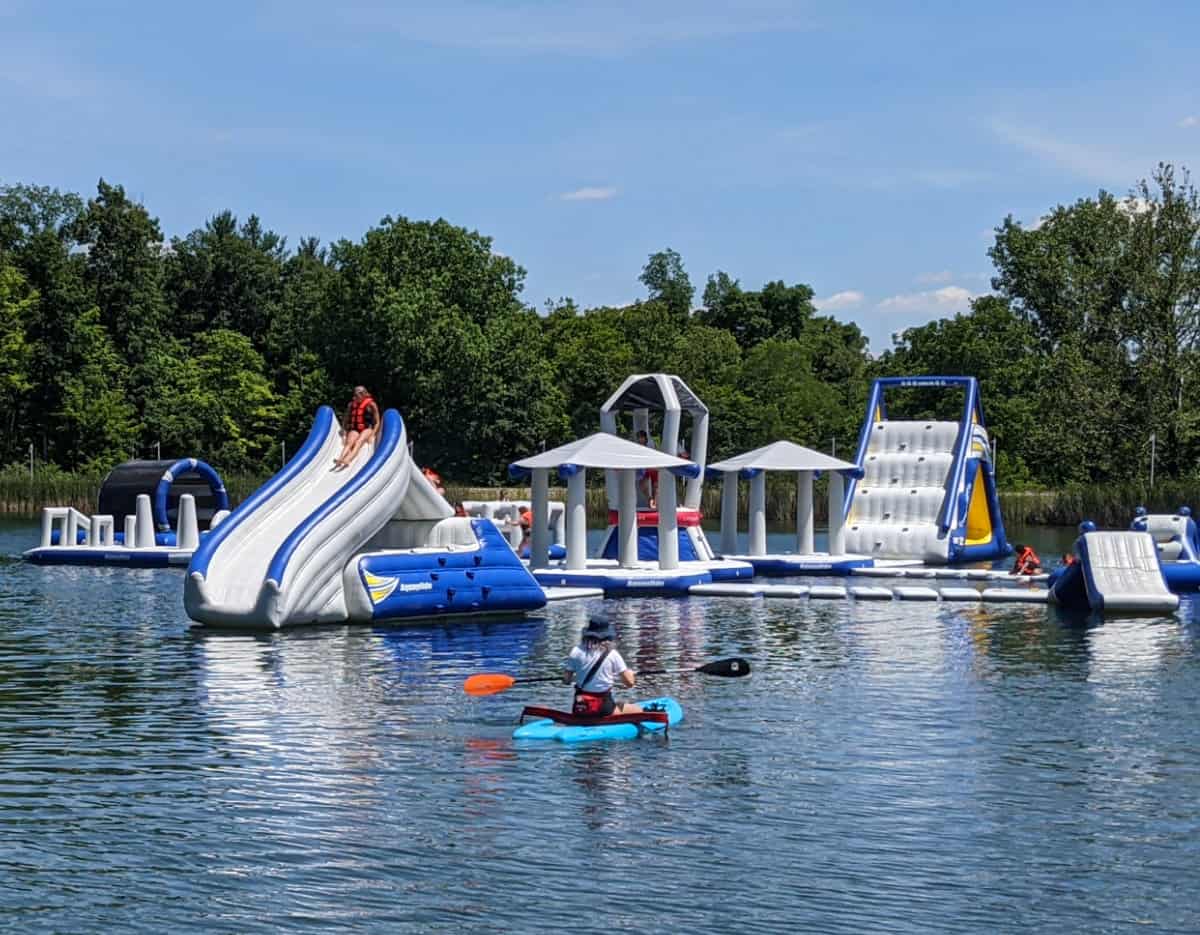 We visited Kirkwood Adventure Park last year and really enjoyed it. This place is a lake with giant inflatables. I'd consider this a waterpark but want to be sure you realize it is NOT a pool. 🙂 Read more about our experience at Kirkwood here. Daily pass required; season memberships available.
Location: 5719 W State Route 73, Wilmington, OH 45177​ 
Season: May 27 – ???, 2023
---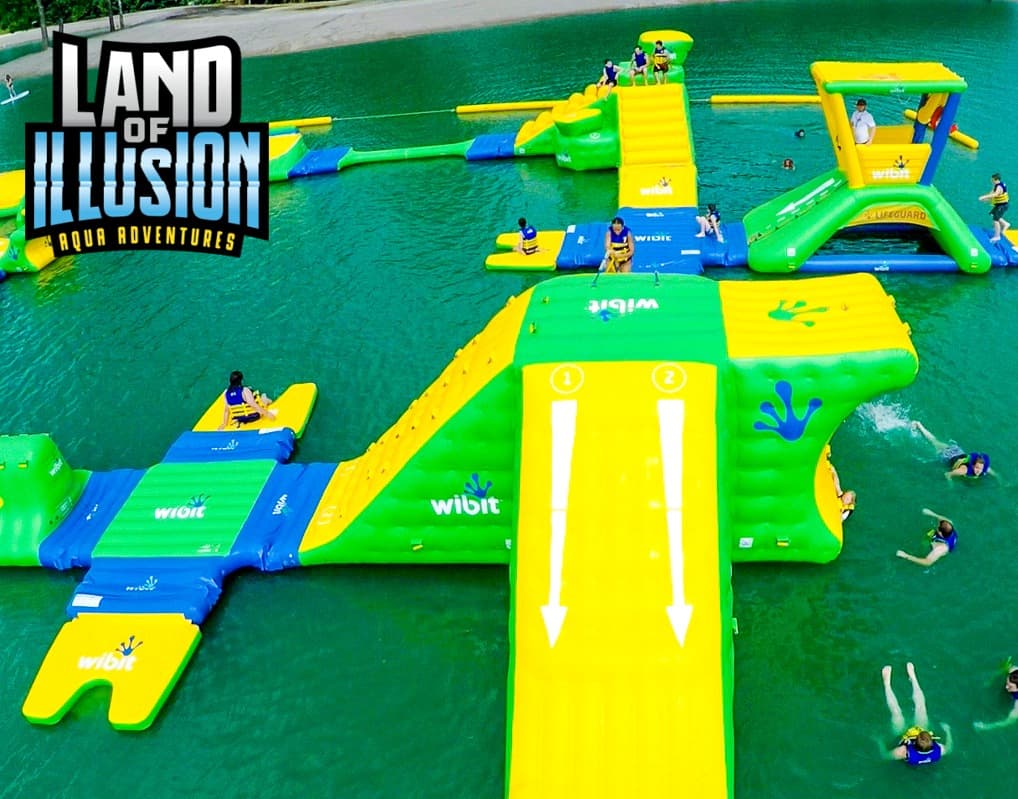 It's another lake experience at Aqua Adventures. Be sure to check out the inflatable obstacle course, The Wibit Adventure Zone, perfect for some teenager fun! And they've added a Kids Wibit Zone too for some under 43″ tall action. There's more to see and do so check out their site for full details. Keep up with openings and closings on website (top of homepage).
Location: 8762 Thomas Road, Middletown, OH 45042
Season: May 27 – August 26, 2023 (weekends only after Aug. 13)
---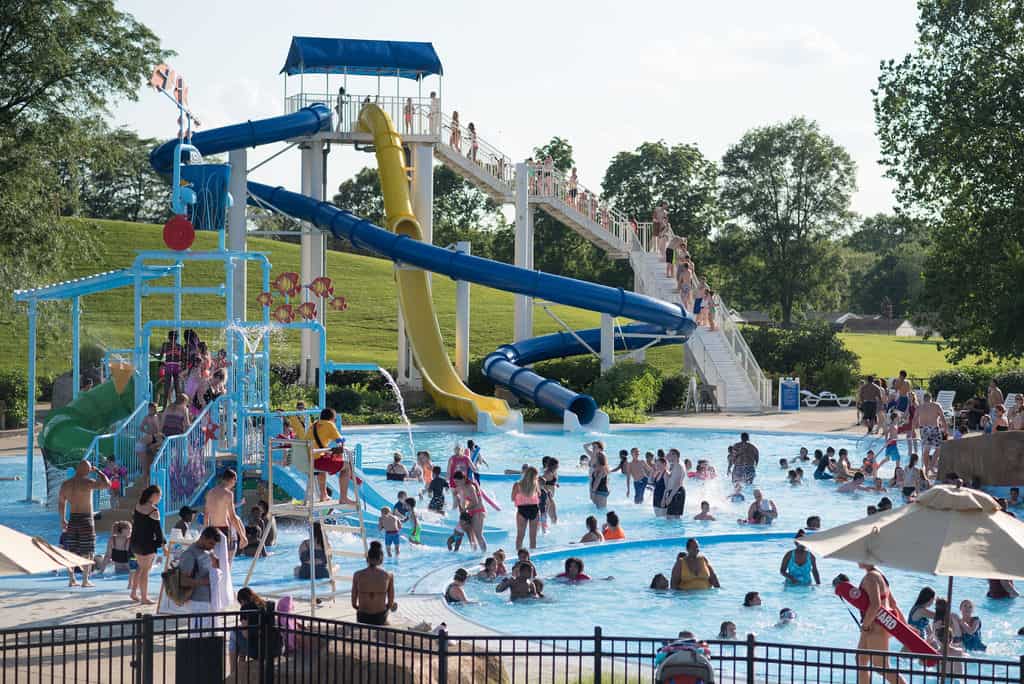 This waterpark features the "highest and fastest slides in Montgomery County", a splash pad, large water playground, and plenty of deck seating and chairs. They're open to the public (non-residents) from Monday to Saturday, 12:30pm to 5pm. Daily admission charged with season passes available. For updates, call Kettering Recreation Complex at 937-296-2587.
Location: 2900 Glengarry Dr., Kettering, OH 45420
Season: May 27-Labor Day, 2023
---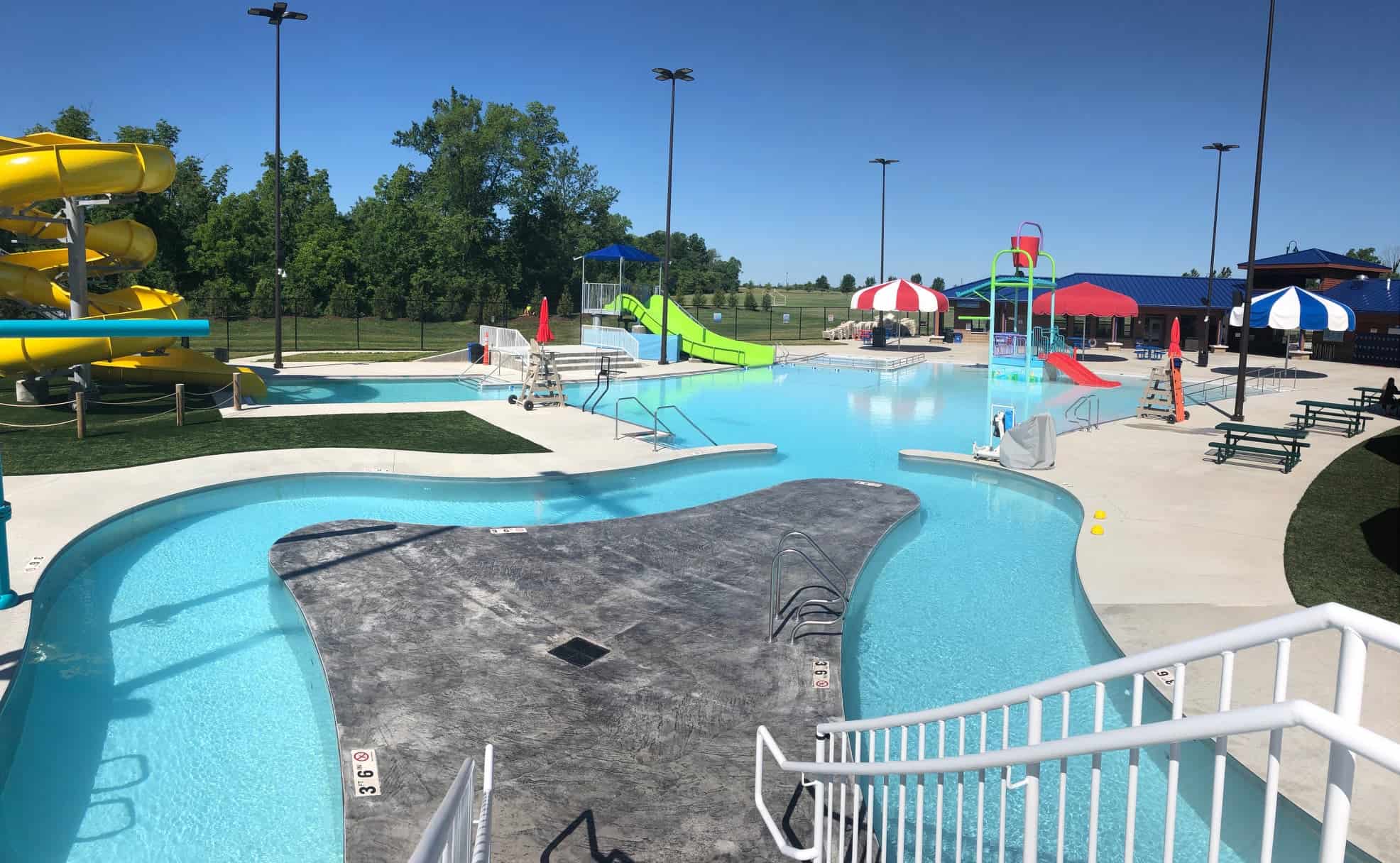 Head to Oxford, the home of Miami University, for some waterpark fun. Options include a zero-slope pool with kiddie area, play structure with slides, family slide, lazy river, basketball hoops, large open-flume slide, diving boards. Keep up with openings and closings on their Facebook page.
Location: 701 Kay Rench Dr., Oxford, OH 45056
Season: May 29 – Labor Day, 2023
---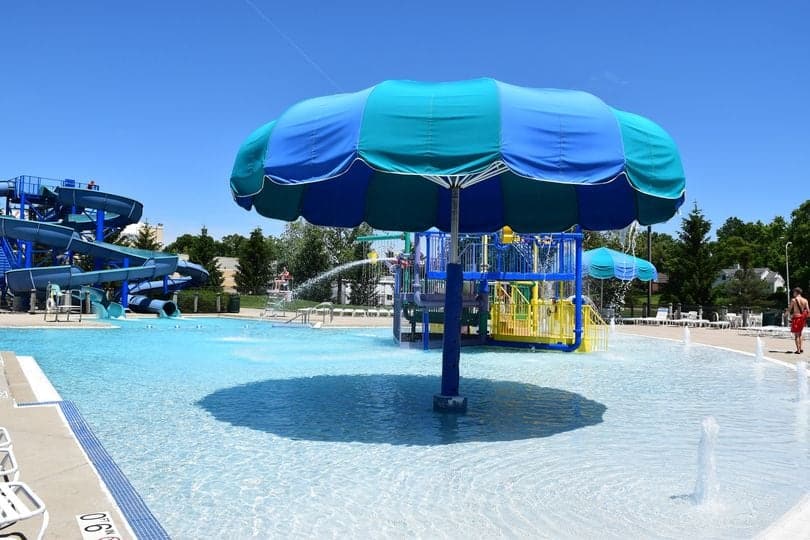 Cool off at this park with two water slides, a drop slide, a diving board, a heated baby pool, interactive water play equipment, giant shade structures, and more. They're open to the public (non-residents). Daily admission charged with season passes available. Keep up with openings and closings on their Facebook page.
Location: 460 West Stauton Drive, Troy, OH 45373
Season: May 27-August 20, 2023
Kentucky Outdoor Water Parks:
Located in nearby Louisville, Kentucky Kingdom has a waterpark as well as an amusement park. Hurricane Bay is the water park and it features a wave pool (Big Surf), more than 10,000 sq ft of interactive water play elements for small children (Buccaneer Beach), Castaway Creek and Adventure River (floating experiences similar to a lazy river), body slides, a family wave lagoon, tunnels and tube slides, Splash Zone, and much more. Daily passes and season passes available.
Location: 937 Phillips Lane, Louisville, KY 40209
Season: May 27 – August 6, 2023 plus a few sporadic days later in August
Indiana Outdoor Water Parks: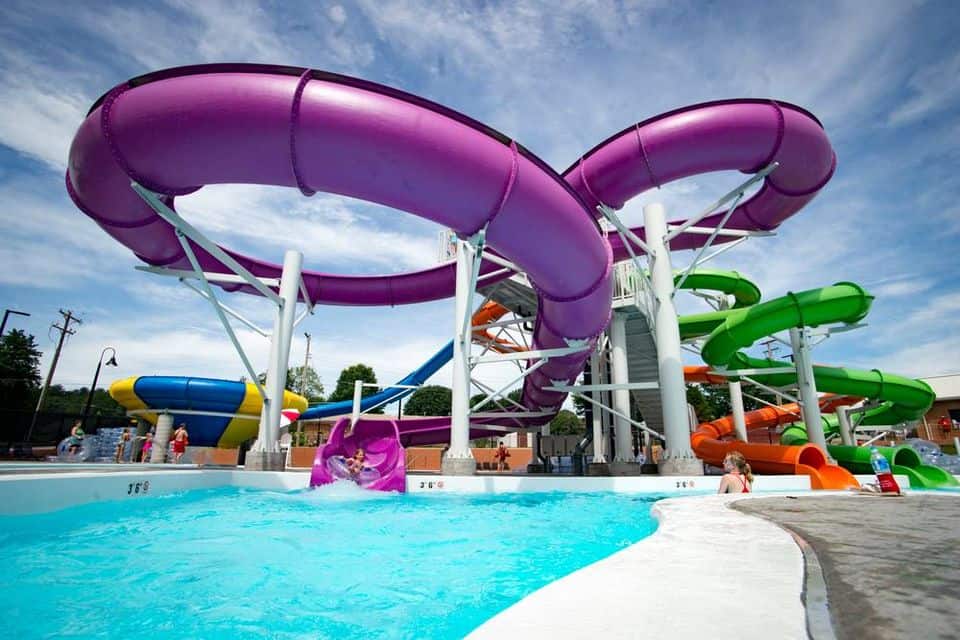 River Run is an aquatic center located in New Albany, Indiana. Have some family fun on the waterslides, float along the lazy river, and climb aboard their steamboat water feature. They have daily passes with non-resident rates and "out of state resident" rates. They offer season passes as well. Keep up with openings and closings on their Facebook page.
Location: 224 West Daisy Lane, New Albany, IN 47150
Season: May 27-Sept. 3, 2023, closed on Wednesdays (they mention "back to school hours" in August, check their site for details)
---
Splashin' Safari is the waterpark attached to Holiday World in Santa Claus, Indiana. They claim to have the "World's Longest Water Coaster" with Mammoth and Wildebeest. You can race the family with the Cheetah Chase, the first-ever head-to-head dueling zone on a water coaster. If water coasters aren't your style, you can float along the Bahari River, play in the wave pool or the spray ground, slip down the water slides, enjoy their eight slides for the younger set, and much more! Watch their website (link above) for updates on closures.
Location: 452 E. Christmas Blvd., Santa Claus, IN 47579
Season: Looks as though they're open daily through the first week of August and then weekends for the remainder of the season.
---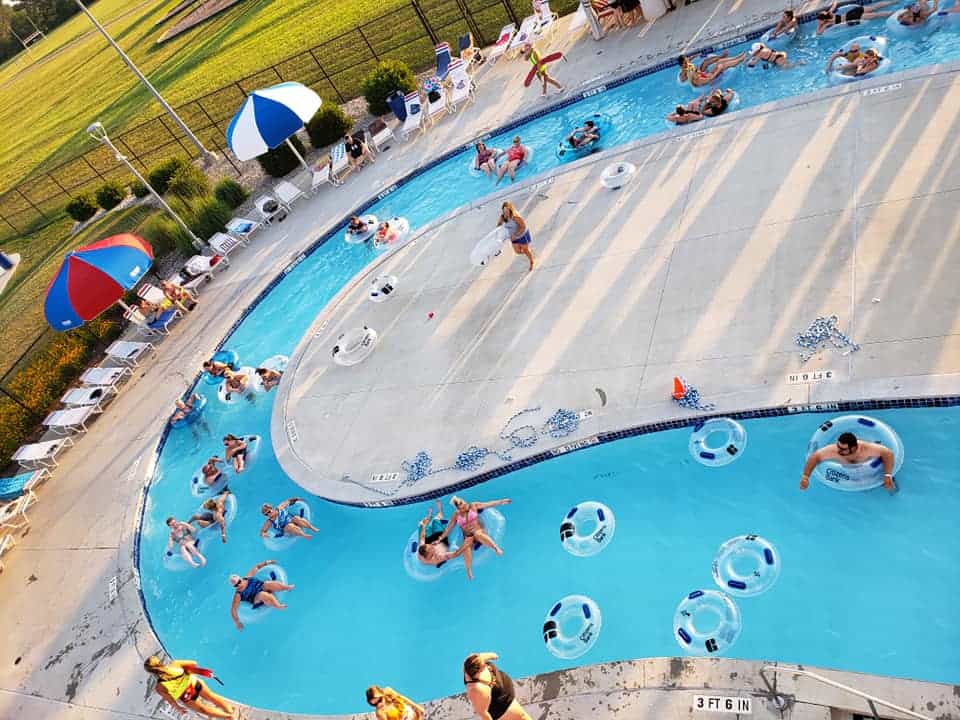 Experiences include a tube slide, 2 body slides, a drop slide, lazy river, lap pool, 1m and 3m diving boards, lily pad crossing, and a splash/play are for infants and toddlers. Daily admission charged, non-resident day passes available. Splash cards also available (10 day pass option).
Location: 850 W. Stop 18 Road, Greenwood, IN 46143
Season: May 27-September 4, 2023