Blue Ash ranks right up there as one of my favorite suburbs in Cincinnati. Whether you're looking for some great food, a trip to the park, indoor or outdoor fun, Blue Ash has some great things to do.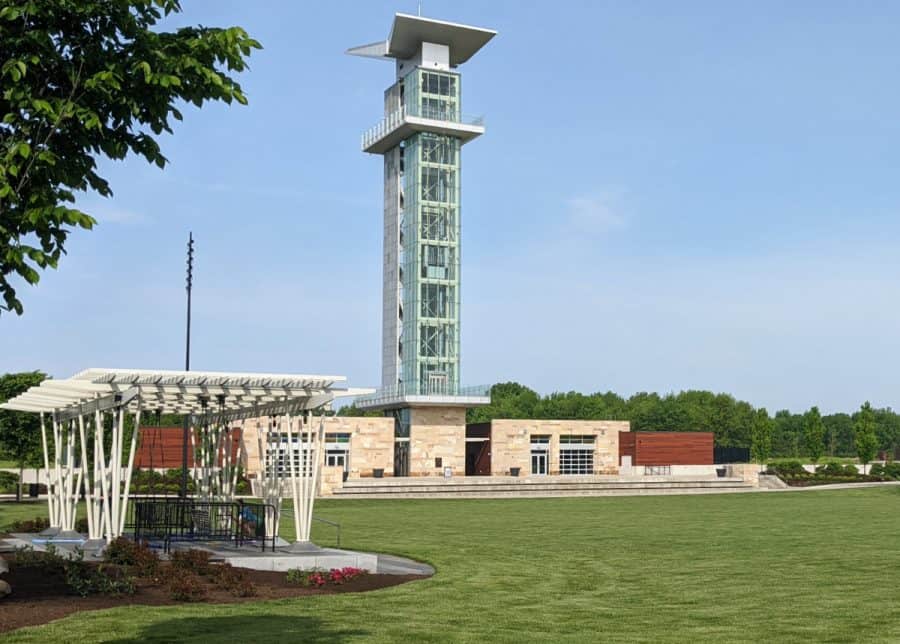 Located just 20 miles northeast of the city of Cincinnati, this small but mighty city is a popular spot for area residents and visitors.
If you're wondering what to do today, take a few things off our list and head out for a visit to Blue Ash!
10 of the Best Things to Do in Blue Ash:
1. Enjoy the View from the Observation Tower at Summit Park
Take in all that is Blue Ash from high atop the Observation Tower (pictured above)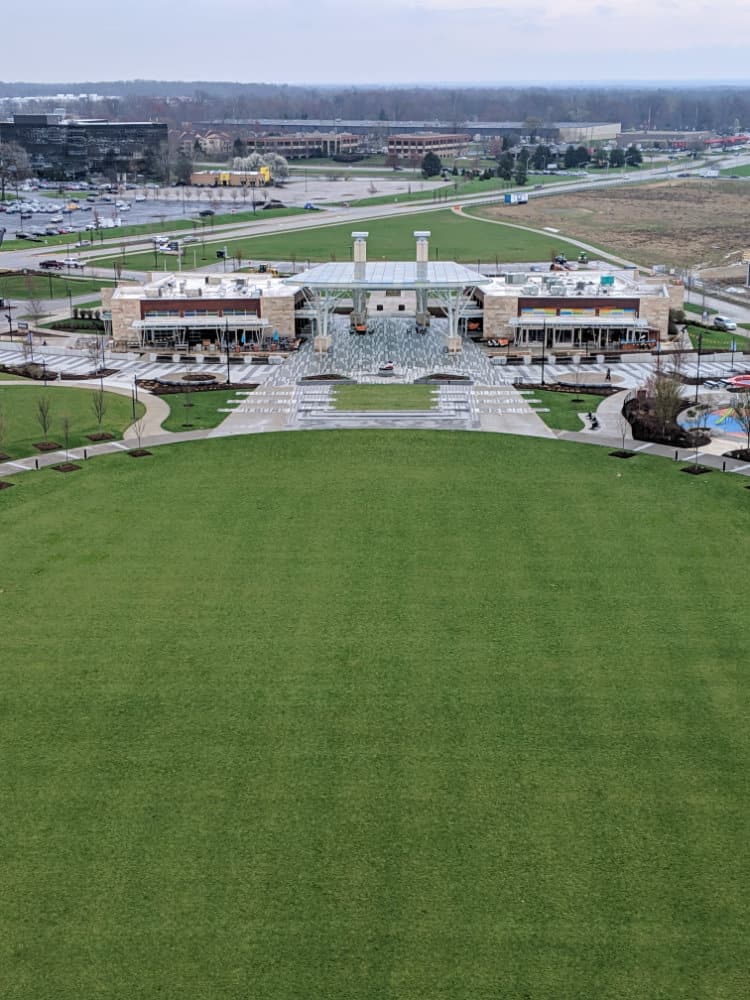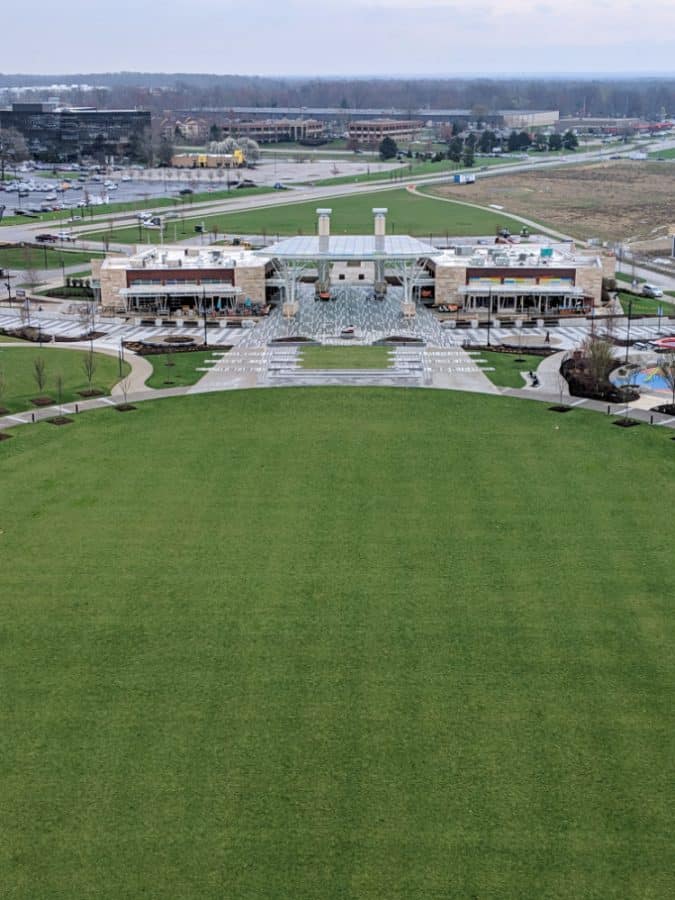 Located towards the end of the lawn, you can take an elevator to the top of the 153′ tower and take in the amazing view. On a clear day you can see Kings Island's Eiffel Tower, downtown Cincinnati, "Mount Rumpke", and more. Leave some time to explore the park as it is, in my opinion, one of the best parks around.
The Observation Tower is a free attraction and the park does not require any sort of vehicle sticker to enter. Hours for the tower are Mon-Thurs, 7am-9pm and Fri-Sun 7am-10pm.
Read More: Enjoying the Day at Summit Park in Blue Ash
---
2. Have a Gourmet Hot Dog at Senate Restaurant
You might think I'm crazy to recommend a hot dog on this list. But anyone who's experienced a gourmet hot dog at Senate would give you the same advice – try the hot dog!
Choose from dogs like Spuds Mackenzie, an all beef hotdog topped with bacon, duck fat fries, cheese sauce, pickled jalapenos, sour creams, and chives.
Be sure to ask about the Dog of the Day.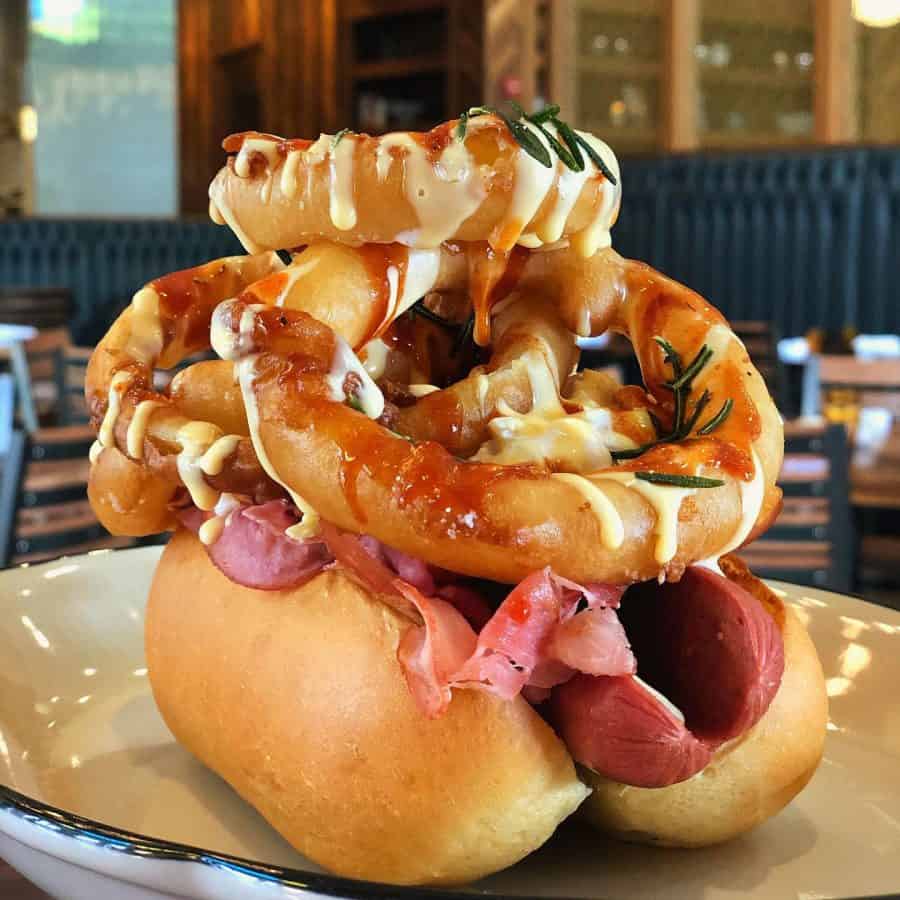 Close second on the menu? Poutine! Senate makes some of the best in town. Tip: ask for the secret menu item of poutine on your dog!
Senate Blue Ash is located within Summit Park so you'll be able to hit up #1 and #2 from the same parking spot 🙂
---
3. Climb to New Heights
Blue Ash has two great rock climbing options if you're looking for something to do inside.
The Blue Ash Rec Center has a rock climbing wall that is open to the public during open climb times (you don't have to be a resident or a Rec Center member to climb). Reservations are required. They offer 45 minutes sessions and there is a small fee. More info found here.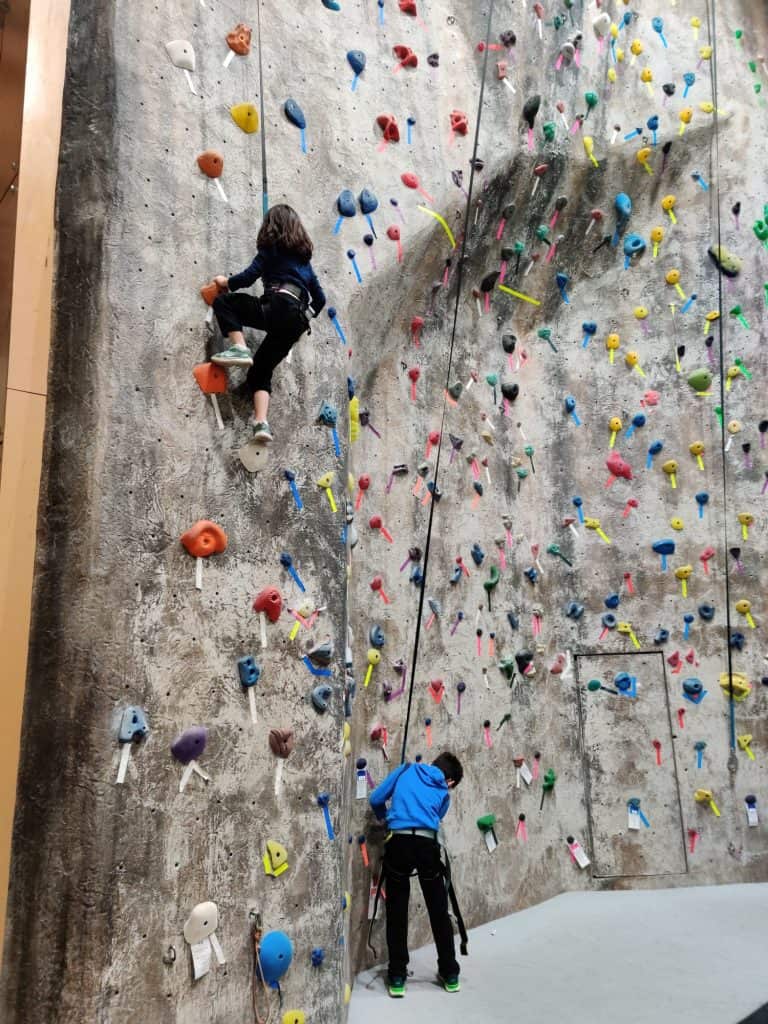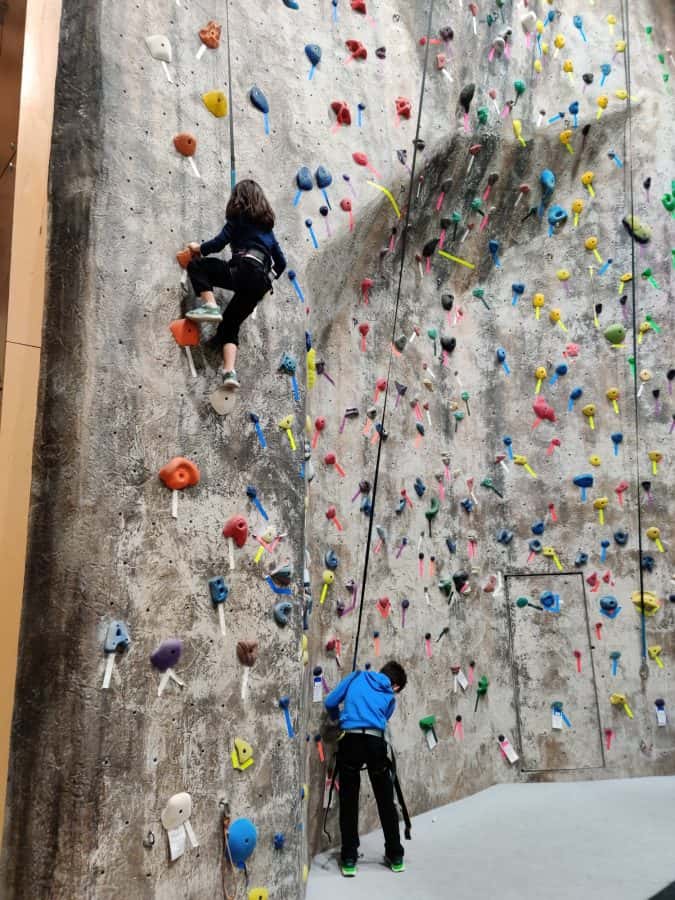 Climb Time is a 7,000 square foot space that specializes in bouldering and top rope climbing. This spot does require beginners to take a class and children under 13 must have an adult chaperone – be sure to see their site for more info.
---
4. Visit One of Blue Ash's Craft Breweries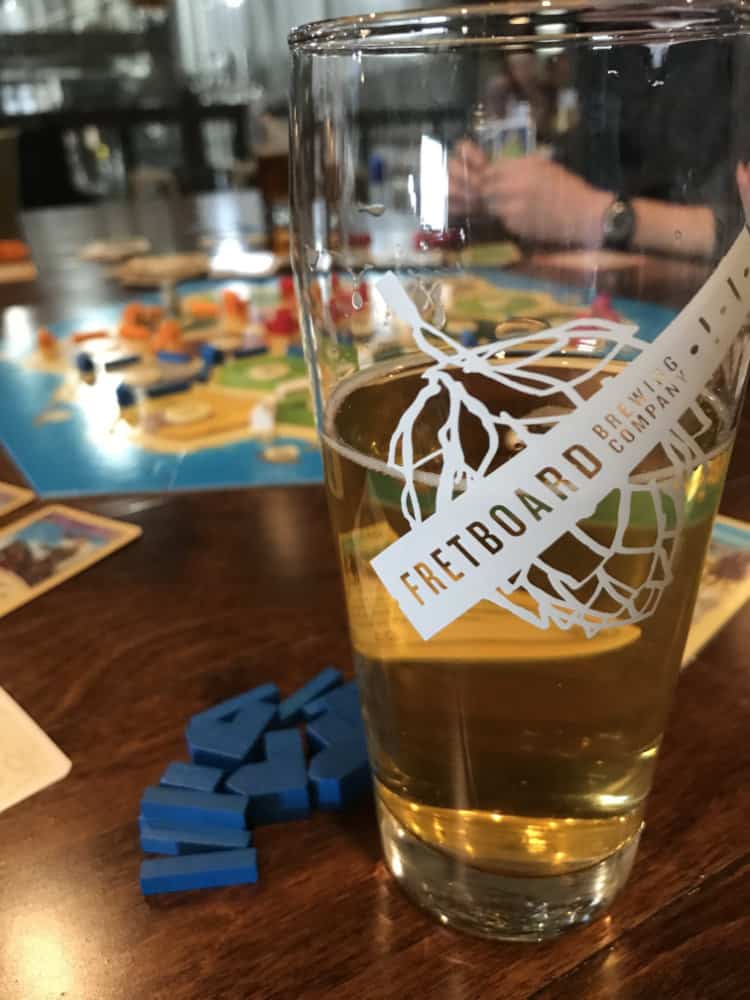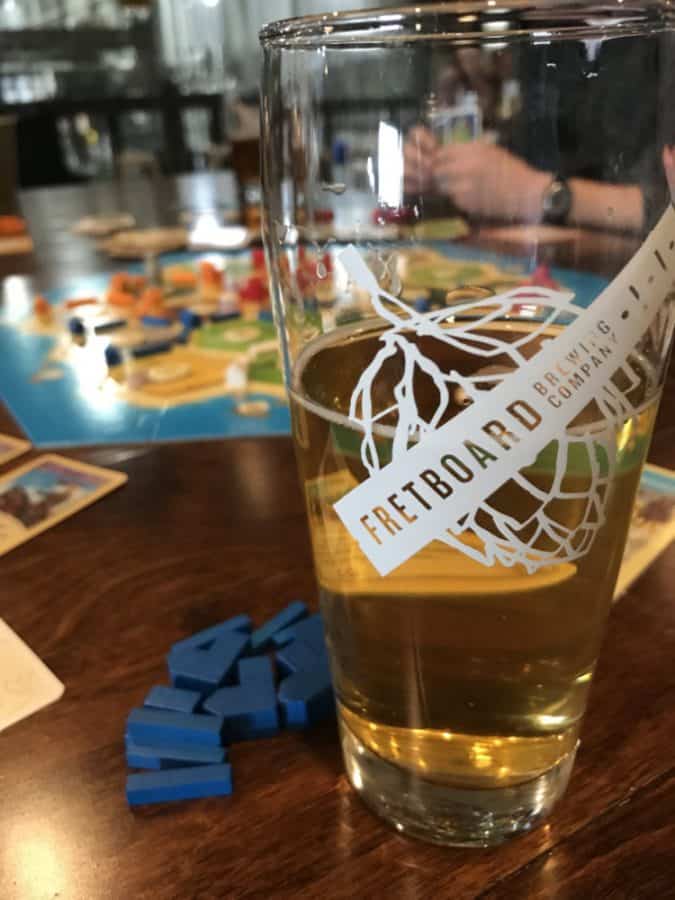 Blue Ash is home to two great breweries:
March First Brewing: Named for the birthdate of the great state of Ohio, March First has a large and spacious taproom. They have lots of tables, a long bar, and patio space. There's no reasong to go hungry here – they have a nice menu of appetizers, pizzas and sandwiches to choose from. Read more about March First here.
Fretboard Brewing: This is another very spacious taproom with lots of room to roam. They have a pool table and corn hole sets can often be found inside. There's a huge stage and they often have live music. They have food in-house as well. Find their website here.
---
5. Get On A Bike and Ride!
The City of Blue Ash has more than 35 miles of connected paths for biking. Many of the parks allow bikes on the trails and many of the sidewalks are quite wide. Find a Walking/Biking Path map here.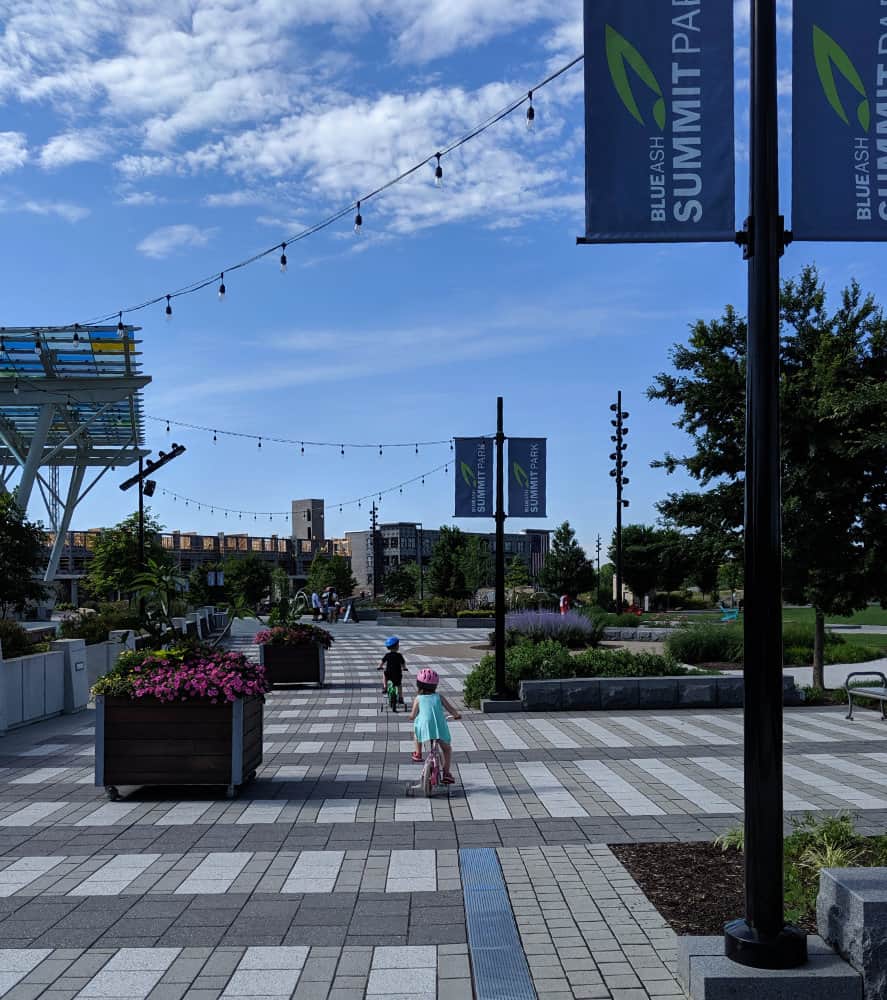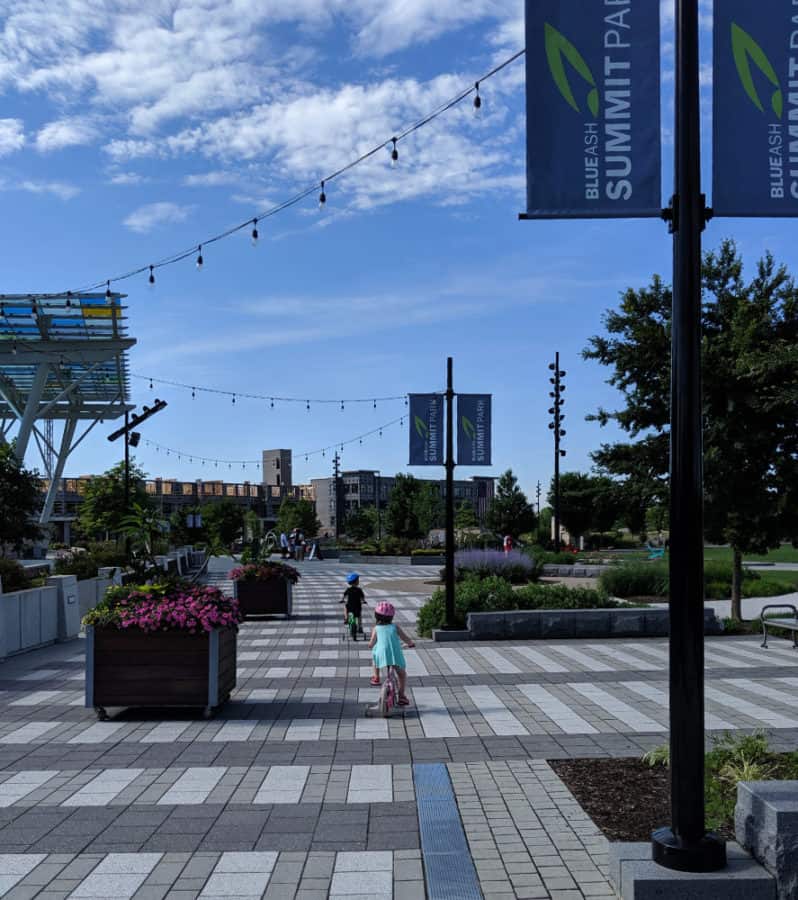 Summit Park is a great place to take the family for a bike ride. The park has a kid's bike roadway painted on the pavement (near the dog park) and you can also ride up and down the wide runway that's leftover from the old Blue Ash airport.
To be noted: Blue Ash does no longer offers bikes for rent.
---
6. Experience All That is Marx Hot Bagels
It wouldn't be a Best of Blue Ash list without an include for Marx Hot Bagels!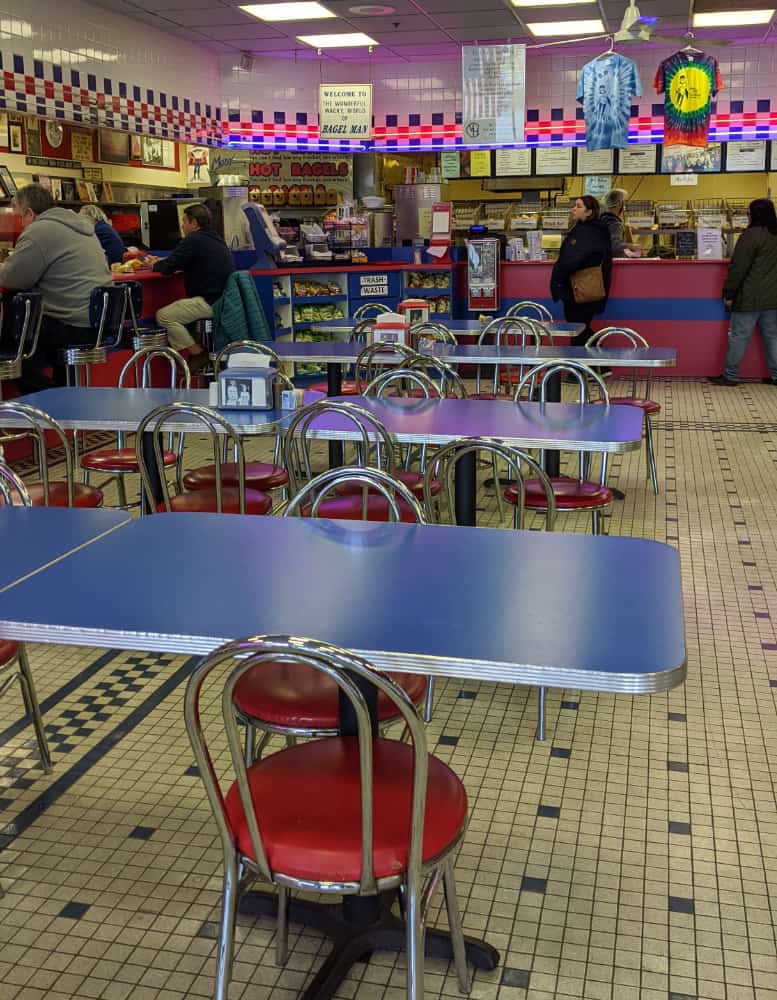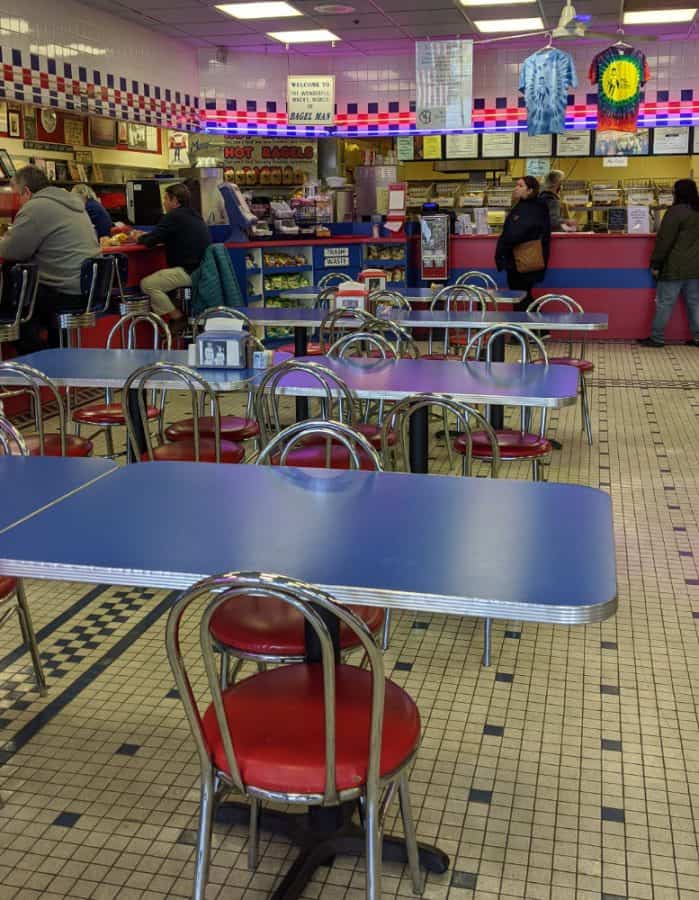 This kosher bagel shop has a cult following and it's well deserved. They bake up 30+ varieties of bagels every day – everything from pumpernickel to blueberry to egg. They will top them for you (of course) and they also offer sandwiches, soups, salads, and pastries.
My favorite: tuna salad on a toasted salt bagel! Find our more here.
---
7. Get Your Chili Fix at Blue Ash Chili
Don't miss your chance to eat at the spot featured on Diners, Drive-Ins, and Dives, Man vs. Food, and Ginormous Food.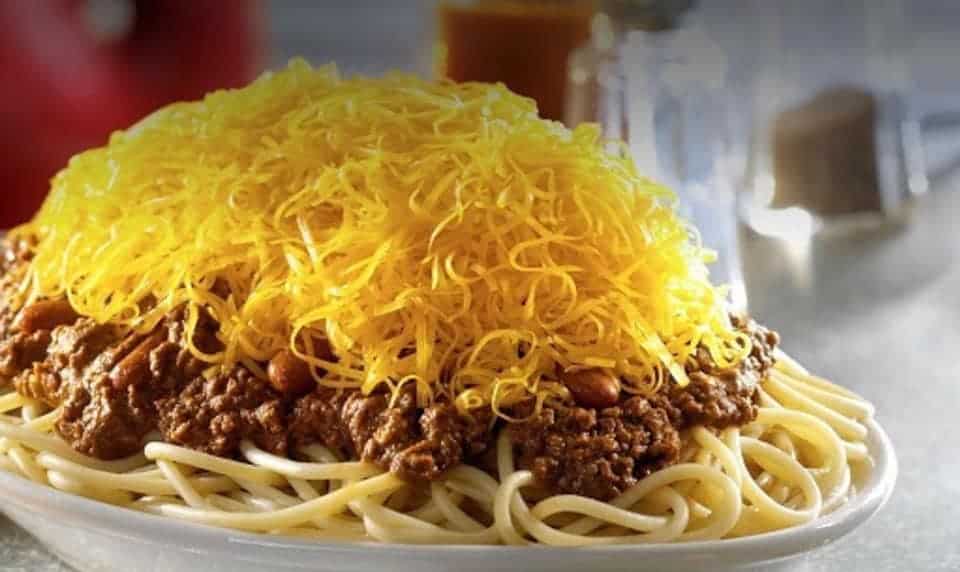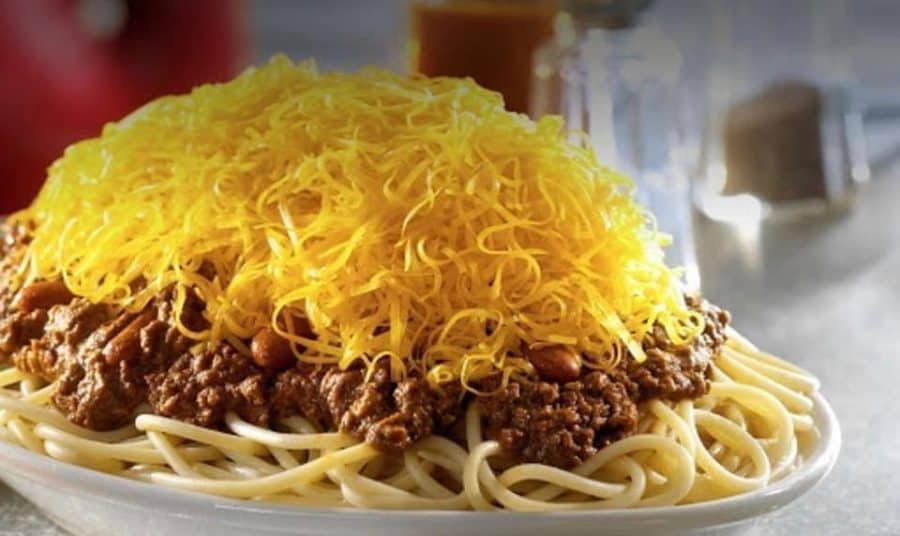 Serving up Cincinnati style chili as cheese coneys, 3/4/5 and even 6 ways, this diner has been making their same family recipe since 1969. Don't like chili? They also have double deckers, burgers, BBQ and more. Find all the menu and all the other details here.
---
8. Take Aim at Range USA Shooting Range
Range USA Blue Ash is an indoor shooting range that welcomes everyone from new to experienced shooters. You do not have to be a member (although memberships are available) to use their shooting lanes. You can rent range time by the half hour and they do offer gun rentals. Look through their variety of classes and training including Basic Handgun operations, Concealed Carry, Range Proficiency, and many more. Get all the details here.
---
9. Enjoy a Great Burger (and more) with a Visit to Sammy's
If you're looking for a great burger, look no further than Sammy's Craft Burgers and Beers. Their burger starts with meat that's ground daily and it's served on a bun that's baked here in Cincinnati. And they make some of the best burgers in town.
They're known for their amazing burgers but the menu offerings don't end there. They also offer favorites such as fish tacos, wings (seriously good!), salads, milk shakes, and much more.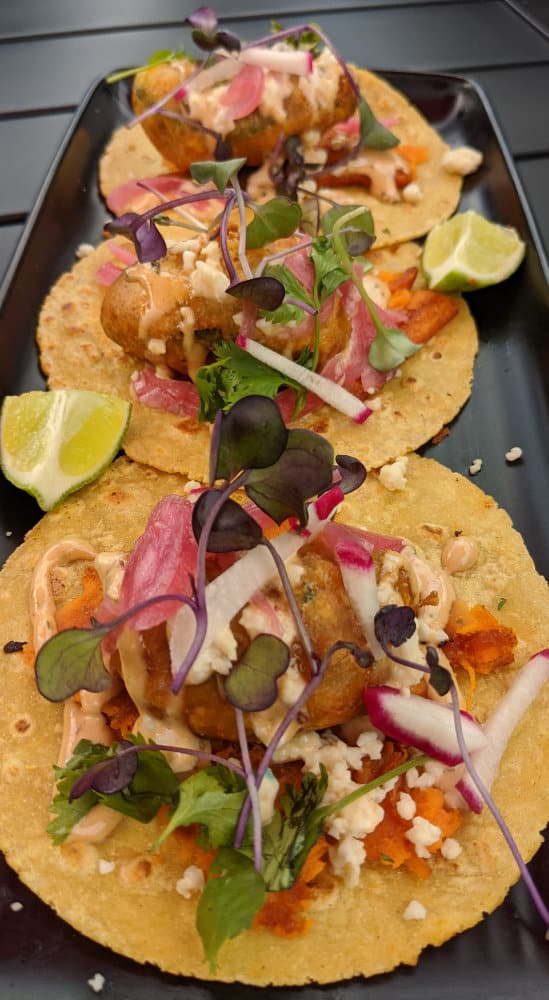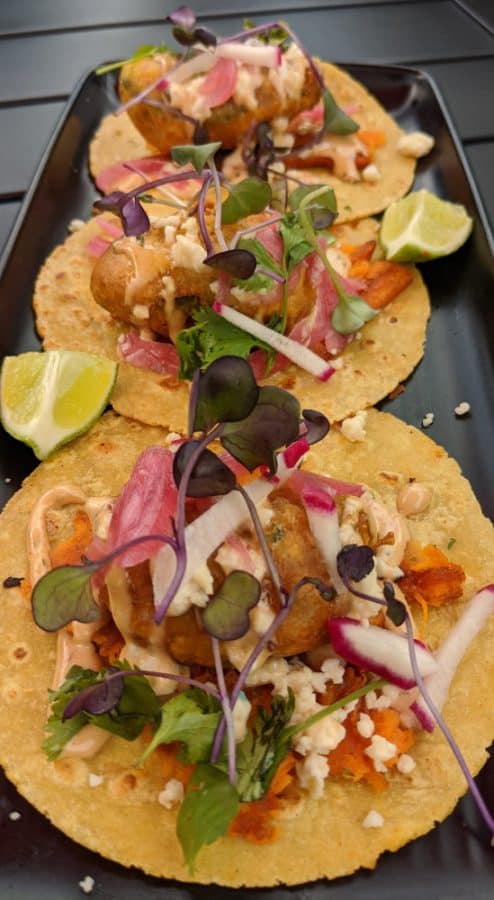 Enjoy a seat at a table or at the bar… or sit on the patio when it's warm. This casual spot is a bit on the small side but they do take reservations.
---
10. Enjoy One of MANY Park Events
The City of Blue Ash puts on many events at the parks throughout the year… but mostly when it's warm 🙂
Music fans will enjoy the variety of free concerts offered as part of the free Summer Concert Series. You'll find music on multiple days and stages throughout the summer. They host a variety of free fitness classes. Families will enjoy the Bike Rodeo (a once a year event) as well as movies in the park. And a favorite for many – the Blue Ash Farmers Market takes place May – October.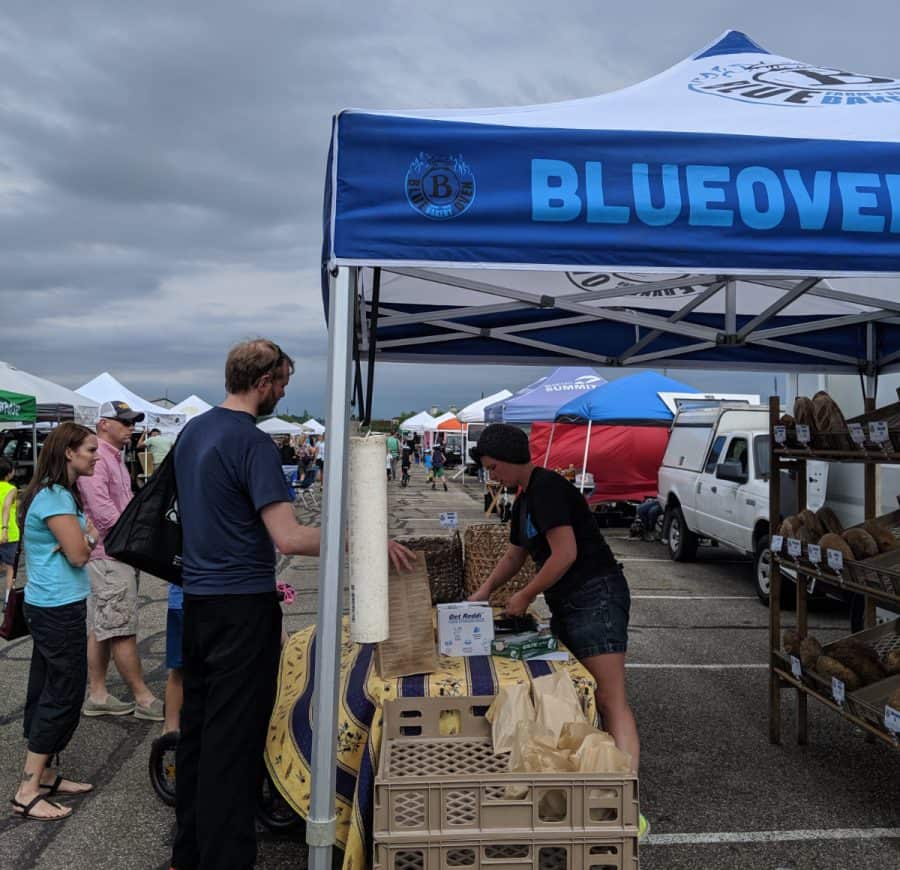 And mark your calendars for the uber-popular Red, White, and Blue Ash, a huge outdoor festival that's held around the 4th of July. Enjoy great food and activities. They typically bring in a nationally known headliner to cap off the day's live music.
---
Also nearby and well worth a visit (but technically not in Blue Ash) is Sharon Woods.