Washington Park… what's NOT to love?! This place is one of my favorite parks in town. And here are just a few reasons why…
1. Surrounded by Some of Cincinnati's Most Beautiful Architecture
You will be amazed and in awe when you look all around Washington Park. You'll find Music Hall, Memorial Hall, and the Transept on one side. South of the park you'll find some of our city's newer and more modern masterpieces (the School for the Creative and Performing Arts and Otto M. Budig Theatre – Cincinnati Shakespeare Company). On Race Street you'll find some new renovations, gorgeous old churches, and larger than life murals.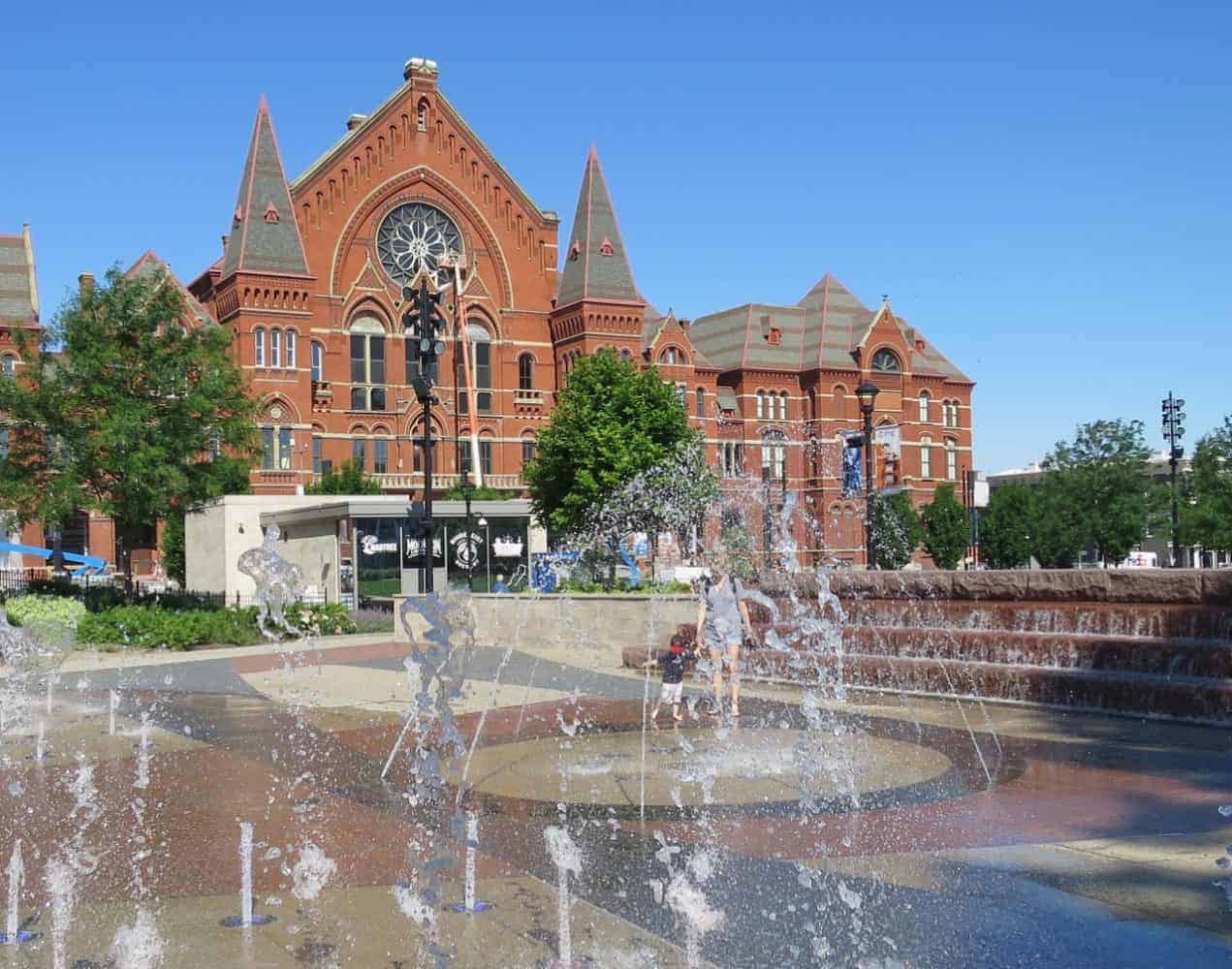 2. Loads of Free Events!
If you're looking for something to do that's free AND outside, Washington Park is your spot. You can enjoy movies in the park all summer, free fitness classes, live music on the stage and in the bandstand, kids' activities on the weekends, festivals and events, and so much more. Check out their event calendar here.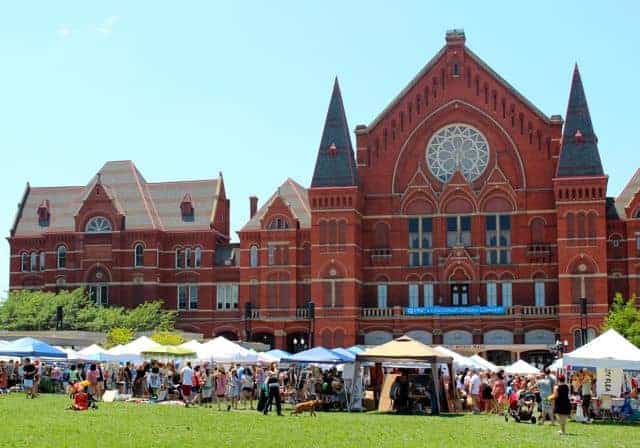 3. Water Features
Washington Park is just one of our wonderful downtown parks with a water feature (also see Smale Riverfront Park as well as Armeleder Memorial Sprayground at Sawyer Point).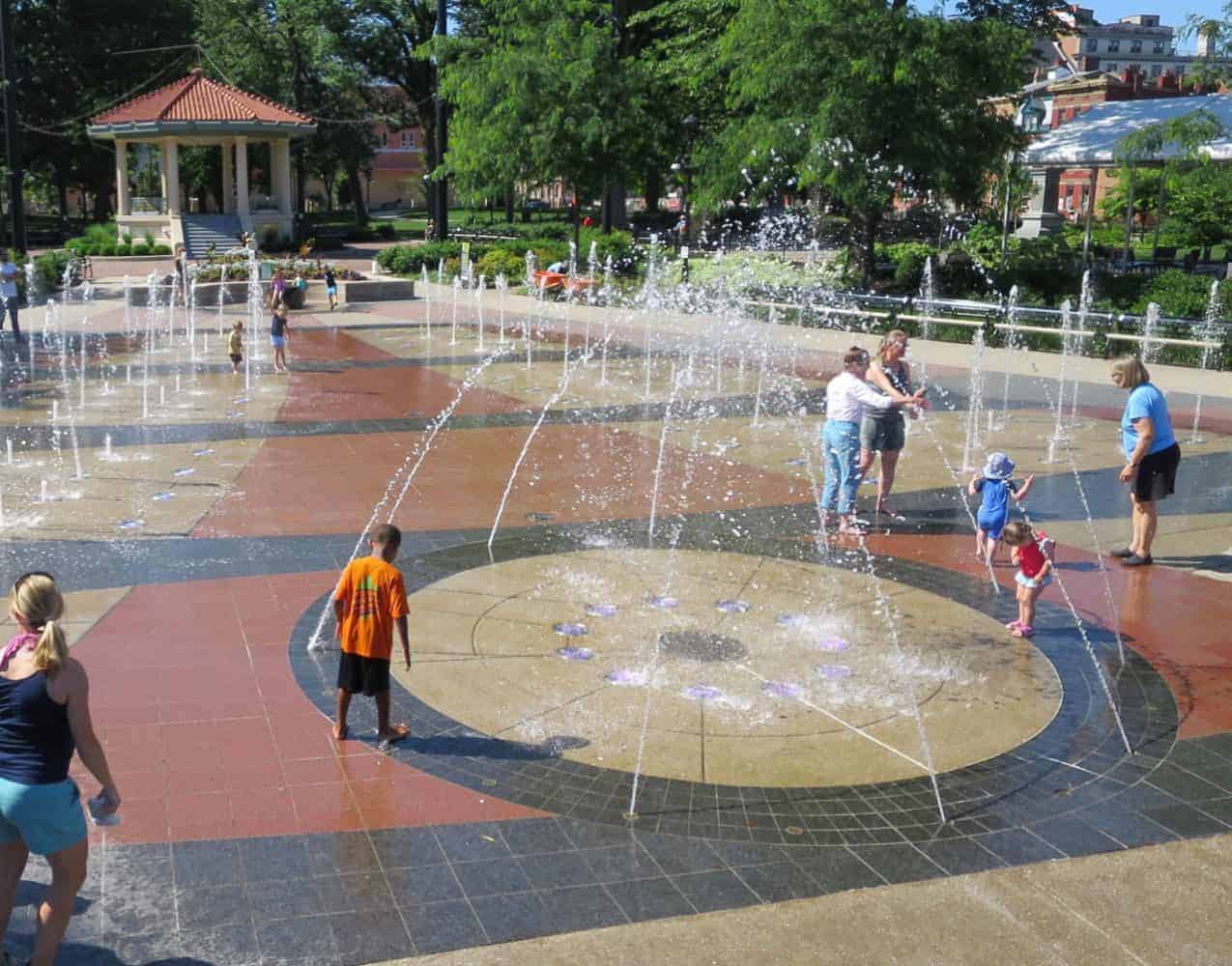 Water spouts up from the 130 pop up jets in the ground and can be synchronized to music and lights.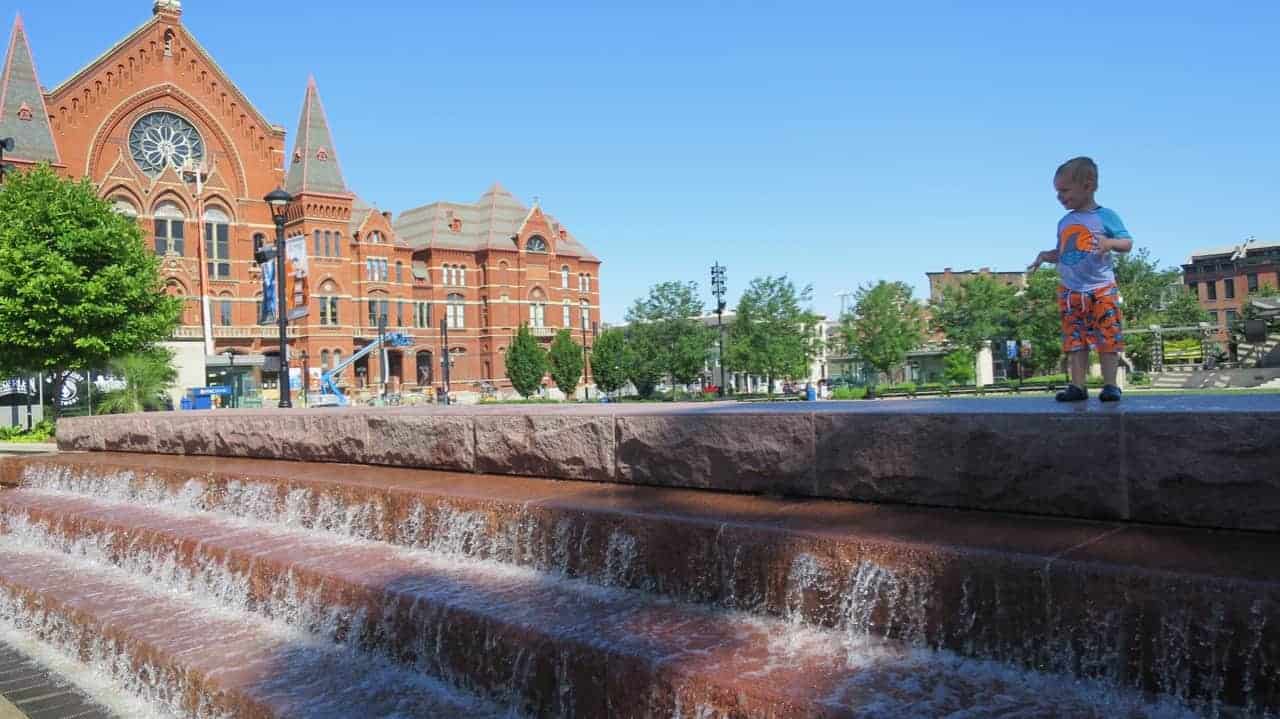 The north end of the water park features cascading water "steps".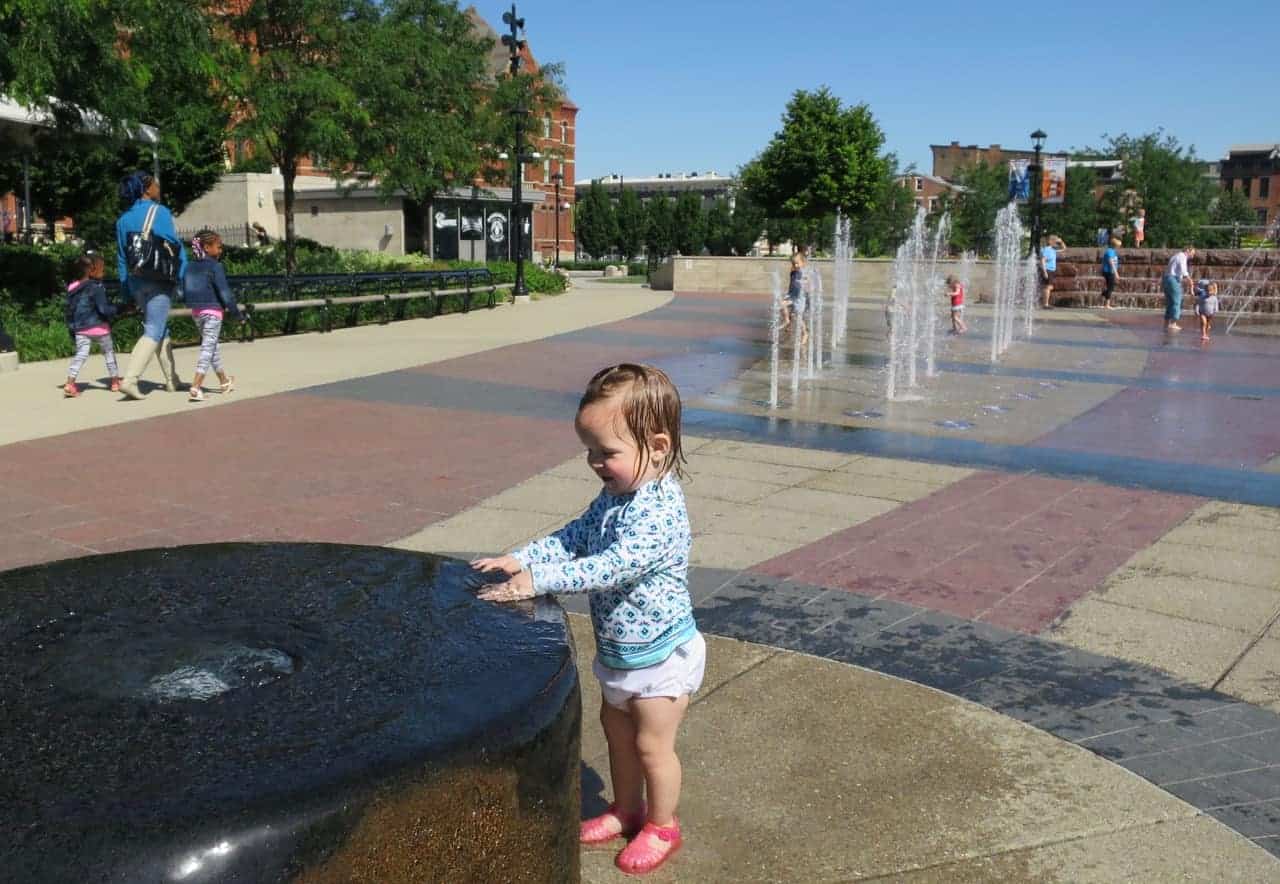 And kids seem to love the large boulder with water flowing over the sides.
4. Playground
Nestled into the south corner you'll find the Washington Park playground. With lots of shade, sand, benches, picnic tables, a bit of water… this is a great playground! It is all fenced in and has a gate that closes (although it's almost always propped open).
Kids will enjoy the canal boat next to the tiny canal (with a bit of streaming water). There's a large patch of sand in which to play (note: take some sand toys).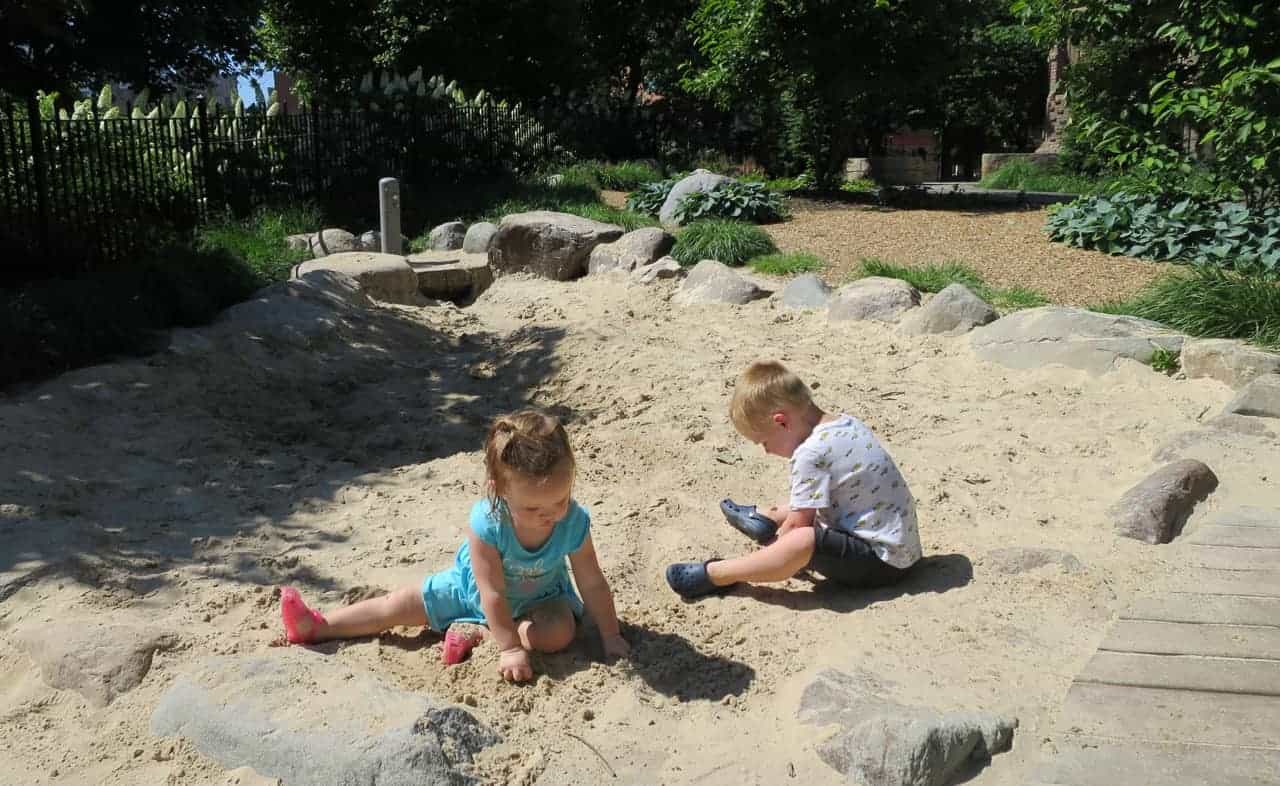 There's plenty of place to climb and explore. And the structures are great for pretend play.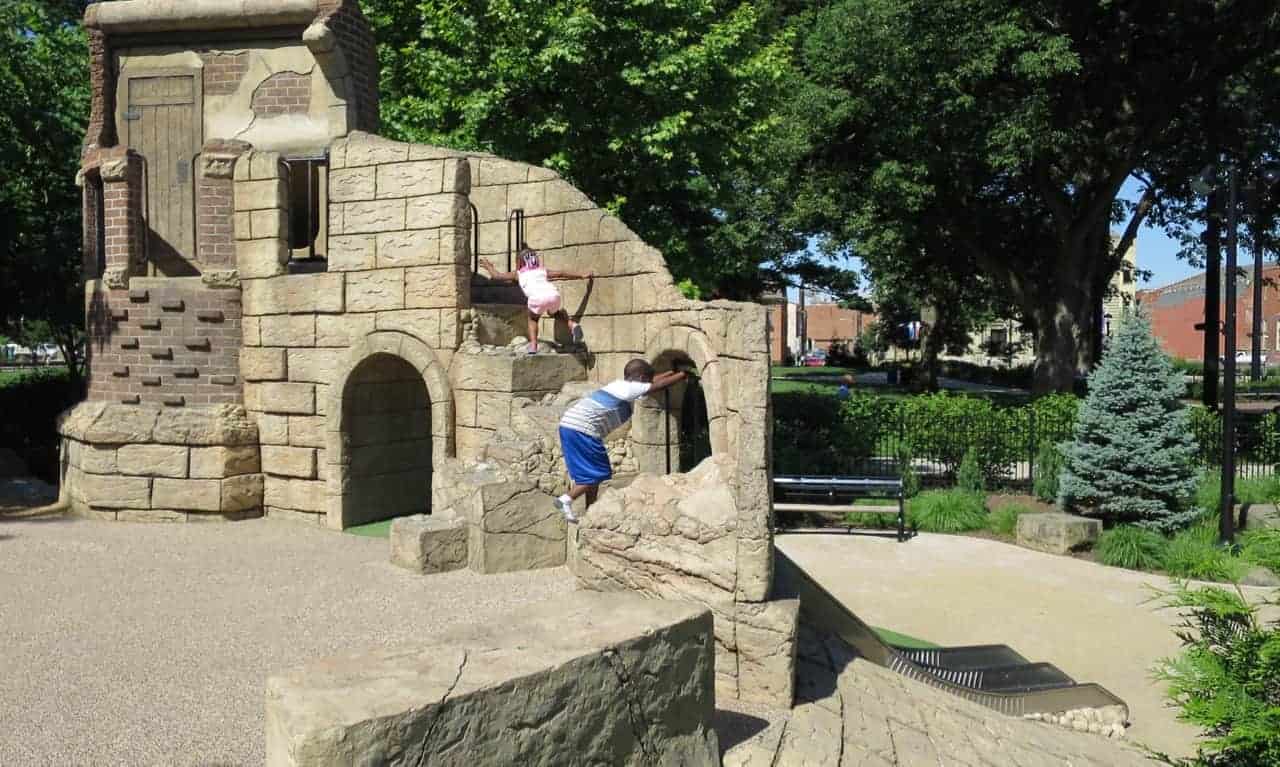 From the slides to the swings (2 for babies/toddlers as well as a large disk for multiples), there's something for every age group here.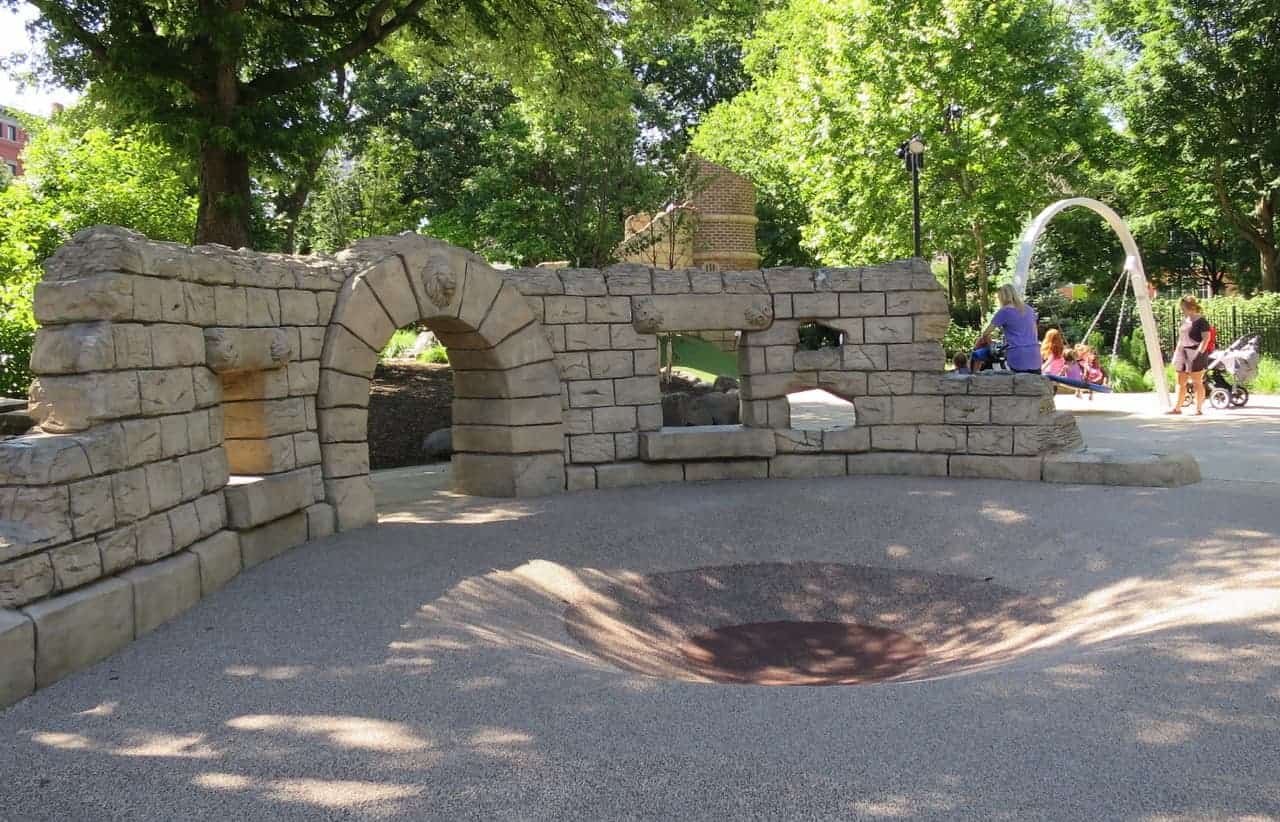 5. Lots of Benches, Lots of Shade
The park is ringed with rows of benches. There are lots of shade trees in the mix too – providing shade for a good portion of both the park and the playground.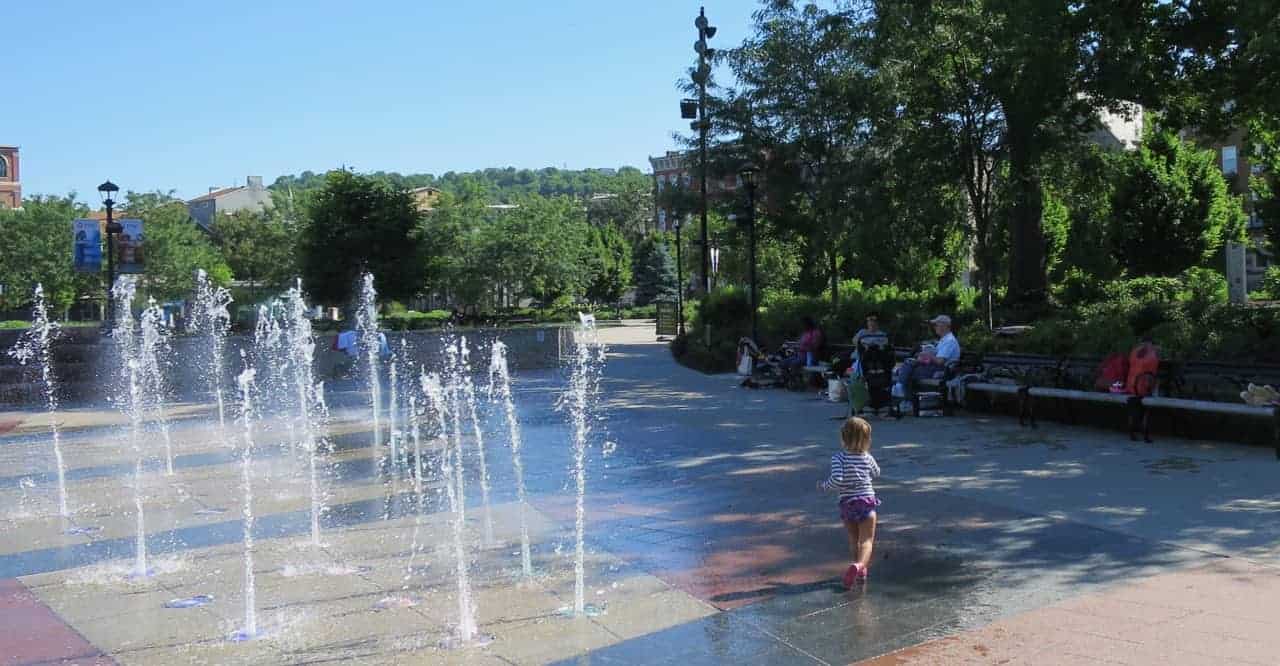 6. Close Proximity to Some of Cincinnati's Best Restaurants
Washington Park is a short walk away from most of my favorite restaurants in town. My "go to" take-food-to-Washington-Park spot has to be Taft's Ale House. And my very favorite place to eat is just a few blocks away – Bakersfield.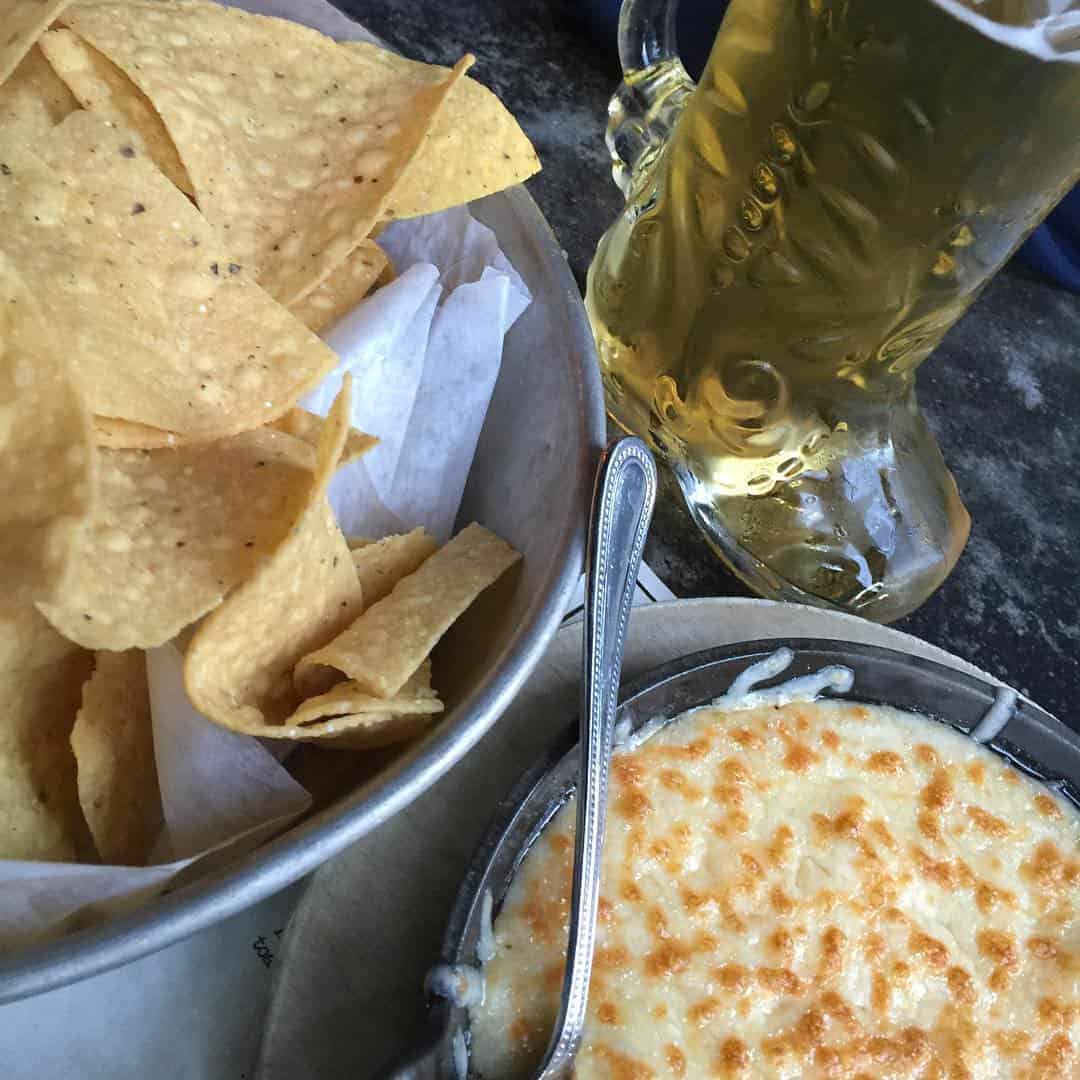 7. The Deck
Pull up a chair at The Deck at Washington Park. At just under 3000 square feet, this covered deck has tables and chairs to enjoy. We love to park it here and watch the bigger kids play in the sprayground. There's a bar on the deck that serves up local craft brews and light snacks.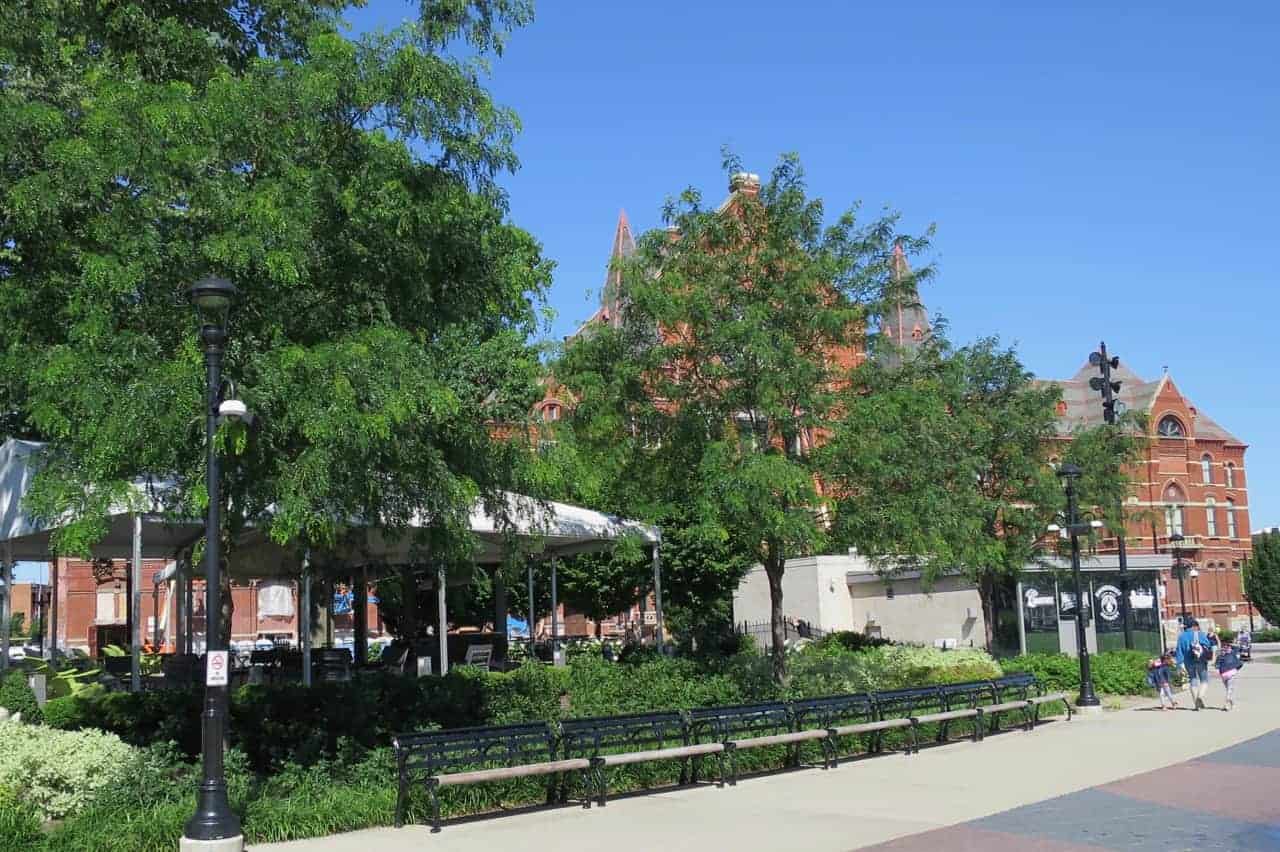 8. The Dog Park
Washington Park is home to a 12,000 square foot fenced dog park, the only one of its kind in the downtown area. Man's best friend will enjoy a romp in the water creek for dogs and can enjoy his/her own cold drink from the dog water spout.
9. Easy Access via the Cincinnati Streetcar
The Cincinnati Streetcar stops right at the northwest corner of Washington Park (in front of Music Hall). You can take it north to visit Findlay Market or take it south to Fountain Square or the Banks. Click here to learn all about how to navigate downtown on the Cincinnati Streetcar.
10. Convenient Parking
It doesn't get much easier than this! There's a parking garage right under the park. Entrances are on both Elm and Race Streets (two streets that border the park). Elevators and steps will bring you right up into the park. You can also find parking on the street (metered).
Washington Park is located at 1230 Elm Street in Cincinnati, Ohio