It's Day 357 of "365 Things to do in Cincinnati" and today I went to Alms Park, a beautiful park with incredible views.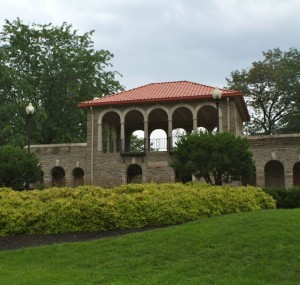 In between raindrops I was able to get out and enjoy all that Alms Park has to offer.  The scattered rain that arrived this morning kept the sane people at home which meant I actually had the entire park to myself.  That was pretty cool.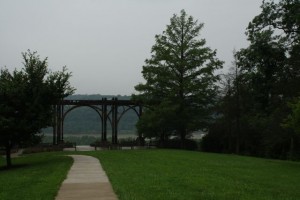 I wish my pictures featured sun and blue skies but that scene is hard to come by this summer!  I hope you can appreciate the slightly dusky look this morning had – it actually was kind of cool.  And of course this rainy season has brought cooler temperatures along with it so for that I'm grateful.
Above you'll see a lattice covered pavilion that sits atop a large hill and overlooks the Ohio River and Lunken Airport.  Gorgeous, breath-taking views.  This would be a great spot to sit and watch planes take off and land or to enjoy a book.  There are plenty of benches there on which to sit.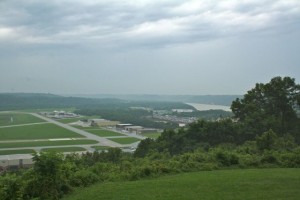 The land that Alms Park sits on holds a rich history.  The land was once owned by Nicholas Longworth who made wine here up until the time of the Civil War.  Before that it was said to be inhabitated by Native Americans as a watch point for settlers arriving on the Ohio River.  More recent history has the land being given to the Cincinnati Park Board in 1916 as a memorial to Frederick Alms.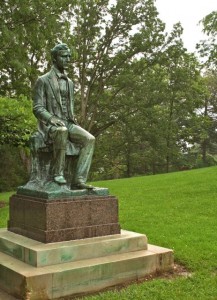 This park has the charm and grace resembling its cousin, Ault Park.  In the middle of the large circle that makes up the park, Alms Park has a beautiful stone pavilion with two levels.  The entry level features patios in front and behind and a large covered area in the middle.  Take the steps up the back and you'll find yourself perched inside the second story, overlooking this gorgeous park.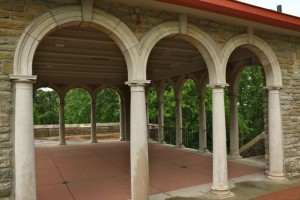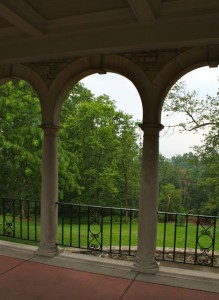 This park has lots of old world charm from a day when parks were full of people who were trying to escape the heat of summer.   It's fun to imagine what must have gone on here "back in the day".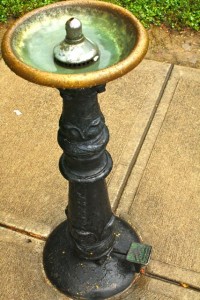 For the visitors of today the park has numerous picnic tables and grills, a play set, swings, etc.  There's a reservable area in the loop below which also has a volleyball/badmitton net and lots of field space.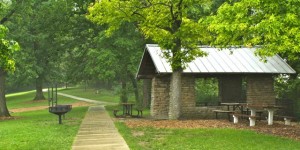 This park is entirely free to enter and enjoy – no permits required.
Alms Park is located at 710 Tusculum Avenue