Fall festivals are abundant come September and October in the Cincinnati area. In fact, you're likely to find fall festivals near you every weekend for a few months!
If you're looking for a long hayride, bonfires, a chewy caramel apple, pumpkin patches, and loads of fall fun, this is your list!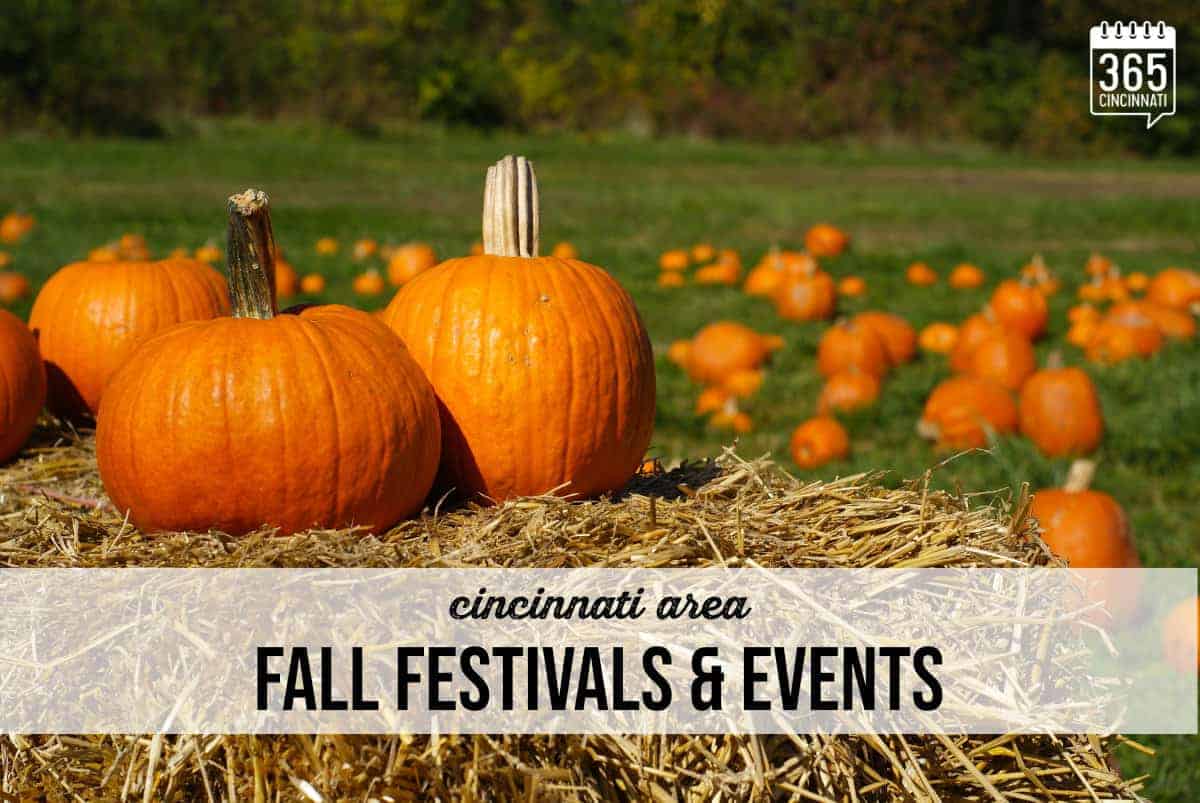 TIPS: Keep in mind that many of these farms will only accept cash so plan ahead. If it's raining or really wet, check with the farm to be sure they're still operational for the day. And an extra set of clothes and a few towels thrown into the truck are always a good idea when you're playing hard!
Jump to: Fall Festivals in September | Fall Festivals in October
Fall Festivals in September
Fall on the Farm at Blooms and Berries Farm Market
Wander through their 5-acre corn maze and make sure to punch your score card at each station. Take a hayride out to the pumpkin patch. Adults can enjoy a beer or glass of wine (and even watch the game) on the weekends at the Beer Garden. Kids will love the GIANT pumpkin bounce pad. There's more fun with farm animals, duck races, and much more.
When: September 16 – October 31, 2023
Where: Blooms and Berries Farm Market
Address: 9669 S. St. Rt. 48, Loveland, Ohio 45140
Cost: $10.95 – $18.95
Advance online ticket purchase required
Fall Family Fun Weekends at Brown's Family Market
Fall Family Fun at Brown's Family Market includes hayrides to the pumpkin patch, corn maze, pre-picked pumpkins and gourds, photo opportunities, farm animals and more.
When: Weekends starting Sept. 16/17
Where: Brown's Family Farm Market
Address: 11620 Hamilton Cleves Rd, Hamilton, Ohio 45013
Cost: no admission, fees per activity
Fall Fun at the Farm Event at Burger Farm
Burger Farm and Garden Center invites you to enjoy fall with them the last weekend of Sept. and every weekend in October with pumpkins, corn stalks, mums, gourds, apple cider, animated pumpkin land characters, rides, games, food, music, farm animals, crafters and more. Enjoy 15 different attractions and numerous picture opportunities designed for the whole family.
When: Weekends, Sept. 30 through October 29, 2023
Where: Burger Farm and Garden Center
Address: 7849 Main Street (St. Rt. 32), Newtown, OH 45244
Cost: "Play All Day" admission is $15 ; some activities have an additional fee
Burwinkel Farms
Join Burwinkel Farms for some Fall Farm Fun! Enjoy hayrides to their pumpkin patch, corn mazes, acres of sunflower fields (when in bloom), a skid maze, Halloween scavenger hunt, animals to visit, plus more! Large selection of pumpkins! Over 20 varieties of homegrown apples and tons of fall décor! Hayrides run Saturdays and Sundays, 10am-6pm (weather permitting).
When: September 23 – October 31
Where: Burwinkel Farms
Address: 4359 Hamilton Cleves Road, Ross, OH 45013
Cost: varies
Country Applefest
2023 is the 40th year for this Lebanon festival! The fall festival features 300 booths full of food, entertainment, crafters, and more.
When: September 23 and 24, 2023
Where: Warren County Fairgrounds
Address: 665 N. Broadway St., Lebanon, Ohio
Cost: Admission is $1 a person (cash only), 12 and under are free. Free parking.
Fall Festival at Country Pumpkins
Head to this family owned and operated 250 acre dairy farm for this fall festival. Enjoy a 4 acre corn maze, hayrides, pumpkin chunkin', farm animals, and more.
When: Rides and U-Pick available Fri -Sun, Sept. 9 – October 30, 2023 (see site for hours)
Where: Country Pumpkins
Address: 1835 Sherman Mt. Zion Road, Dry Ridge, KY 41035
Cost: varies
Fall Fest at Kinman Farms
Your Fall Fest Adventure admission includes includes hayride, corn maze, Maci Lou's Barnyard, jump pillow, Manny's Corn Express, and much more! (Pony Rides are NOT included)
When: September 23 – October 29, 2023
Where: Kinman Farms
Address: 4175 Burlington Pike, Burlington, Kentucky 41005
Cost: $10 admission, additional items cost varies
Neltner's Farm Fall Festival
At Neltner's Farm, autumn is the time for harvest and celebration, and they invite your family to join theirs for the annual fall festival. Admission includes horse drawn wagon rides, 3+ acre corn maze, pick your own pumpkin patch. You will also gain access to their model train display, petting zoo, wine tasting, home-cooked food, farm stand with all of your fall item needs, plus acres to roam.
When: Sept. 30 – Oct. 31, 2023
Where: Neltner's Family Farm
Address: 6922 Four Mile Road, Camp Springs, Kentucky
Cost: $7 for ages 3 and up plus some additional paid options (no admission charged Mon.-Thurs.)
Fall Festival at Niederman Family Farm
The fall fun at Niederman's includes access to the jumping pillow, corn maze, lil sprout route, hayride, play cabins, duck races, climbing web, pipe swings, ball zones and much more!
When: Fall Festival starts Sept. 22 and ends Oct. 29, 2023; see site for times and tickets
Where: Niederman Family Farm
Address: 5110 Lesourdsville West Chester Rd., Liberty Township, Ohio 45011
Cost: $15 (plus small service fee), under 2 free
Shaw's Pumpkin Times
Affordable Farm fun. Enjoy hayrides, corn maze, pedal karts, large interactive playground and bluegrass band on the weekends.
When: Sept. 16? – Oct. 31, 2023 (site says third weekend in Sept.)
Where: Shaw Farms
Address: 1737 Ohio 131, Milford, Ohio 45150
Cost: no admission charge, pay per activity
---
Fall Festivals in October
Fall on the Farm at Blooms and Berries Farm Market
Wander through their 5-acre corn maze and make sure to punch your score card at each station. Take a hayride out to the pumpkin patch. Adults can enjoy a beer or glass of wine (and even watch the game) on the weekends at the Beer Garden. Kids will love the GIANT pumpkin bounce pad. There's more fun with farm animals, duck races, and much more.
When: September 16 – October 31, 2023
Where: Blooms and Berries Farm Market
Address: 9669 S. St. Rt. 48, Loveland, Ohio 45140
Cost: $10.95 – $18.95
Advance online ticket purchase required
Fall Family Fun Weekends at Brown's Family Market
Fall Family Fun at Brown's Family Market includes hayrides to the pumpkin patch, corn maze, pre-picked pumpkins and gourds, photo opportunities, farm animals and more.
When: Weekends starting Sept. 16/17
Where: Brown's Family Farm Market
Address: 11620 Hamilton Cleves Rd, Hamilton, Ohio 45013
Cost: no admission, fees per activity
Fall Fun at the Farm Event at Burger Farm
Burger Farm and Garden Center invites you to enjoy fall with them the last weekend of Sept. and every weekend in October with pumpkins, corn stalks, mums, gourds, apple cider, animated pumpkin land characters, rides, games, food, music, farm animals, crafters and more. Enjoy 15 different attractions and numerous picture opportunities designed for the whole family.
When: Weekends, Sept. 30 through October 29, 2023
Where: Burger Farm and Garden Center
Address: 7849 Main Street (St. Rt. 32), Newtown, OH 45244
Cost: "Play All Day" admission is $15 ; some activities have an additional fee
Burwinkel Farms
Join Burwinkel Farms for some Fall Farm Fun! Enjoy hayrides to their pumpkin patch, corn mazes, acres of sunflower fields (when in bloom), a skid maze, Halloween scavenger hunt, animals to visit, plus more! Large selection of pumpkins! Over 20 varieties of homegrown apples and tons of fall décor! Hayrides run Saturdays and Sundays, 10am-6pm (weather permitting).
When: September 23 – October 31
Where: Burwinkel Farms
Address: 4359 Hamilton Cleves Road, Ross, OH 45013
Cost: varies
Fall Festival at Country Pumpkins
Head to this family owned and operated 250 acre dairy farm for this fall festival. Enjoy a 4 acre corn maze, hayrides, pumpkin chunkin', farm animals, and more.
When: Rides and U-Pick available Fri -Sun, Sept. 9 – October 30, 2023 (see site for hours)
Where: Country Pumpkins
Address: 1835 Sherman Mt. Zion Road, Dry Ridge, KY 41035
Cost: varies
Sunflowers Festival at Gorman Farm
Gorman Heritage Farm is a 122 acre working farm featuring hayrides, pumpkins, craft vendors, food trucks, corn maze, sunflower maze, meet the farm animals, Farm Fun Education Station, mule drawn carriage rides, High Grain Beer Garden and Cut Your Own sunflowers (2022 was $1 per stem.)
When: October 7 and 8, 2023
Where: Gorman Farms
Address: 10052 Reading Road, Evendale, Ohio 45241
Cost: $12 in advance, $15 at the door (kids and adults 60+ are less)
Mini Harvest Fest
A fun-filled evening of food, live music, booths, games, crafts, pumpkins and more! This year they'll have hot air balloon rides and a Touch a Truck event.
When: October 7, 2023; noon – 8 pm
Where: The Village of Greenhills, Greenhills Commons
Address: Eswin and Endicott Roads in Greenhills, 45218
Cost: free admission, items for sale
Fall Fun at HVO
Head to Hidden Valley Orchards for their special themed weekends.
When: Oct 7- 8 – Great Pumpkin Days
Where: Hidden Valley Orchards
Address: 5474 North State Route 48, Lebanon, Ohio 45036
Cost: varies
Fall Fest at Kinman Farms
Your Fall Fest Adventure admission includes includes hayride, corn maze, Maci Lou's Barnyard, jump pillow, Manny's Corn Express, and much more! (Pony Rides are NOT included)
When: September 23 – October 29, 2023
Where: Kinman Farms
Address: 4175 Burlington Pike, Burlington, Kentucky 41005
Cost: $10 admission, additional items cost varies
Fall Festival in Milford
Head to Valley View for a Free Fall Festival. Enjoy a wagon ride around the Valley View property, a petting zoo, face painting, a magician, and more during this fun and free festival!
When: October 7, 2023, 2-5pm
Where: Valley View
Address: 790 Garfield Avenue, Milford, Ohio 45150
Cost: free
Neltner's Farm Fall Festival
At Neltner's Farm, autumn is the time for harvest and celebration, and they invite your family to join theirs for the annual fall festival. Admission includes horse drawn wagon rides, 3+ acre corn maze. You will also gain access to their model train display, petting zoo, wine tasting, home-cooked food, farm stand with all of your fall item needs, plus acres to roam.
When: Sept. 30 – Oct. 31, 2023
Where: Neltner's Family Farm
Address: 6922 Four Mile Road, Camp Springs, Kentucky
Cost: $7 for ages 3 and up plus some additional paid options (no admission charged Mon.-Thurs.)
Fall Festival at Niederman Family Farm
The fall fun at Niederman's includes access to the jumping pillow, corn maze, lil sprout route, hayride, play cabins, duck races, climbing web, pipe swings, ball zones and much more!
When: Fall Festival starts Sept. 22 and ends Oct. 29, 2023; see site for times and tickets
Where: Niederman Family Farm
Address: 5110 Lesourdsville West Chester Rd., Liberty Township, Ohio 45011
Cost: $15 (plus small service fee), under 2 free
Shaw's Pumpkin Times
Affordable Farm fun. Enjoy hayrides, corn maze, pedal karts, large interactive playground and bluegrass band on the weekends.
When: Sept. 16? – Oct. 31, 2023 (site says third weekend in Sept.)
Where: Shaw Farms
Address: 1737 Ohio 131, Milford, Ohio 45150
Cost: no admission charge, pay per activity