The Nature Playscape at the Cincinnati Nature Center is what kids' dreams are made of!
Imagine getting to discover and play on over an acre of forest, fields, water, and natural habitats – just like our parents and grandparents did in their childhoods.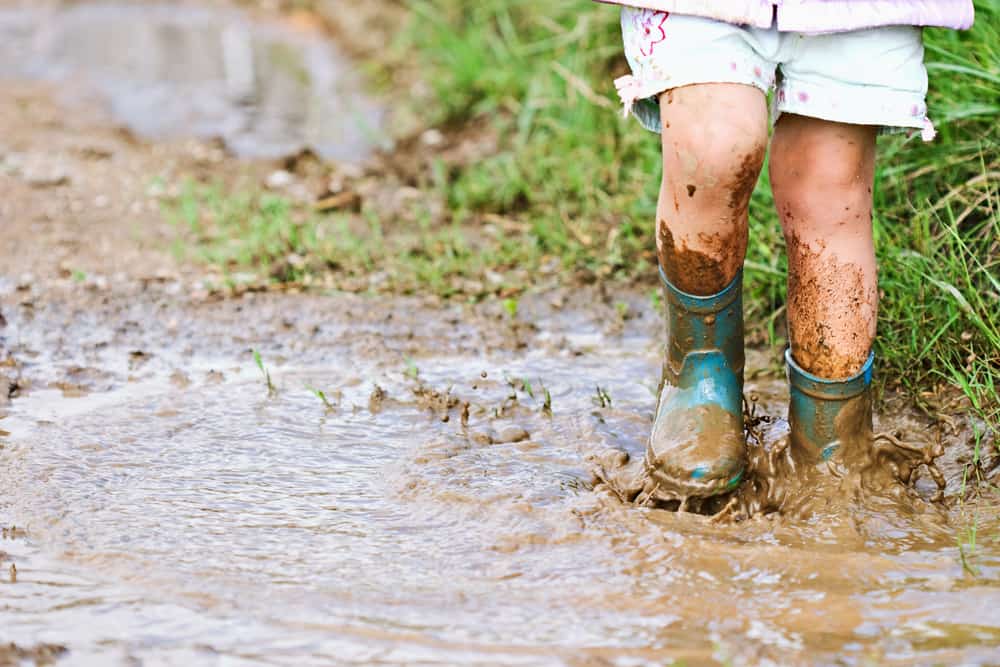 Kids can splash in the dirt, wander through the wildflowers, build, climb logs, pretend to be explorers, pirates, fairies… The opportunities are endless, and totally up to the kids' imaginations.
Don't wait as long as we did to get out and explore the Nature PlayScape. We visited for the first time this summer, and it has quickly become our favorite spot for outdoor play. My kids ask when we will be returning to the Nature PlayScape before we've even pulled out of the parking lot!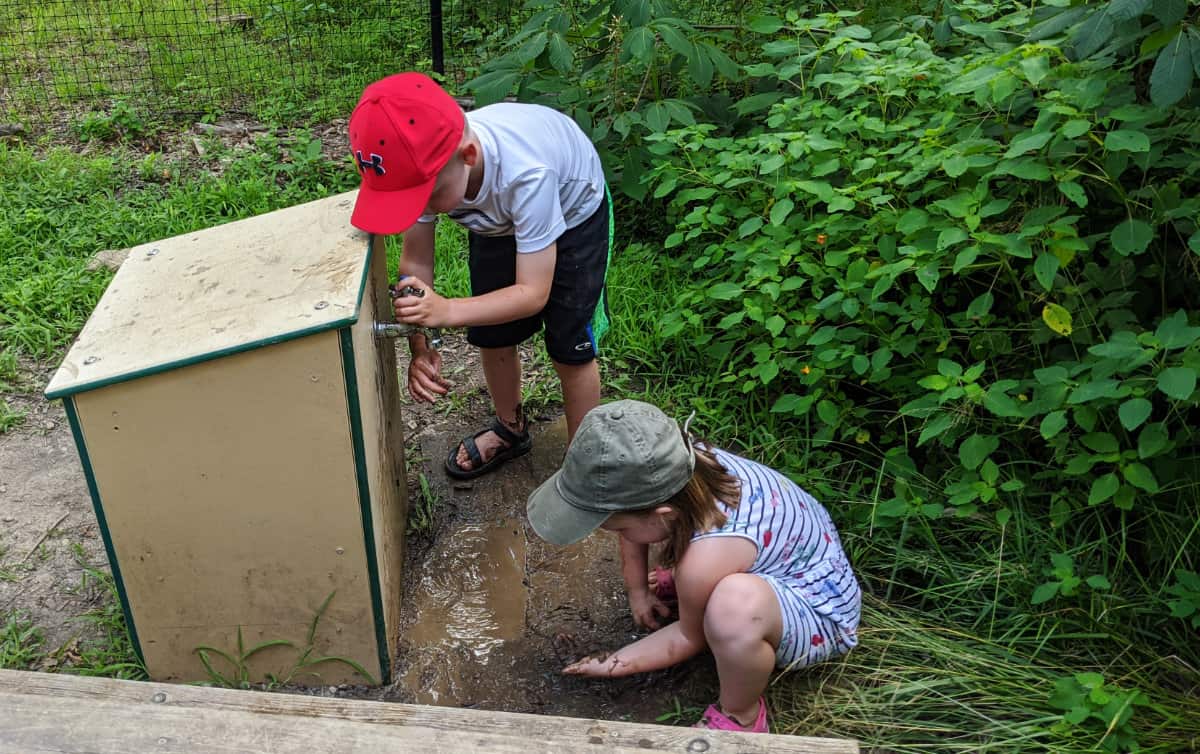 What is the Nature PlayScape at the Cincinnati Nature Center?
The Nature PlayScape is designed for natural, open-ended play. Just like nature intended it!
There are intentional areas set up throughout the play area to encourage natural play: a mud area, sand pit, creek, bird blind, climbing log, rock garden, building area, trails through wildflowers, and more.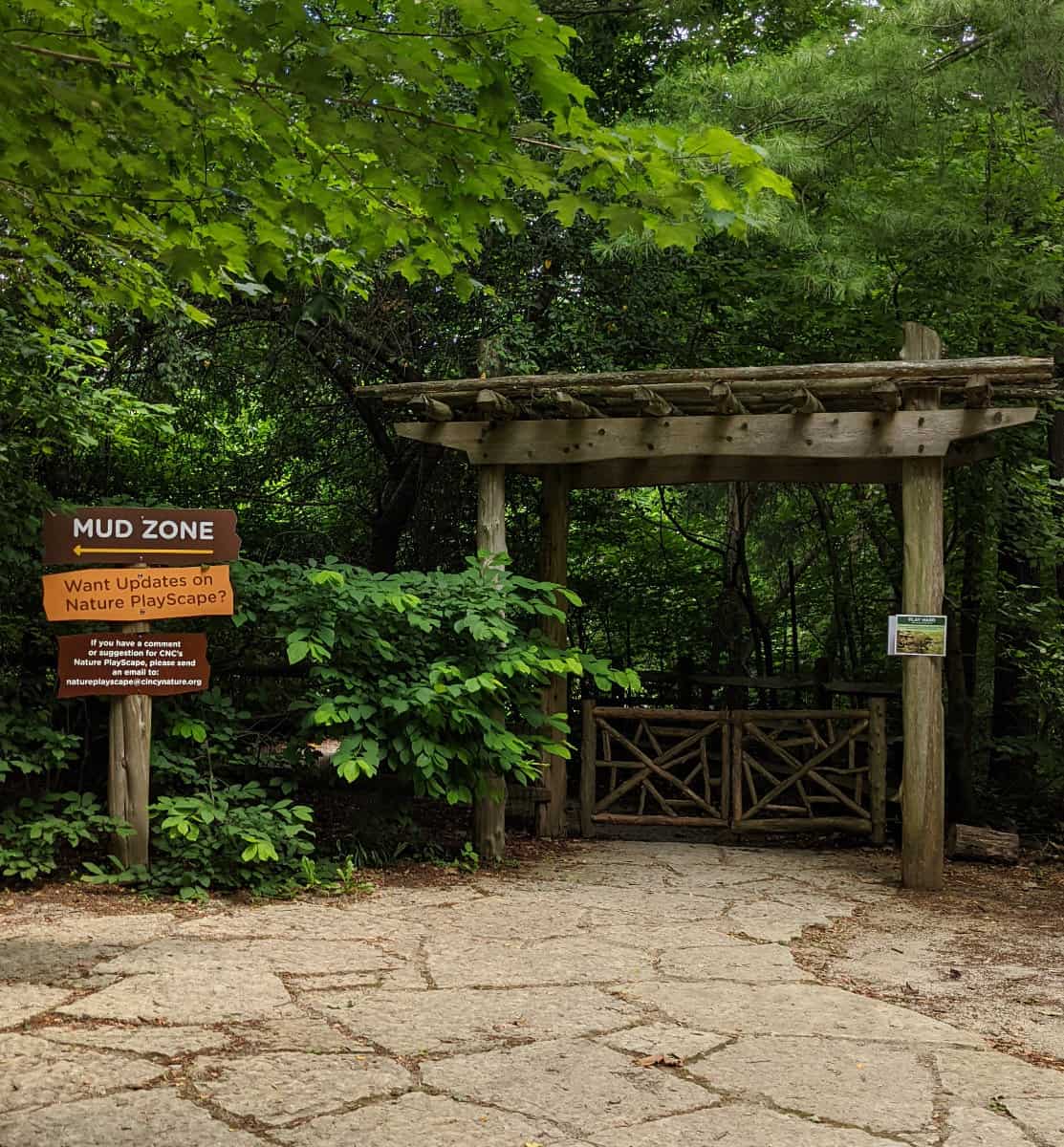 Though designed for kids, there are some nice features built in for the parents: shaded benches throughout the park, picnic tables and a restroom close by, and (my favorite part) the entire PlayScape is fenced in. That means kids can explore freely and off the trail in the PlayScape (though with adult supervision), without worrying about getting lost in the other 1,000+ acres of Rowe Woods.
Find out more about all the CNC grounds here: Cincinnati Nature Center – A Great Place to Explore the Outdoors
---
Our 5 Favorite Things To Do at the CNC Nature PlayScape
1. Get down and dirty at the Mud Zone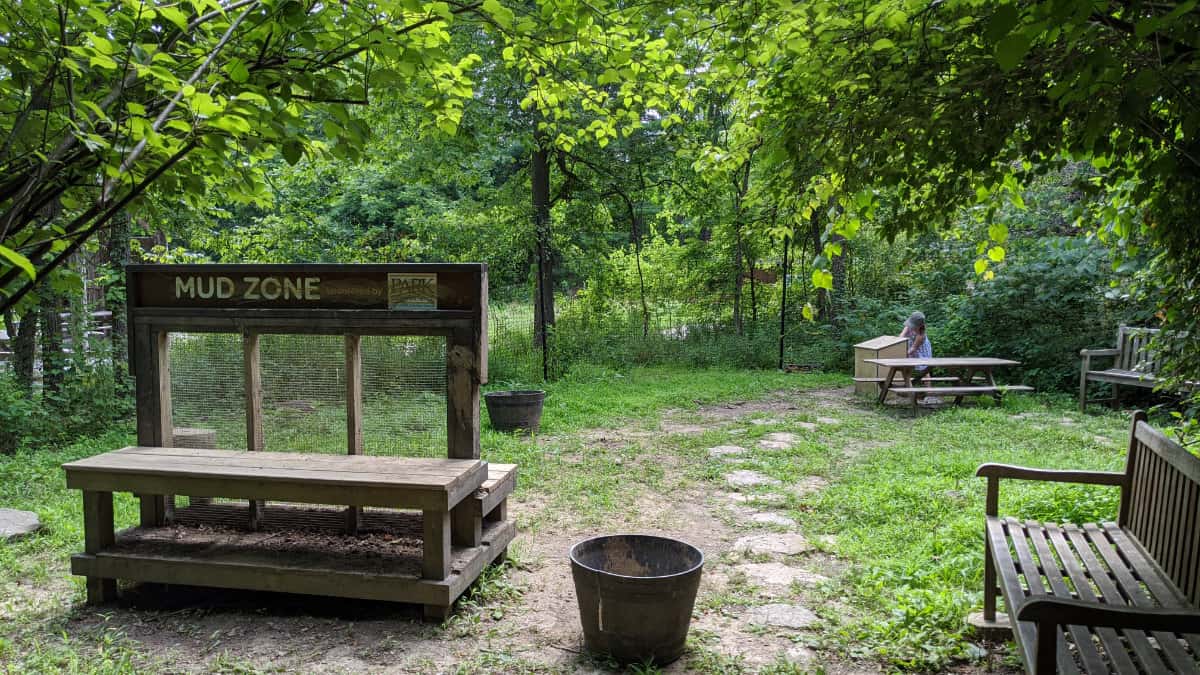 The Mud Zone is located directly to the right after you enter the PlayScape gate. Kids have free range to make as much mud as they want with the play area's water spigot. Spread the mud around around, jump in mud puddles, build mud sculptures – this spot really is kid paradise!
Don't worry if they get too muddy. They can rinse off in the water spigot, or you can use the outdoor shower / foot rinser by the restrooms to get cleaned up.
2. Build and climb with real wood logs & branches
Take the trails to the very back of the PlayScape, and you'll find this hidden wooded area where kids can use logs to build, climb, and play.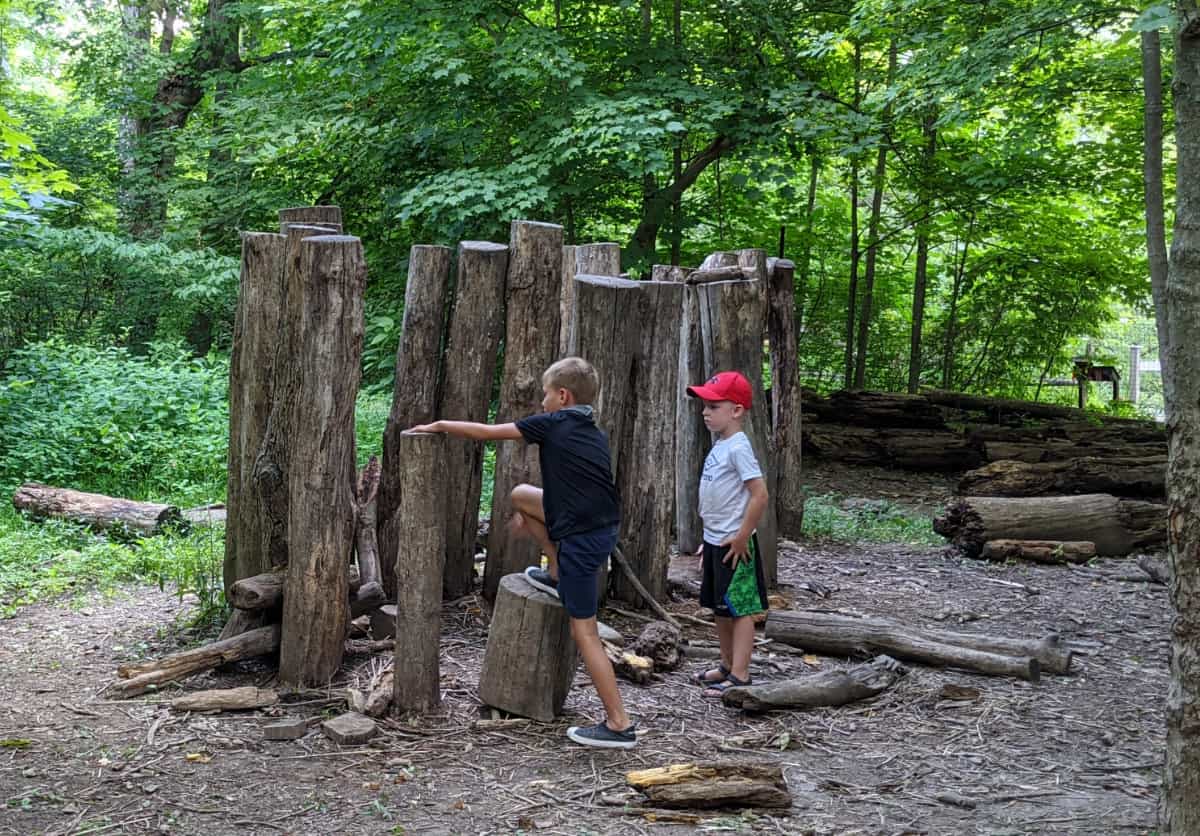 On the right side, you'll see a group of logs sticking out of the ground. Kids can use this to create a bigger structure, or climb on top (with supervision) to practice their balance and climbing skills.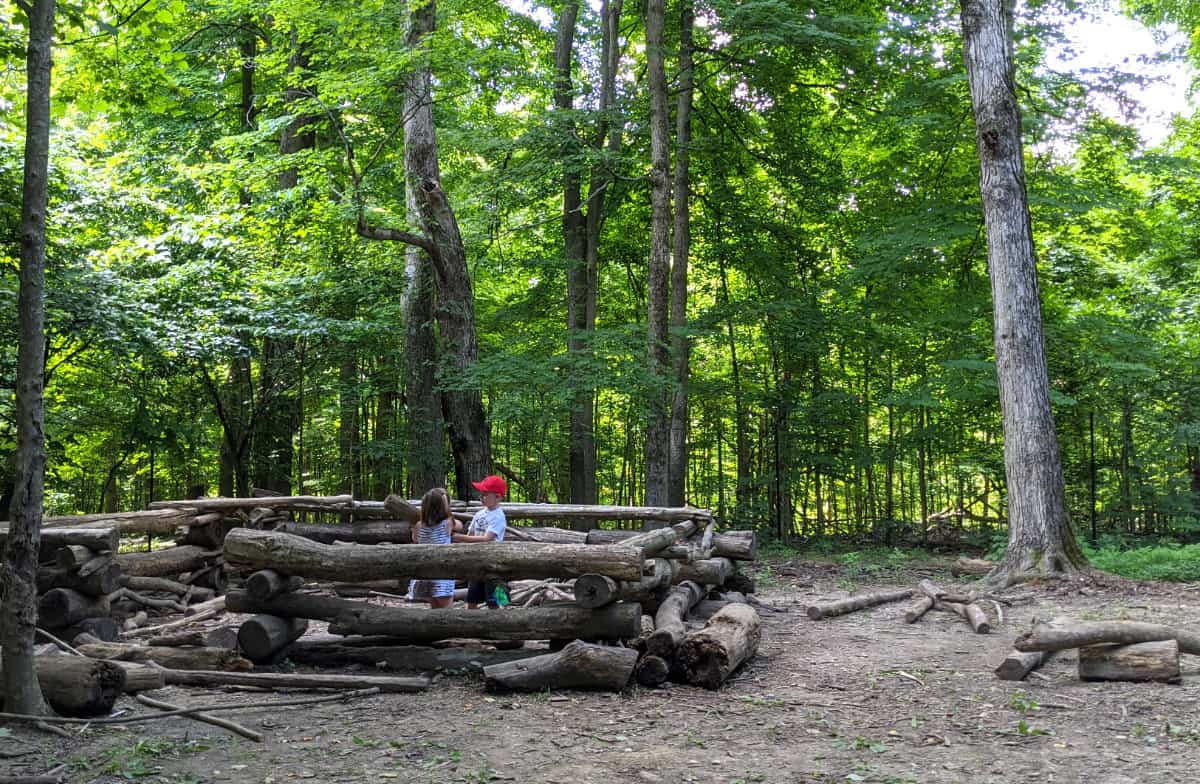 On the left side, there's a more permanent "cabin" structure where kids can stack logs to create a fort. The rest of the area is more open ended. We've seen kids build a club house with logs stacked against a tree, and even make a teeter totter using 2 logs.
3. Play in the water at the creek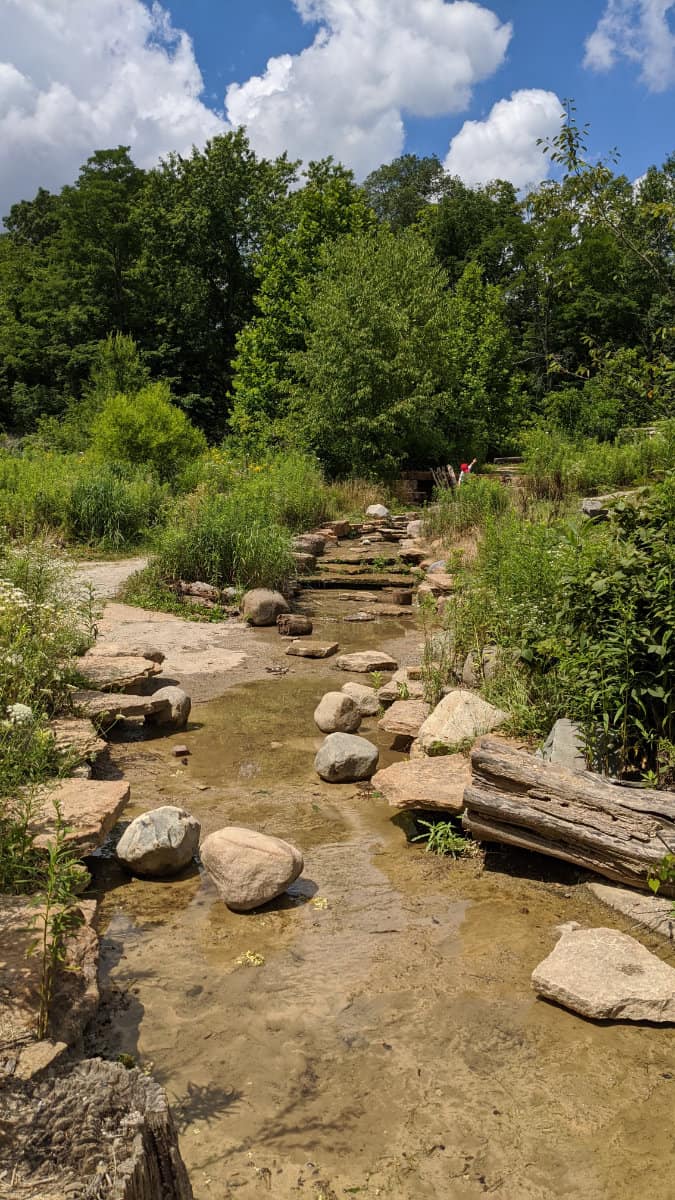 There's a long creek in the middle of the PlayScape for kids to splash around in. Older kids seem to gravitate towards the top area of the creek where there are bigger rocks to climb. The bottom area is great for the younger ones to wade in.
There are some gold colored rocks in the creek, and my kids could spend hours digging around looking for "gold"!
4. Do some digging in the sand pit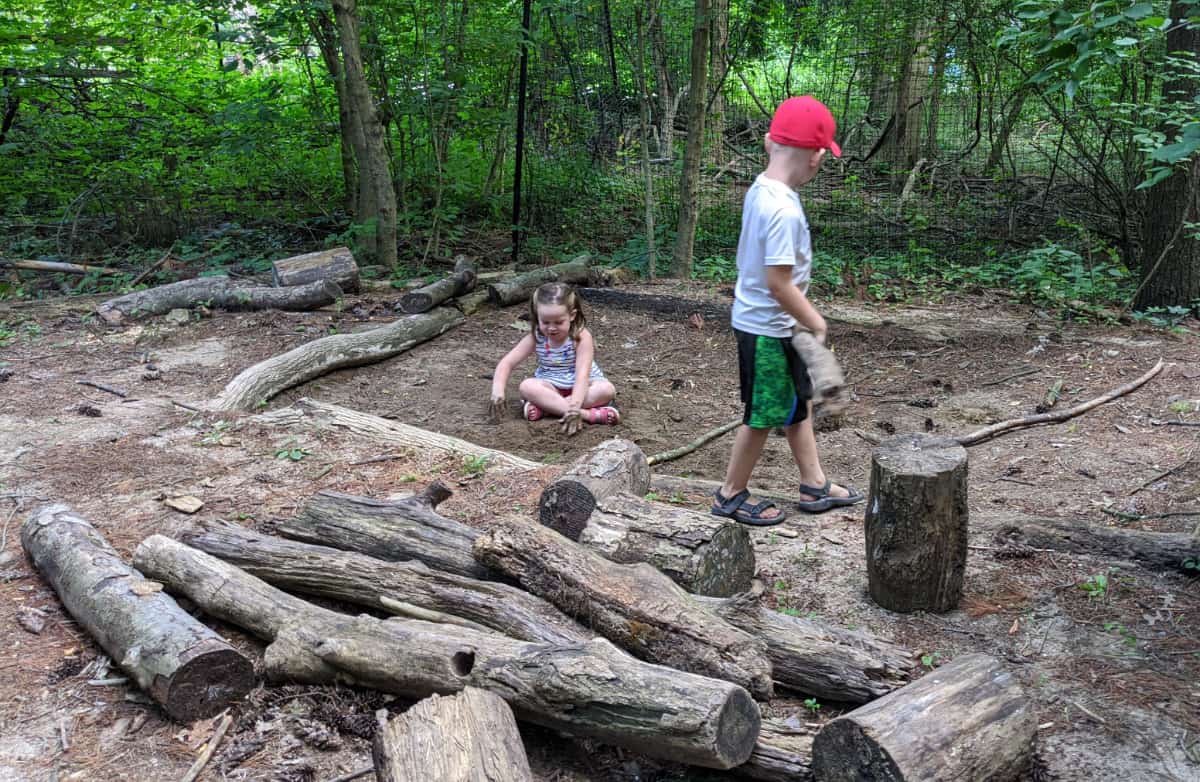 Sand pit, need I say more? You can find this sandy spot off to the left of the entrance gate. We did not bring in any sand toys and no one missed them here!
5. Take a hike & feed the turtles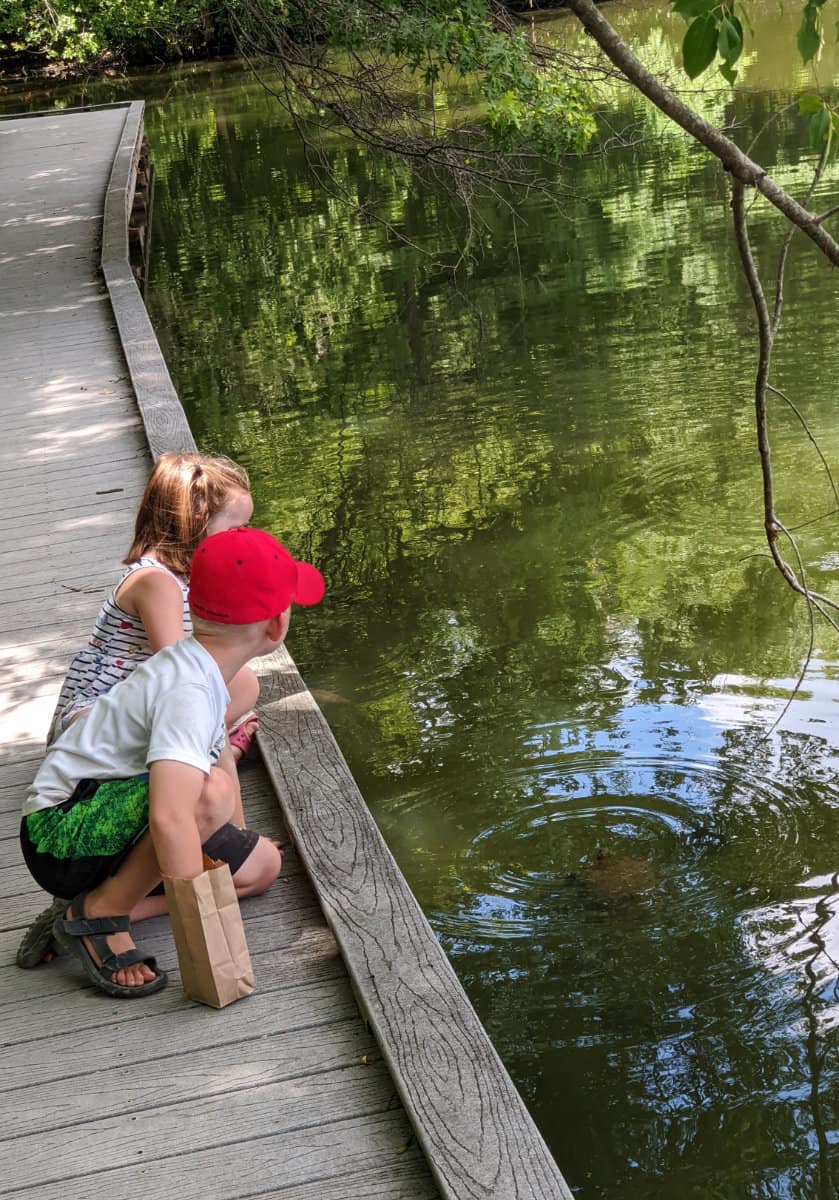 This part isn't actually in the PlayScape, but definitely worth adding to your outdoor agenda. You can buy a small bag of turtle food at the visitor's center, then follow the trail signs to the turtle feeding area. Find a comfortable spot to sit (we like the boardwalk), and spend a half hour getting to know the park turtles!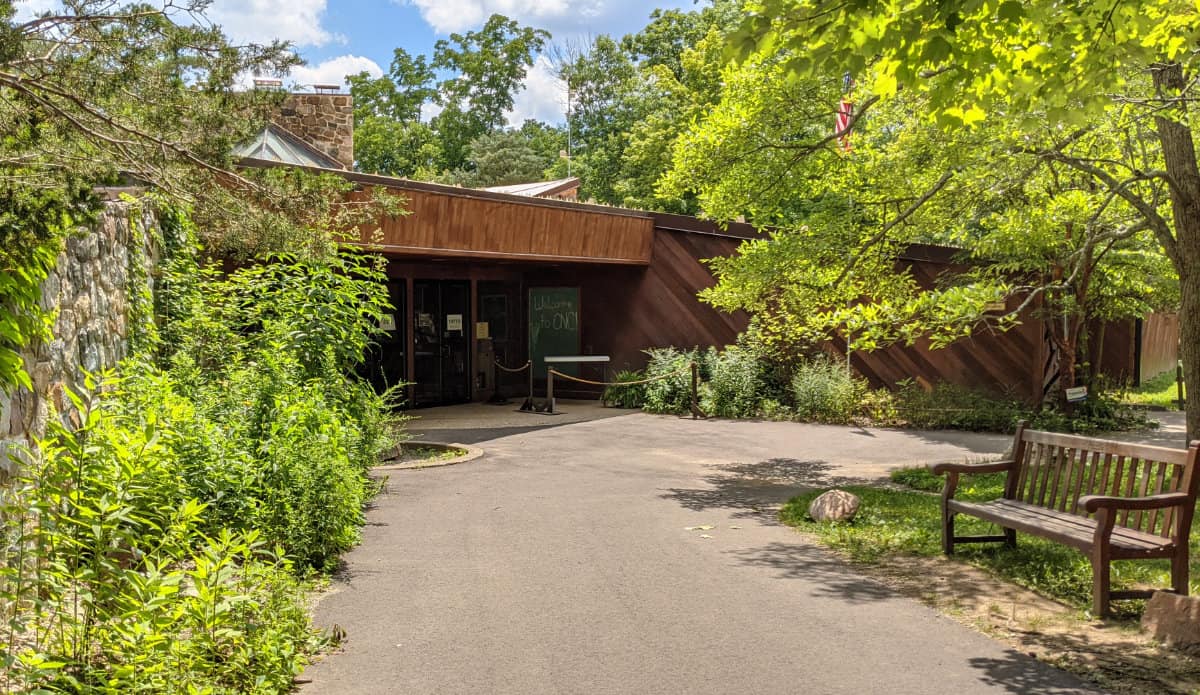 To purchase turtle food at the Cincinnati Nature Center, enter the Visitor's Center and proceed to the desk in the gift shop. They'll be happy to outfit you with a bag of food for their turtle friends.
---
Important Details for Your Visit:
Where is it located?
The Schott Nature PlayScape at the Cincinnati Nature Center (Rowe Woods) is located at 4949 Tealtown Road, Milford, OH 45150.
When is it open?
The park grounds are open from 8am-5pm, and the visitor center is open 9am-5pm.
How much does it cost?
Adults are $10 (as of August, 2022). Seniors 65+ and active duty military are $8. Children ages 4-12 are $6, and kids 3 and under are free. Pets are $3. Check for updated pricing here.
If you are enrolled in SNAP or WIC, bring your valid SNAP or WIC card for $5 adult admission and $3 admission for kids ages 4-12.
---
Pro Tips for the Cincinnati Nature Center Nature PlayScape:
Be prepared to get dirty! There is a whole area devoted to playing in the mud, and the other play areas contain dirt, water, and sand. DEFINITELY bring a change of clothes to change into when you're finished at the Playscape.

Take advantage of the outdoor shower / foot sprayer to rinse off when you're finished playing. They're located on the outside of the restrooms by the picnic tables.

Bring LOTS of water! Especially on the hot days. Your kids will want to play for hours (hello, easy bedtime!) and it would be a bummer to have to head out early because everyone is thirsty.

Pack sunscreen and bug spray. Some of the areas are shaded, but some are in full sun. Given the natural landscape, there will definitely be some bugs.

Wear hats. Not only will it provide some shade, but it can also help protect you from ticks.

Pack snacks, or even a picnic meal. You'll see some picnic tables on the right side on your way into the PlayScape. We like to pack a lunch (or dinner) and fill up on some healthy snacks before heading in.
---
And one more thing – they have some great outdoor (in person, not virtual) events going on at The Nature Playscape. Activities include storytime, Creature Feature, crafts, painting, and more. And they're all outdoors! Check out the Playscape events list here.
Find out more about our wonderful Cincinnati Nature Center here.