May in Cincinnati is an exciting time! Take this time to soak in the cooler spring temps with a visit to one of our city's wonderful parks, enjoy a celebration or two (hello, Mom!), and enjoy some traditional city festivals like Taste of Cincinnati!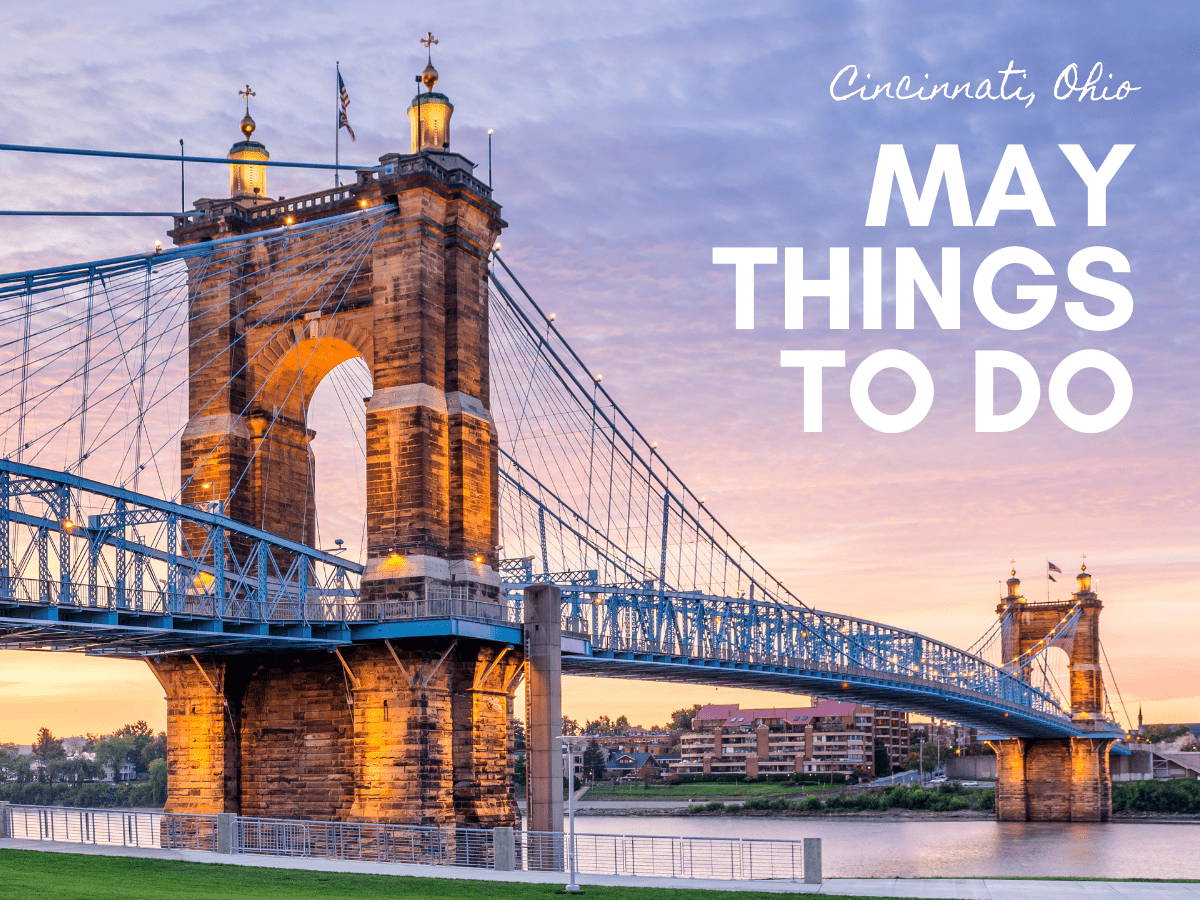 Enjoy this month long list of Things to Do in Cincinnati for the month of May:
May 1: Hofbrauhaus Newport is hosting a 20th Anniversary Celebration, 5pm-11pm.
May 5: It's a special themed event for First Friday in Bellevue – Derby Day on the Avenue. Wear your Derby Finest! Hats, dresses, bowties are encouraged! Businesses on the Avenue will be hosting their annual festive and fun event.
May 5-6: The Flower Market returns to Court Street Plaza (downtown). Friday hours are 6-10pm and Saturday hours are 10am-3pm.
May 6-7: The Cincy-Cinco Latino Festival will be at Fountain Square, noon-10pm. Featuring authentic Latino food with colorful and delicious flavors, they'll have participating restaurants from Argentina, Colombia, Venezuela, and more. Entertainment, music & dancing from almost two dozen of the most notable performers in the Midwest will fill downtown Cincinnati with family fun, folkloric performances, and in the evenings full of salsa dancing.
May 6: It's time for the Milford Historic Home Tour! Grab a ticket and tour several historic homes in Milford. Start at Promont to get your tour map and then visit homes in any order that day, 11am – 4pm. Tickets required.
May 6: The 2023 Plant Sale will be held at the Civic Garden Center. This annual event happens from 9am-2pm. Every dollar you spend goes to support core programs, including the Community Gardens program, Green Learning Station, school gardens and youth education, and our Hands-on Horticulture program.
May 6: Westside Market (showcasing over 100 local vendors, food trucks and offers family fun activities) opens for the 2023 season, 10am-3pm. They have a new location this year – Westwood Town Hall.
May 6: Grab your hat and a mint julep 'cause it's Kentucky Derby Day!
May 6: It's time for the Clay Alliance's Spring Pottery Fair, 10am-4pm. You'lll find everything from mugs and dinnerware to one-of-a-kind art and garden pieces. Find them just one block west of the intersection of Woodburn Ave. and Madison Rd. with free parking immediately adjacent.
May 6: The Cincinnati Dog Treat Festival will be at Sonder Brewing, 1-4pm. Bring your dog out to taste a variety of snacks from Cincinnati treat makers!
May 7: Fibonacci Brewing Co. hosts its first Monthly Farmers Market of the year, 12-3pm.
May 7: Get your poles ready for the Blue Ash Police Dept. Youth Fishing Tournament starting at 8:30am. Kids will compete to catch the largest fish for prizes and trophies. Must register in advance.
May 11: Get signed up for a Mother's Day Cookie Decoration Class, happening at Warped Wing Brewpub in Mason. You'll to take your decorated cookies (and new skills) home with you.
May 11: Jake Speed and the Freddies will be at the American Sign Museum for Signs and Songs, 7-9pm. Tickets required.
May 13-14: The 52nd annual Appalachian Festival will be at Coney Island. Enjoy hundreds of "down-home" crafts, non-stop music and storytelling, traditional dances, and lots of food.
May 14: Art on Vine will be at Washington Park, 12-6pm.
Celebrate the moms in your life with our list of
Things to Do for Mother's Day
May 12-14: Smoke on the River BBQ Fest will be at Newport's Festival Park at the Levee on Riverboat Row. Enjoy some great food and live music along the banks of the Ohio River. Hours: Friday 5-11pm, Saturday 12-11pm, Sunday 12-9pm
May 13: The Crafty Supermarket will be at Music Hall, 11am-5pm. Shop amongst 100 vendors in the ballroom! This show features handmade goods made by local, regional and national artists. The event is FREE to the public. They'll have a live DJ, hands-on craft activities, local food and free swag bags for the first 100 shoppers.
May 13: The City Flea will be at Washington Park, 10am-4pm.
May 13: The O.F.F. Market makes its 2023 debut at Summit Park, 11am-5pm. The O.F.F. Market is a monthly marketplace that brings together small businesses, artisans, brewers, bakers, farmers and the like to provide a unique shopping experience that supports strong community connections and strives to grow a hearty local economy.
May 13: The Hamilton Flea, Hamilton's first curated, urban artisan market, will be at Marcum Park from 10am to 4pm.
May 13: The 52nd Annual Duveneck Art Show will be at George Rogers Clark Park in Covington, noon-5pm. Enjoy art, music, food trucks, and a great view!
May 13: It's time for the Loveland Food Truck Rally! This family friendly event features an assortment of food trucks, entertainment and live music, and more. Happening 3-10pm along the Loveland-Madeira Corridor.
May 14: Cincinnati Nature Center hosts a Heritage Walk featuring the Architecture and Landscape Design of the Former Krippendorf and Groesbeck Estates, 2pm. Tickets required.
Mother's Day is May 14. Don't miss our list of Things to Do for Mother's Day!
May 18: Rockin' the Roebling kicks off its free Thursday night summer music season on the Schmidlapp Lawn (adjacent to the Moerlein Lager House), 6-10pm. The band for May 18 is Floyd and the Walkmen. Bring a blanket or a chairs if you'd like. Food and beverages available onsite.
May 19: CityBeat's Margarita Madness will be happening on the Purple People Bridge, 5:30-8:30pm. Sample local bars and restaurants margaritas and cast your vote for the People's Choice Best Margarita. Tickets required.
May 20-21: The Benton Farm Spring Craft Show will be happening at the farm. This is a juried craft show with 100+ vendors.
May 20: It's opening day for Strawberry Days at Blooms and Berries Farm Market.
May 20: Head to Heritage Village Museum (at Sharon Woods) for Escape the Village, an escape room style challenge. Choose from one of two escape room adventures: "Morgan's Raiders of the Lost Art" or "Leaving the Station." Each session can accommodate four to eight people. Reservations required.
May 20: Blue Ash's historic Hunt House will have an Open House, 1-4pm. Enjoy a scavenger hunt, a pioneer craft, and refreshments as well as getting to see the Hunt House (4364 Hunt Road).
May 21: The Wyoming Art Show, a juried art show and competition, will be on the streets of Wyoming (Ohio) from 11am til 5pm.
May 21: It's going to be a fun day in Wyoming, Ohio! The Wyoming Art Show is happening and WyCoCo and the Work+Shop are hosting a Porch & Patio Party, 3-9pm. They'll have live music, a food truck, The Book Bus, artists, makers, and more!
May 21: The Burlington Antique Show is at the Boone County (KY) Fairgrounds, 6am-3pm. Admission charged, parking is free. Rain or shine.
May 24: Head to Summit Park for Touch a Truck from 4 to 7pm.
May 25: It's time for Rockin' the Roebling, a free Thursday night summer music event on the Schmidlapp Lawn (adjacent to the Moerlein Lager House), 6-10pm. The band for May 25 is Natural Progression. Bring a blanket or a chairs if you'd like. Food and beverages available onsite.
May 26: Art After Dark will be happening at the Cincinnati Art Museum, 5-9pm. Free admission. RSVP not required. Please arrive early or consider taking an Uber/Lyft. Parking is limited.
May 27: It's opening day for Coney Island!
Memorial Day is Monday, May 29. Check out this list of
Memorial Day Celebrations in Cincinnati
May 27-29: Taste of Cincinnati returns for 2023! Started in 1979, Taste of Cincinnati is a Cincinnati culinary tradtition that features more than 65 restaurants, food trucks and Findlay Market vendors.
Check Out These Ongoing Events for May:
The May Festival, the longest-running choral festival in North America, is May 19-27. The full Chorus returns to Music Hall's stage for this joyful reunion of singers and lovers of song.
The 9/11 Never Forget Mobile Exhibit will be at the Florence, Ky Government Building, May 6-14. .The memorial provides interactive education; including artifacts such as steel beams from the towers, documentary videos, and recordings of first responder radio transmissions. Interactive guided tours are carried out by FDNY firefighters who provide firsthand accounts of the day and its aftermath. The 9/11 NEVER FORGET Mobile Exhibit, which has traveled to nearly 50 states and Canada, has educated over 600,000 people to date.
Zoo Babies is happening at the Cincinnati Zoo during the month of May. Watch their site and grounds for announcements of new babies to visit.
The Butterfly Show is at the Krohn Conservatory. Butterflies of the Meadow will be here through June 18, 2023.