May in Cincinnati is an exciting time! Take this time to soak in the cooler spring temps with a visit to one of our city's wonderful parks, enjoy a celebration or two (hello, Mom!), and enjoy the some city festivals with the return of Taste of Cincinnati and Asian Foodfest.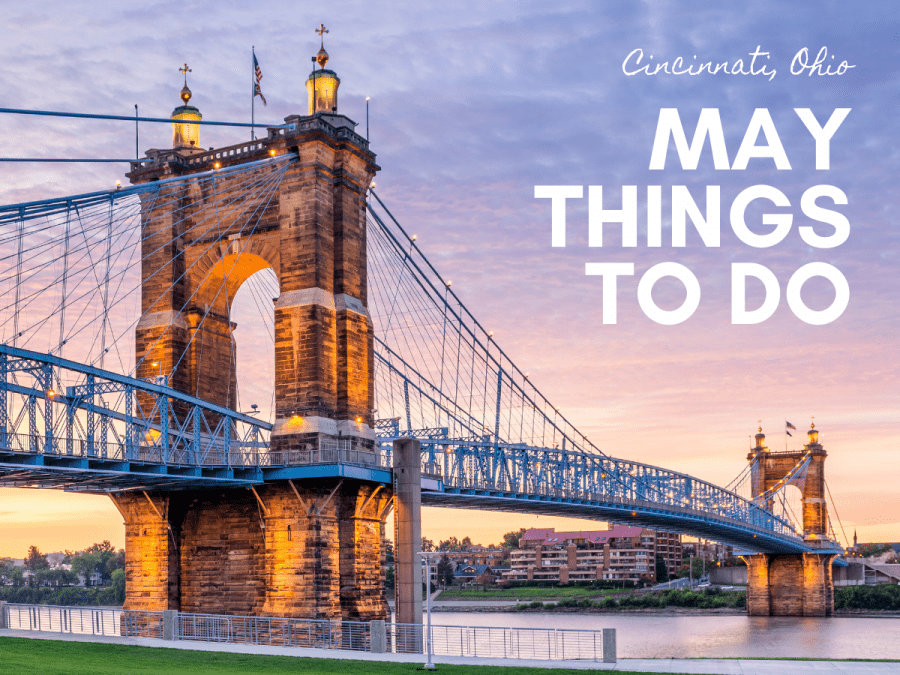 Enjoy this month long list of Things to Do in Cincinnati for the month of May:
May 1: Rookwood Pottery's Spring Open House continues. Reserve your spot for a free behind the scenes tour of their 88,000 square foot production factory with artists in action. They're also offering a Custom Candle Workshop on May 1 (tickets required).
May 1: Fibonacci Brewing Co. hosts its first Monthly Farmers Market of the year, 12-3pm.
May 1: It's time to pull tulip bulbs at Spring Grove Cemetery and Arboretum and they need volunteers. All tulips will be bagged and sorted by color.  Any who volunteer are welcome to take home one bag per person of the tulips of their choice at no charge. Registration is required.
May 7: The 2022 Plant Sale will be held at the Civic Garden Center. This annual event happens from 9am-2pm. Every dollar you spend goes to support core programs, including the Community Gardens program, Green Learning Station, school gardens and youth education, and our Hands-on Horticulture program.
May 7: Westside Market (showcasing over 100 local vendors, food trucks and offers family fun activities) opens for the 2022 season, 10am-3pm. They have a new location this year – Westwood Town Hall.
May 7: Grab your hat and a mint julep 'cause it's Kentucky Derby Day!
Celebrate the moms in your life with our list of
Things to Do for Mother's Day
May 7-8: The 51st annual Appalachian Festival will be at Coney Island. Enjoy hundreds of "down-home" crafts, non-stop music and storytelling, traditional dances, and lots of food.
May 7-8: Asian Food Fest returns for 2022! The fest will be on Court Street this year. This community festival celebrates culture and cuisine from Asian countries including Cambodia, China, Hawaii, India, Japan, Korea, Laos, Malaysia, Philippines, Nepal, Taiwan, Thailand, and Vietnam. While food is definitely the heart of this festival, the event also features live entertainment, local craft and Asian beer, fun family activities, and more.
May 8: Art on Vine will be at Washington Park, 12-6pm.
May 13-15: Smoke on the River BBQ Fest will be at Newport's Festival Park at the Levee on Riverboat Row. Enjoy some great food and live music along the banks of the Ohio River. Hours: Friday 5-11pm, Saturday 12-11pm, Sunday 12-9pm
May 13: Have your teens check out Art Prom being held at the Contemporary Arts Center. Teens are encouraged to "Come show off your awesome/awkward/crazy dance moves at the CAC's annual Art Prom. This FREE student planned event includes food, art making, a photo booth and for the first time ever, a silent disco; all led by teens!" For ages 14-19. Registration encouraged.
May 14-15: The Benton Farm Spring Craft Show will be happening at the farm. This is a juried craft show with 100+ vendors.
May 14: The O.F.F. Market makes its 2022 debut at Summit Park, 10am-4pm. The O.F.F. Market is a monthly marketplace that brings together small businesses, artisans, brewers, bakers, farmers and the like to provide a unique shopping experience that supports strong community connections and strives to grow a hearty local economy.
May 14: The Real Taco Fest will be along the Ohio River at Smale Park. Try tacos from over a dozen different local vendors. Margaritas and beer available. Tickets are required for entry and are $10. Choose from one of two available sessions: 12–4pm or 6–10pm. See event listing for full details.
May 14: It's time for the Loveland Food Truck Rally! This family friendly event features an assortment of food trucks, entertainment and live music, and more. Happening 3-10pm along the Loveland-Madeira Corridor.
May 14: The Hamilton Flea, Hamilton's first curated, urban artisan market, will be at Marcum Park from 10am to 4pm. Live music too! Both days are 9am-4pm.
Explore Hamilton, Ohio with our list of the
Top Things to See and Do in Hamilton, Ohio
May 14: Head to Heritage Village Museum (at Sharon Woods) for Escape the Village, an escape room style challenge. Choose from one of two escape room adventures: "Morgan's Raiders of the Lost Art" or "Leaving the Station." Each session can accommodate four to eight people. Reservations required.
May 14: The City Flea will be at Washington Park, 11am-4pm.
May 14: Great Parks is hosting a Bike Rodeo, Fernbank Park / Lee Shelter, 1-3pm. Enjoy activities, contests and education stations where you'll learn the ins and outs of bike safety. Hit the trail for a bike ride led by the Rangers themselves. Kids should bring their own bikes for this event. Every attendee will be entered in the helmet giveaway and fitted for a helmet. This is a pre-registered event with 12 available registration slots every 20 minutes. Supplies and sizes are limited for bicycling materials, but will be available during each time slot.
May 15: The Lloyd Library and Museum hosts a Bird Migration Field Trip by the Audubon Society of Ohio, 8am-noon. May is peak bird migration season. Observe first-hand birds on the move as they cross the sky, often traveling thousands of miles to breed in cooler Arctic climates. Led by naturalists from the Audubon Society of Ohio, Cincinnati Chapter, this field trip winds through parts of Spring Grove Cemetery & Arboretum's 733 acres of gardens and natural environs. Topics covered include bird identification and migration patterns, along with the impact of habitat and conservation efforts. Meet at Spring Grove Cemetery's Main Gate. Free, no reservations needed.
May 15: The Burlington Antique Show is at the Boone County (KY) Fairgrounds, 6am-3pm. Admission charged, parking is free. Rain or shine.
May 15: Cincinnati Nature Center hosts a Full Moon Walk: Flower Moon / Lunar Eclipse Watch, 8:30-10pm. Tickets required.
May 15: The Wyoming Art Show, a juried art show and competition, will be on the streets of Wyoming (Ohio) from 11am til 5pm.
May 18: Head to Summit Park for Touch a Truck from 4 to 7pm.

May 20: Celebrate spring with May Fest at Alms Park. live music from Moonshine Drive,cuisine from Jill's Mobile Kitchen, and Kebabs. Craft beer will be on tap, and frozen treats will be for sale. Picnics welcome. 6-9pm
May 21: Don't miss National Kids to Parks Day at Burnet Woods. In partnership with the Cincinnati Parks, the Camping and Education Foundation staff leads canoeing (all equipment provided) on Burnet Woods Lake. The last canoeing session begins at 2:30pm. Park on Brookline Drive off of Ludlow/Jefferson Ave. Program is free, no registration required. Children must be accompanied by an adult.
May 21: It's a Pendleton Pickball Open / Party at Braxton Brewing (Pendleton location)! They'll have 3 courts for open play, AND if you're new to Pickleball, they're going to have an instructor on one court. 2-6pm
May 21: Grab a ticket for Taft Museum's Walking Tour | Women's History in OTR, happening May 21, 10am-noon. This tour explores women's lives and work in Over-the-Rhine, from the German-speaking immigrants of the mid-1800s to the African American women who moved to Over-the-Rhine in the 1960s. The tour covers topics important to women's history—work, childbirth, motherhood, and social activism. Tickets required.
May 22: Cincinnati Magazine has a series of events, one of them being "Musical Brunch". This month's brunch features a Latin Celebration with Joel Alleguez. . Your ticket includes the concert, full brunch buffet, a small dessert station, 2 tickets for the Mimosa/Bellini Bar, coffee and hot/iced tea. It's all going down at Cincinnati Museum Center, 11am-1pm. Tickets required.
May 26: It's Movie Night on the Levee (in Newport, Ky). May's feature is "Star Wars – The Force Awakens". Movie night is 7-9pm at The Gallery.
May 28: It's opening day for Coney Island!
May 28: It's a Family Hot Dog Roast at Cincinnati Nature Center. Kick off summer by celebrating "nature's hot dogs," the caterpillars. Roast real hot dogs while unearthing the relationship between baby birds and "nature's hot dogs," and why caterpillars are the pickiest eaters of all. Tickets required.
Memorial Day is Monday, May 30. Check out this list of
Memorial Day Celebrations in Cincinnati
May 28 – 30: Taste of Cincinnati returns for 2022! Started in 1979, Taste of Cincinnati is a Cincinnati culinary tradtition that features more than 65 restaurants, food trucks and Findlay Market vendors.
May 31: Broadway in Cincinnati's "To Kill a Mockingbird" starts this evening and runs through June 12. This is a MUST SEE in my opinion. It's my favorite Broadway show thus far!
The May Festival, the longest-running choral festival in North America, is May 20-28. The full Chorus returns to Music Hall's stage for this joyful reunion of singers and lovers of song.
Zoo Babies is happening at the Cincinnati Zoo during the month of May. Watch their site and grounds for announcements of new babies to visit.
The Butterfly Show is at the Krohn Conservatory. Butterflies of the Nile will be here through June 19, 2022. Be sure to check their site for special related events. Timed tickets required (purchase online) with limited numbers available at the door.