Do you have a special child's birthday party to plan? Whether it's a first birthday, Sweet 16, or anything in between – you have lots of choices when it comes to great birthday party places in the Cincinnati area!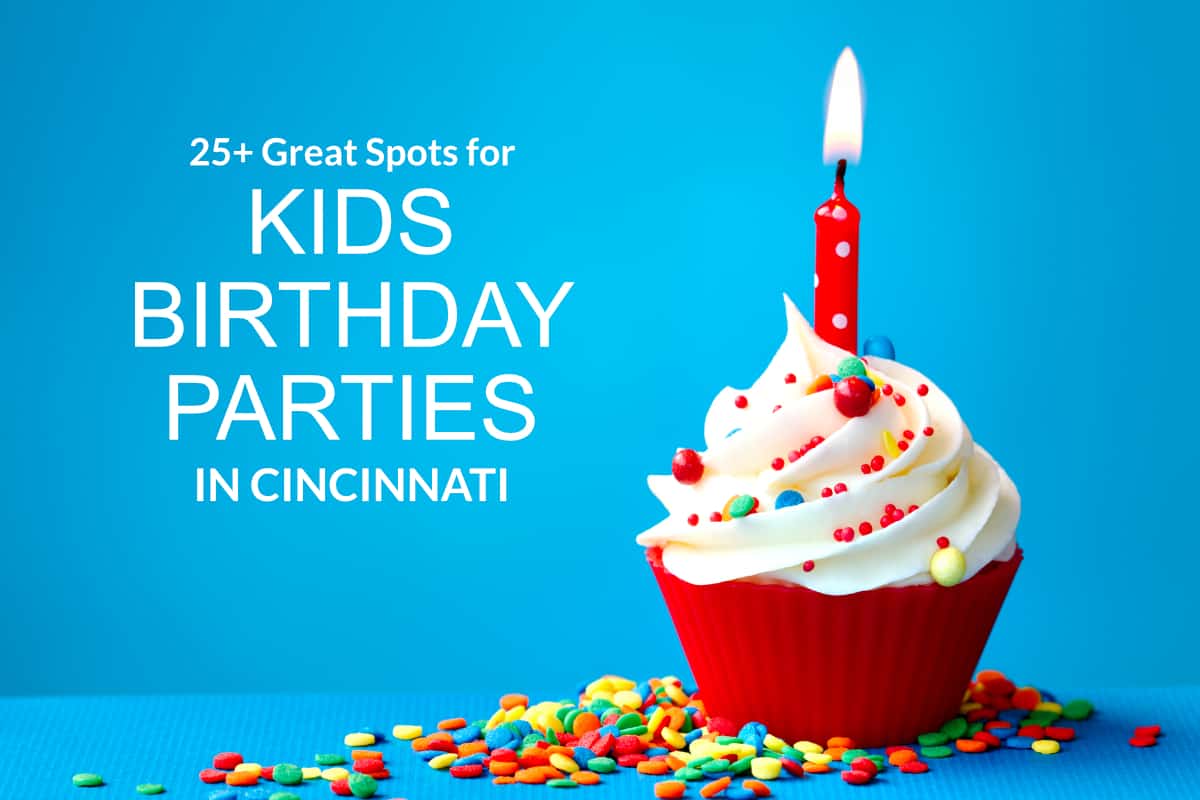 Throw a memorable bash with our list of places to host your child's birthday party. We broke the list up into indoor birthday party places and outdoor birthday party places, making it easy for you can find the perfect venue for your special celebration.
25+ Best Places to Throw a Birthday Party in Cincinnati
Indoor Birthday Party Places
EnterTRAINment Junction
This is your spot for a train-theme birthday party! The huge entertainment center features a railroad museum, an indoor children's play area with a maze and funhouse, and an outdoor kid's train ride (seasonal).
7379 Squire Court, West Chester, Ohio 45069
(513) 898-8000
Website
Full Throttle Adrenaline Park and Event Center
Build a birthday bash that leaves all others in the dust at Full Throttle. They rev up the excitement for lead-footed adults and kids starting at age three. You can use one of their fun-filled racing formats, or they'll work with you to come up with your own plan.
11725 Commons Drive, Cincinnati, Ohio 45246
(513) 341-5278
Website
Get Air West Chester
Take your pick from wall-to-wall trampolines, foam pits, dodgeball, slamball, ninja obstacles and more! Littles might enjoy their Kiddie Court, an area reserved for kids under 46″.
7106 Office Park Dr, West Chester Township, Ohio 45069
(513) 717-1593
Website
Great Wolf Lodge Cincinnati
It's time to get wet n' wild as your pack spend hours splashing, sliding and laughing in our enormous indoor water park. It's the perfect way to give your kids the most fun birthday party ever.
2501 Great Wolf Drive, Mason, Ohio 45040
(513) 459-8885
Website
Jump & Jacks
From private playtime on Jump's incredible inflatables and unlimited access to Jack's playground to your very own party room and host, you can have it all and more—it's up to you. When you need space for your birthday party, our personalized party packages will blow your mind without blowing your family's budget.
7102 Office Park Drive, West Chester, Ohio 45069
(513) 401-8629
Website
Main Event West Chester
With lots and lots of party and event options, you're sure to find something here!
9477 Oxford Way, West Chester, Ohio 45069
(513) 777-1700
Website
Pump It Up of West Chester
Make your child's birthday party amazing with Pump It Up's huge inflatable party playgrounds, loads of games, and even a blow-up birthday throne. Your whole party gets VIP treatment in their very own bouncy house arenas plus a private party room.
7724 Service Center Drive, West Chester, Ohio 45069
(513) 829-7867
Website
Rockin' Jump
Take your child's birthday party to the next level by hosting it at Rockin' Jump in Cincinnati, OH. Have some high-flying fun and an unforgettable birthday party experience at The Ultimate Trampoline Park ®.
8350 Colerain Ave., Cincinnati, Ohio 45239
(513) 815-5734
Website
Run, Jump, and Play
Have fun in their massive indoor play room and on the giant inflatables. Upgrade your party with their fun theme options – Princess Party and Super Hero Party. From toddlers and up, they offer a birthday party experience that's complete with everything you need including a dedicated party host!
5897 Pfeiffer Rd., Suite B, Cincinnati, Ohio 45242
(513) 771-7529
Website
Scene 75 Entertainment Center
Every birthday party is customized to exceed your expectations. You can choose up to 5 attractions to maximize the fun! Their attractions include an arcade, go-karts, laser tag, mini-bowling and bowling, blacklight miniature golf, bouncing inflatables, bumper cars, and more.
876 OH-28, Milford, Ohio 45150
(513) 965-4050
Website
Sky Zone
Sky Zone trampoline park in Springdale, OH offers everything that you need for your celebration. Party packages include jump time, a private party room, supplies, and your very own event host.
11745 Commons Drive, Springdale, Ohio 45246
(513) 671-1333
Website
The Place
Enjoy everything from roller skating to laser tag, a ropes course, bumper cars, climbing walls, an arcade, and more.
3211 Lina Place, Cincinnati, Ohio 45239
9513) 522-2424
Website
The Web Extreme Entertainment
Enjoy their arcade, video games, miniature bowling, mini golf, laser tag, go carting, puzzle rooms, and more.
7172 Cincinnati-Dayton Rd., West Chester, Ohio 45069
(513) 860-2882
Website
Urban Air Adventure Park
This indoor adventure park offers two party options – Classic Theme or Glow Theme. The Classic Theme includes the best of the indoor attractions for your party guests (you choose the attractions). The Glow Theme, offered on select nights, includes the normal lighting being switched out for black lights, strobes, and lasers while the kids play glow-in-the-dark dodge ball and jump for a solid 2 hours. Book in advance – these fill up!
3321 Alamo Ave., Cincinnati, Ohio 45209
(513) 322-3130
Website
USA Ninja Challenge – Cincinnati
Your children and their friends will have supervised access to obstacle courses and fun skill stations. Their instructors provide a balance of free play and organized obstacle runs. Kids will have the option to run Ninja competitions or try their hand at our fun and challenging obstacles!
4727 Red Bank Road, Cincinnati, Ohio 45227
(513) 739-5528
Website
Wonderland Playground
Have some birthday fun at this indoor play place. You can rent a party room (90 minutes) or have a private party when you rent out the entire facility (2 hour time slot). They offer a few different party options and you can add on Party Kits to make the day special. You can check availability and book online.
8255 Beechmont Ave., Cincinnati, Ohio 45255
Website
Outdoor Birthday Party Places
Cincinnati Zoo
The Cincinnati Zoo will help make your birthday truly special and unique. They are currently offering parties on select Saturdays and Sundays so be sure to plan ahead. Their parties are best suited for ages 3 through 10. Birthday packages can be chosen from "Zoo-It-Yourself", their Education Room, the Frisch's Theater, or the Outdoor Giraffe area.
3400 Vine Street, Cincinnati, Ohio 45220
Website
Gorman Heritage Farm
Your child and guests will be enchanted by a trip to the farm to meet the animals, open space to play and the adventure of something new and different.
10052 Reading Road, Cincinnati, Ohio 45241
(513) 802-8557
Website
Picnic Areas (Great Parks of Hamilton County)
In addition to the party places listed above, Great Parks offers 55 open-sided picnic shelters and 2 non-sheltered picnic areas that area available to reserve up to a year in advance. Parks are located in Hamilton County.
(513) 521-7275
Website
These spots are currently not hosting parties but we want to save them for the future….
Highfield Discovery Garden (Glenwood Gardens | Great Parks of Hamilton County)
This one is part indoors and part outdoors. You will enjoy a party room in the Cotswold Visitor Center and guest will be provided with entrance to Highfield Discovery Garden. They offer an optional nature program for an additional fee (subject to availability). You are welcome to bring in food and beverages to serve. You must provide cups, plates, napkins, utensils and tablecloths (room includes six, 8 ft. tables). Beer and wine is permitted. All food and beverages must remain inside the party room.
10397 Springfield Pike, Cincinnati, Ohio 45215
(513) 521-7575
Website
Parky's Ark (Winton Woods | Great Parks of Hamilton County)
Enjoy a party at the outdoor picnic table area of Winton Woods plus entry to the wet playground. Party times can be booked May-August. Wet playgrounds are open starting Memorial Day weekend and typically close in mid-August.
10245 Winton Road, Cincinnati, Ohio 45231
(513) 521-7275
Website
Parky's Wetland Adventure (Woodland Mound | Great Parks of Hamilton County)
Enjoy party space at the indoor auditorium area at Woodland Mound plus entry to the wet playground. Party times can be booked May-August. Wet playgrounds are open starting Memorial Day weekend and typically close in mid-August.
8250 Old Kellogg Road, Cincinnati, Ohio 45255
(513) 521-7275
Website
Woodland Mound (Great Parks of Hamilton County)
This one is part indoors and part outdoors. You will enjoy a party area in the Seasongood Nature Centre. They offer an optional nature program for an additional fee (subject to availability). You are welcome to bring in cake and ice cream to serve. You must provide cups, plates, napkins, utensils and tablecloths. Alcohol is not permitted.
8250 Old Kellogg Road, Cincinnati, Ohio 45255
(513) 521-7275
Website