The annual trip to Kings Island was the highlight of the summer for me as a child. I can remember the anticipation of seeing the first glimpse of the Eiffel Tower as we approached the grounds. That was way back in the old days, before the trees were as tall as they are now!
Kings Island 2023
Kings Island is a theme park in Ohio, located in Mason (northeast of the city of Cincinnati). The park spans 364 acres and includes amazing roller coasters, an entire section just for kids, Soak City Water Park, and so much more.
You'll find some new areas to explore in 2023. Adventure Port, between Coney Mall and Action Zone, will feature two new family rides: Sol Spin and Cargo Largo. In addition, the area will have a new quick service restaurant called Enrique's, a new spot to hang out – The Mercado, and the Adventure Express will get some "enhanced theming".
Kings Island will open for the 2023 season on April 15, 2023.
What is Special About Kings Island???
Kings Island calls itself "the biggest amusement park in the Midwest"
More than 100 rides and attractions to love
Fun for all ages; seriously, there's something for everyone!
The charm of International Street and the Eiffel Tower
A variety of live shows
Fireworks in the evening
Blue ice cream … or maybe we should say Smurf Cone?
Roller Coaster Lovers Rejoice!
Choose from a selection of 15 roller coasters with 9 miles of track including:
Orion®: Hop aboard Kings Island's tallest, fastest and longest steel roller coaster. One of only seven giga coasters in the world, this thriller of a coaster has a 300′ first drop to get you started. You'll speed over seven more hills (total of 5,321′ of track) at speeds up to 91 mph!
The Beast: It's the longest wooden roller coaster in the world and what many would call the OG coaster for Kings Island (first opened in 1979). Travel across 7,361′ of track at speeds up to 65mph. It's a long ride, coming in at over 4 minutes of thrill time.
Banshee: Get ready for some thrills because Kings Island has the world's longest steel inverted roller coaster! Travel across 4,124 ft of track at speeds up to 68mph. Feel your heart race as you go through 7 inversions including a zero-gravity roll, a pair of batwing inversions, outside loop, spiral, in-line roll and carousel, and more.
Other roller coasters include Backlot Stunt Coaster, Diamondback, Flight of Fear, Flying Ace Aerial Chase, Invertigo, Mystic Timbers, The Bat, Surf Dog, and The Racer. Have some young ones in the crowd? Don't miss the tamer coasters: Adventure Express, The Great Pumpkin Coaster, and Woodstock Express.
Enjoy A Stroll Down Kings Island's International Street
You'll be amazed by International Street the moment you walk through the gates. Your first glimple of the park will likely include the The Royal Fountain (be sure to take a moment for a quick pic!). Enjoy its choreographed daytime and nightime water shows. And browse amongst the cutest little shops and eateries that flank the fountain. At the end you'll find a large bandstand stage (with entertainment) and Kings Island's gem – The Eiffel Tower.
Kings Island's Eiffel Tower is a one-third replica of the Eiffel Tower in Paris. Ride to the top and for the observation tower which provides amazing views of the park and surrounding area. Fun fact: it was recently repainted for the 50th Anniversary Celebration!
Bring Your Suit and Visit Soak City Water Park
Included in your Kings Island ticket price, Soak City is the HUGE water park at Kings Island. There you'll find 36 water slides, relaxing lagoons, two wave pools, and much more. Soak City's Castaway Cove, with its 18″ deep pool, provides a more relaxed spot for the young ones in your crew.
Remember that Soak City is seasonal. The open dates for this part of the park are different due to the water features. Opening day for Soak City in 2023 is May 27.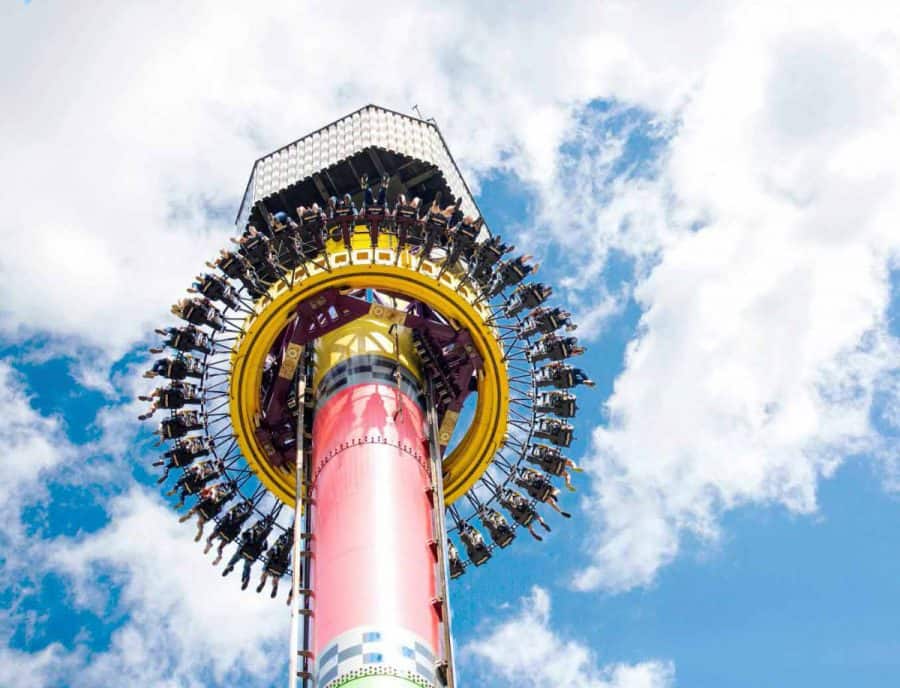 Tips for Your Day at Kings Island:
Kings Island is Now Cashless
Kings Island is no longer accepting cash within the park. Be prepared with a debit card, credit card, Apple Pay or Google Pay. If you need an alternative, they offer a cash-to-card kiosk in the park where you can put cash onto a prepaid debit card that can be uses at the park (and elsewhere).
Download the App
The Kings Island app allows you to see wait times for your favorite rides, an interactive map, special offers for app users, and (perhaps my favorite part) a car finder. 🙂 You can even use it to order food at Festhaus and Jukebox Diner.
Buy Your Tickets In Advance
Skip the line to buy your tickets as you enter. You can buy your tickets online. Be sure to check out the additional options as add-ons while you're there. Some of them can only be added on when purchasing online (see below).
Get in the Fast Lane at Kings Island
Want to skip ahead in the line? Consider adding the optional Fast Lane Pass (or the Fast Lane Plus) add-on to your ticket. The passes allow you to jump into the Fast Lane and get ahead of the line for 20 different attractions (and even more with the Plus option). Know that they only offer these online and some options are limited in numbers so plan ahead. More about the Fast Lane can be found here.
Pack Light and/or Make Good Use of Lockers
You're likely to want some sunscreen and your wallet but what do you do with all that while you're riding? I like to bring a slim cross body bag to carry the most essential of items (hello zip top bags to protect my phone!) but keep in mind there are a few rides where you can't take a bag. When you're in need, you can rent a locker (for a small fee) to store all your daily needs.
Get Your Re-entry Ticket if You'd Like to Go to the Car
Kings Island does not allow you to bring food into the park (exceptions made for special dietary needs to include food allergies and baby food and formula). But they will give you a re-entry ticket and allow you to re-enter the park with that ticket (same day, of course). Personally, we pack some food in the cooler and head out to the car for at least one meal.
Check Out the Height Requirements and Weight Restrictions Before You Go
Is there anything worse than having a child get to a ride's loading zone only to find he/she is not tall enough? Height requirements and weight restrictions for each ride are listed on this page.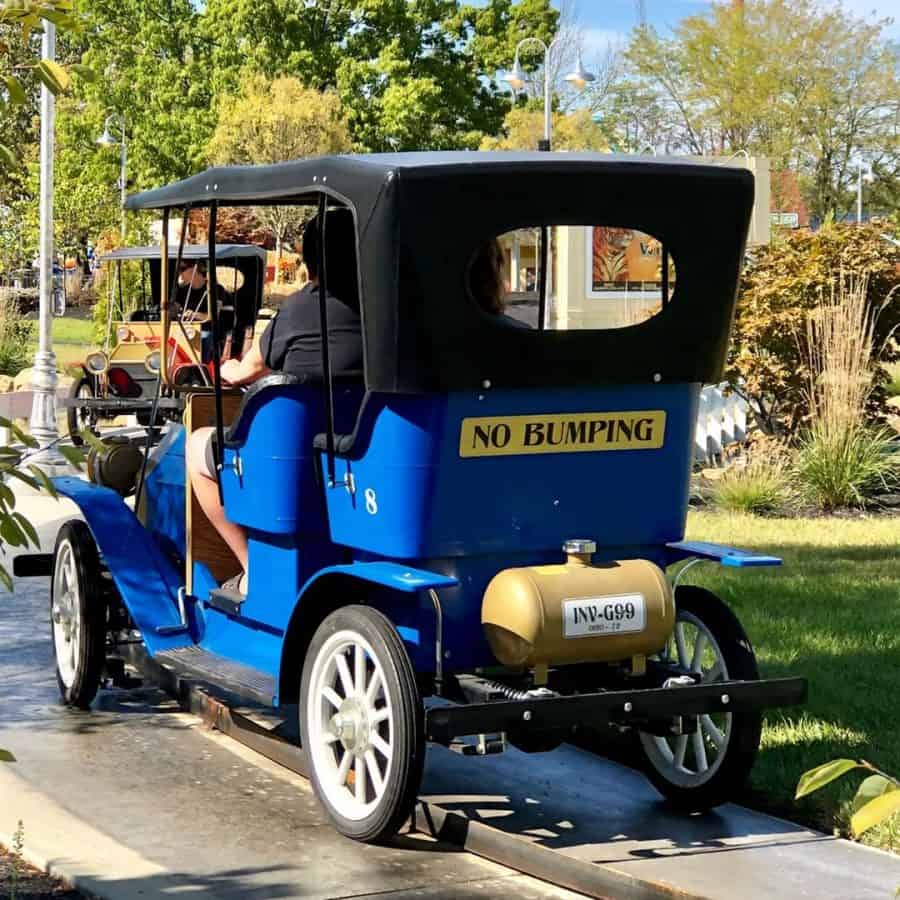 Looking for an Overnight? Check Out Kings Island's Camp Cedar
Relatively new to the Kings Island campus, 53 acre Camp Cedar is a luxury lodging and RV resort space. Located a mile away from the amusement park, you'll find 73 cottages, full service RV sites (with both back-in and pull through options), and Hornbeam Lodge (where you'll check in/out plus a restaurant, coffee shop, and camp store).
It's not all about the overnight here. Camp Cedar has two pools, perfect for an afternoon break. Deerfield Springs is a family pool while Kingfisher Landing is adults only. There's a fitness room onsite and a one mile walking trail. They also offer cornhole, shuffleboard and bocce courts. You can even rent a golf cart!
Kings Island is located at 6300 Kings Island Drive, Kings Island, OH 45034