Blueberries are a staple in our house… which makes U-Pick blueberries a must do in the summer!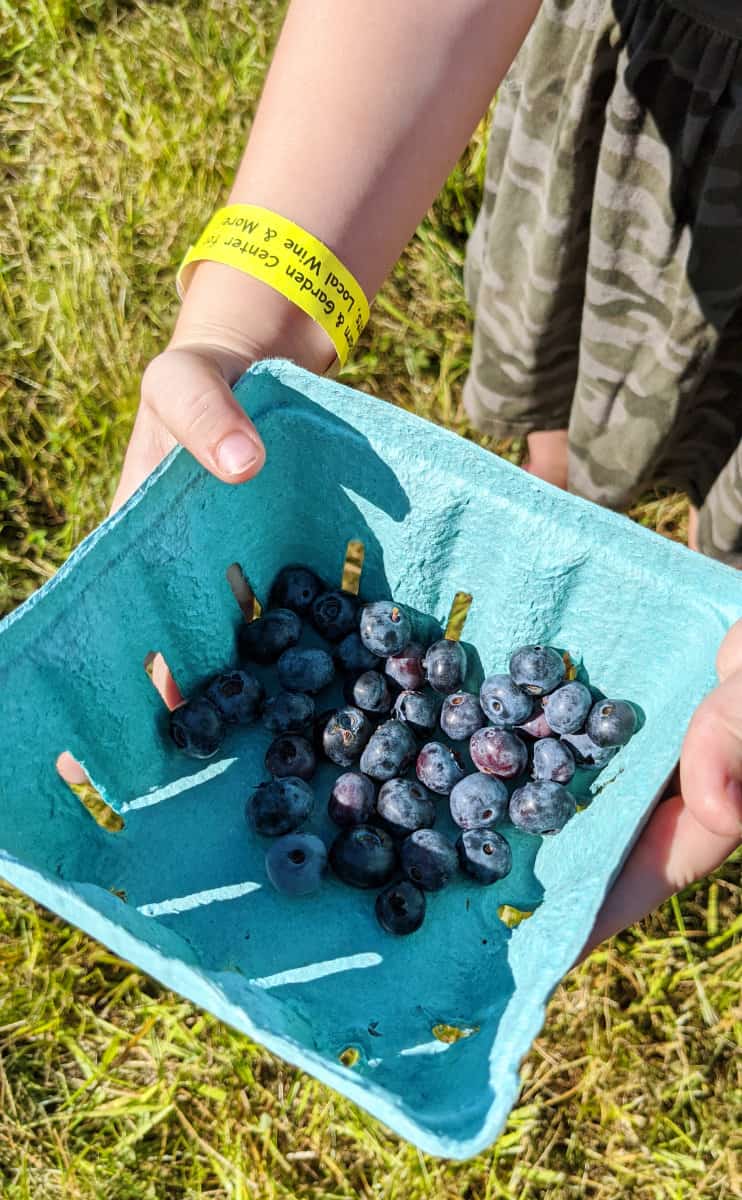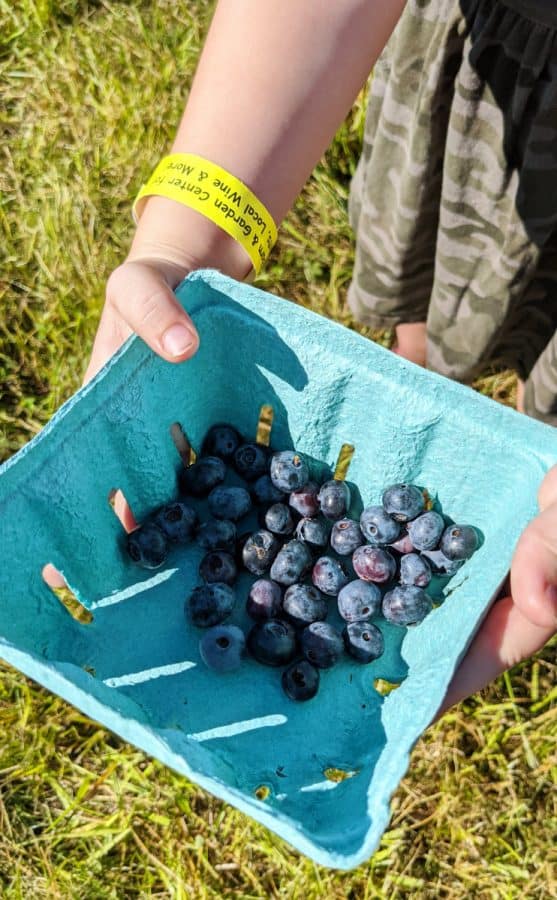 We add them to muffins, pancakes, fruit trays, breakfast, lunch, dinner – you name it! Seriously, my kids are so obsessed with blueberries that I will sometimes find them standing in front of our refrigerator sneaking a handful straight from the container.
Picking our own blueberries is a fun way to see first hand where our food comes from. It's also a great way for kids to learn more about the whole, healthy foods that grow right here in our community.
Luckily for us, there are quite a few Pick-Your-Own blueberries farms right here in Cincinnati where we can find our favorite summer snack!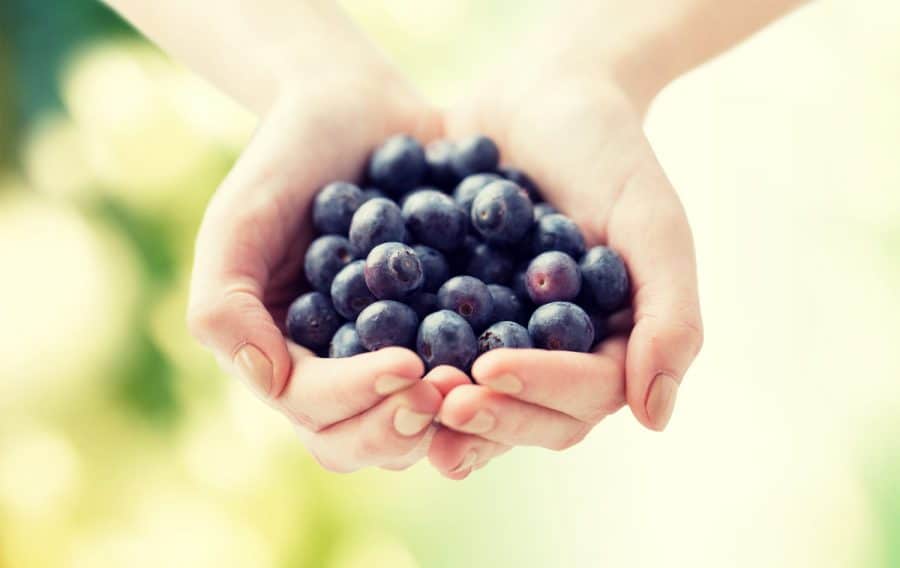 ---
A few Pro Tips for blueberry picking:
Wear outdoor, closed-toed shoes that you aren't afraid to get dirty.
Bring a change of clothes just in case things get a little muddy – they usually do, but that's part of the fun!
Pack some old beach towels in the car that you can wrap muddy shoes/clothes in or to protect the seats from possible dirt on the drive home.
Check the weather forecast and the U-Pick farm's website right before leaving just to be sure nothing in the farm's schedule has changed.
Where to find U-Pick Blueberries in Cincinnati, Ohio
Blooms & Berries Farm Market
U-Pick blueberry season is officially on at Blooms & Berries starting end of June 2021! Blueberry picking happens on select days – read more for info….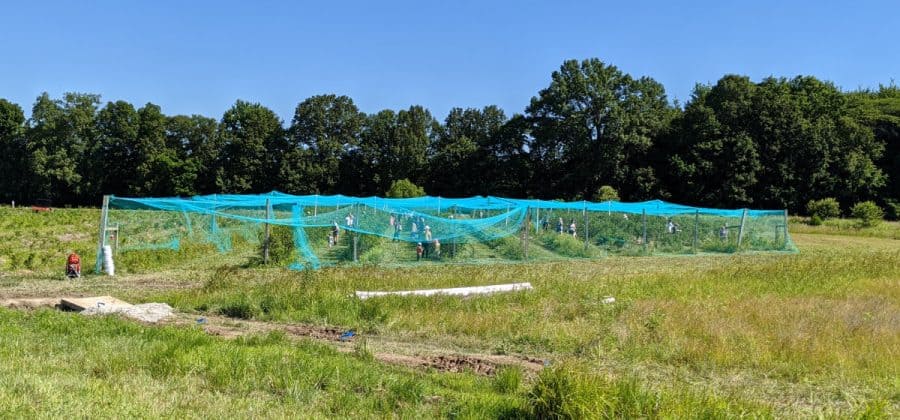 A limited amount of blueberries are available for picking on the days they open the fields. To keep the experience fun and stress-free, field passes are required. 2021 passes are $3.95/person (age 2 & up) and go on sale the day prior at 4:45pm on the Blooms and Berries website. Be sure to check in regularly – the tickets go quick!
Check in and out at the Market Barn and grab a few other farm fresh treats while you're there to take home with you. Unfortunately, this season the Farmyard Fun play area will remain closed – so be sure to prep your little one ahead of time if they're used to spending time there after berry picking.
General Information:
Picking containers will be provided (please do NOT bring containers from home unless it is a bucket from Blooms & Berries strawberry picking)
Blueberries are $4.99/lb.
Address: 9669 S. St. Rt. 48, Loveland, Ohio 45140
Website
---
Indian Springs Berry Farm
Indian Springs is a USDA certified organic blackberry farm. We wanted to include them here as there are too few blackberry farms to for a separate list. I'm hoping if you like to pick blueberries you'll also like to pick blackberries???
Their days and hours fluctuate depending on the ripeness of the berries. 2021 picking started on June 28 (but picking days vary).
Arrive at the farm and they'll take care of you. They'll give you a basket and guide you to the best rows (you CAN bring your own basket if you'd like).
Keep up with them and their picking schedules on the Indian Springs Berry Farm Facebook page.
Address: 2840 Tylersville Road, Hamilton, Ohio 45015
Parking lot is at 2788 Tylersville Road, 500′ west of the big white barn
Website
---
Berryhill Farm
Berryhill Farm will open for their U-Pick Blueberry Season on July 3, 2021. Check their Facebook page for blueberry picking dates and opportunities.
Bring your own container for picking this year. They'll weigh it before you pick. They will have some containers on the farm but they're concerned about running out.
You can still enjoy some freshly picked blueberries even if you can't/don't want to pick them on the farm. Drive-up sales are open Monday-Saturday from 8:30am – 6:00pm. The farm recommends calling ahead and make sure blueberries are available before you head out.
Address: 127 E Krepps Road, Xenia, Ohio 45385
Website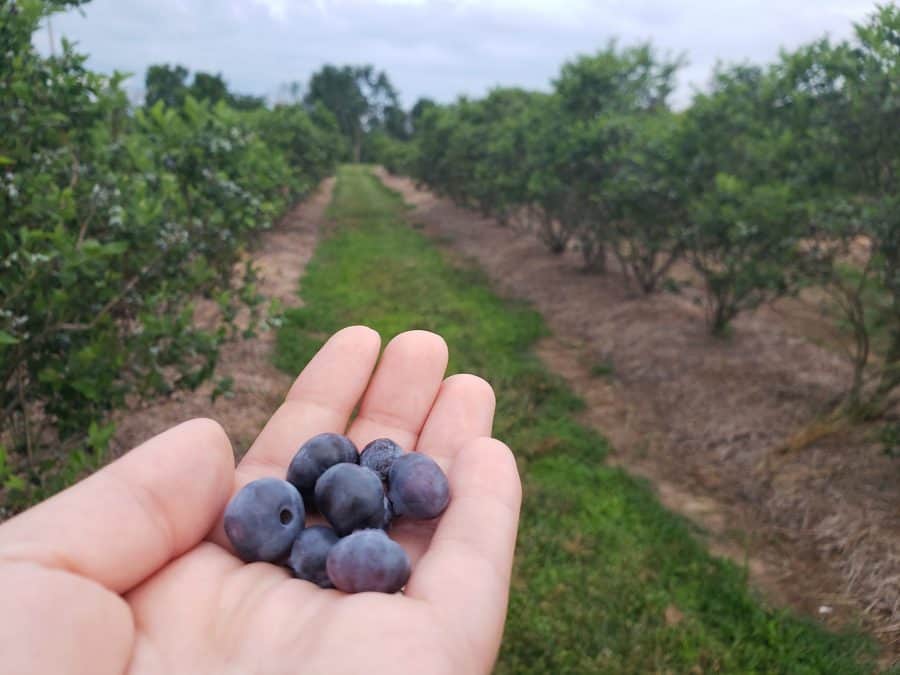 ---
You might also like: 40+ Things to Do This Summer – a Cincinnati Summer Bucket List
---
Blueberries are ripening as of late June, 2021. Their website does not have a lot of information about blueberries.
Find picking opportunities on the Hidden Valley Orchard Facebook page.
Address: 5474 North State Route 48, Lebanon, Ohio 45036
Website
---
Alpine Berry Farm
Alpine Berry Farm is known for their naturally raised blueberries grown in organic fertilizer and without pesticides and herbicides.
Their U-Pick Blueberries are projected to begin the first of July. To help limit the number of people in the field, picking will be by reservation only. Details to follow on social media and their website.
Steps that Alpine Berry Farm are taking to keep things safe and socially distanced:
Cost – $4.50 per pound u-pick. $7/pint picked (limited availability)
Checks and cash only. Credit cards not accepted.
Bring clean containers to both pick and take your berries home in.
Dogs not allowed on the farm
Address: 26191 Pocket Road, Batesville, Indiana 47006
Website
---
Bright Star Acres
Bright Star Acres is a u-pick blueberry farm located in Kenton County, Kentucky.
Opening in early July, 2021 for picking!
Cost is $3.50 per pound
Accept cash or check with proper ID
Picking pails provided (each pail holds about 7 pounds)
Address: 3675 Alexander Road, Demossville, Kentucky 41033
Website
---
Iron's Fruit Farm
Iron's Fruit Farm will offer U-Pick berries but 2021. Information is not yet available.
Address: 1640 Stubbs-Mill Road, Lebanon, Ohio 45036
Website