Get ready to fill a summer day with outdoor fun at Kirkwood Adventure Park, a 212-acre campus located in nearby Wilmington, Ohio.
Kirkwood Adventure Park is welcoming individuals and groups out to experience their newly renovated facilities.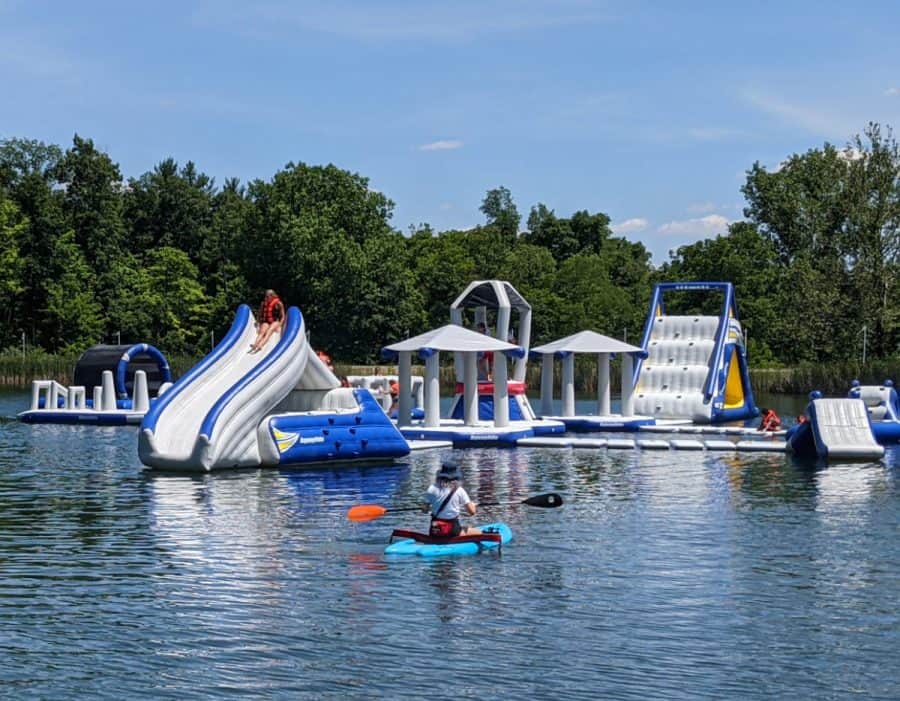 What can you expect to find at Kirkwood Adventure Park?
There's all kinds of outdoor adventure here – from the lake to the treetop climb to games stretching across the expansive lawn.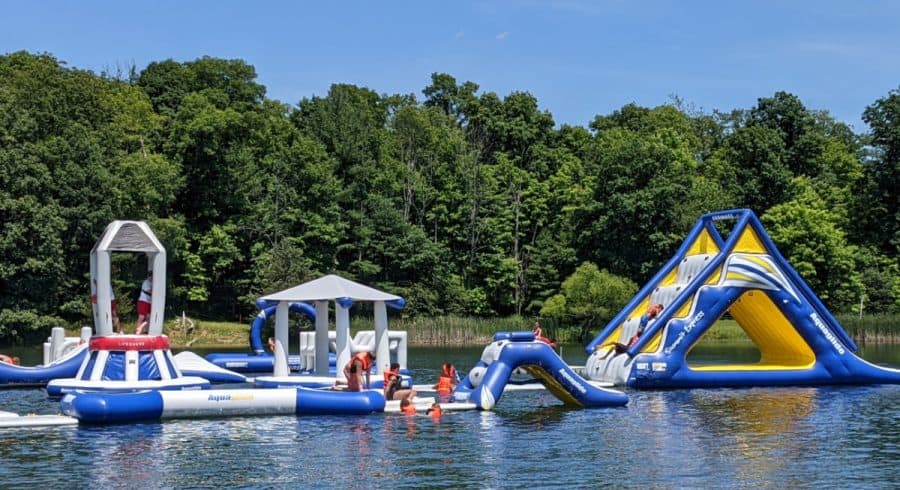 We started our day off with some water fun on their large lake. They have a multi-part floating obstacle course where you can swim, climb, and slide to your heart's content. Or bounce on the floating trampoline!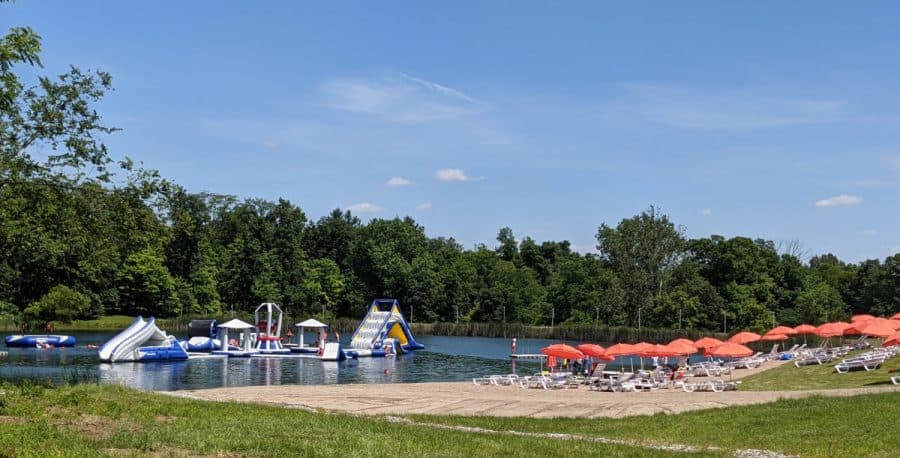 Catch some rays or simply relax in one of the lounge chairs that line the lake on one side. Choose your spot in the sand or in the grassy lawn. They even provide sun umbrellas to give you some shade.
The hilly slope helps to provide you with a good view of the lake, regardless of your spot.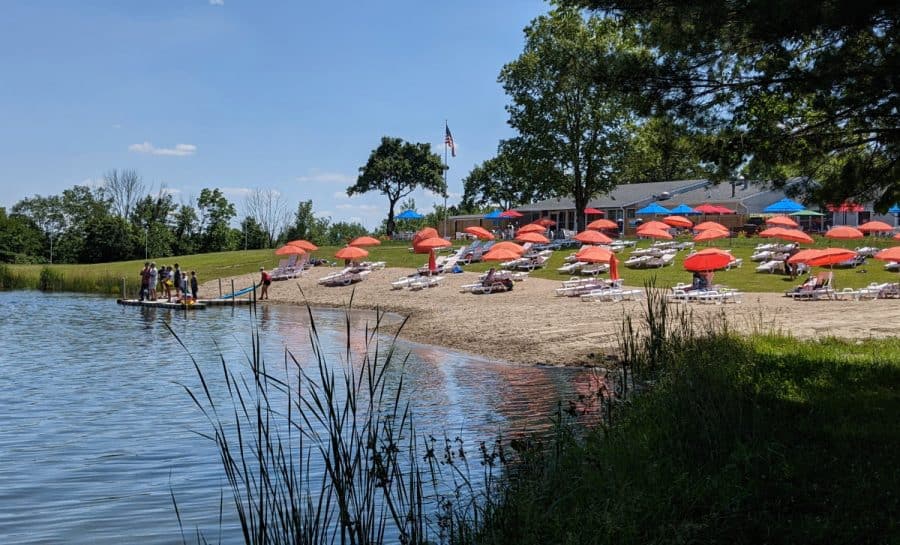 Anyone who goes into the water is required to wear a life jacket. They provide the life jackets and have a large variety in all kinds of sizes – kids to adults. They had a person to assist you with this while we were there. That person helped get the perfect fit and to secure the jackets once on.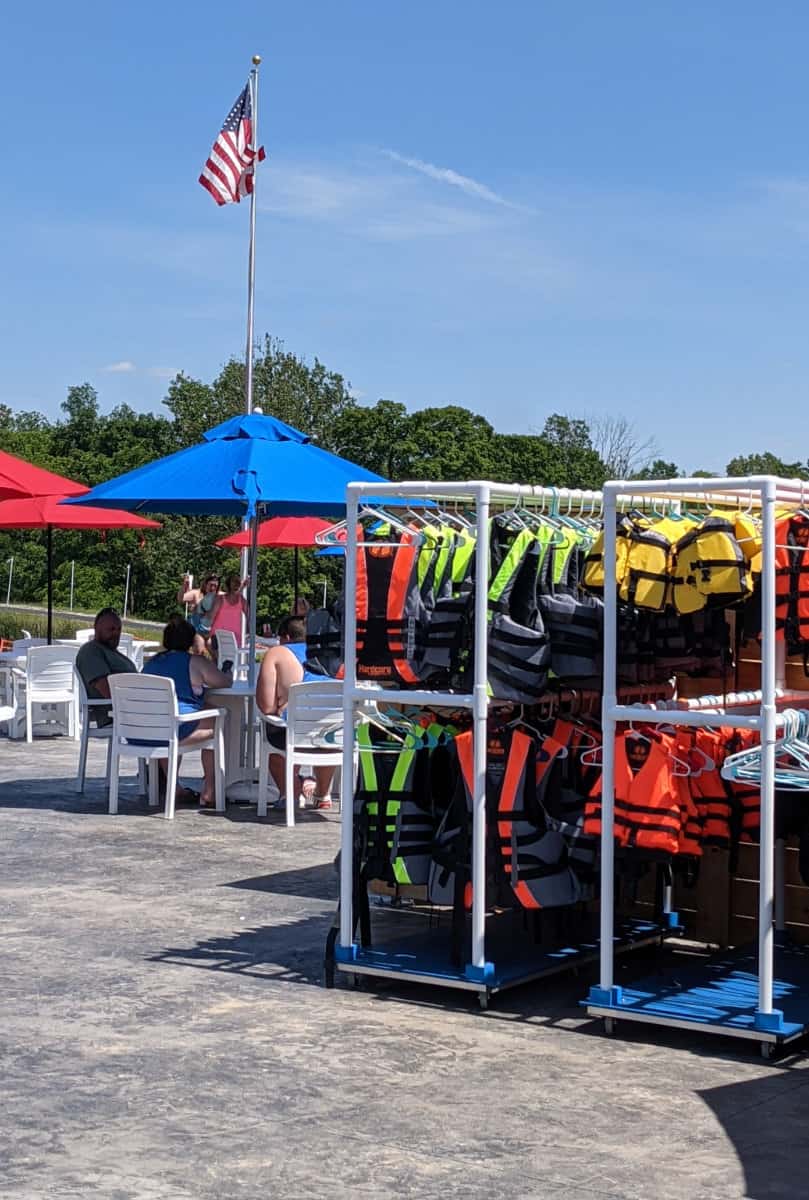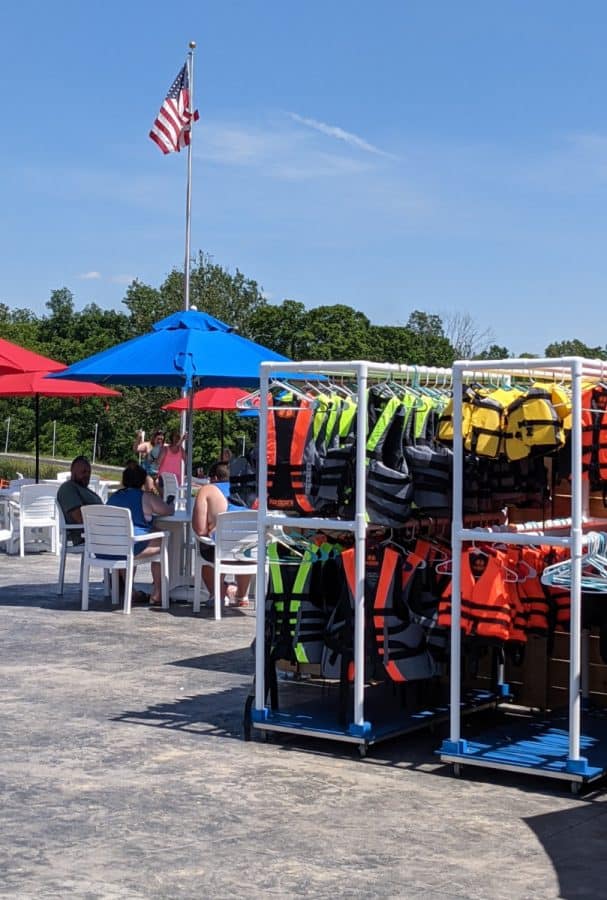 What else can we do?
The outdoor fun goes well beyond the lake. You can grab something to eat at the lodge's "Mama's Kitchen" and enjoy it under the pines (or on the concrete patio near the Lodge).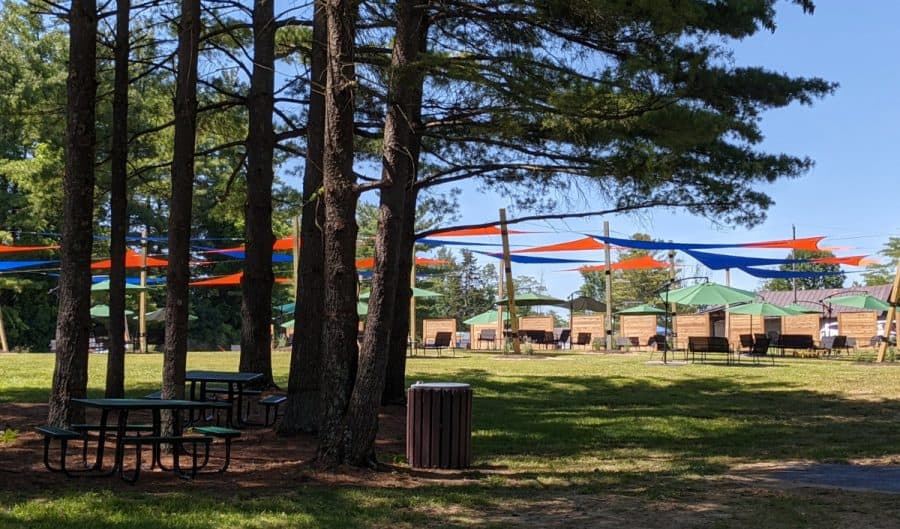 Be sure to check out the Canopy Trail – an overhead walk through the trees. This cool and shady spot was a welcomed addition to a sun-filled day for us!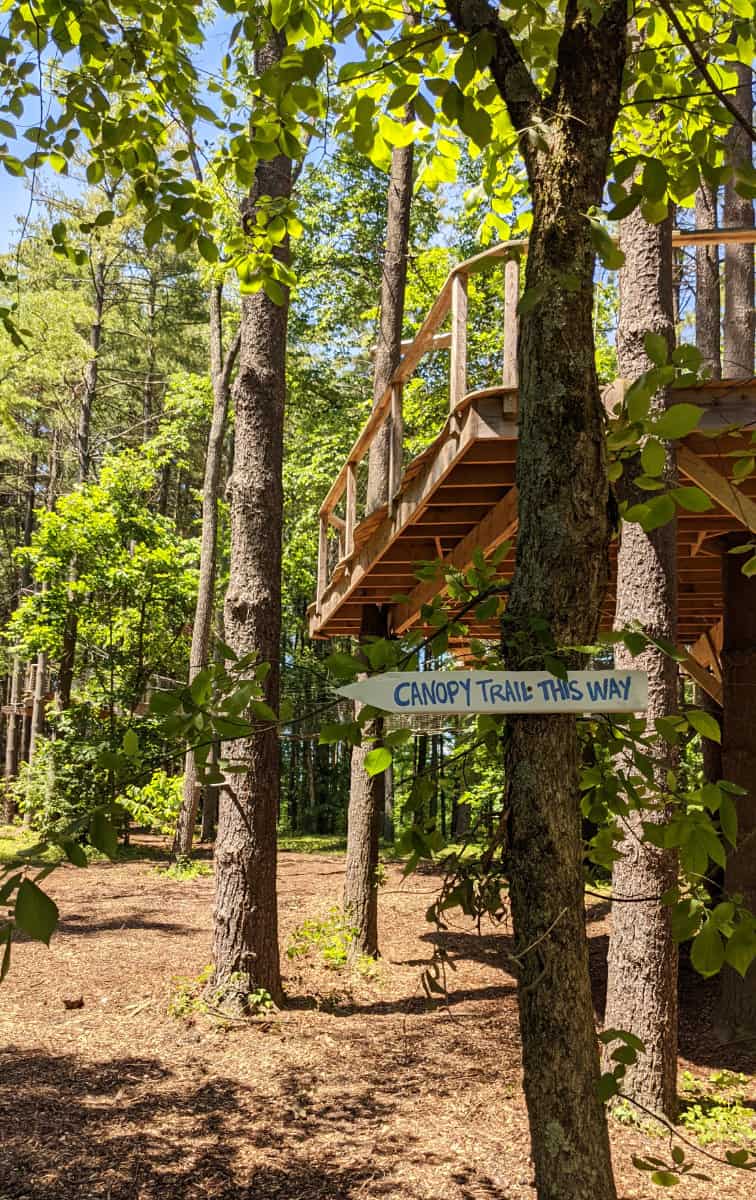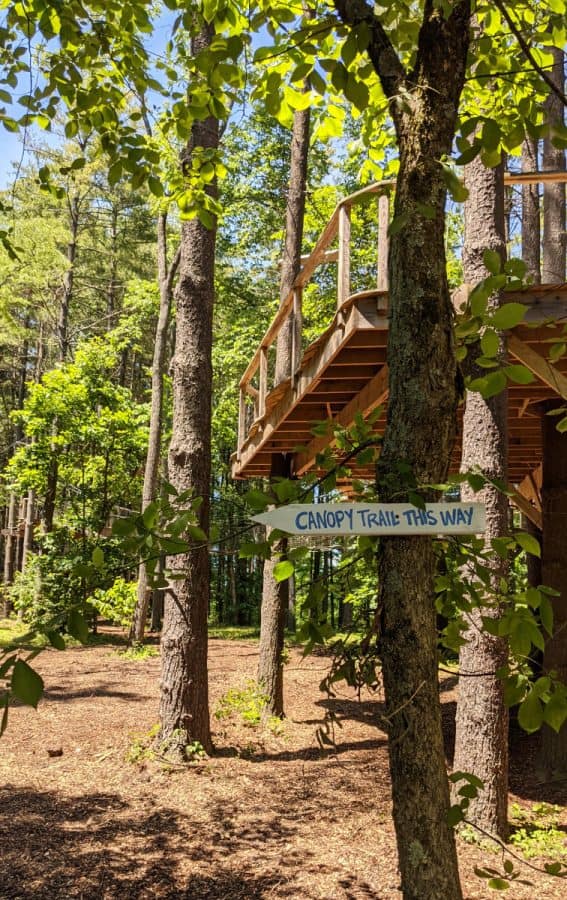 The kids played a quick game of basketball after spending the day on the lake and climbing through the treetops. For us, that was enough. We were BEAT and headed for home. There's plenty more to explore there though…
Be sure to enjoy these other outdoor adventures!
a mini Frisbee Golf Course
a basketball court
volleyball
lawn bowls
bocce ball
spike ball
one-of-a-kind castle corn hole
And coming soon – a splash pad, mini golf, and tubing! They're also working on a family RV Park and Campgrounds!
Find a map of Kirkwood Adventure Park here
You might also enjoy our 40+ Things to Do This Summer – a Cincinnati Summer Bucket List
---
Questions you might have about Kirkwood Adventure Park:
Do they have indoor restrooms?
Yes, they do have indoor restrooms and the facilities are great. You'll find a large lounging area (perfect for nursing moms), restrooms, and a separate changing room. The changing room has lockers in case you'd like to store anything up during your visit.
Can I change out of my wet clothes while I'm there?
When you're done, you'll be happy to know they do provide outdoor showers – perfect for washing off that last bit of sand. You'll find them just beyond the cafe, close to the restrooms. They a large changing room and restrooms in the building right behind the showers.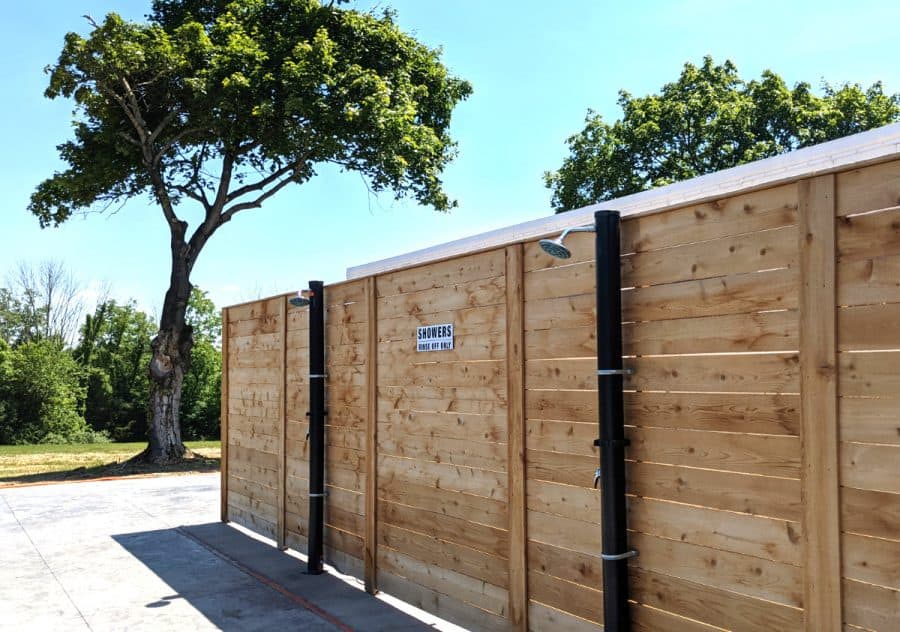 Can I bring in my own food?
Kirkwood Adventure Park does not permit outside food and drinks, coolers, or grills. Exceptions include: snack sized items, bottled water, baby food and formula, and items essential to an individual's health and medical wellness.

You can purchase food, snacks, and drinks onsite.
Are pets welcome?
Only service animals are permitted on the grounds.
Is there a fee for individual admission?
Yes, individuals are $22/day. You can purchase a season pass for $45 (individual) or $180 (family). Children 5 years and under are free. Parking is free.
Is there a deal for groups?
Contact their scheduling coordinator to discuss group rates.
Do I need to make a reservation or buy online first?
Their site says "Walk Ins Welcome" for individuals. If you're visiting as a group, reservations are required.
---
Kirkwood Adventure Park is located at 5719 W. State Route 73, Wilmington, Ohio
Kirkwood Adventure Park is powered by Matthew 25: Ministries, a federally registered 501(c)(3) international humanitarian aid and disaster relief organization helping the poorest of the poor and disaster victims locally, nationally and internationally regardless of race, creed or political persuasion.
Learn more about Matthew 25: Ministries here.