There are 8 National Parks in Ohio. Have you been to any of them?
President Woodrow Wilson signed the act creating the National Park Service in 1916. Tthe new Department of the Interior was responsible for protecting the 35 national parks and monuments. Today, The National Park System includes more than 400 parks… and 8 of those are in Ohio. So fill up the tank and go exploring!
Located at 2038 Auburn Avenue, Cincinnati, Ohio 45219
We couldn't start a National Parks in Ohio list and NOT start with the only one in Cincinnati!
William Howard Taft, who served as the 27th President of the United States (elected in 1908) and as chief justice of the U.S. Supreme Court (1921), was born and raised in this house. Today, the Taft home has been restored and features four period rooms that reflect the way it may have looked when the Tafts lived here.  Letters and journals were used to restore the rooms and to place furniture where it was most likely to have been.

Guided tours of the Taft home are offered every thirty minutes with the last tour of the day leaving at 3:45 pm.

William Howard Taft National Historic Site is open daily from 8:00 am. to 4:15 p.m. The park is closed on January 1st, Thanksgiving Day, and December 25th.

Free parking is available in a small lot in front of the Taft Education Center on Auburn Avenue or in a larger lot directly behind the Taft house and Education Center, accessible via Southern Avenue.
---
Located at 16 South Williams Street, Dayton, Ohio 45402
One of three parks that are within a few hours of Cincinnati, Dayton Aviation Heritage National Historic Park celebrates flight. There are five National Historic Landmarks and a National Register Historic District located within the park (including the Wright Cycle Company building, Hoover Block, Huffman Prairie Flying Field, 1905 Wright Flyer III, Hawthorn Hill, and the Paul Laurence Dunbar State Memorial).
This park operates a seasonal basis. Find the park hours and other information here.
Tour information is found here.
---
Located at 1120 U.S. Route 42 E, Wilberforce, Ohio 45384
This is a relatively new monument (2013) dedicated to Charles Young and the Buffalo Soldiers. Colonel Charles Young was the highest ranking African-American commanding officer in the United States Army (from 1894 until his death in 1922). He also served as the first African-American superintendent of a national park, overseeing Sequoia and General Grant (now Kings Canyon) National Parks while commanding a troop of Buffalo Soldiers in the years before the creation of the National Park Service.
From the Presidential Proclamation that made this the 401st National Park Service park: "Young served nearly his entire military career with the all-black 9th and 10th Calvary regiments, often called "Buffalo Soldiers." Commissioned in 1889 as a second lieutenant, Young attained the rank of colonel in 1917. During his career he served on the western frontier, saw combat in the Philippines, and rode with General John "Black Jack" Pershing in Mexico in 1916. He was the first African American to serve as a United States military attaché, first to Hispaniola (Haiti and the Dominican Republic) and later to Liberia. Young's diverse military career included a posting to Wilberforce University to serve as a professor of tactics and military science." source
This is the second of three sites that are within a short drive of Cincinnati BUT this park is currently being developed for visitor use and is not open for regular visitation hours – so plan ahead.
Tours are available by appointment only. Visitor information: 937-352-6757
---
Located at 16062 State Route 104, Chillicothe, OH 45601
Head to this park in Chillicothe and take in the rolling mounds and structures along the Scioto River bank, an area that was once home to the Hopewell culture. "The park protects the prehistoric remains of a dynamic social and ceremonial phenomenon that flourished in the woodlands of eastern North America between 200 B.C. and A.D. 500. The term Hopewell describes a broad network of economic, political, and spiritual beliefs and practices among different Native American groups. The culture is characterized by the construction of enclosures made of earthen walls, often built in geometric patterns and mounds of various shapes." source
Hopewell Culture National Historical Park is open daily (except for Thanksgiving Day, Christmas Day and New Year's Day). Hours can be found here.
A stop at the Visitor's Center might be helpful too.
---
Located at 8095 Mentor Avenue, Mentor , OH
This National Historic Site is in Mentor, close to Cleveland. Here you'll find the home of James A. Garfield, 20th President of the United States. The Visitor Center has information about his life, from boyhood to adult. You're able to tour the Garfield home which has been restored to how it would have looked in Garfield's time and includes 80% original furnishings that belonged to James Garfield and his family (something that's so unusual for a historic house and tour!). You can also wander the grounds (which were once used to grow the Garfield's crops).
Guided tours are offered of President Garfield's home. Tour information (and operating hours) can be found here.
---
Located at 15610 Vaughn Road, Brecksville, OH 44141
Cuyahoga Valley, close to Cleveland and Akron, is along the Cuyahoga River. Explore this Ohio National Park and see: the Beaver Marsh (created by beavers along the Ohio and Erie Canal), the waterfall at Brandywine Falls, a covered bridge, a paper mill and a grist mill, and historic houses. Pack your hiking gear as the park has a number of trails to explore too.
The park itself is open every day of the year. The attractions do have operating hours which can be found here.
---
Located at 331 Market Street South, Canton , OH
Now this is one site that I was not aware of (and that I now need to visit)! This site honors the lives and accomplishments of First Ladies throughout history. There are two buildings preserved on this site: the home of First Lady Ida Saxton McKinley and the seven story 1895 City Bank Building.
Guided tours are offered but plan ahead. Reservations are highly recommended as tour size is limited. Reservations are REQUIRED for groups of 6 or more. Please call to reserve in advance: 330-452-0876 x320. Hours and tour details can be found here.
---
Located at 93 Delaware Avenue, Put-in-Bay, OH 43456
Visit the Memorial which rises 352 feet above Lake Erie. Climb 37 steps up to the lower landing and an elevator will take you to the tallest open air observation deck in the National Park Service. They say on a clear day the observation deck provides a beautiful panoramic view of the Lake Erie Islands and the shorelines of Ohio, Michigan, and Ontario.
You'll find this National Park in the Village of Put-in-Bay on South Bass Island. The most common way to reach the island is by the Jet Express or Miller Boat Line ferries. You can find directions, hours, and more information here.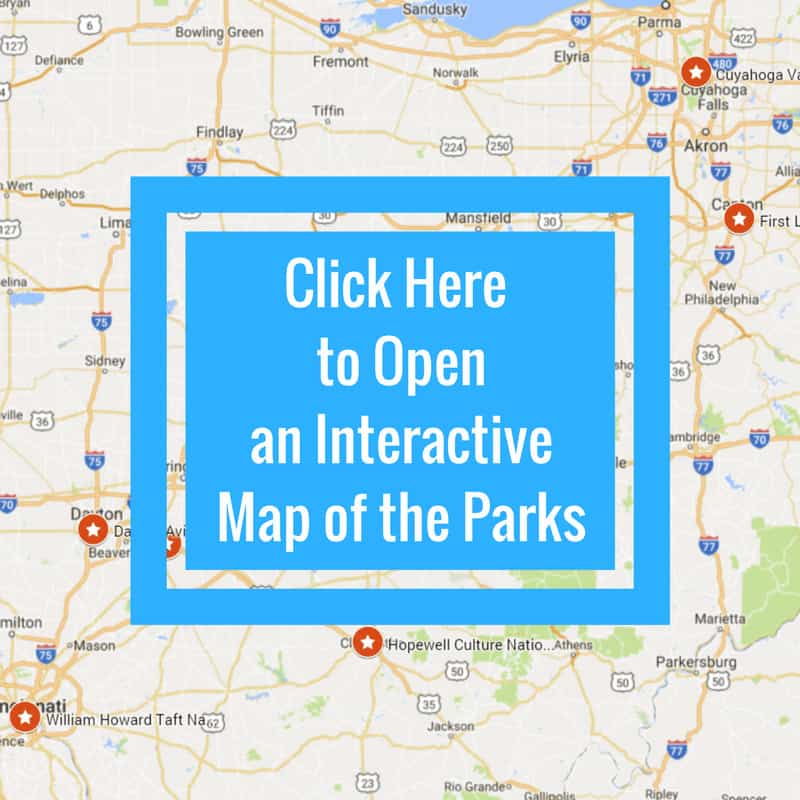 Ohio National Parks map