Spring is finally here and we're all ready to get out and enjoy some fun! Easter falls on April 9 this year (2023), and we have lot of opportunities to get out for a fun Cincinnati area Easter Egg Hunt or an egg-citing Easter event.
And the egg hunts aren't limited to kids! There are a few options for adults in this list!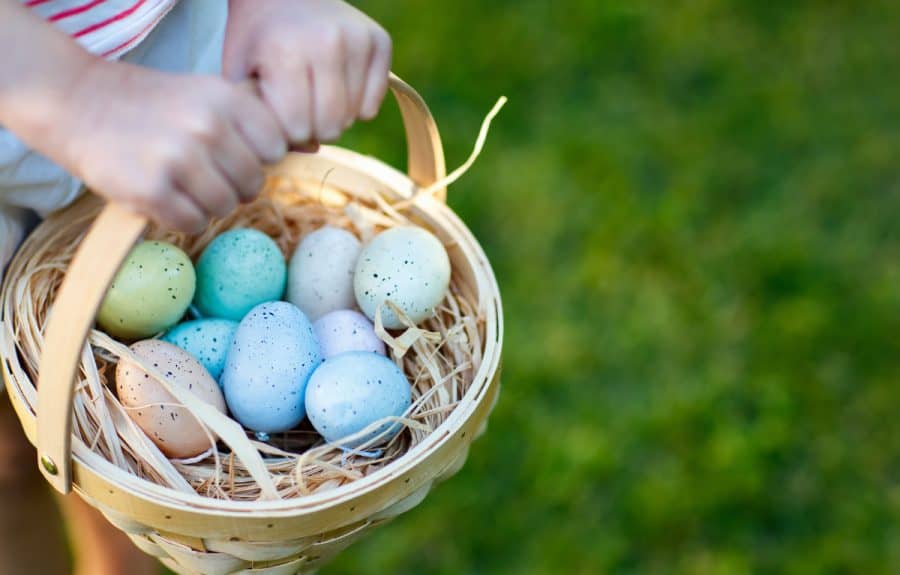 Please note: some of these events require pre-registration. And most/all are weather dependent. Be sure to check with the event (links below) before you head out the door.
Did we miss an Egg Hunt? Let us know in the comment section.
Cincinnati Easter Egg Hunts 2023:
Jump right to your chosen date:
Week of March 25- March 31, 2023
Week of April 1-7, 2023
Week of April 8-14, 2023
Contest for Egg-splorers!
Fairfield Parks will place six large wooden eggs in six of their 29 parks. To participate in the contest, you'll search and find all six eggs. As you find one, take a photo by the egg. Send all six of your photos to the park district (by March 31). The first 50 to send in photos with all six eggs will win a prize. See site for full details
When: Starts Friday, March 24, 2023 and ends Friday, March 31, 2023
Website
Flashlight Egg Hunt with MetroParks of Butler County
When the park is dark, your flashlight will be your guide! Bring your own flashlight and join in on the fun at Elk Creek MetroPark Sebald Park. Participants will walk through a trail to end up at a field filled with glowing eggs! Collect 12 and turn them in to redeem candy and a special prize.
Registration required by March 24, 2023. Cost is $5 per child.
When: Saturday, March 25 (weather permitting); timeslots are every half hour from 7:30pm to 9:30pm
Address: Sebald Park, 5580 Elk Creek Rd., Middletown, OH 45042
website
Community Easter Egg Hunt
St. Paul Lutheran Church in Reading, OH invites you to their egg hunt. All children up to age 10 are welcome to participate. The hunt will be in the east lawn as long as the weather allows; indoors in the fellowship hall if it doesn't.
When: March 25, 2023; 4pm
website
Floating Easter Egg Hunt at Fitton Family YMCA
Register for one of the YMCA's 30 minute time slots to swim and hunt eggs. Hop on into the gym for pictures with the Easter Bunny, crafts, and face painting before or after your session. You'll will finish out the event with a Magic Show for everyBUNNY presented by the talented John Louis from "On The Edge Of Illusion". Every child leaves with a goody bag.
Admission charged.
When: March 31; 6-8pm – see age range times (more dates below)
Address: 1307 NW Washington, Hamilton, Ohio 45013
website


Egg Orienteering (MetroParks of Butler County)
Egg Orienteering with Orienteering of Cincinnati will include a full range of courses for all ages & skill levels including a special egg hunt course for kids. Following an easy map, kids can collect a different color plastic egg at each checkpoint. When finishing, the eggs can be turned in for a choice of candy or toy from the treasure chest.
When: Saturday, April 1, 2023; 11am-1pm
Address: Rentschler Forest, Line Hill Mound Area, 3620 Hamilton-Middletown Rd., Hamilton, OH 45011
website
The Great Symmes Egg Hunt
When: Sat., April 1 starting at 11:30am
Address: Home of the Brave Park, 11605 Lebanon Rd., Loveland, OH 45140
Website
Easter Egg Eggstravaganza with Pause for Parents, Play for Kids
Details coming soon
When: Saturday, April 1, 2023 from 10am to 3pm
Address: 5962 Hamilton Mason Rd, Liberty Twp., OH 45011
website
Green Twp. Easter Egg Hunt
Head to Veterans Park for an egg hunt!
When: Sat., April 1, 2023 starting at 1pm sharp
Address: Veterans Park, 6231 Harrison Ave., Cincinnati, OH 45247
Website
Stanbery Park Easter Egg Hunt
Small children will get eggs in the Stanbery Park oval, older children up to 12 years old are invited to grab eggs on the sledding hill.
When: Sat., April 1, 2023, 12-12:30pm
Address: 2221 Oxford Ave., Cincinnati, Ohio
website
Easter Egg Hunt with Access Church
They'll hide 10,000+ eggs and prizes; open to everyone in the community
When: Sat., April 1, 2023; 1pm
Address: West Clermont Middle School, 1341 Clough Pike, Cincinnati, Ohio 45103
website
Floating Easter Egg Hunt at East Butler YMCA
Register for one of the YMCA's 30 minute time slots to swim and hunt eggs. Hop on into the gym for pictures with the Easter Bunny, crafts, and face painting before or after your session. You'll will finish out the event with a Magic Show for everyBUNNY presented by the talented John Louis from "On The Edge Of Illusion". Every child leaves with a goody bag.
Admission charged.
When: April 1; 1-3pm – see age range times (more dates below)
Address: 6645 Morris Rd., Hamilton, Ohio 45011
website
Hoppin' Easter Egg Hunt at Harbin Park
Bring your baskets and grab all the eggs you can find. Egg hunts are divided into two age groups. They will have several prize eggs and activities.
When: Sat., April 1, 2023; 10:30am (hunt), visit Easter Bunny from 10am to noon
Address: Harbin Park, 1300 Hunter Rd., Fairfield, Ohio 45014
website
Easter Egg Hunt with St. Peter and St. Paul United Church of Christ
Grab your basket and a friend! Children will enjoy a light lunch, pictures w/ the Bunny, a craft, and a fun egg hunt. Ages 10 and under; everyone's welcome!
When: Saturday, April 1; event starts at 2pm with the hunt at 2:45
Address: 3001 Queen City Ave., Cincinnati, Ohio
website
Deer Park's Easter Egg Hunt
Head to Chamberlin Park for the annual Easter Egg Hunt and photos with the Easter Bunny. Be sure to bring your own baskets. They will have four age groups: 3 and under, 4-6, 7-9, and 10-12. The hunt begins promptly at 11am.
When: Saturday, April 1; 11am
Address: Chamberlin Park, 7640 Plainfield Rd., Deer Park
website
The Egg Hunt at Northminster Church
Kick off your Easter celebrations with a morning full of fun family activities, and of course, the main event: the Egg Hunt! This event happens rain or shine. If the weather is nice, we will see you on the front lawn. If it's not, we will take the fun inside.
When: Saturday, April 1; starts at 10:30am
Address: 703 Compton Rd., Cincinnati, Ohio 45231
website
Independence Egg Hunt
Festivities kick off at 10:30am including food trucks and entertainment from jugglers, stilt walker sand balloon artists. Egg Hunt starts at 12pm. Rain out date will be April 8.
When: Saturday, April 1; 10:30am-1:30pm
Address: Memorial Park, 2003 Jackwoods Pkwy., Independence, KY 41051
website
Pierce Twp. Easter Egg Hunt
Take the kids out for an egg hunt! The Easter Bunny will arrive at 10am to take pictures and egg hunt will start at 11am. The fields will be divided into four fields: 0-2 at field one; 3,4&5 at field two; 6,7,&8 at field three; 9&10 at field four.
When: Saturday, April 1; 10am to noon
Address: Pierce Township Park, 961 Locust Corner Road, Cincinnati, OH 45245
website
Easter Egg Hunt at Harvest Home Park
Kids 10 and under are welcome to participate.
When: Sunday, April 2, 2023; registration starts at 1pm, age group hunts begin at 2pm.
Address: 3951 North Bend Road, Cincinnati, Ohio 45211
website
Easter Egg Hunt at Trinity Presbyterian Church Fairfield
Join in for a FREE Easter egg hunt! They will have a designated area for just the littlest egg hunters, a visit from the Easter Bunny, and even more eggs than last year! After the hunt, consider stoping by the Kona Ice kiosk and grabbing a sweet treat. 
When: Sunday, April 2; 2pm
Address: 6081 Ross Rd., Fairfield, Ohio 45014
website
Floating Easter Egg Hunt at Atrium YMCA
Register for one of the YMCA's 30 minute time slots to swim and hunt eggs. Hop on into the gym for pictures with the Easter Bunny, crafts, and face painting before or after your session. You'll will finish out the event with a Magic Show for everyBUNNY presented by the talented John Louis from "On The Edge Of Illusion". Every child leaves with a goody bag.
Admission charged.
When: April 6; 6-8pm – see age range times (more dates below)
Address: 5750 Innovation Dr., Hamilton, Ohio 45005
website
Flashlight Egg Hunt with MetroParks of Butler County
When the park is dark, your flashlight will be your guide! Bring your own flashlight and join in on the fun at Elk Creek MetroPark Sebald Park. Participants will walk through a trail to end up at a field filled with glowing eggs! Collect 12 and turn them in to redeem candy and a special prize.
Registration required by April 6, 2023. Cost is $5 per child.
When: Friday, April 7 (weather permitting); timeslots are every half hour from 7-10pm
Address: Forest Run Metropark, Hamilton, OH 45013
website
Week of April 8-14:
Adults Only Easter Egg Hunt at World of Golf
Let your inner child thrive at this Adults Only Easter Egg Hunt! Registration includes: 1 drink and all the prizes you can collect. Prizes inside the eggs include: drink vouchers, golf vouchers, candy, toys, and more!
Adults 21+ only; $5, registration required
When: Saturday, April 8, 2023; 11am-midnight
Address: 7400 Woodspoint Drive, Florence, KY 41042
website
Cincinnati Fire Museum Egg Hunt
Join in for a fun morning to hunt for Easter eggs amongst two floors of the Cincinnati Fire Museum's history exhibits. The Easter Bunny will be present at this event and available for selfies.
Please bring your own basket.
Tickets required.
When: Sat., April 8, 2023; 9-10:30am
Address: 315 West Court Street, Cincinnati, Ohio 45202
website
Floating Easter Egg Hunt at Fairfield Family YMCA
Register for one of the YMCA's 30 minute time slots to swim and hunt eggs. Hop on into the gym for pictures with the Easter Bunny, crafts, and face painting before or after your session. You'll will finish out the event with a Magic Show for everyBUNNY presented by the talented John Louis from "On The Edge Of Illusion". Every child leaves with a goody bag.
Admission charged.
When: April 8; 12-2pm – see age range times (more dates below)
Address: 5220 Bibury Rd., Fairfield, Ohio 45014
website
Easter Eggstravaganza
Head to Milford and join in on the free family fun. There will be an Easter Egg Hunt along with a special visit from the Easter Bunny arriving on the Milford Community Fire Department's antique fire truck at 10:00AM! The Easter Egg Hunt will be divided into three groups by age (under 3, 3-5, and 6-10). Bring an Easter basket for the hunt.
When: Saturday, April 8, 2023; 10am-noon
Address: Riverside Park, 425 Vintor Stier Dr., Milford, OH 45150
Website
Egg Orienteering (MetroParks of Butler County)
Egg Orienteering with Orienteering of Cincinnati will include a full range of courses for all ages & skill levels including a special egg hunt course for kids. Following an easy map, kids can collect a different color plastic egg at each checkpoint. When finishing, the eggs can be turned in for a choice of candy or toy from the treasure chest.
When: Saturday, April 8, 2023; 11am-1pm
Address: Forest Run MetroPark Wildlife Preserve, 1810 Hamilton-New London Rd., Hamilton, OH 45013
website
You might also like: Spring Fun Guide – Things to Do in Cincinnati this Spring
Easter Celebration at the Cincinnati Zoo
This egg-citing day will feature animals receiving Easter-themed enrichment throughout the day plus a Scavenger Hunt! Treat Stations will be on site and children can meet the Easter Bunny from 12pm-5pm!
This event is included with your Zoo Admission.
When: Saturday, April 8, 2023; 12-5pm
Address: 3400 Vine Street, Cincinnati, OH 45220
website
Liberty Township Easter Egg Hunt
Enjoy a fun-filled, festive morning of activities including: egg hunts by age group, petting zoo, family-friendly DJ, magic show, face painter and of course the Easter Bunny!
When: Saturday, April 8, 10-11:30am
Address: Liberty Center
website
Easter Trunk Hop with Lindenwald United Methodist Church
There will be a balloon artist, Kona Ice, a coffee truck, and much more. You can sign up to participate by being a part of the Trunk hop or bring your family to enjoy the festivities.
When: Saturday, April 8, 2023; 1-3pm
Address: Lindenwald Splash Pad, 913 Noyes Ave., Hamilton, OH 45015
website
Free Community Egg Hunt at West Chester Nazarene Church
Celebrate the Risen King with a FREE Easter egg hunt. Everyone is invited. Inflatables, carnival games, and of course hunting Easter eggs. A free hot dog and drink for every person plus free popcorn or cotton candy for everyone. Everyone is invited, the fun starts at 12:00 pm! Register when you get here, egg hunts will happen at different times from 12-3:00 pm. Everyone gets 20 eggs! 
When: Saturday, April 8; 12-3pm
Address: 7951 Tylersville Rd. West Chester, Ohio
website
Egg Hunt Weekend at Washington Park
It's Washington Park Egg Hunt time and every-bunny is invited! Instead of a traditional egg hunt, they will be holding a two-day egg scavenger hunt in the park. See site for details.
When: April 8 and 9, 2023; 11am-3pm
Address: 1230 Elm Street, Cincinnati, OH 45202
website