a note from Bridgett:
I hope you'll enjoy this post from our newest contributor, the mom behind "Ruby and Frances". @rubyandfrances is one of my favorite Cincinnati-based Instagram feeds so I was thrilled when she (the mom of that crew) agreed to write for us! Here's her first piece – a look at The Newport Aquarium from a family with preschoolers.
Shocking as this may sound — today was our first ever day at the Newport Aquarium. It's not that we've been opposed, we've just been spoiled with other things. Now we know for sure — we were actually totally missing out!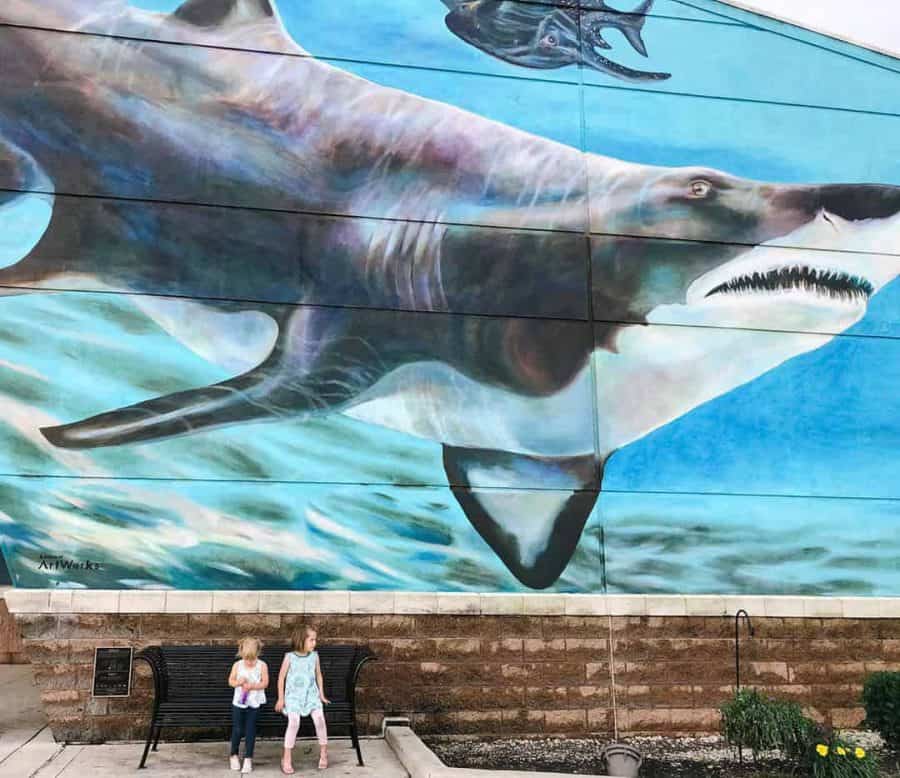 Newport Aquarium is celebrating their TWENTIETH anniversary right now and we think even counting that high is definitely something worth celebrating.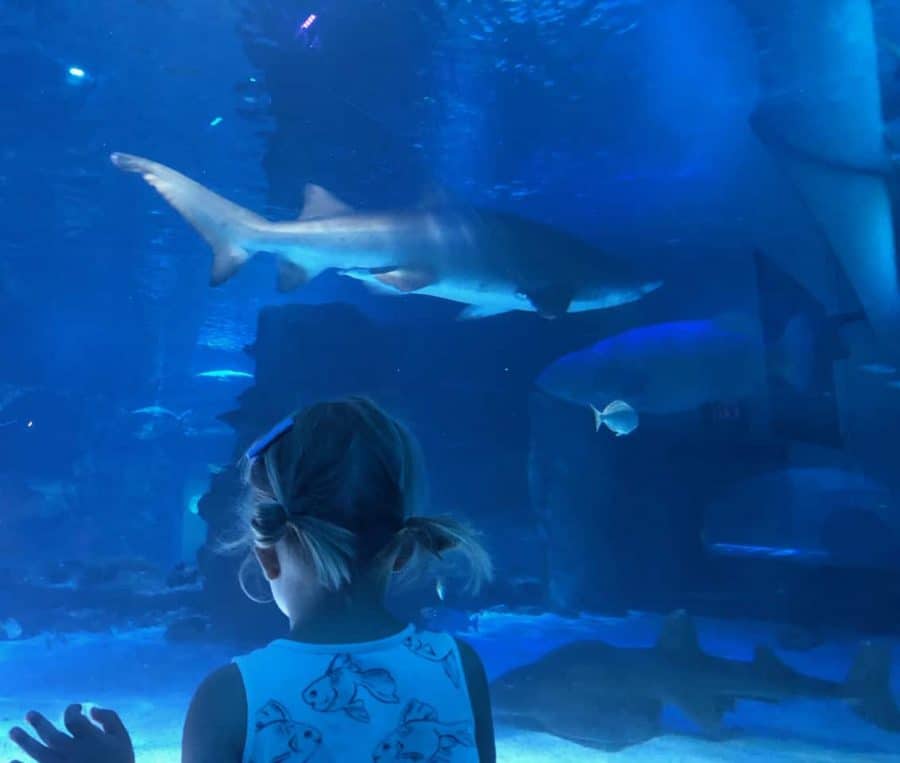 This nonstop rainy weather, and free teacher admission*(!!) made for the perfect time for our inaugural visit. We parked in the main Newport on the Levee parking garage, left the stroller in the car (a choice I soon regretted but likely no one would have wanted to sit it in anyway) and headed up the elevator to sprint our way into (and through) the aquarium!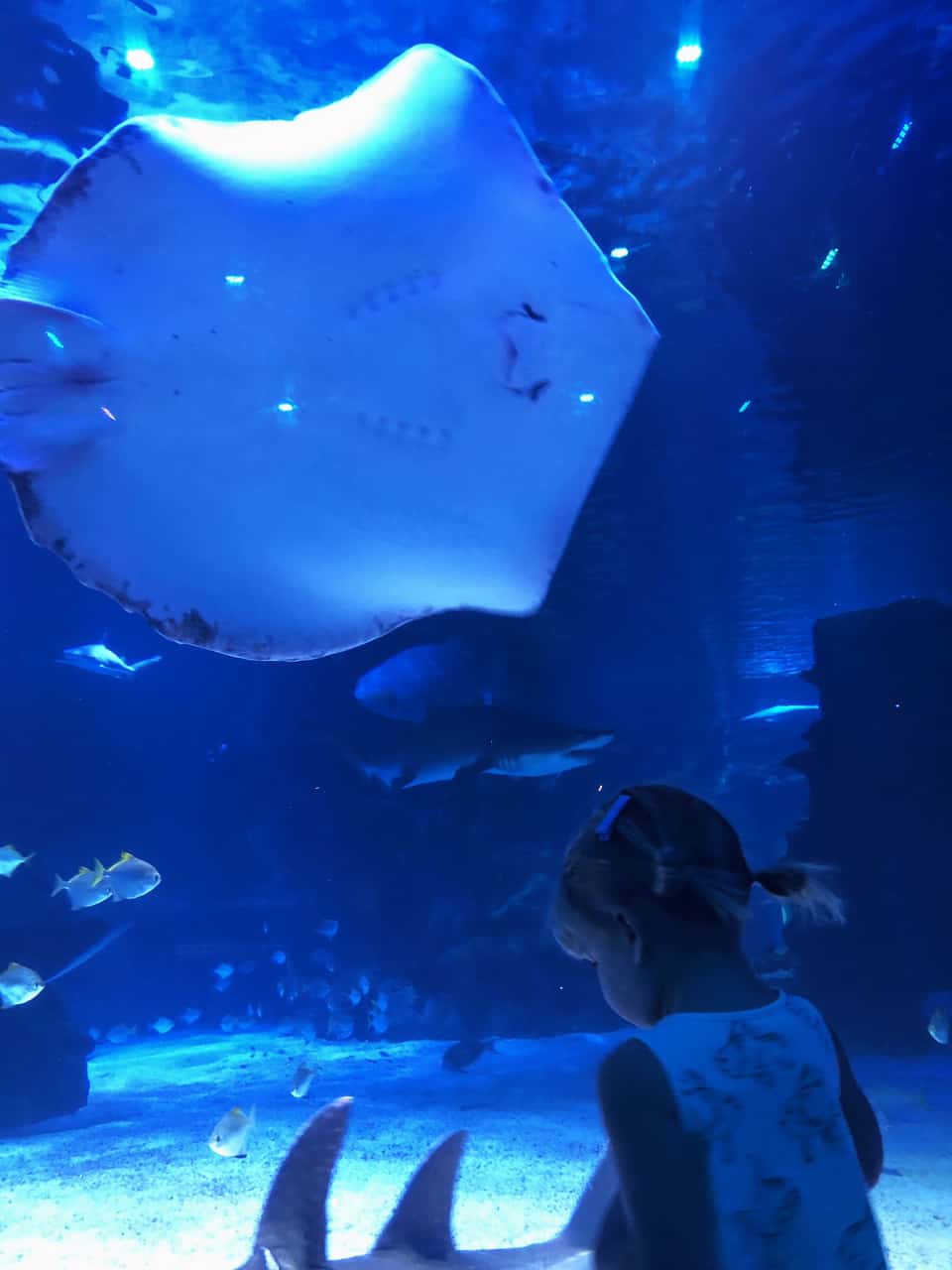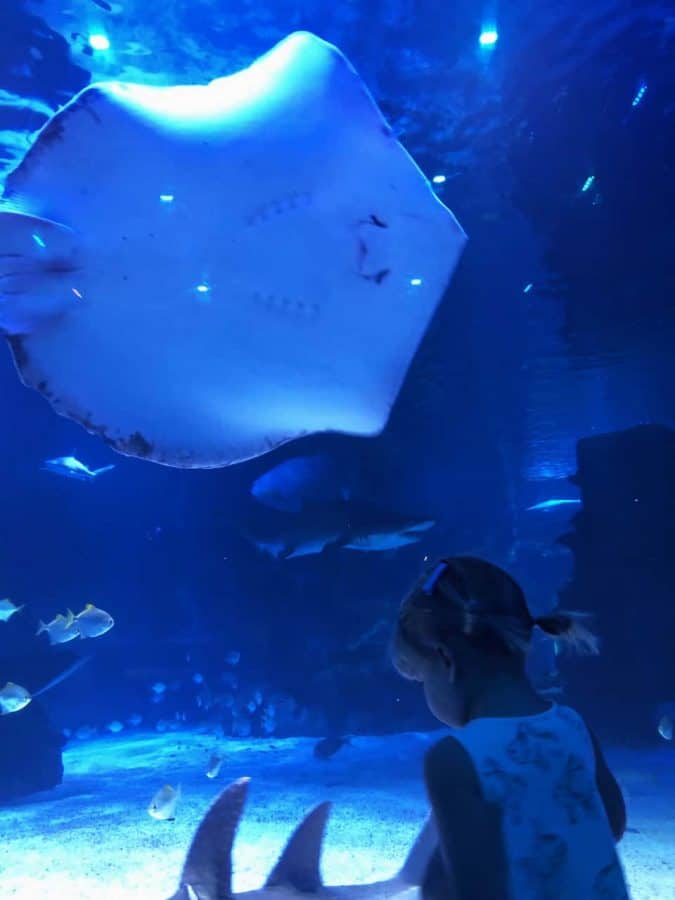 Ruby was most excited to see the stingrays and Frannie was most excited to not be confined to a stroller.
We walked in right after 9; the girls grabbed maps (that they can't read) and cheesed by the giant whale in the lobby. And then we were off into some seriously magical underground spaces.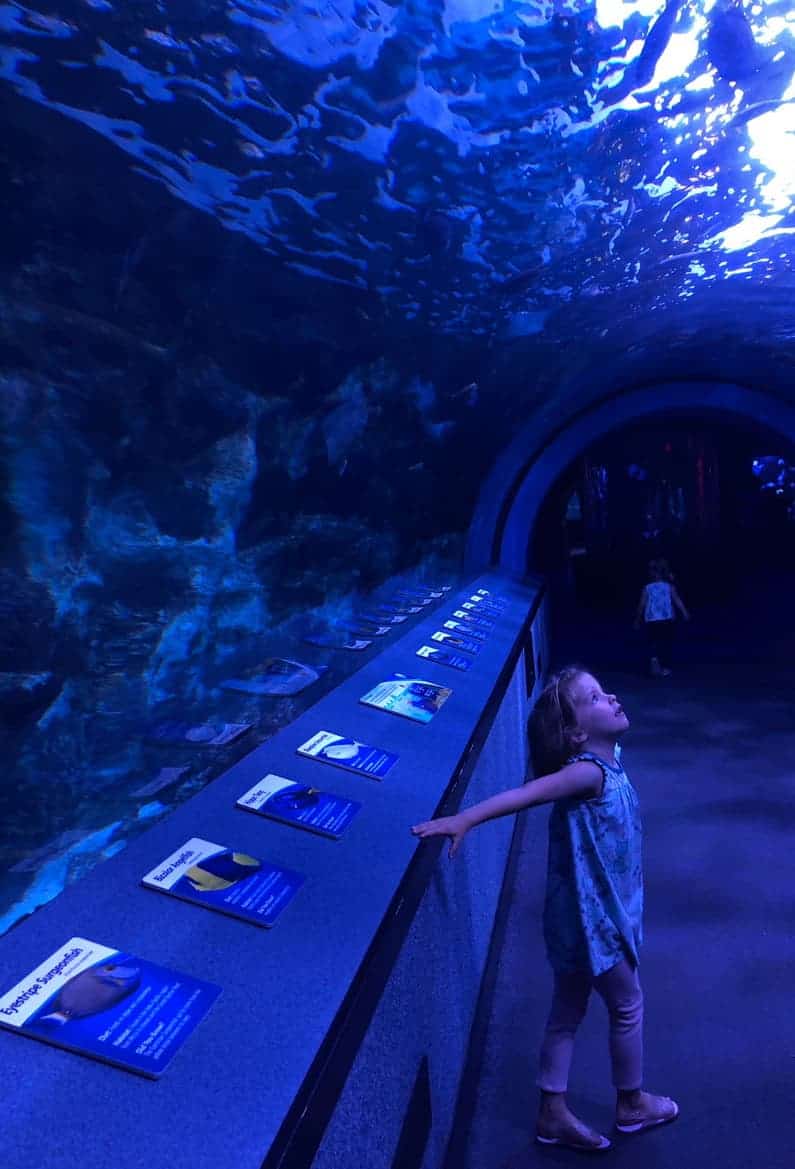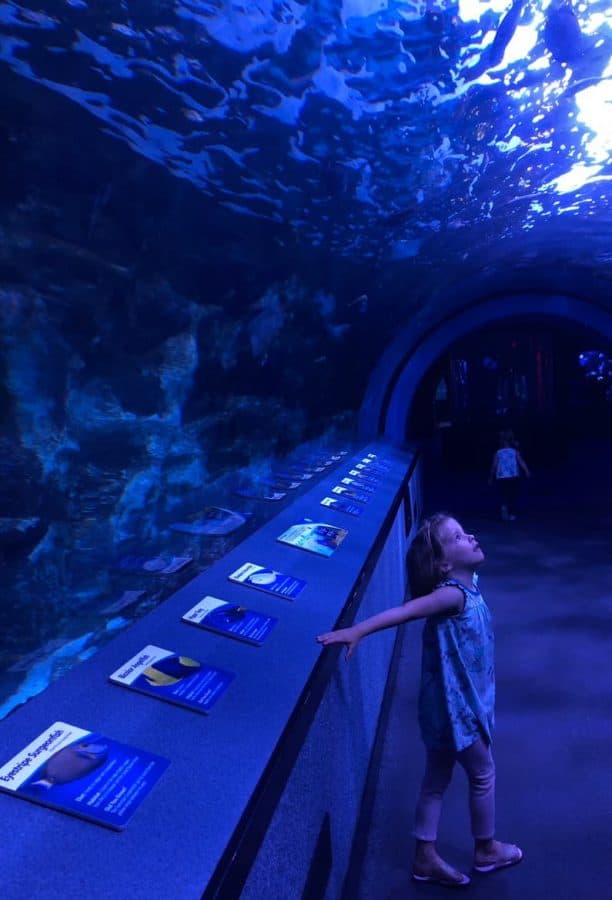 Honestly, getting there right at opening is our jam for every place in Cincy but in this case I think it was especially crucial to success in not losing a child. From 9am to 10am we were living the good life. But when camps and crowds arrived, my anxiety ratcheted up a few notches … but the girls still had the best time, if not better (read: easier to escape).
In truth though, I was seriously and distractedly dumbfounded by all of the exhibits and just the sheer volume of them. And the SIZE of these "fish" – are they even still called that?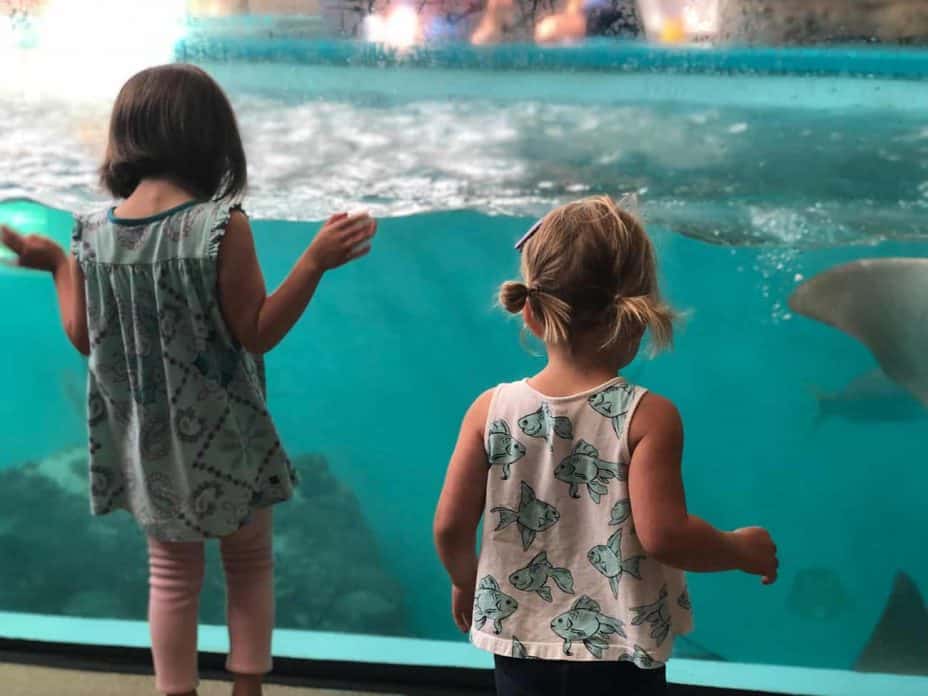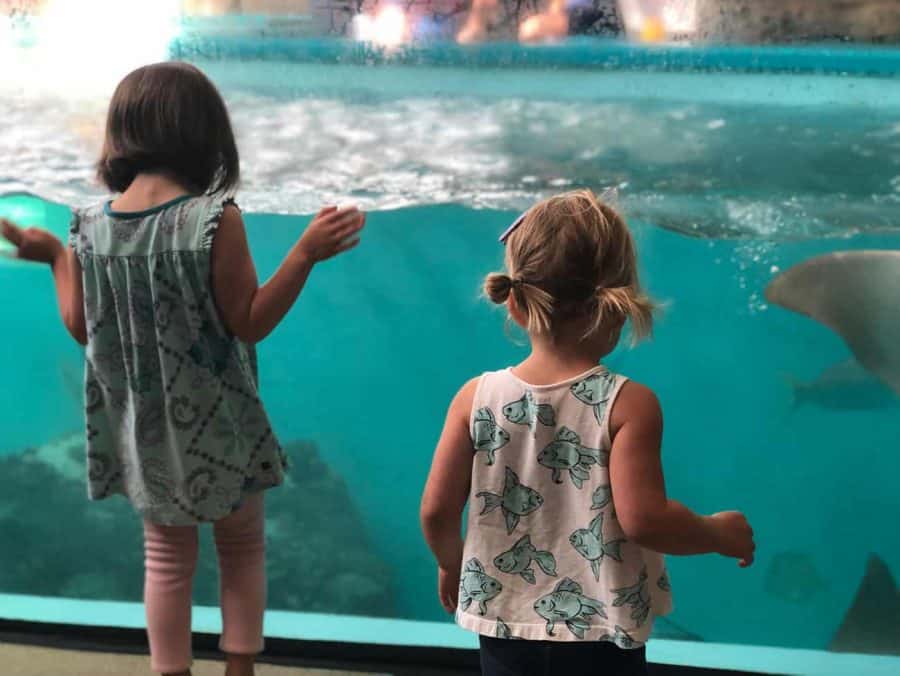 And I thought we might see one shark or two. Hundreds. I thought some fish. Millions? Don't anyone quote me on any of these numbers. But there were also penguins (and we love this penguin parade at the zoo but these aquarium penguins were next level living), alligators, sea turtles, giant spider crabs, stingrays, jellyfish, and obviously thousands of species I don't even know what to call.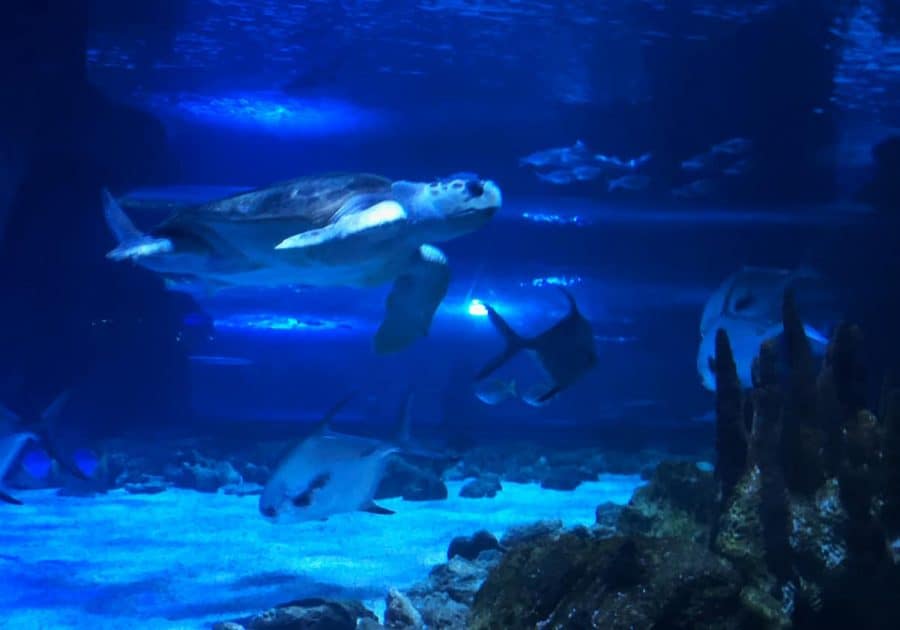 We stood (ran) below fish swimming above our heads; we stood (ran) above fish swimming below our feet; we watched sharks swim toward us, stingrays swim around us, and even touched a few of both ("two fingers Ruby! two fingers!").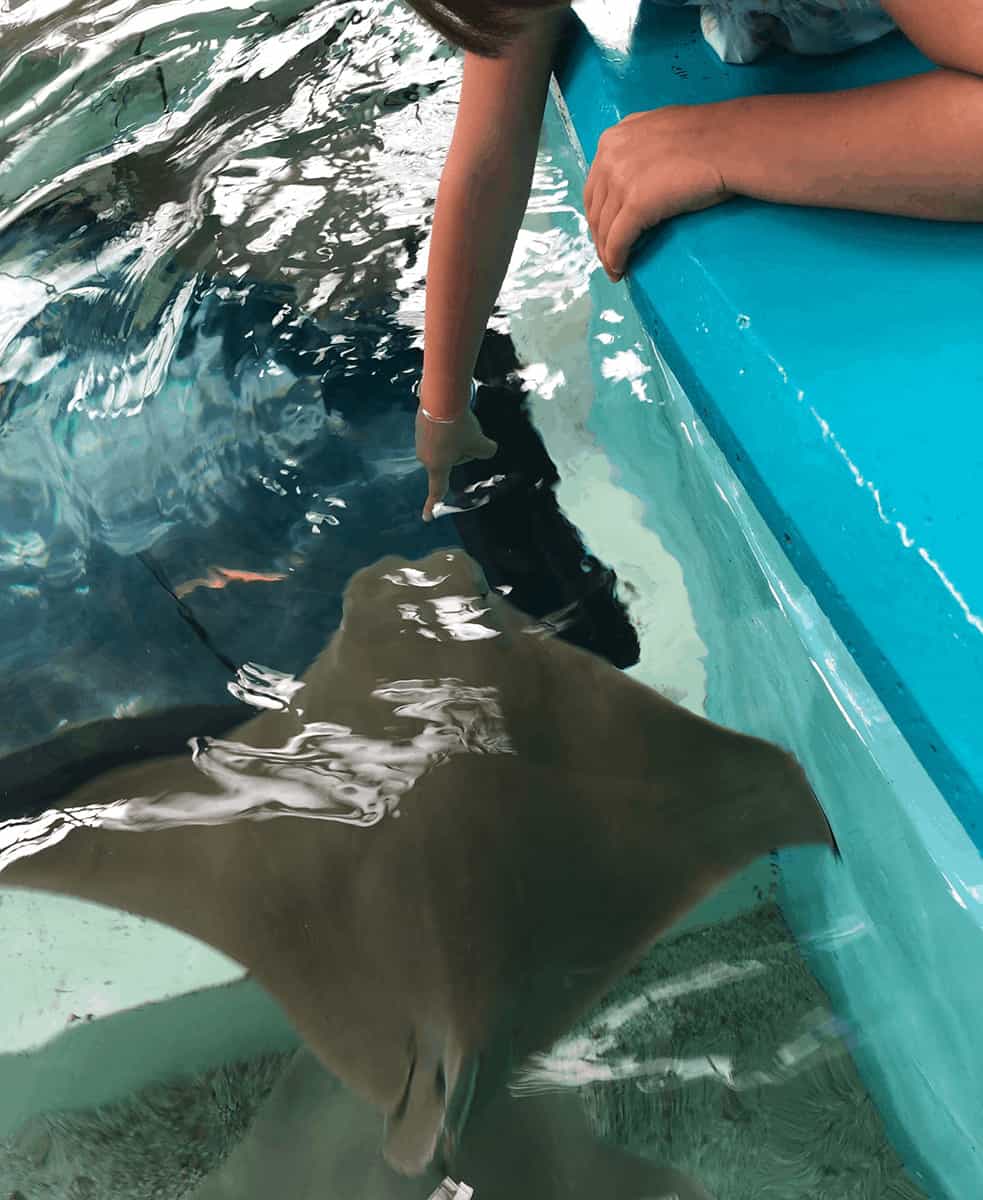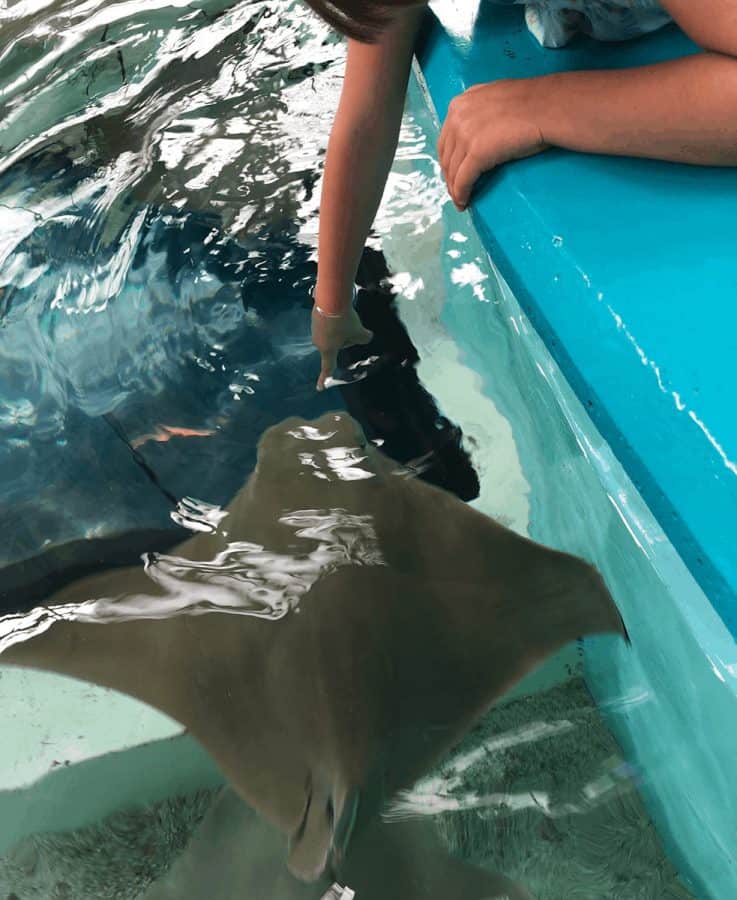 And then, obviously, we have to hit up the play area, which honestly we stumbled upon after the various tunnels on tunnels on tunnels. The girls kicked off their shoes and ran around squealing in delight then Ruby happened upon a coloring table so was, for the first time, still. And I was able to sit too.. so that was miraculous.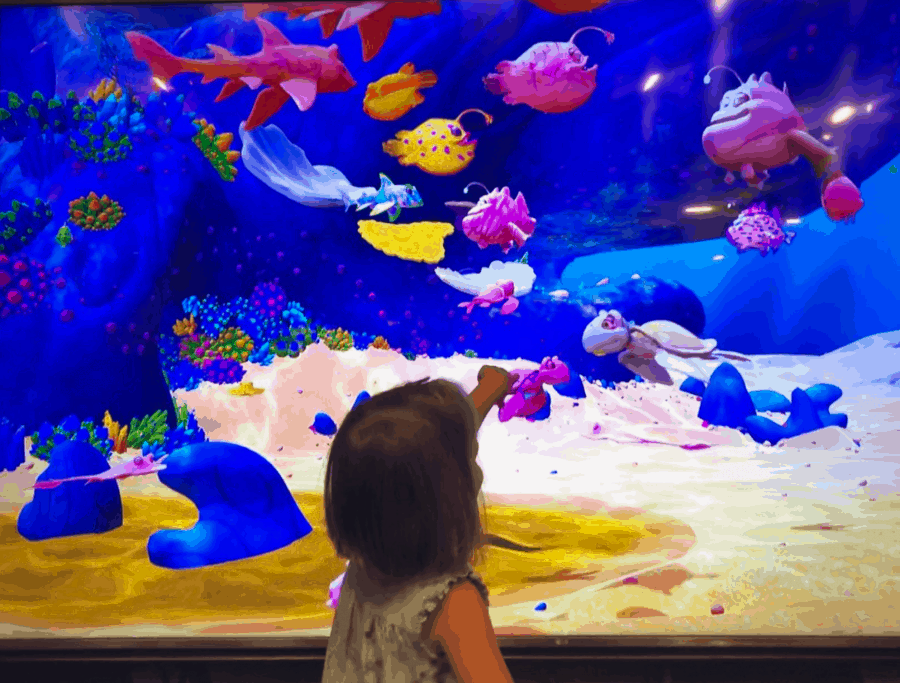 But then, a group of middle school campers came into the coloring area and showed us how you not just color the fish pictures (which my little artist was already ecstatic with just that) but then you place them under this special area with a QR reader and the fish you just colored joins the fish swimming on the giant computer screen. I don't know if this description makes sense because also it was basically magic, but you can see Ruby's delight in the picture above. She is pointing to the very fish she colored and wrote her name on! I tell you this because it was so awesome for her to see her fish swimming and seriously we wouldn't have known what to do if that group didn't come in and figure it out.
We loved our visit to the Newport Aquarium and have to say it WON'T be our last!
Newport Aquarium is located at One Aquarium Way, Newport, KY 41071
---
*Teacher discounts are only offered at special times and may not be offered/valid when you're reading this post. The Newport Aquarium does offer many discounts throughout the year. Check this page to see if there are any current offers.