Some changes are rolling into Cincinnati!
Strap on some skates and have some fun at the new Outdoor Roller Rink. This MOBILE roller skating experience is sure to be the hit of the summer!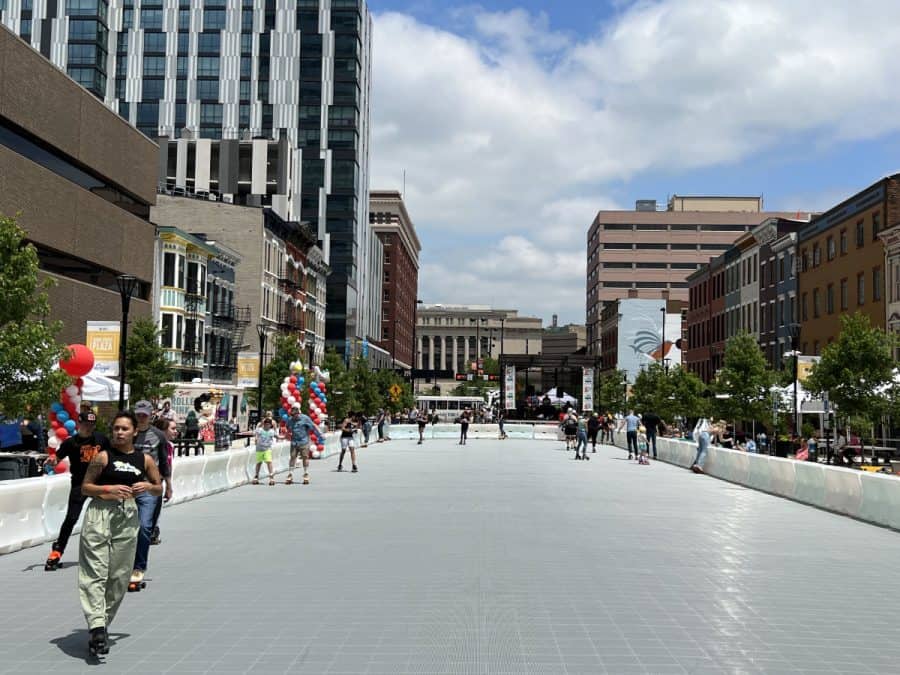 This downtown outdoor roller rink made its debut over Memorial Day Weekend at the Court Street Plaza.
This new outdoor rink concept will "pop up" on various dates throughout the summer.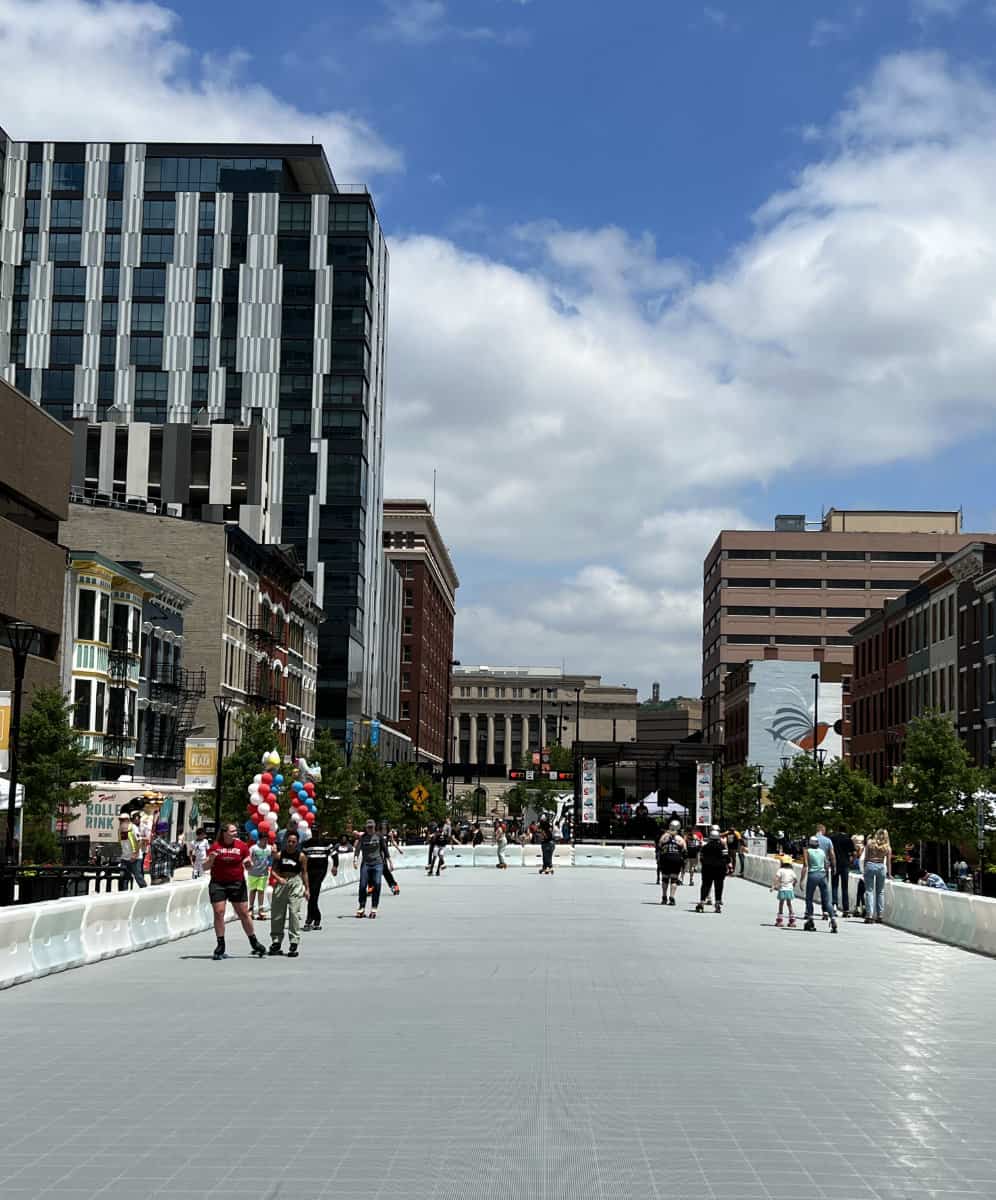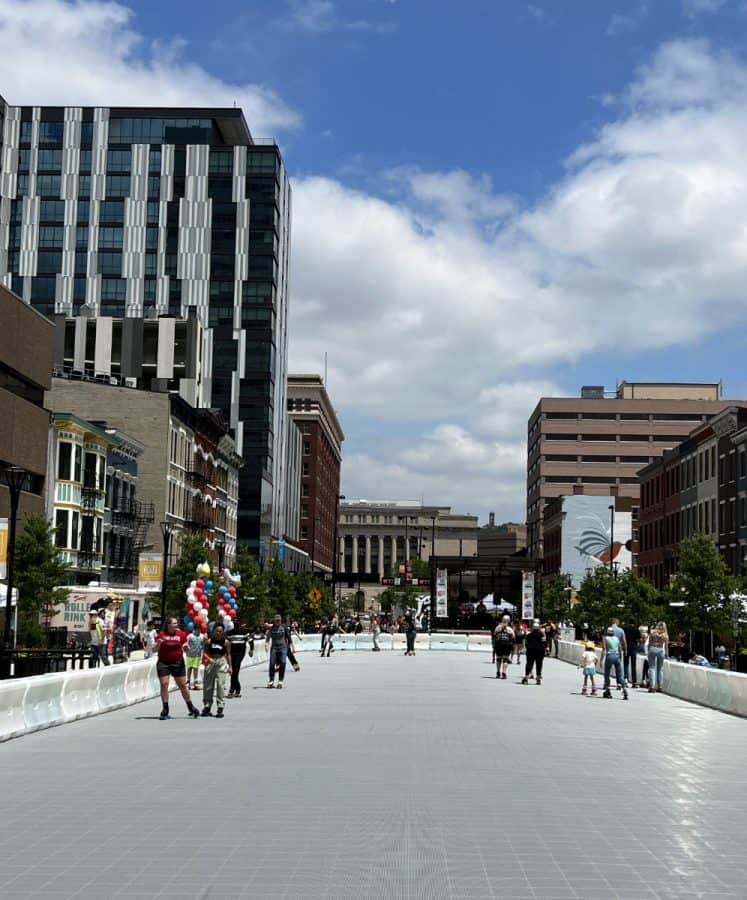 What about Roller Skates?
You can bring your own roller skates or roller blades to use.
You can rent roller skates on site ($5). Socks must be worn with rentals.
150 pairs of skate will be available.
If you're renting skates, know they only accept cards. No cash accepted.
Skate sizes are unisex. Expect to pick from sizes similar to men's sizes. They'll have unisex sizes 4-14 on hand. Ladies – try going down about 1.5 sizes to convert women's sizing to the unisex size (for example, if you're normally a size 8.5 women's size you should try a size 7 in unisex size.)
Kid rental skate sizes are available (8,9,10,11,12,13).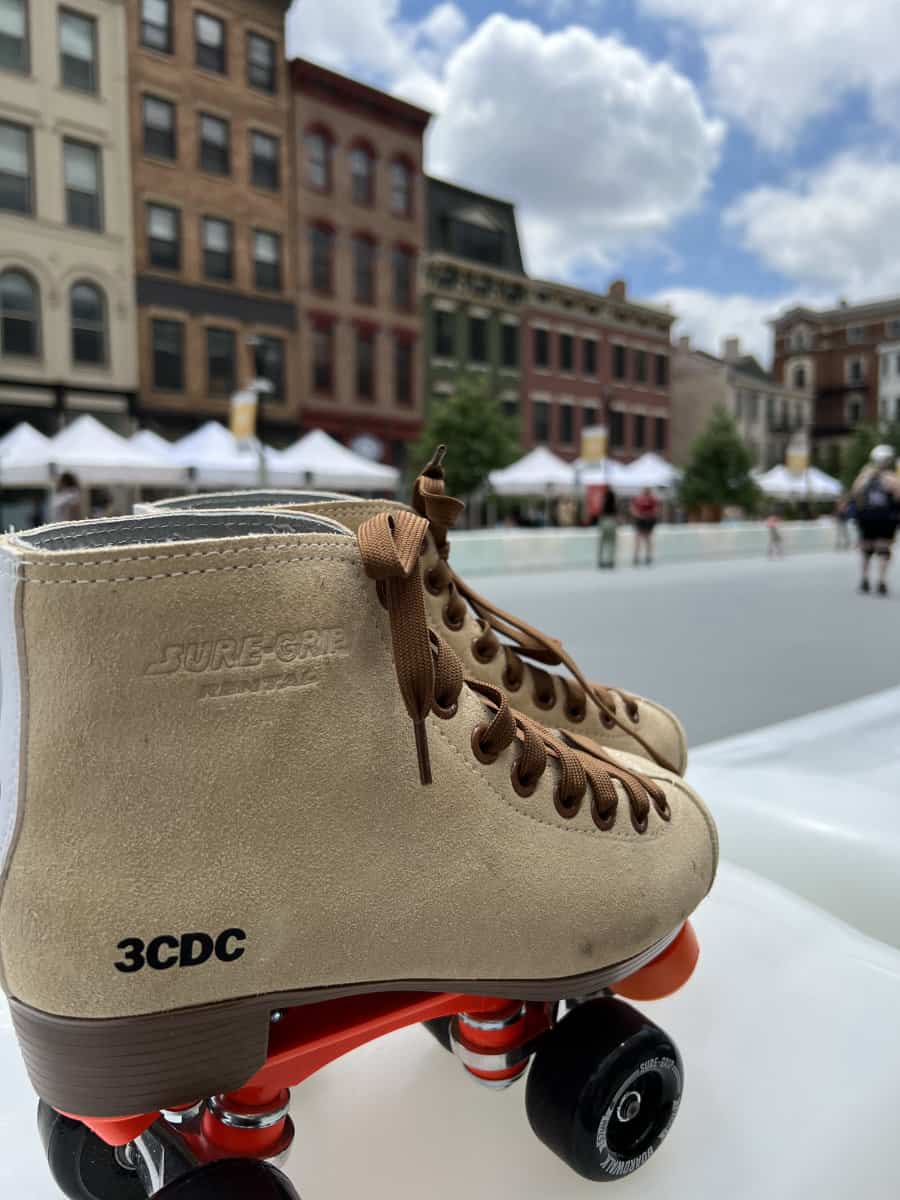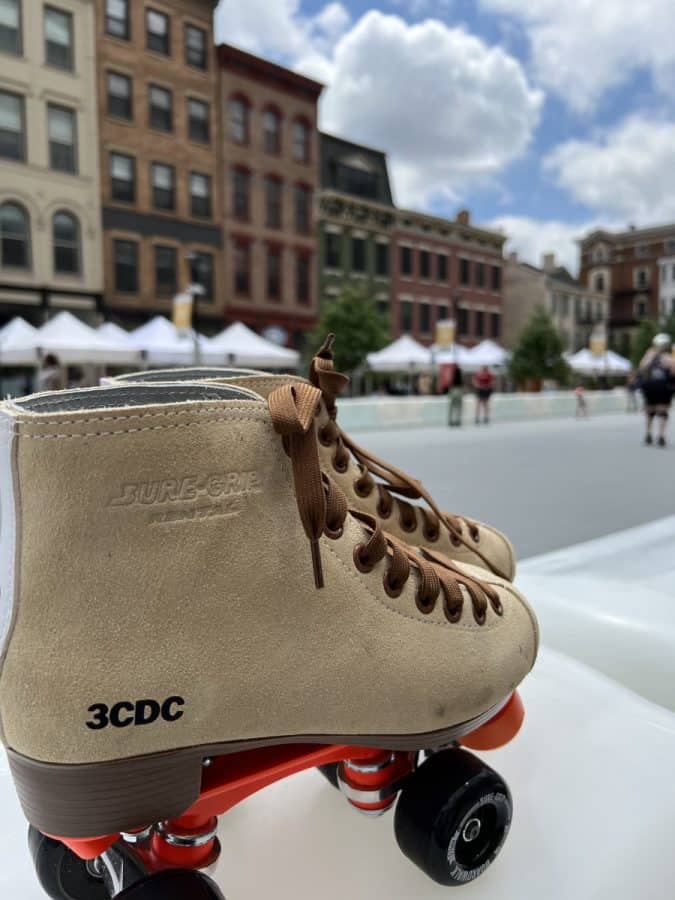 Is there a fee to skate?
Price of admission is just $2.
Skate rental (if needed) is $5 per person.
They only accept card payments – NO CASH accepted.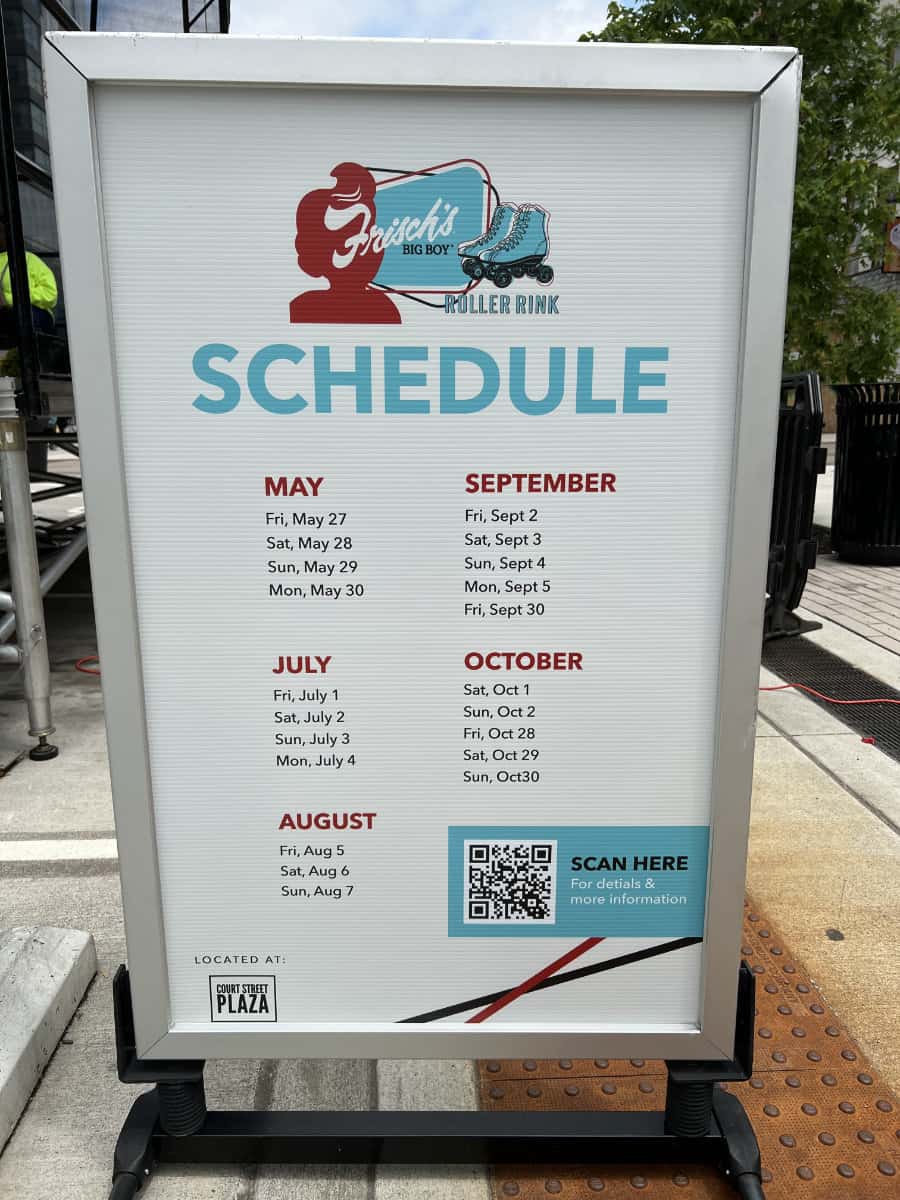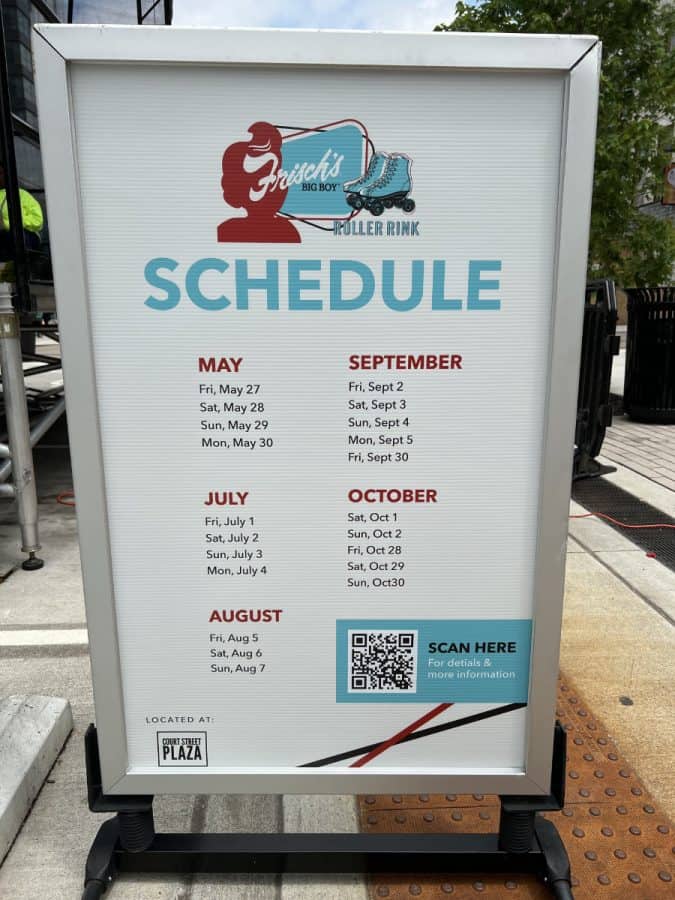 What Are the Dates for the Court Street Roller Rink?
Dates for the outdoor roller rink include the first weekend of each month through October plus October 28-30, 2022.
Can kids skate?
You must be 5 years of age or older to participate in roller skating.
Anyone under 16 must be with an adult (18 years and up).
Adults can not carry children on the rink.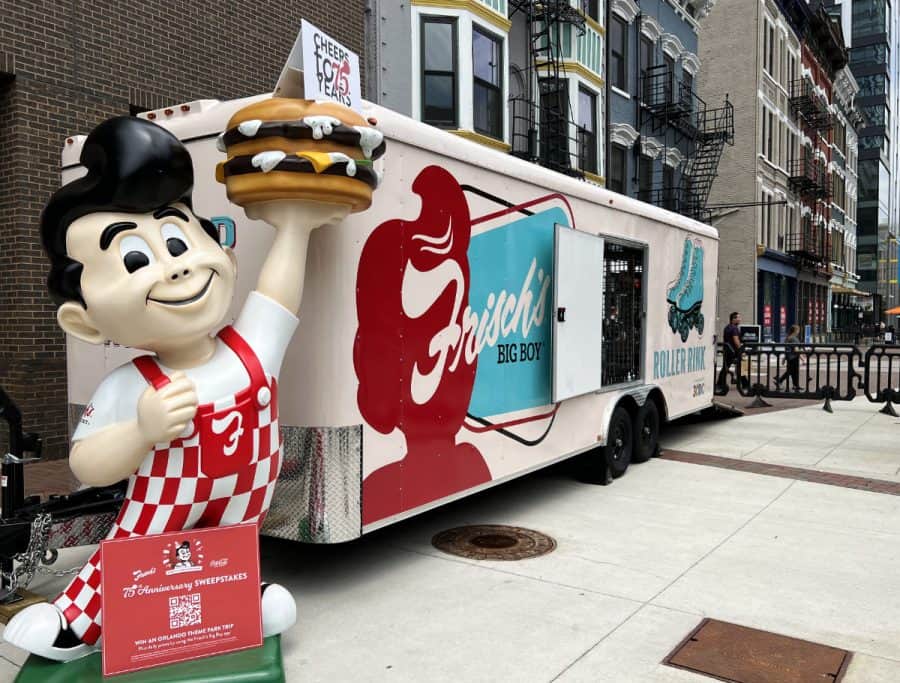 Do I Need to Make a Reservation or Buy Tickets Online?
Entry is first come, first served. No tickets or reservations are required. Payment is "at the gate" only and they only accepted cards (no cash).
What Can I Do With My Stuff While I Skate?
Large bags, purses, or backpacks are NOT permitted on the skating rink.
They recommend you bring/use a small crossbody or fanny pack.
If you rent skates, they will hold your shoes for you.
There are no lockers or cubbies of any kind.
What About People Who Don't Want to Skate?
Both sides of the outdoor roller rink have seating options. The side closest to the rink entrance has bistro tables and chairs. The other side of the rink had picnic tables under cover.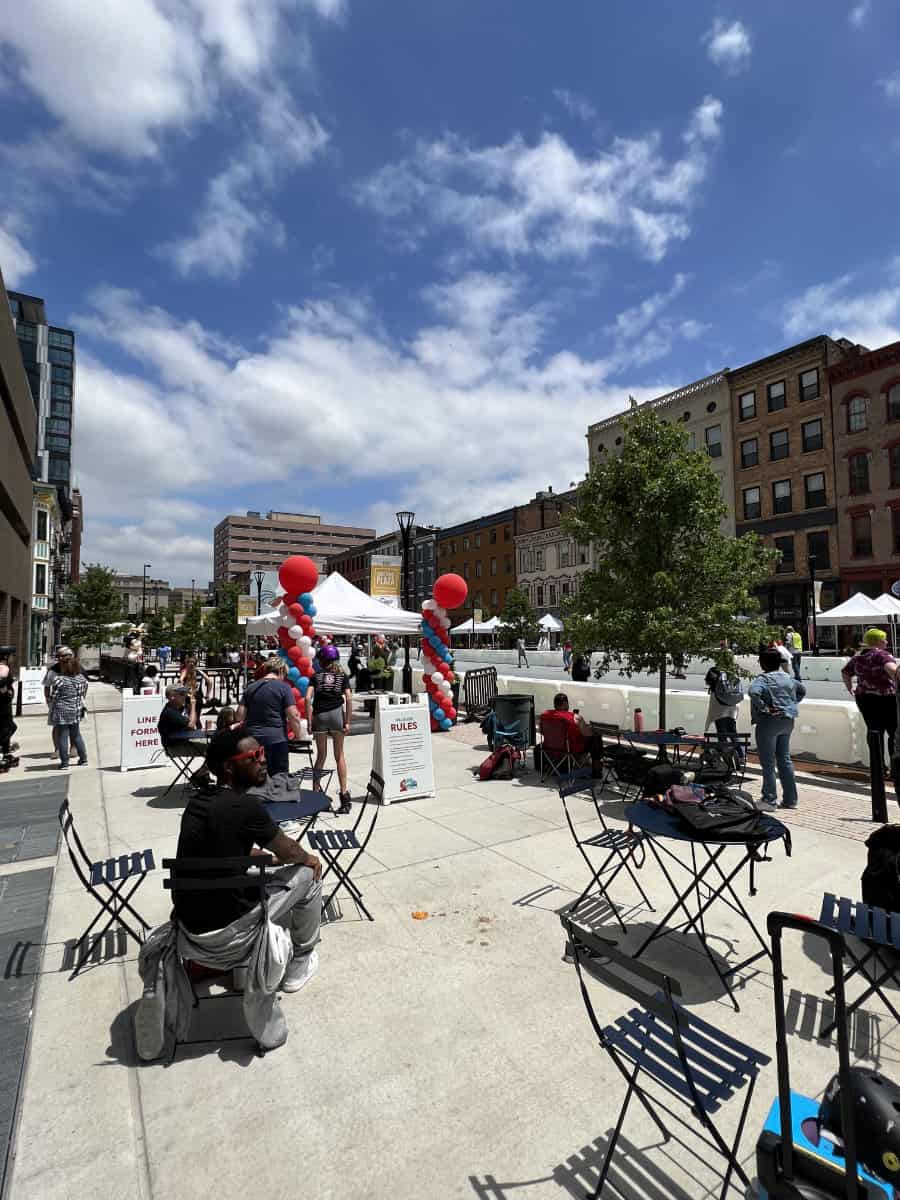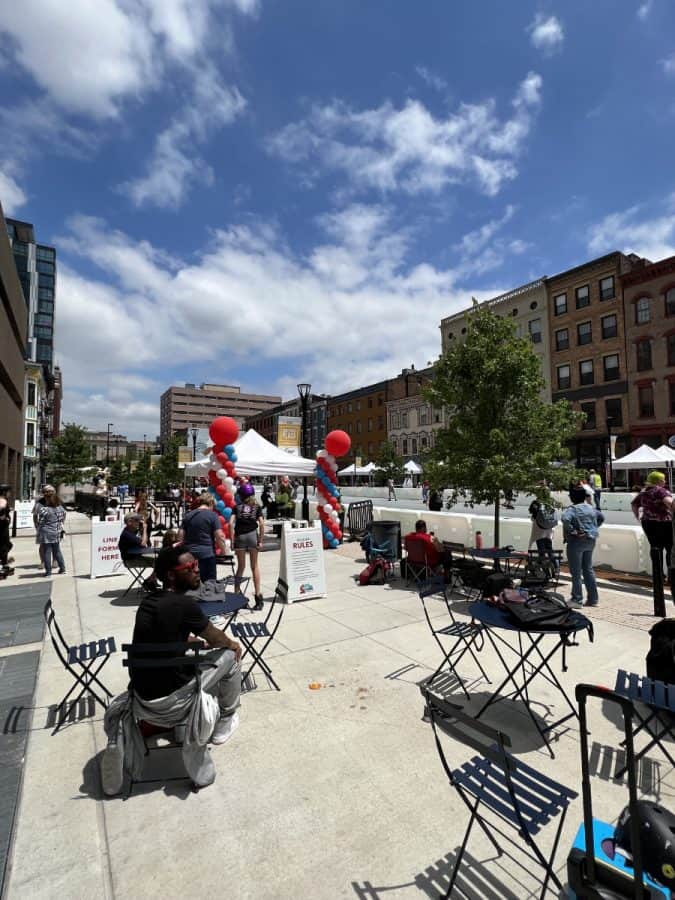 What About Food or Drinks?
No food or drinks are allowed on the skating floor.
Court Street Plaza will sell alcoholic and non-alcoholic beverages to be enjoyed on the Plaza.
There are lots of great food options on Court Street as well.
Extend your day downtown with a visit to nearby Minges Candy Shop, Queen City Whip, Starbucks, Bridges Nepali, and more – all right on Court Street. And the downtown library is right around the corner!
---
Watch the Frisch's Mobile Roller Rink Facebook Page for updates
Court Street Plaza is located on Court Street between Vine and Walnut Streets.
Thanks to 3CDC and Frisch's for bringing the mobile rink to Cincinnati for our summer fun!