Thanksgiving may look a lot different this year. I know there are going to be fewer large family get togethers (my own family included) so I thought it would be great to brainstorm some fun things we could all celebrate Thanksgiving together… remotely!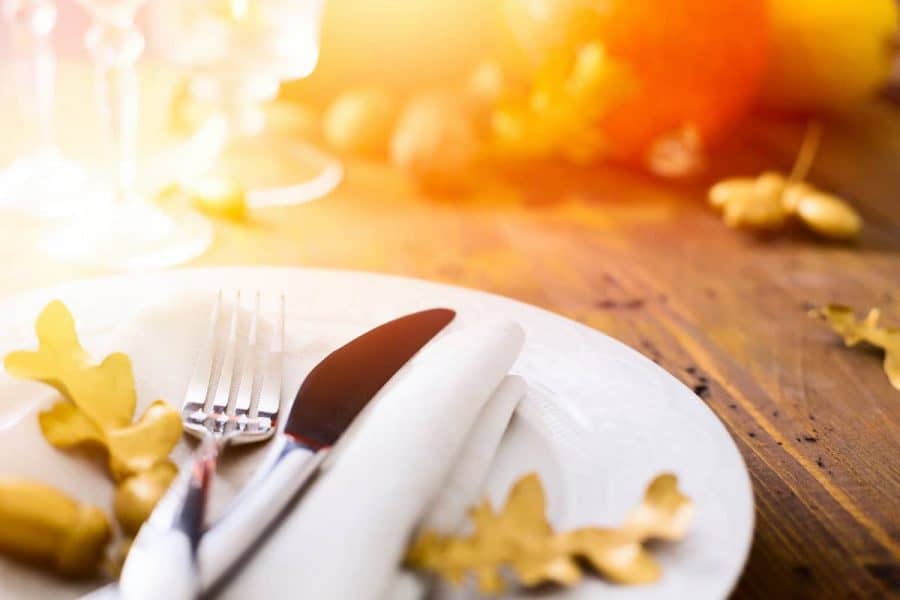 Check out our ideas for some fun ways to spend Thanksgiving together… via the power of the Internet. Just because we can't get together in person doesn't mean we can't make memories in a new way!
Do you have some fun ideas for celebrating Thanksgiving, Corona-style? Be sure to leave them in the comments!
Virtual Thanksgiving Visits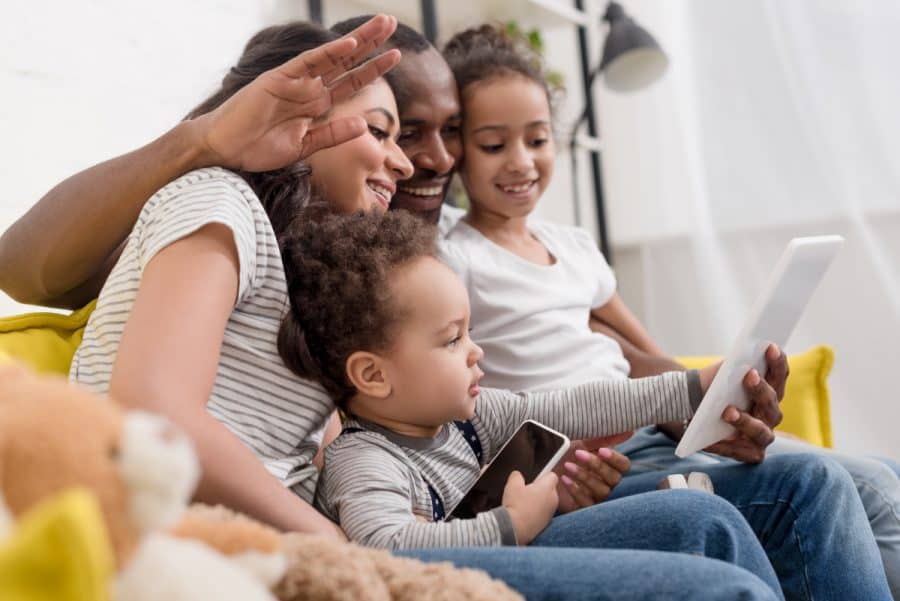 You might not be able to see one another face to face but your CAN make some plans to get EVERYONE onto a virtual call at the same time.
Some methods for setting up a virtual call:
With the Skype video chat app, group video calling for up to 50 people is available for free on just about any mobile device, tablet or computer.
Zoom is another free option. You can sign into Zoom yourself and then invite multiple people with a link. Note that your free Zoom call can only last for 40 minutes. Here's a great set of tips for anyone trying to set up a Zoom call for a large group.
Google Meet is another option. Anyone with a Google account can create a date and time for a Google Meet and then share the link out to the family.
Make the virtual rounds, giving each family the opportunity to say hello and give an update. Think of some "ice breakers" – a question everyone has to answer as they appear. Ideas include things you're thankful for, favorite Thanksgiving food, favorite Thanksgiving memory, etc. Or maybe you can have everyone wear a silly Thanksgiving hat for the call.
Plan ahead and do some trial runs with folks that might not be familiar with how to use Zoom, Skype, Google Meet. A practice session might just be the thing that will make them excited about your TDay call.
BONUS: A virtual call invite is the perfect way to reach out to those family members and friends you may have lost touch with over the years.
---
Virtual Party Games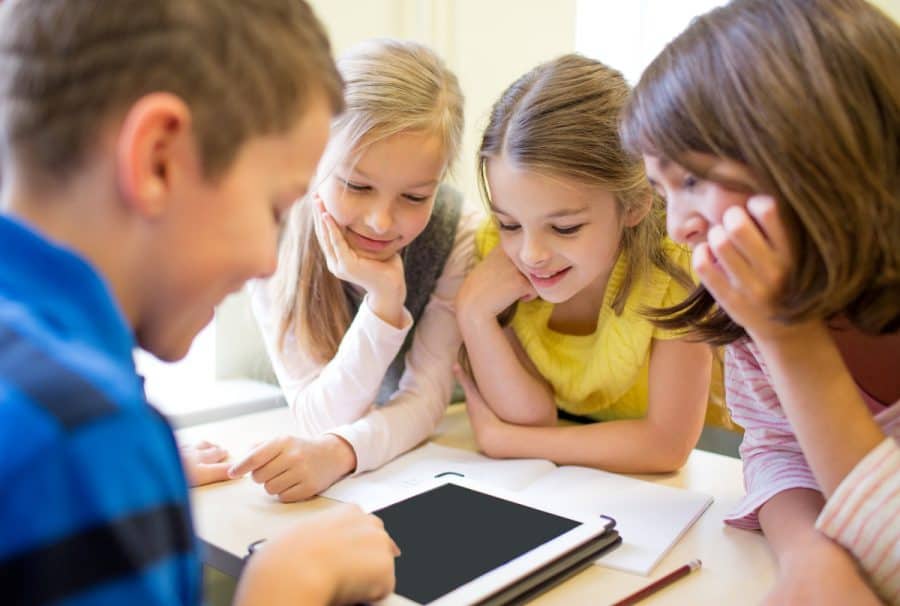 Host a Zoom Thanksgiving Scavenger Hunt. The objective is to be the first person to find a given object and present it to the crowd. You'll want to make up a printable / screen sharable list of items and go through them one by one. This site has lots of great ideas.
There's an online Scattergories-like game that allows for multiple players. Use this free game generator to get started. Choose how many players, the number of rounds, and the categories. You'll then be given a link to share with your fellow players. Once everyone is there, you will all be given the same letter and you will all try to come up with a given the same letter and a list of categories to pair with your letter. For instance, the letter is O and the category is foods – my choice is olives. After time runs out, your answers are compared. Unique answers count and those given by multiple people are eliminated. It pays to think creatively!
Play a round of Most Likely To…. This game is sure to bring out the best in the crowd! You'll take turns asking "Who's the most likely to…" adding on things like forget a birthday, get shouted at by the parents, mostly likely to go bungee jumping, etc. Anyone can jump in with the answer – a great way to get the ball rolling! Make a list of fun questions and use this list for ideas.
There's a random word generator that will allow you to play a virtual Pictionary-like game together. Zoom has a whiteboard feature; or use a Jamboard for Google Meet.
TIP: Using an online whiteboard with multiple players might present some challenges so be sure to consider your fellow player's comfort level with tech and try this out for a dry run before Thanksgiving arrives.
Jackbox Games brings the fun to the party. For Jackbox games, your phone or tablet is the controller and up to 8 people can play. One player will start the game and the other players use their own mobile devices to input answers and make choices (from their own homes). After the time for answers runs out, everyone's answer will appear to all.
Be aware that these games are more suitable for older teens and adults.
One player in your group does need to own a Jackbox product in order to host the game.
Here's a video that will show you how to play via Zoom.
---
Host a Virtual Trivia Night
Use the The Random Trivia Generator to choose some categories of play and they'll provide the questions. The host should start off the night with Skype and will set it up for "share my screen". Once everyone is connected, display the questions on the screen (or, alternatively, read off the questions one by one) and accept the individual answers via text (from each player to you). The team/player with the most correct answers wins!
---
Watch a Movie Together – Remotely!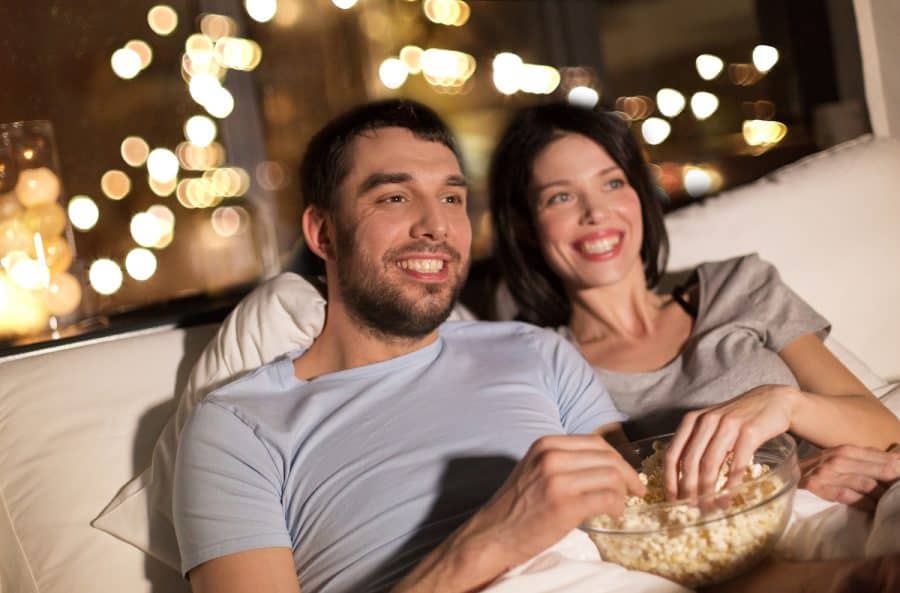 Fire up Teleparty, a Chrome extension that allows you to invite up to 50 people to share your screen. Teleparty allows you to share what you're watching on Netflix, Disney, Hulu and HBO. There's even a chat feature that allows the fam to share quippy comments and throw some shade at Uncle Eddie.
---
Schedule a Virtual Cooking Lesson with Your Favorite Family Cook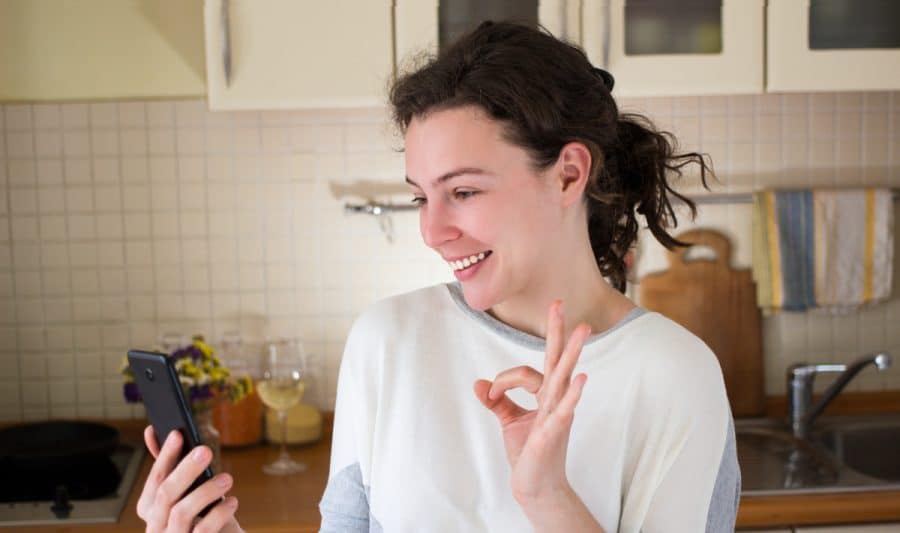 Choose a dish you'd love to learn to make and schedule a virtual cooking session with your favorite cook. You could do this days in advance or even schedule it for Thanksgiving morning.
Do some prep work by getting the recipe (via email) and then do your shopping. When the time for your virtual cooking lesson arrives, have some fun as you each make your favorite dish. The best part? You'll have something yummy to enjoy afterwards AND you'll have a new Thanksgiving memory.

This would fun to do virtually with your whole extended family who always wanted to know "how to make Grandma's pumpkin pie".
---
Plan for a "Secret Santa" Type of Fall Gift Exchange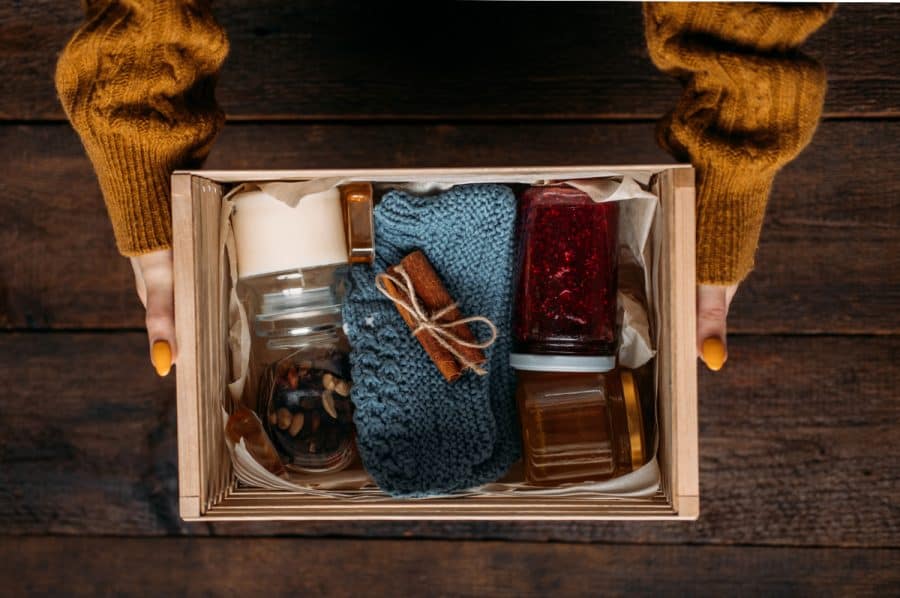 Everyone loves to get a surprise in the mail… and this is certainly the year where a surprise gift might be needed.

Plan ahead and swap names for this fun Thanksgiving Day "Secret Santa" gift swap. Keep it simple and set a price limit. And don't forget to pick an end date for mailing out the packages.

Open your Thanksgiving gifts via FaceTime, Google Meet, or Zoom and enjoy watching everyone's joy as they open their gifts.
---
Who Done It? Play Together in a Virtual Escape Room
Many Escape Room companies have been rolling with the punches for 2020 and are now offering online versions that can be played from anywhere. Players choose a game and book a date and time. The Escape Room company will send out a link and at the time/date of the game, you'll connect with a real person who is actually in the Escape Room.
There are LOTS of companies that are offering Virtual Escape Rooms and I suggest you check to see if a local business near you might have one.
Virtual escape rooms do have a fee associated with them and it's usually by the player.
Here's an example of what a virtual escape game might look like.