Our favorite Cincinnati drive through light show returns for 2023 – Coney Island's Nights of Lights.
You've probably heard of (or been to?) Coney Island's Nights of Lights. Let me tell you, if you're looking for a new family tradition this is a great one. We drive through this spectacular display every year (see our tips below) and the kids LOVE it (as do the adults).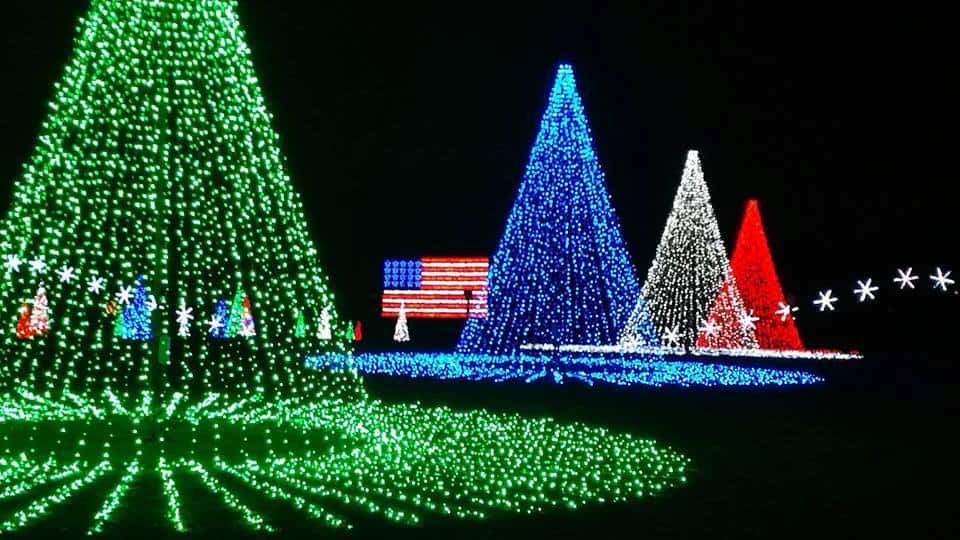 What to Expect at Coney Island's Nights of Lights
Coney Island's Nights of Lights is Cincinnati's largest synchronized light show. With over 2 million lights dancing all around this HUGE drive-through experience, you'll be amazed!
The light show is set up in Coney's large parking area. I've been to Coney so many times over the years and I'm amazed by how much they can do in that parking area!
Signs will direct you as to where to enter the "Coney campus" for Nights of Lights. You'll pull in and you'll make your way to the admissions gate where you'll pay to enter.
After you get into the show, you'll turn off your headlights and begin your experience!
Crank It Up!
As you pull in you'll see signs that tell you how to tune the car's radio into the show's music. Don't go without the music because they do an AMAZING job with synchronizing the show to the lights.
The music will include both traditional and rocking holiday music – always something for every person to love. You'll hear lots of Christmas songs, old and new. Be ready for a sing-along! After all, "the best way to spread Christmas Cheer, is singing loud for all to hear."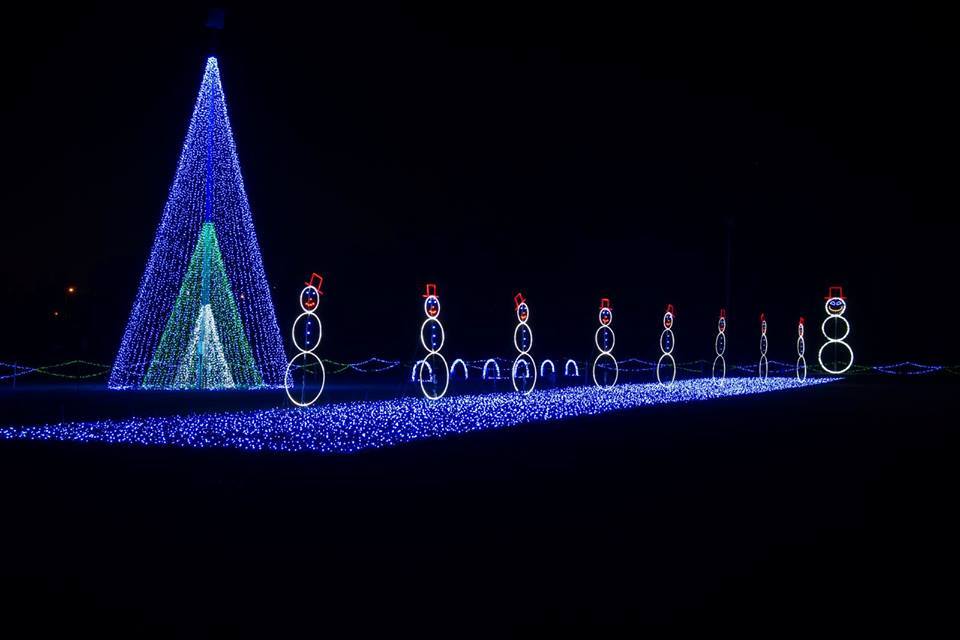 Tips for Making the Most of Your Evening:
🎄 We like to go early in the year… seriously early in the year… like the first or second week they're open. And we arrive early in the evening, just before dusk. The lines to get in should be short at that time and you should have lots of space between cars as you drive through the show.
🎄 In fact, we've found that the perfect time to go is early in the season, early in the evening, AND on a night when the it's raining just a bit (the show goes on, rain or shine). We could still see everything just fine and we almost drove straight up to the admissions gate when we pulled in. I can't tell you whether this tip will work all season long but…
🎄 Pack some snacks and drinks. We like to kick off the season with this outing so I pack some fun Christmas treats. It's such a fun way to get into the holiday spirit.
🎄 Plan ahead and print out the Coney Island's Nights of Lights Scavenger Hunt and Activities for the kids. Take some crayons – this will be something fun for them to do if you have to wait in line at the gate.
🎄 Here's a tip that might make you laugh … be sure you know how to turn off your headlights and dial in your radio. We bought a new car this year and I will admit the headlights thing will have to be something I look into before we go!
🎄 Take some blankets if you're not wearing coats in the car. You will probably want to roll the windows down, at least at some times, to take it all in. You won't NEED to open the windows to enjoy the show but the kids do love to do it.
All the Important Things!
This show goes on, rain or shine!
If you're taking kids, there's a good chance you'll need a potty break. Seriously, no matter how much we request that everyone go before we leave the house, we always have one that needs to go. Be aware they have a portable potty at the entrance gate. We hop out with the kiddo (every single year!) while we're in line at the gate and run in and out.
Both cash and credit will be accepted at the admissions gate.
It took us about 30-40 minutes to drive through it all. You will have to go with the flow of the traffic but because we go early in the season (see tips section above), we've always just taken our time as we drive it.
Lines can be long on the weekends and closer to the holidays. During their busiest times, Coney Island Nights of Lights suggests you visit on a weekday or weekends after 9 pm to avoid the crowds. Any cars still in line at the time of closing will be permitted to enter and enjoy the show.
​Get a feel for the event with this "Christmas Vacation" video from the 2018 Christmas Nights of Lights show:
---
Pack your vehicle full of friends and family to enjoy the show and begin a new Christmas tradition!
Coney Island's Nights of Lights will open on November 10, 2023 and closes on December 31, 2023.
The show begins at dusk and ends at 10pm.
Pricing is by the carload, just $30 for up to 8 passengers.
Tickets may be purchased online or at the event / gate upon arrival.
The show will be open, rain or shine!
You'll find the show at Coney Island, 6201 Kellogg Ave., Cincinnati, Ohio 45230