Today's "365 Things to do in Cincinnati" stop was a real treat.  I had to be downtown at lunchtime so I thought I'd run by Findlay Market to see what was happenin'.  The outdoor farmers market stands haven't opened yet but the inside was hopping.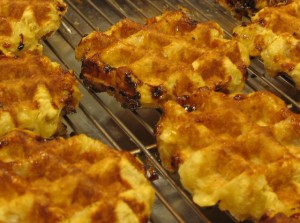 I decided to stop at "Taste of Belgium".  I noticed they were in a bigger space and had an expanded line of goodies so I stopped and chatted for a few minutes with Max and Sheila.  Taste of Belgium is known for their Liege-style waffles which are cooked right there on cast-iron presses.  I was happy to sample one and, let me tell you, they are fabulous!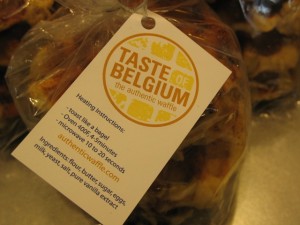 They even have the waffles packaged up to take with you if you'd like.  They serve them plain, with chocolate and whipped cream, or with fruits and whipped cream. Everything is made from scratch.  At lunch time they offer "Lunch Crepes" and they also have "Dessert Crepes". They have a huge display case featuring their hand made quiches, pizza (again from scratch), and stromboli calzones. They also bake a huge variety of pastries, muffins, cheesecakes, pies, cookies, and other sweet treats.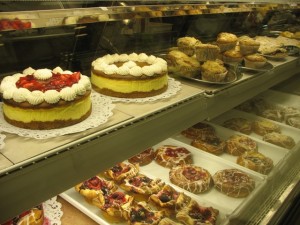 Sheila noticed me drooling on the case while I was looking at their giant peanut butter cups.  Can you believe these things?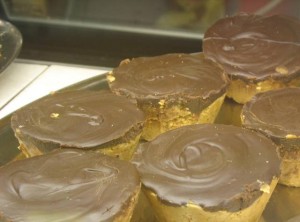 I left with two of their turkey calzones – one for me and one for the hubby. Pizza dough wrapped around sliced deli turkey and lots of melted cheese.  What's not to love?!  Highly recommended.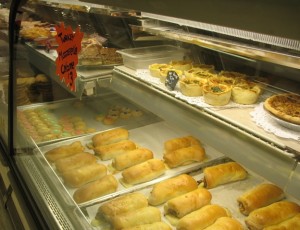 Taste of Belgium has two locations: Findlay Market and The North Market in Columbus Follow Taste of Belgium on Twitter: @tasteofbelgium Find them on the web at Taste of Belgium the Authentic Waffle Follow Findlay Market on Twitter: @Findlay_Market