We've got the perfect solution for something to do with the adrenaline junkies in your crew! Make some plans and get ready to take in the view when you go zip lining in Ohio!
There are several different types of Ohio zip line adventures. Choose from longer excursions that last 2-3 hours with professional guides or take a shorter route with a Mini Zip. There are even some courses with a continuous belay system for a self-paced ziplining excursion.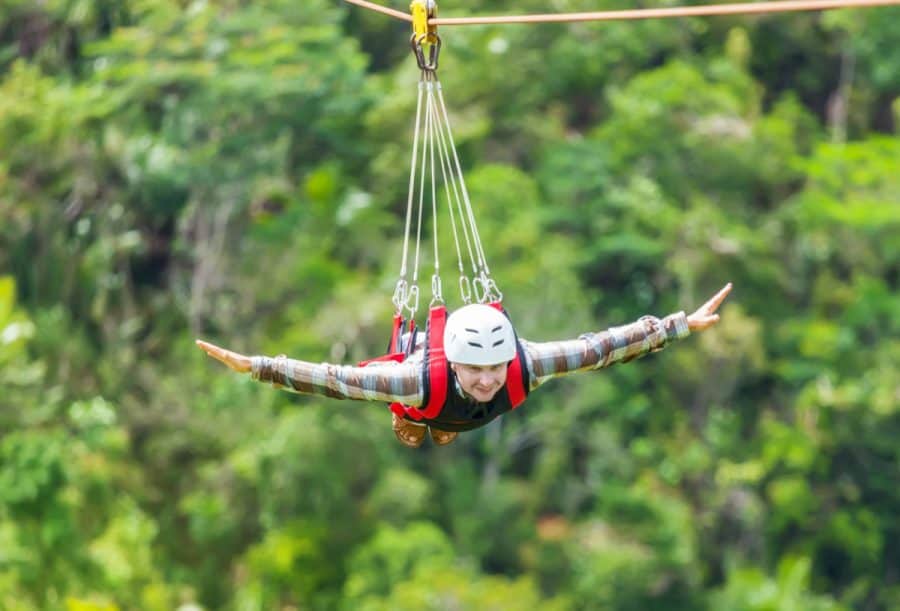 We've rounded up some of the best adventures around so if you're wondering "where is the closest zip lining near me?", we've got you covered with this list!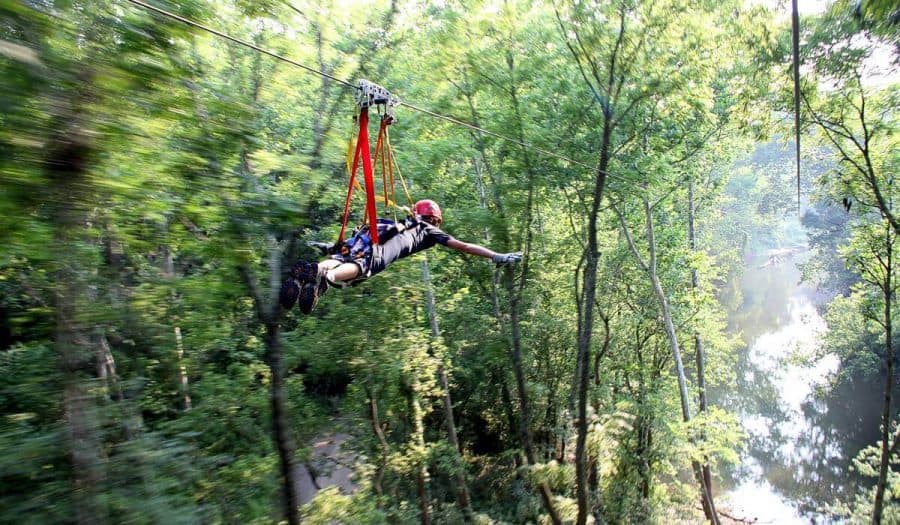 Hocking Hills Canopy Tours
Choose your own adventure! Hocking Hills has always been one of Ohio's top outdoor destinations, and these Hocking Hills zip line courses take outdoor adventure to a whole new level. There are lots of zip line tours to choose from depending on the level of adrenaline you're seeking.
The Original Canopy Tour is the first of its kind in the Midwest. You'll get to see a cave, rock cliffs, the Hocking River, and forest flora and fauna from an entirely new perspective. This treetop tour lasts 2.5-3 hours and is for thrill-seekers ages 10 and up.
For a more extreme adventure, you'll want the "X-Tour". A professional guide leads you on this 2.5-3 hour hybrid course that features 11 ziplines and a combination of trees and towers (with stairs).
Have the need for speed? Fly like a superhero from an 85 foot tour on the SuperZip course. You'll get to race through the forest side by side with another zipper on a parallel zipline.
Kids can take in the natural beauty of Hocking Hills on the Dragonfly tour adventure for kids. Enjoy 8 kid-friendly ziplines, 3 bridges, and a sky tunnel.
That's not all that Hocking Hills canopy Tours has to offer. Other zipline tours include Moonshine Night Tours, Discovery Tours, and Zip & Climb/Rappel Packages. If ziplines aren't your thing, you can also adventure on the Off-Road Segway Adventures and the Rockbridge Encounter.
Located at 10714 Jackson Street, Rockbridge, Ohio 43149
Website
---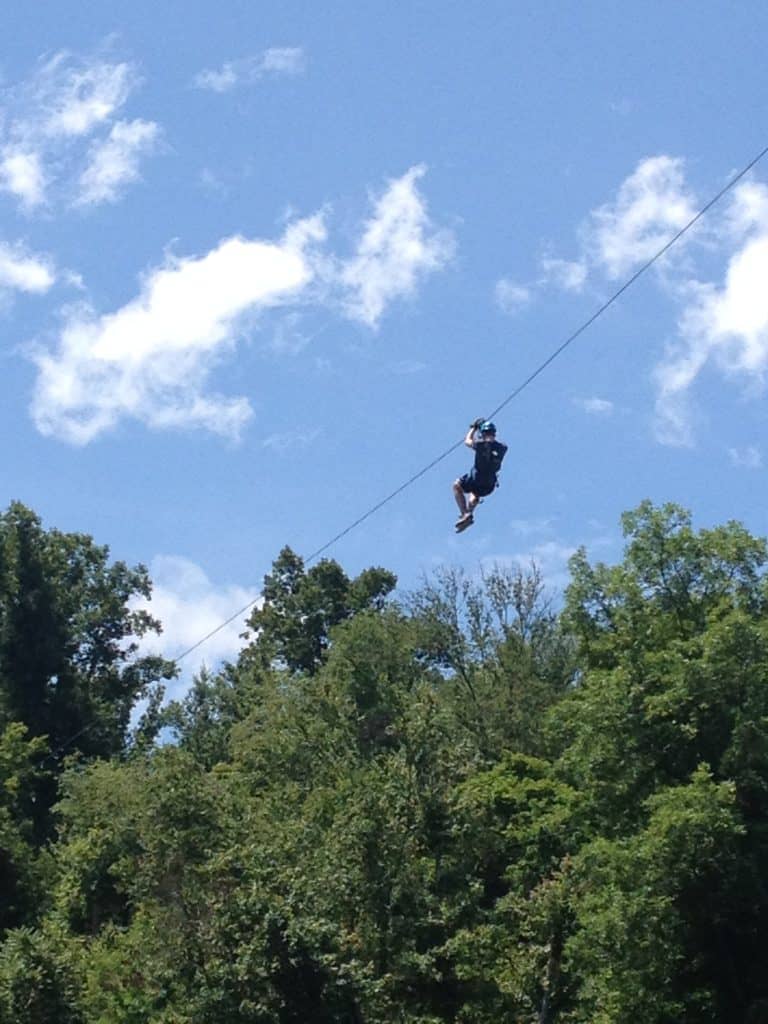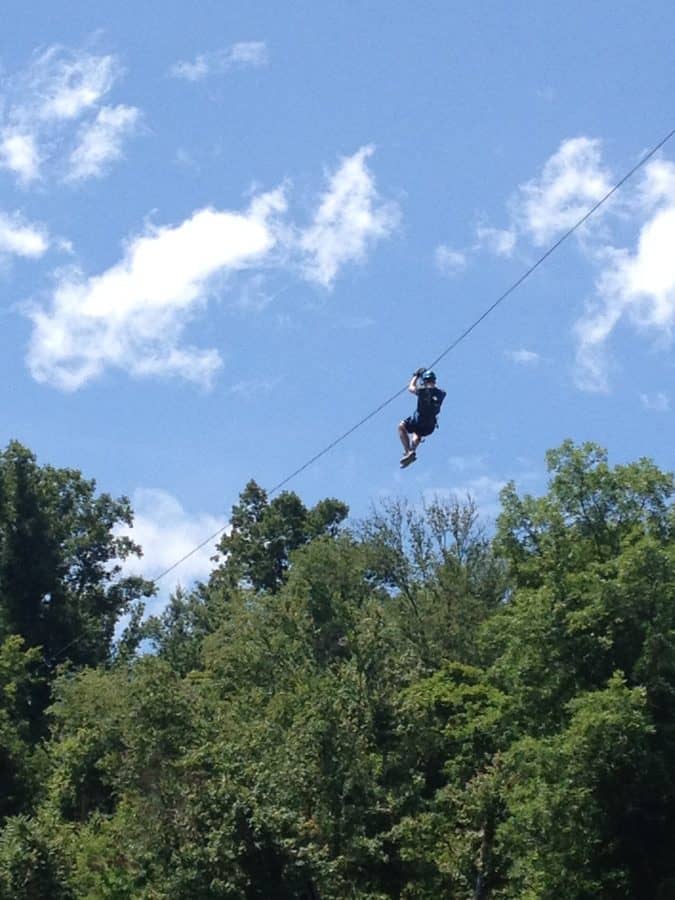 Valley Zipline Tours
Over 5,000 feet of zipline awaits you at Valley Zipline Tours in Lancaster, Ohio. See the northern edge of Hocking Hills from new heights on 9 different ziplines in a course lasting ~1.5 hours.
The first 5 ziplines take you through the tree canopy reaching speeds up to 25 MPH while you soar about 15-40 feet in the air. The next zipline kicks things up a notch reaching up to 40 MPH at 120 feet above ground. You can then zip alongside a fellow adventurer in two parallel 700 foot ziplines that will pair you up for a race. The grand finale is the signature line: 1400 feet long and reaching speeds up to 50 MPH!
Kids ages 5-7 are invited to experience the Mini Zip. Along with an adult, they'll get to zip through the first 4 ziplines of the course. This tour lasts ~45 minutes.
Visit them at 3465 Duffy Road, Lancaster, Ohio 43130
Website
---
Lake Erie Canopy Tours
These zip lines are the largest aerial attraction east of Cleveland, located at The Lodge at Geneva-on-the-Lake. The guided Ohio zip line Canopy Tour lasts 2.5 hours and provides stunning views of Lake Erie and Geneva State Park. Reach up to 30 MPH as you zip through the lakefront forest. Challenge your partner to a race in the side-by-side double ziplines to see who can pick up the most speed!
Adventurers 4-10 years old can burn off some energy at the Kids Adventure Course. Kids stay hooked in to the continuous belay system while they navigate short ziplines, climbing, and guided activities.
The Adventure Course is a self-guided course where you can navigate rope obstacles, bridges, a balance beam, a mini trapeze, and more. It's not necessarily a zipline course but still offers plenty of adventure for those who enjoy ropes courses.
Find them at 4888 North Boradway (SR 534), Geneva-on-the-Lake, Ohio 44041
Website
---
The Wilds Zipline Safari
Get to know endangered species from an entirely new perspective!
Go zip lining in Ohio with their Zipline Safari Tour. Professional guides will lead you through 10 ziplines spanning over 2.5 hours. Observation decks throughout the excursion give you birds-eye views of the rare and endangered species in their habitats at The Wilds.
The Zipline Overlook Tour is perfect if you're on a time crunch, or simply want a shorter tour. Professional guides will lead you through 5 zipline adventures in a tour lasting 1.5 hours.
Or perhaps you'd enjoy a Zipline Sunset Tour or Howl at the Moon Zipline Tour?
You won't find a wildlife experience like these anywhere else in the region! What are you waiting for?
Located at 14000 International Road, Cumberland, Ohio 43732
Website
---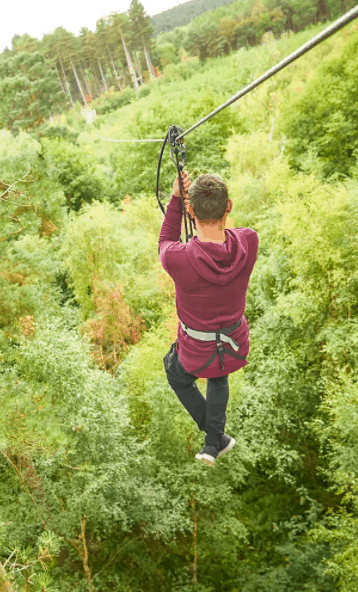 Go Ape! Treetop Adventures
Tucked away in the Mill Stream Run Reservation, this zipline course highlights the natural beauty of the Ohio woodlands. The Treetop Adventure takes you on a 2-3 hour adventure with ziplines, rope ladders, Tarzan swings, and tree-to-tree crossings. Over 40 unique obstacles are waiting to be conquered!
There are plenty of other outdoor activities waiting for you on the ground. Try your hand at axe throwing, hiking, horseback riding, and archery.
Find them at 16200 Valley Parkway, Strongsville, Ohio 44136
Website
---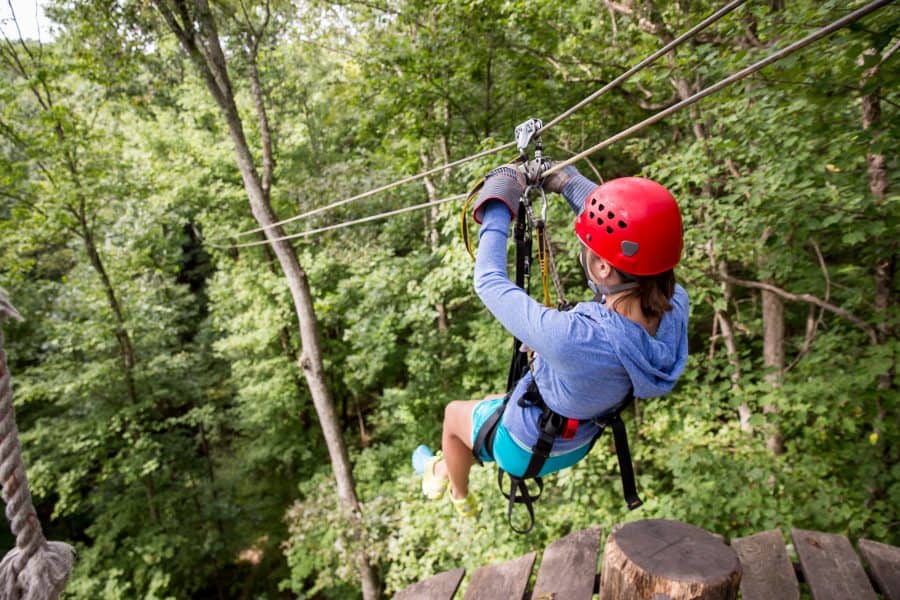 Tree Frog Canopy Tours
Take a step outside of your comfort zone! This outdoor adventure gives you stunning views of northern Ohio's Mohican Country.
Trek through the treetops on a 2.5-3 hour guided tour. You'll get to glide on ziplines, climb across sky bridges, and rappel. The longest zipline is 1,100 feet long, and the highest clocked speed reached 51 MPH!
Located at 21899 Wally Road, Glenmont, Ohio 44628
Website
---
ZipZone Outdoor Adventures
Soar through the air hands-free at this Columbus, Ohio adventure spot!
Perfect for your zip lining in Ohio adventure = the popular Canopy Tour. Two tour guides will lead you through a 2 hour course including 5 zip lines and 4 sky bridges. Your guides take care of the safety equipment and the braking system so you can enjoy the ride along the ziplines.
Zip Rush Tours are for those looking for a shorter tour (1-1.5 hours). You'll still get to experience 2 sky bridges and 2 zip lines, but the grand finale is what draws many people to the tour. At the end, you'll find yourself at a 50 foot platform where you can choose to rappel to the ground or use the freefall device and step off the platform to experience the feeling of a real freefall. Can you handle the adrenaline?
Visit them at 7925 North High Street, Columbus, Ohio 43235
Website
---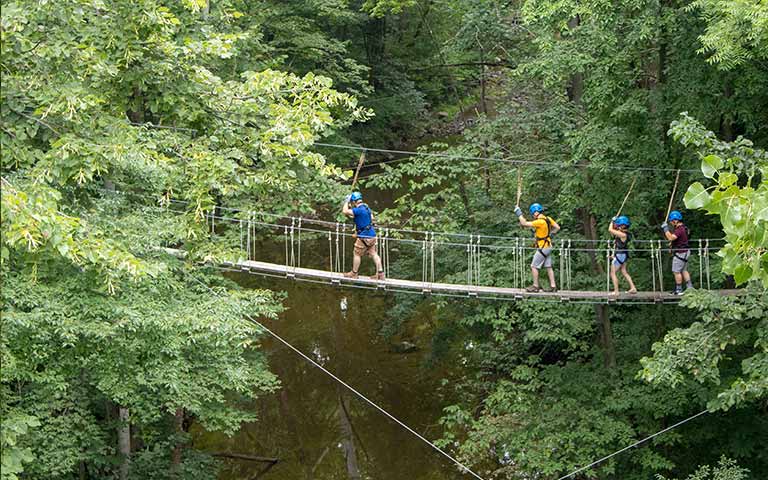 Common Ground Zipline Canopy Tour
Experience over 2,500 feet of flight through the Vermilion River Valley.
Take in the views while exploring 7 ziplines, 2 spiral staircases, 1 floating staircase, and a rappel down at the end. The highest point reaches 75 feet above the Vermilion River, which is a view unlike any of the other ziplines we've seen so far!
Find them at 12420 Baird Road, Oberlin, Ohio 44074
Website
---
Ohio Valley Tactical Zipline
Since 1993, Ohio Valley Tactical has provided training to civilians, military, law enforcement, SWAT, and other tactical groups – so you know their zip line course is the real deal!
Take a ride on 7 Ohio ziplines with picturesque views of the Ohio River. Over 3,000 feet of cable means there's plenty of outdoor adventure waiting for you – without the crowds and lines!
Located at 52315 TH 2215, Clarington, Ohio 43915
Website
---
Toledo Zoo Aerial Adventure Course
A zipline above a zoo… can it get any cooler than that? Zip over 760 feet across the giraffe, watusi cattle, wildebeest, and more zoo exhibits.
If you're an adrenaline junkie, take a (controlled descent) jump off a 30 foot tower, or the 80 foot Flight Line plunge. The aerial course also includes a 250 foot long Sky Bridge course where you can walk and climb across a series of bridges above the Africa! Exhibit.
You can try all the activities, pick just one, or a combination of courses. The choice is yours!
Find it at 2 Hippo Way, Toledo, Ohio 43609
Website
---
Ozone Zipline Adventures
YMCA Camp Kern has been hard at work, revamping their zipline course. And it's back in 2022!
Fly though the air along the ziplines over the Little Miami River valley that range from 600′ to 1300′ long.
All ziplines start and end upon a platform in the trees. The platforms range from 20′ to 50′ in height. The lines themselves run 105′ to 200′ in height due to the lay of hte land. A little bit of hiking is required on the tour.
Tours leave at multiple times during the day so you'll have options to choose from. Reservations are required and must be made 24 hours in advance. They do NOT accept walk-in's.
Ozone Zipline Adventures is located at 5291 State Route 350, Oregonia, Ohio 45054
Website