Due to current circumstances, please check with each event for possible postponements and cancellations.
Some people think music festivals are a west-coast thing, but I'd venture to say Ohio's music fest scene can rival the greats! Every year Ohio music festivals continue to grow and draw bigger & bigger names.
No matter the genre – there's a music festival for you in Ohio. Check out our list below and read more about what Ohio's music fests have to offer.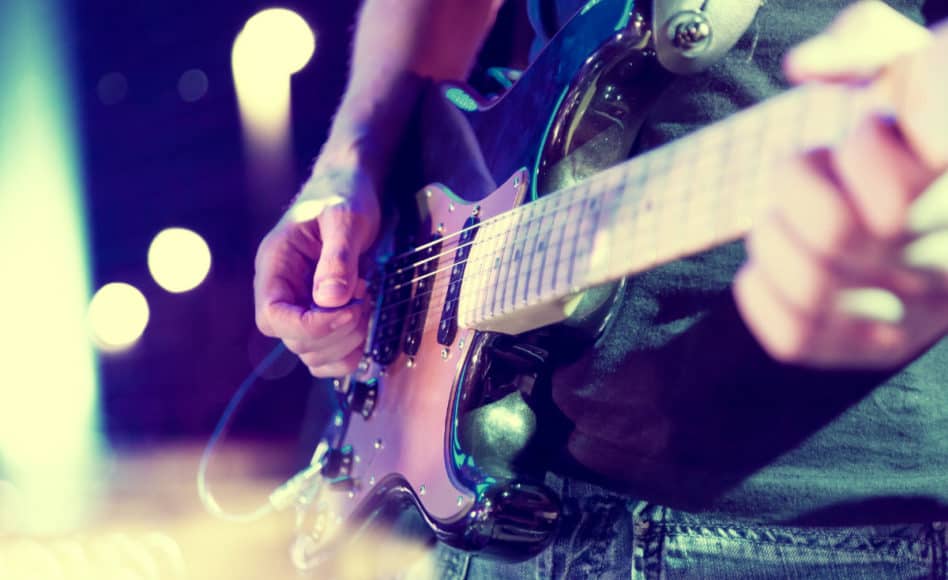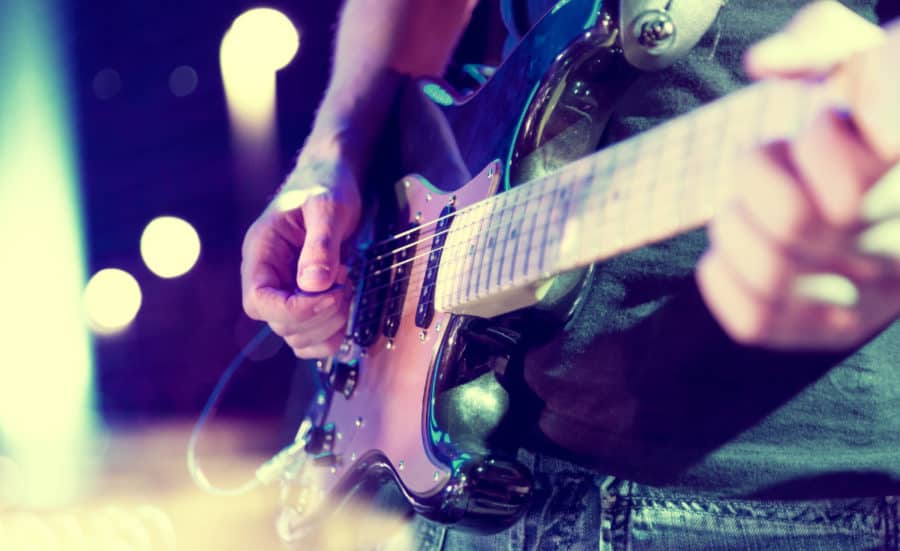 ---
Jump to our full list of 2021 music festivals in Ohio.
---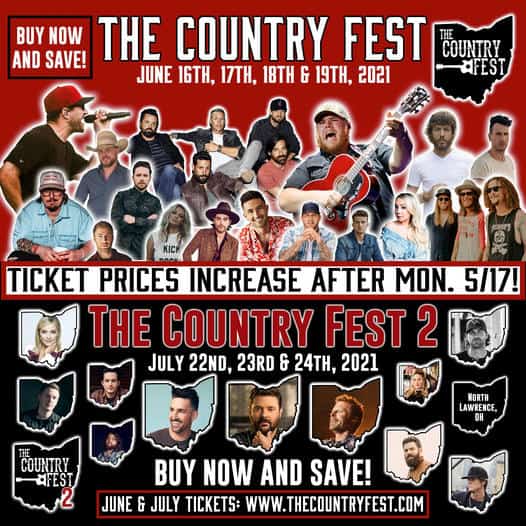 Country Fest
June 16-19, 2021 AND July 22-24, 2021 | North Lawrence, Ohio
Genre: Country
2021 Headliners: Chris Janson, Luke Combs, Old Dominion, Sam Hunt, and more
Ticket Price: $185+ (includes all 3 days and more)

Three full days of country music with some of today's biggest and up-and-coming country stars! Come just for the festival, or opt for the Festival Camping ticket which allows you to stay close to the music all weekend long. Tickets also include admission to Clay's Adventure Water Park, a 10-acre man-made lake water park with swimming, zip lines, water slides, and inflatables.

Website
---
Cincinnati Music Festival [POSTPONED TO 2022]
July 21-23, 2022| Cincinnati, Ohio

First known as the Ohio Valley Jazz Festival, the Cincinnati Music Festival has grown from a jazz-only event in 1962 to a mega concert showcasing today's best R&B, jazz, soul, hip-hop, and more. It's easy to see how the festival has grown so much over the years: this year's act includes Janet Jackson, Charlie Wilson, Fantasia, Snoop Dogg, and the O'Jay's – and past acts include Aretha Franklin, Duke Ellington, Patti Labelle, Earth Wind and Fire, and Stevie Wonder!
---
Nelsonville Music Festival [POSTPONED TO 2021]
TBD, 2021 | Nelsonville

Genre: Multiple
2020 Headliners: TBD
Ticket Price: $80-375
Set in southeastern Ohio, the Nelsonville Music Festival has several scenic outdoor stages (including a boxcar stage!) and features mostly folk, alternative, and soul artists – past acts include Death Cab For Cutie, Mavis Staples, The Decemberists, Loretta Lynn, The Avett Brothers, and Willie Nelson. With a focus on positively impacting the community, this music fest is a Zero-Waste event and was able to recycle and compost 92% of the festival's waste in 2018. On-site camping and family-friendly activities are available.
---
---
Bunbury Music Festival [CANCELLED FOR 2020]
TBD, 2021 | Cincinnati

Genre: Multiple
2020 Headliners: Twenty One Pilots, Marshmello, The Avett Brothers, Kane Brown, Melanie Martinez, Angels & Airwaves
Ticket Price: $189-1299
Whichever genre you prefer, there's a performance for you at Bunbury. This year's headliners are at the top of the charts, and Bunbury alumni include Post Malone, Wiz Khalifa, Kacey Musgraves, and Florence + The Machine.
---
---
Inkcarceration Music & Tattoo Festival [CANCELLED FOR 2020]
July 16-18, 2021| Mansfield

Genre: Alternative
2020 Headliners: Limp Bizkit, Weezer, Blink-182
Ticket Price: $65-1499
Inkcarceration brings together chart-topping bands, tattoo artists, and fans from all over the country for three straight days of art, music and reformatory tours. Go for one day or stay for all 3 – hotel and camping packages are available, some with shuttles to and from the festival.
---
---
Bellwether Music Festival
August 6-8| Waynesville

Genre: Multiple
2020 Headliners: Shovels & Rope, The Devil Makes Three, Nathaniel Rateliff
Ticket Price: $124-224
Three full days of camping and music from today's favorites in folk & alternative music! This year's lineup sets itself apart from other music festivals by including a comedy & DJ slots each day (acts TBD).
---
---
Wonderbus Music & Arts Festival
August 29-30| Columbus

Genre: Multiple
2020 Headliners: TBD
Ticket Price: $20-299
A music festival for all ages! The whole family will enjoy music, arts, culinary specialties, and children's activities – all while helping to raise awareness about mental health.
---
---
Breakaway Music Festival
August 28-29| Columbus

Genre: Multiple
2020 Headliners: TBD
Ticket Price: TBD
This national festival makes its stop in Columbus in late August, bringing with it some of the country's favorite artists spanning across multiple genres: Rap, Hip-hop, DJs, Pop and more.
2020's festival has been cancelled, but the festival organizers have announced if you would like to transfer your ticket to next year in lieu of a refund, you will also receive a ticket for a +1 to 2021's festival.
---
---
WonderStruck [POSTPONED]
September 12-13, 2020| Cleveland

Genre: Pop & Rock
2020 Headliners: Portugal. The Man, Walk The Moon, Of Monsters And Men, Third Eye Blind
Ticket Price: $20-350
WonderStruck In Cleveland enters its 5th year with a new name and location. Headliners include some of today's top pop and rock artists, and the full lineup spans multiple genres – including Alabama Shake's Brittany Howard!
---
---
Creekside Blues & Jazz Festival [CANCELLED FOR 2020]
June 18-20, 2021| Gahanna

Genre: Blues & Jazz
2020 Headliners: TBD
Ticket Price: TBD
Each year, 30,000+ travel to Gahanna for the Creekside Blues & Jazz Festival. This year's lineup includes over 90 hours of live blues & jazz from 50+ acts on 5 stages, with world-class performers ranging from youth jazz orchestras to an Emmy Award winning composer.
---
---
SamJam Bluegrass Festival
September 2-6| Piketon

Genre: Bluegrass
2020 Headliners: Joe Nichols, Balsam Range, The Cleverlys
Ticket Price: $45-120
Five days of bluegrass showcasing some of the top names in the genre. You can also be one of the first to hear some of the region's up-and-coming bluegrass acts at the Pinecastle Records National Bluegrass Band Competition.
---
---
Ultimate List of 2020 Music Festivals in Ohio
March 1-2 | Acoustics for Autism (Maumee, OH)
March 13-14| Melted (Columbus, OH)
March 27-28 | Southern Ohio Indoor Music Festival (Wilmington, OH)
April 24 | Kent American Roots Music Festival (Kent, OH)
May 15-17 | Sonic Temple Festival (Columbus, OH)
May 22-24 | Dark Star Jubilee (Thornville, OH)
May 30 | Reggae Fest Cleveland (Cleveland, OH)
June 3-6 | Bluegrass in the Hills (Hopedale, OH) [CANCELLED FOR 2020]
June 4-6 | Fore!Fest (Dublin, OH)
June 4-7 | WOBO Bluegrass Bash (Owensville, OH)
June 4-7 | Nelsonville Music Festival (Nelsonville, OH) [CANCELLED FOR 2020]
June 5-6 | Canton Blues Fest (Canton, OH)
June 5-6 | Rhythm on the River Music Festival (Columbus, OH) [POSTPONED, TBD]
June 5-7 | Bunbury Music Festival (Cincinnati, OH) [CANCELLED for 2020]
June 6 | Put-In-Bay Music Festival (Put-In-Bay, OH) [CANCELLED FOR 2020]
June 13 | SummitFest Country Music Festival (Blue Ash, OH) [CANCELLED FOR 2020]
June 13 | Canal Music Fest (Tipp City, OH) [CANCELLED FOR 2020]
June 18-21 | Ohio Dreamfest (Ansonia, OH)
June 19-21 | Creekside Blues & Jazz Festival (Gahanna, OH) [CANCELLED FOR 2020]
July 3 | Red, Rhythm, and Boom (Mason, OH)
July 10-12 | Inkcarceration Music & Tattoo Festival (Mansfield, OH) [CANCELLED FOR 2020]
July 11 | Summer Jam West (Columbus, OH)
July 11-12 | Westerville Music & Arts Festival (Westerville, OH)
July 17 | Kent Blues Fest (Kent, OH) [CANCELLED FOR 2020]
July 18 | Cincy Blues Fest (Cincinnati, OH) [CANCELLED FOR 2020]
July 18 | Defiance Jazz Festival (Defiance, OH)
July 23-25 | Cincinnati Music Festival (Cincinnati, OH) [CANCELLED FOR 2020]
July 31-August 1 | 7 Mile Bluegrass Festival (Greenfield, OH)
August 1 | Rock the Lake (Lakeview, OH)
July 31-August 1 | Lebanon Blues Festival (Lebanon, OH)
August 6-8 | Country Fest (North Lawrence, OH)
August 6-8 | Bellwether Music Festival (Waynesville, OH)
August 9 | The Fest (Wickliffe, OH)
August 16 | Barton Polka Fest (Barton, OH)
August 14-16 | The Freakstomp (Butler, OH)
August 22-23 | Ohio Valley Indigenous Music Fest (Springboro, OH)
August 28-29 | Breakaways Music Festival (Columbus, OH) [CANCELLED FOR 2020]
August 29-30 | Wonderbus Music & Arts Festival (Columbus, OH)
September 2-6 | SamJam Bluegrass Festival (Piketon, OH)
September 5-6 | Crooked Smile Music Fest 2020 (Greenville, OH)
September 12-13 | WonderStruck (Cleveland, OH)
September 25-27 | Lost Lands Music Festival (Legend Valley, OH)
TBD | Juneteenth Bluesfest (Lorain, OH)
TBD | Smoky Run Music Festival (Butler, OH)
TBD | Columbus Gospel Fest (Columbus, OH)
TBD | Boogie on the Bricks (Athens, OH)
TBD | Rubber City Jazz & Blues Festival (Akron, OH)
TBD |Whispering Beard Folk Festival (Cincinnati, OH)