Last updated: June 26, 2018
Get ready for Independence Day with this listing of 4th of July events and fireworks in Cincinnati.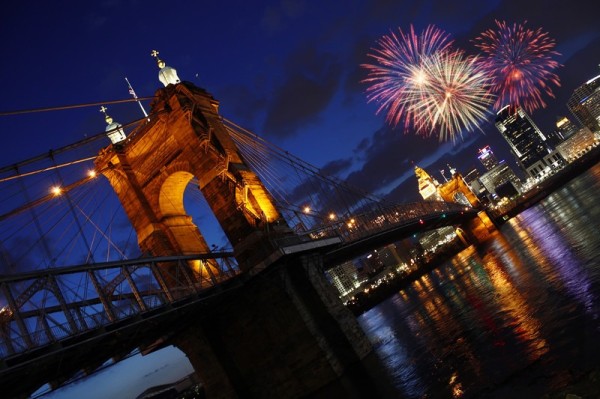 Saturday, June 30
Loveland Firecracker Festival
Date: June 30, 2018, 3-11pm, Car show begins at noon. Fireworks at 9:45pm/dusk.
Where: Symmes Township Park, 11600 Lebanon Road
West Side Fireworks
Date: June 30, 2018, 7-10:30pm. Fireworks at dusk.
Kick off your holiday weekend with a family-friendly event in your own backyard. Invite your friends and neighbors, pack your coolers and blankets, and watch the fireworks from the West Side lawn.
Food trucks will also be on site, so bring your cash. (Drinks will not be for sale.)
Where: Crossroads West Side, 8575 Bridgetown Road, Cleves, OH 45002
Everyone is welcome! (Don't go to Crossroads? No sweat. This is for you, too.)
Sunday, July 1
Liberty Center  – Red, White & Liberty
Date: July 1, 2018, 12-9 PM.
Red Wagon Parade at 1:30 PM, Live Music 6-9pm (no fireworks)
Where: 7100 Foundry Row, Liberty Twp., OH 45069
Reading American Legion 4th of July Celebration
Date: July 1, 2018, 4-11pm. Fireworks at 10:00 PM
Where: Koenig Park, Columbia Street, Reading, OH
Tuesday, July 3
4th of July Spectacular in Colerain
Date: July 3, 2018; 7pm.
The Rumpke/Colerain 4th of July Spectacular presented by Northgate Mall is a back-to-basics, hometown Americana, family-oriented (no alcohol) event that celebrates our Country and this great place we call home! Free Admission, Free Parking, Free Shuttles! Musical entertainment by Robin Lacey & Dezydeco! Food trucks will be on site selling a variety of delicious food. Commencement Church is providing bounce houses for the family to enjoy! Shuttle parking at Northgate Mall, Colerain Middle School and Colerain High School. Access transportation available at all shuttle parking locations and will drop off right at the event site!
Where: 4160 Springdale Road, Colerain Township, Ohio 45251 (see site for shuttle info)
LaRosa's Balloon Glow
Date: July 3, 2018, 5-10pm. Fireworks at 10pm.
Along with music, entertainment and rides, we add a few special attractions to make LaRosa's Balloon Glow a memorable night for all ages. The evening sky will illuminate when hot air balloons of every color "glow" for all to see. The grand finale for the event is a spectacular Rozzi's Famous Fireworks display over the banks of Lake Como.
There is no charge (other than parking) to view the balloons and fireworks. Normal rates apply for Sunlite Water Adventure and Coney's Rides & Attractions.
Where: Coney Island, 6201 Kellogg Avenue, Cincinnati, Ohio 45230
Fairfield Red, White & Kaboom
Date: July 3, 2018, Music at 8 PM and Fireworks at dusk
Red, White & Kaboom! celebrates Independence Day in Fairfield with an amazing fireworks display from Rozzi's Famous Fireworks, entertainment, food and activities at 4 official viewing locations in Fairfield Harbin Park : live music from Blue Stone Ivory starting at 8pm
Village Green Park: live music from After Hours Big Band starting at 8pm
Fairfield Aquatic Center: Fireworks Swim, 7-11pm
Marsh Lake: fishing, 5-11pm ($5)
Green Township Independence Day Fireworks and Concert
Date: July 3, 2018, music starts at 6:30pm with fireworks at dusk
Two bands will perform beginning at 6:30 with The Midwestern followed by Saffire Express. The evening will end with a firework display by Queen City Pyro at dusk. Food, beer and soft drinks will be for sale by local community organizations. Please do not bring alcoholic beverages to the park.
Free shuttle buses will start at 5:30 from Dulles Elementary and Our Lady of Visitation. Parking is limited at Kuliga Park to special passes and handicap only.
Where: Kuliga Park
Madeira Independence Day Festivities
Date: July 3, 2018
Madeira Mile: 6:30 pm Miami Avenue; Parade: 7:00 pm Miami Avenue; Festivities including live music & food vendor: 8:00 pm at Sellman Park; Fireworks: 10:00 pm at Sellman Park
Where: Sellman Park, 6612 Miami Ave., Madeira, OH 45243
Mt. Healthy Fireworks at City Park
Date: July 3, 2018, events runs from 6pm until end of fireworks
Live music, food, kids' parade
Where: City Park
Sparks in the Park (Milford)
Date: July 3, 2018, 6-10pm; Fireworks at 9:45pm
Events include a classic car show, music from Smoke Parade Taylor Shannon and 500 Miles To Memphis and a fireworks show from Rozzi Famous Fireworks. Plenty of food and drink will be available from Smoker EZ BBQ, Texas Roadhouse – Milford, Padrino Italian, Tickled Sweet, Harvest Market and Kona Ice!
Where: Riverside Park Ballfield
Wednesday, July 4
Ault Park Fireworks
Date: July 4, 2018, fun starts at 11 AM, Fireworks at 10 PM
Childrens' parade, live music, concessions, fireworks.
Where: Ault Park
Edgewood's 4th of July Extravaganza
Date: July 4, 2018, parade at 9:30 AM, concert at 7 PM, Fireworks start at dusk (rescheduled for July 5th if bad weather)
Where: Freedom Park
Evendale July 4th Festivities
Date: July 4, 2018, fun starts at 6 PM, Fireworks at 10 PM
Food Trucks, Inflatables, DJ, Phi Lambda Pi's Kid's Carnival, Combination Raffle Prizes, Corn hole, Split the Pot & More!  Rozzi's Famous Fireworks at 10:00 PM.
Weather permitting.  If fireworks are canceled due to weather, they will not be rescheduled.
Where: Evendale Rec Center, 10500 Reading Road (corner of Glendale-Milford and Reading Road), Evendale, OH  45241
Ft. Mitchell 4th of July Parade
Date: July 4, 2018, parade starts at 1230pm
Harrison Fourth of July Celebration
Date: July 4, 2017, parade at 4 PM followed by activities.  Fireworks at dusk
Family entertainment, food, drinks, free kids activities and much more. Live music by P & G Big Band from 6pm to 8pm and Genx from 8 pm till Fireworks at Dusk by Rozzi. No alcoholic beverages permitted to be brought on the property.
Where: Community Center in Harrison, 300 George St., Harrison, OH 45030
City of Loveland Independence Day Celebration
Date: July 4, 2018, 4-11pm, Fireworks at 10pm
Where: downtown Loveland
City of Montgomery Parade and Festival (no fireworks)
Date: July 4, 2018; parade at 10am with festival 11am-2pm
Where: Parade starts at 9675 Montgomery Road, festival is at Montgomery Park
New Richmond Fireworks Display
Date: July 4, 2017, starts at noon
Rides and vendors open at noon, parade at 3pm, live music starting at 4pm until fireworks at 10pm
Where: New Richmond, OH
Northside 4th of July Parade and Rock-n-Roll Carnival
Date: July 4, 2018, kegs and eggs 10 AM, parade at 12 PM, music starts after parade (no fireworks)
Where: Hoffner Park
Norwood Hometown Fireworks
Date: July 4, 2018, 6-10pm, Fireworks at 10 PM
Where: Shea Stadium, 2603 Harris Ave, Norwood, Ohio 45212
Red White & Blue Ash
Date: July 4, 2018, gates open at 4 PM, Fireworks at 10 PM
Live music from Pat Benatar and John Waite
Where: Summit Park
Stricker's Grove 4th of July Celebration
Date: July 4, 2018, open 2-11 PM with Fireworks at 10 PM
Admission to the park is free. If your party would like to ride rides, purchase individual tickets or an arm band for unlimited riding.
Where: Stricker's Grove, 11490 Hamilton Cleves Rd, Hamilton, Ohio 45013
Wyoming July 4th Festivities
Date: July 4, 2018, activities start at 5:30, Fireworks at 9:45 PM
Parade, live music, Inflatable slides, bounces, and games, fireworks
Where: Oak Park
Please be sure to check with the venue of your choice to confirm the date and time. We did our best to list everything in an accurate fashion but we all make mistakes. Many of these events are weather dependent. Be sure to click the link and check out the website for each event before you head out the door.