Some "365 Things to do in Cincinnati" readers recently took a little "adult field trip" to two prized Over the Rhine locations – Findlay Market and the Rookwood Pottery.  Because I have soooo many pictures and sooo much to tell you, I am going to break this up into two posts. This one is all about our food tour at Findlay Market.
Umbrellas in hand, 30 of us braved the rain and cold weather and headed out to see all that Findlay Market has to offer.  The Findlay Market portion of the tour was actually a "tasting tour".  We stopped by at 9 different Findlay Market vendors to sample all kinds of their great specialties.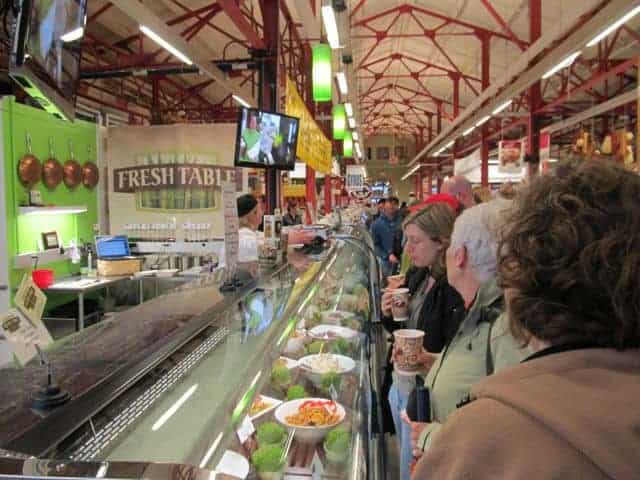 We started the tour off with hot coffee samples from The Bean Haus.  We then made our way to Fresh Table (pictured above) to sample three of their salads.  Chef Meredith served their salads in little lettuce wraps – definitely a nice touch.  After that we made our way outside to visit Daisy Mae's Market (2018 edit: Daisy Mae's is no longer open but there are plenty of other fresh produce stands at Findlay Market), a year-round vendor that sells fresh produce.  They served up piping hot bowls of Minestrone soup, made with vegetables from their stand.  Daisy Mae's Barb gave us all the recipe and they even offered to put all the veggies together for anyone who wanted to take them home for supper.  I bought that combo and made the soup tonight.  It was delicious!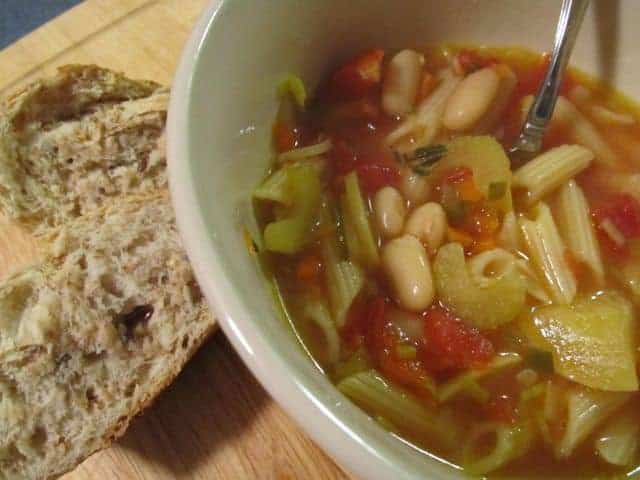 We then headed to Dean Mediterranean Imports where they sell all kinds of oils and spices and teas… and whatever else you might need from spots all over the world.  Dean's did an informative olive oil tasting for us.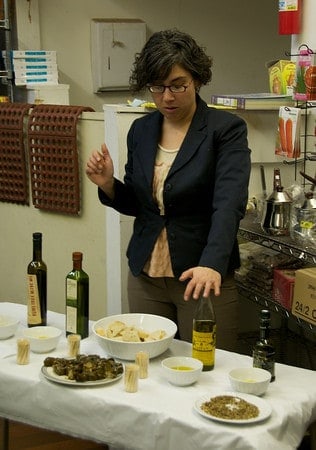 We made a stop at one of my favorite Findlay Market spots – Skirtz and Johnston (2018 update: S&J is no longer in business).  They make everything from scratch there and it's so evident – all kinds of breads, pastries and desserts.  They also serve meals and have an indoor dining space.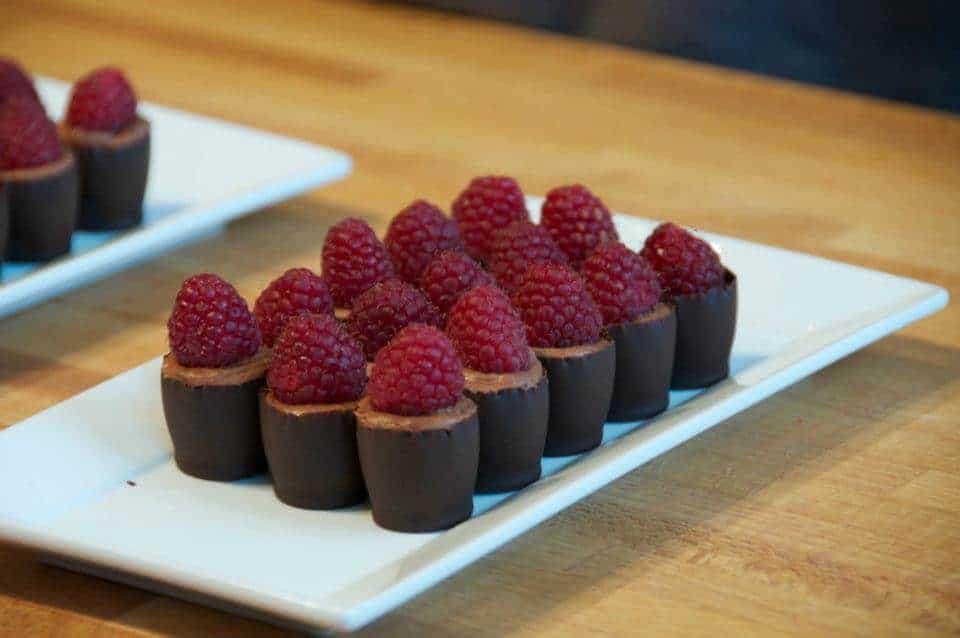 Next up = Gramma Debbie's Kitchen for some tasty chicken meatballs.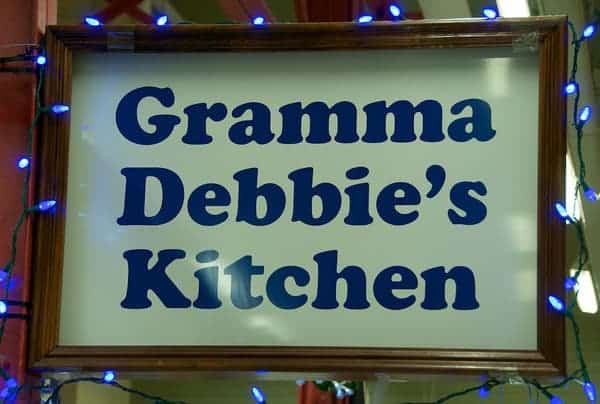 And then it was on to Mama Lo Hizos, a new vendor for the inside portion of Findlay Market. This spot is owned by the same folks who do the Kettle Korn outside.  Good stuff all around.  For the tour they served us loaded nachos… Yum!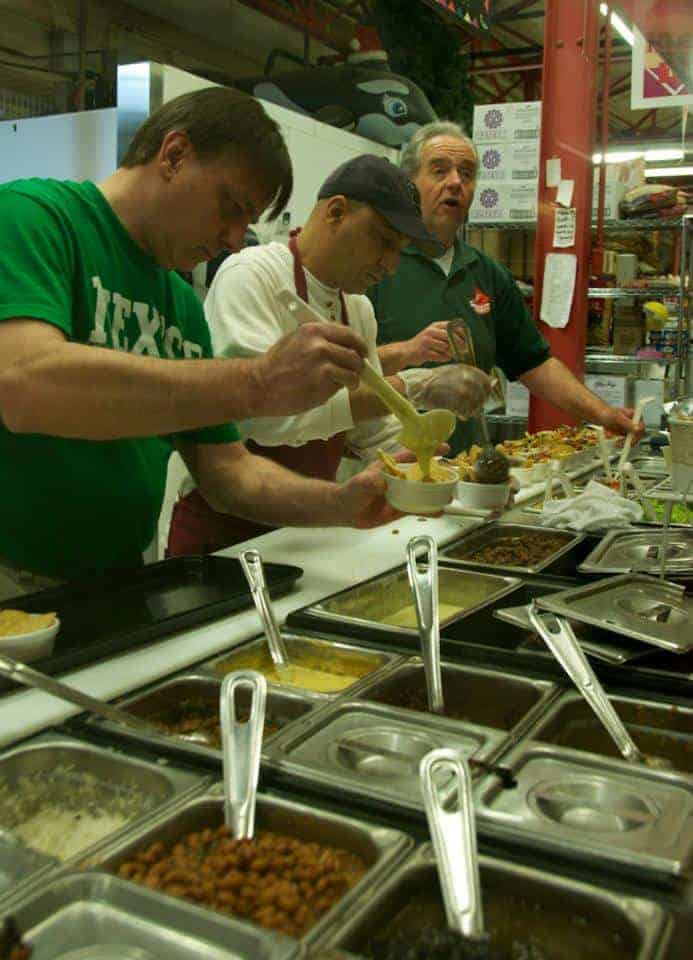 We headed back outside for our last two stops.  Churchill's Fine Teas served us four different hot teas samples.  They sell loose teas from all over the world as well as all kinds of tea-related items.  They have gorgeous and delicate tea cups, tea pots, and everything else you might like to make yourself a wonderful cup of tea.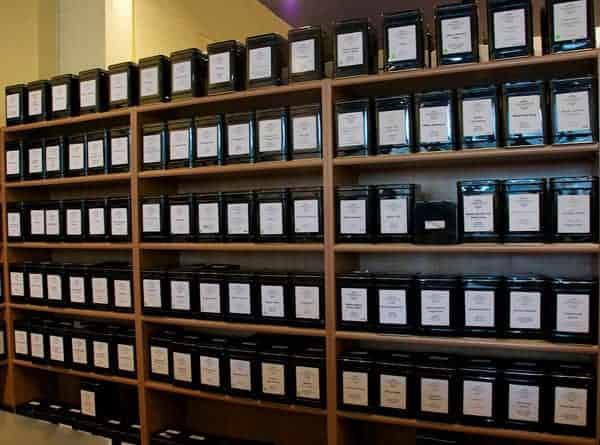 And the last stop at Findlay Market was a tasting tour stop that all of our pets appreciated – Pet Wants.  They handed out samples of their "made to order" pet foods.  We got to browse through all of their pet supplies as well.  It was a fun way to end our food tour!
Many thanks go out to the Findlay Market vendors who participated in our tour: The Bean Haus, Fresh Table, Daisy Mae's Market, Dean's Mediterranean Imports, Skirtz and Johnston, Gramma Debbie's Kitchen, Mama Lo Hizo, Churchill's Fine Teas, and Pet Wants.
Findlay Market is located at 1801 Race Street
And thank you to Tim Jeffries who took pictures for us on the tour! Many of the shots seen in this post are from Tim.  You can see his work at Moving Pictures Photography.