BLINK Cincinnati 2022 is coming up and we know how amazing this light projection phenomenon is going to be!
If you're downtown during the day and are looking for some fun BLINK related daytime things to do, here are some special events that will be happening downtown and in the surrounding areas.
Don't miss our comprehensive guide to BLINK Cincinnati 2022! It includes all kinds of tips to help you with your BLINK experience as well as answers to questions you might have.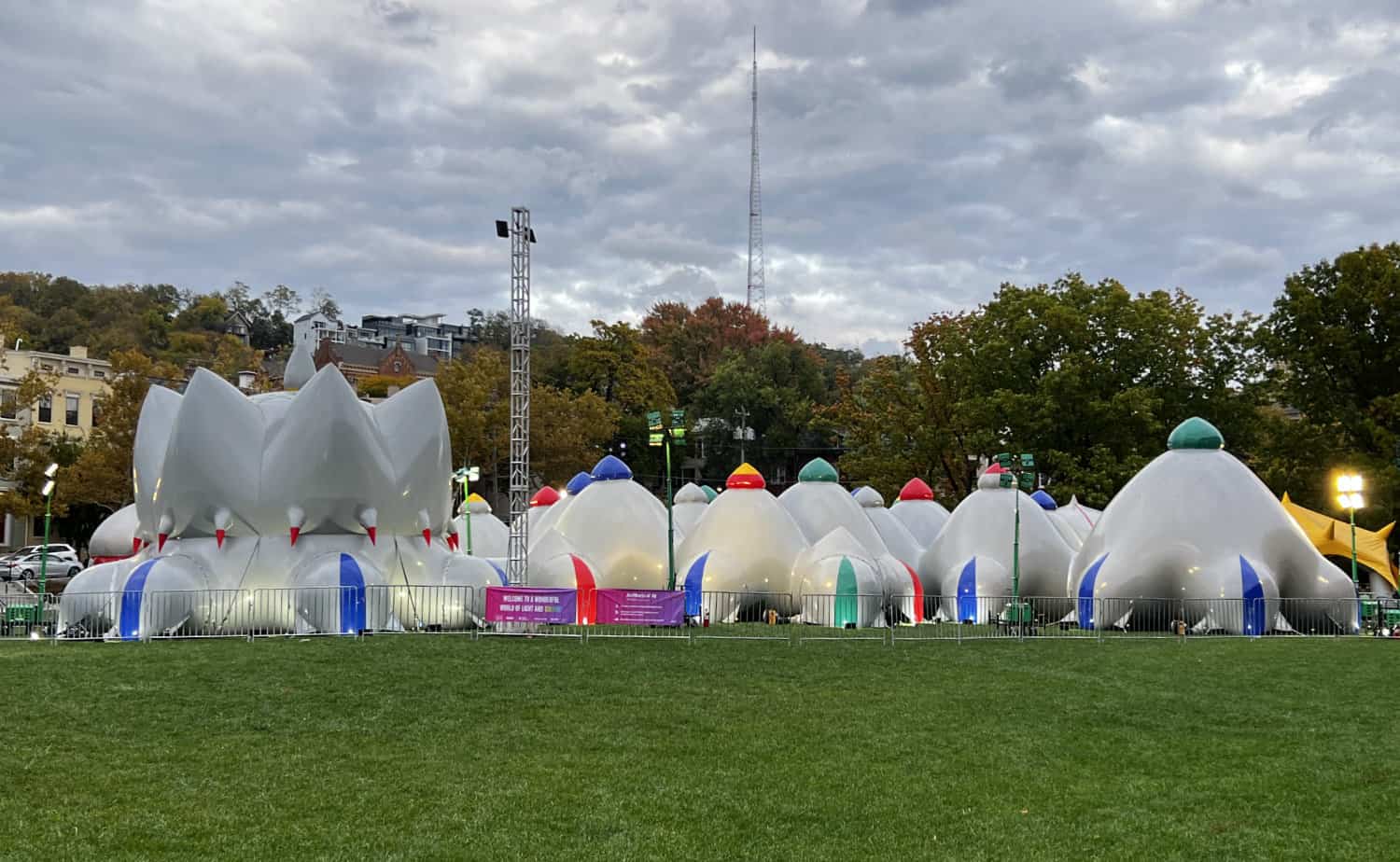 Events Happening All Weekend / Thursday – Sunday:
Architects of Air returns for BLINK 2022 with TIMISIEN Luminarium, stationed at Zieglar Park. The event will be held October 13-16, 11am – 11pm. Tickets are required and can be purchased on-site at Zieglar Park of fast passes can be purchased online (link above).
NOTE: Tickets may show sold out online but the organizers say they still have walk up tickets available on-site.
Frisch's Mobile Roller Rink will be available during BLINK! The outdoor rink will be open 4pm-11pm on Thursday and Friday, noon – 11pm on Saturday and Sunday. During the daytime you can enjoy roller skating and music. Arrive early and enjoy skating before the crowds arrive for BLINK after dark. In the evening, skate to the DJ and live light show! Reserve your spot ahead of time (see link above).
American Legacy Tours is offering a variety of tours from Friday to Sunday during BLINK. Go underground and explore Cincinnati's rich brewing history.
The Brewing Heritage Trail offers a number of tours that are happening through Sunday. Their new "The Dark Side of Brewing Tour, Tales of Cincinnati's Haunted and Gruesome Past" will be happening through the weekend.
Guided BLINK Tours: Use your smartphone to go behind the scenes with Artwave's guided tour. This self-guided tour (taken via your smartphone) will feature video intros from the artists themselves, immersive tours of the artists' studios, in-progress photos and videos of the artwork, installation videos, artist bios and more. Purchase access here. NOTE: this is via your phone; you will not have an in-person tour guide
Taproom Glow Up! is happening at Rhinegeist Brewery from Thursday to Sunday. They'll have light up activations, rooftop views, photo backdrops, games, restrooms, and plenty of bevs—with a spotlight on their all new nightcap-inspired Fruited Sour Ale, Night Glow.
LastCall Trivia put together a special BLINK trivia experience that you can do on your own at any time. This self-guided Trivia Tour includes four of the art installations featured at BLINK. Look for the common theme in all four installations and enter your guess on their site. See link above for full details.
Daytime Events Happening on Thursday, Oct. 13:
The Young Adult Lab at the Contemporary Arts Center hosts "Blink or You'll Miss It!", 4-6pm. Get ready for Blink at Young Adult Lab (in the Creativity Center on the sixth floor of the CAC). Make your own t-shirt/tote bag to show off your unique style at Blink. Create a design, write a mantra, or just go wild with glow-in-the-dark fabric paint. Supplies and snacks will be provided by the CAC.
Daytime Events Happening on Sunday, Oct. 16:
Second Sunday on Main will be going on in OTR (Main Street between 12th and Liberty), noon to 5pm.