When all this started I was glad to be home and excited to cook a nice meal each night. Fast forward a month or so and now I find myself dreading dinner time. Do we need to eat AGAIN TODAY?! Who else is there with me?!

I started looking for some spots that offer family sized takeout to fill in on those days where my hands just aren't going to make dinner AGAIN!
And, BONUS!, when you order take out from our local restaurants, you're helping these fine folks stay open through all of this!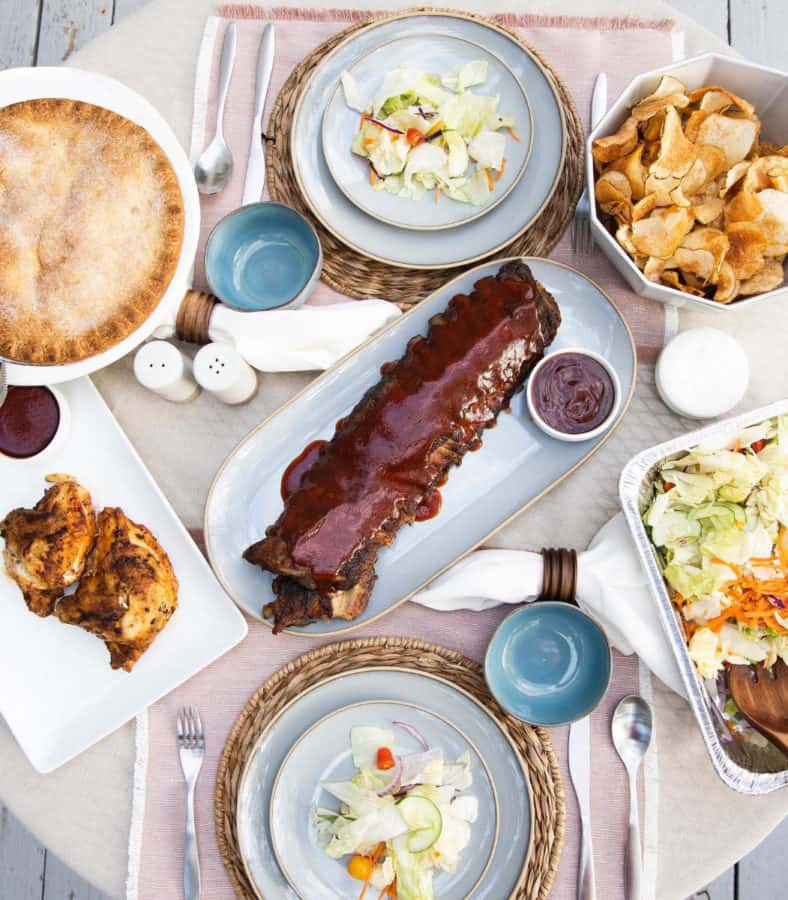 Here are my findings for those days when you just wish someone else would just put a great meal on the table!
Please keep in mind that menu offerings and availability will change and some places are only open on certain days. I've included a link for each menu so you can plan ahead for some yummy and oh-so-convenient meals.
LaRosa's Family Pizzeria (multiple locations) comes to my mind first when I think pizza and salad but did you know they also do GREAT wings (seriously, have the Diablo Sauce!) and just a few orders of Rondos will go a LONG way. They also offer a variety of items as "Crowd Pleasers" which feed 10 (pastas, salads, hoagies, desserts, etc.). Explore their extensive menu and you might be surprised!
Station Family + BBQ (Wyoming) has a great selection of family sized "Meals to Go" entrees and sides. Choose from Smoked Pork Butt, Brisket Chili, Ribs by the Slab, Salmon by the pound, and more. Order ahead of time and pick up on Saturday or Sunday.
Fusian (Hyde Park, Kenwood, downtown) has a fun "Roll it Yourself" DIY Sushi Making Kit for you. The kit includes everything you need to make your own maki rolls (2 rolls) – includes white rice, seaweed wraps, protein of choice, carrots, cucumber, sauce of choice, crunch, sesame seeds, wasabi, ginger, bamboo rolling mat, + recipe card w/ link to instructional video.
The Rootbeer Stand (Sharonville) is offering a fun "Heat and Eat Family Pack" that includes 6 foot long hot dogs, buns, chili, cheese, and onions. You can even add on a gallon (or half gallon) of root beer!
Alreddy Cafe & Espresso Bar (Sharonville) has a $25 Dinner for Four. Call ahead to order this lunch or dinner special that's made fresh to order. Choose from Whole Chicken Pot Pie and House Salad, Pulled Pork Buns and Coleslaw, Wraps or Sandwich Family Tray, or Fresh Made Quiche with Fruit. Scroll down on the page (link above) to see the details.
Cozy's Cafe and Pub (Liberty Twp.) offers Family Meals for carryout and delivery on Wed. and Friday. They offer a Fried Chicken Meal on Wednesdays and then on Fridays they add BBQ Pulled Pork and Smoked Sliced Brisket to your list of choices.
Caruso's (Fairfield) is offering a wide selection of Family Meals to Go (feeds 4-6) including Spaghetti & Meatballs, Chicken Alfredo, Chicken Parmesan, Lasagna (feeds 6-8), House Salad, and 16 Bricks Sourdough Bread.
Tortilleria Garcia (Springdale and College Hill) offers Family Dinner Packs as part of their regular menu! You can purchase their meats by the pound (Carnitas, Pollo, Carne, and Al Pastor), or a whole Rotisserie Pollo. All of those come with 1 pack of Tortillas and Salsa. Look for the Family Dinner Pack tab on their menu.
Tano Bistro (Hamilton location) offers Hot Family Meals including Bacon & Brisket Meatloaf (with two sides and dinner rolls) and Whole Marinated & Roasted Chicken (with two sides and dinner rolls). Don't miss the opportunity to "Food Forward" and buy a second meal for a family in need.
Nick & Tom's (Bridgetown) had a very nice selection of Family Meals (serves 4-6) including Fettuccini Alfredo, Chicken Chili Melt, Chicken New Orleans, The Big Easy, Chicken Club, plus lots of sides.
Wildfire Pizza Kitchen (Northside) just added a Family Meal Deal that includes 2 large and a cheeseboard. They also have a Dinner for Two option and a variety of pizzas to share.
Citrus and Sago (Mt. Lookout) has some yummy offerings for the family including Mee Siam (chicken and shrimp) and Nasi Goreng (chicken and shrimp). They also have a nice rotisserie menu that includes half and full Roast Duck and Roast Chicken, BBQ Pork and Crispy Roast Pork by the pound, and full or half Hainanese Poached Chicken.
The National Exemplar (Mariemont) now has Sunday Supper Take and Bake (2 and 4 servings). Orders will be available for pick up on Sunday and will include delicious pre-cooked dishes along with heating instructions.
Out of Thyme Kitchen (Symmes Twp.) is offering Fresh Take-Home Meals that are ready to heat and enjoy. They add new items to the menu on a daily basis. Their comfort food special meals serve 4. Head to their site and look for the list of options in the bottom right corner (desktop) or towards the end of the screen (mobile).
Silver Spring House (Symmes Twp.) has added a Family Style Meal Menu to their regular menu. They currently have 7 offerings including chicken, ribs, fish, and more.
Sweets & Meats BBQ (Mt. Washington) offers a Family Park, a Party Pack, and a Feast Pack. Each pack includes your choice of Pulled Pork or Pulled Chicken, sides, buns and sauce. They also offer Pulled Pork and Pulled Chicken by the pound.
The Precinct (Columbia Tusculum) has a Curbside Meal Kit that allows you to bring the Jeff Ruby experience right into your kitchen. This one is not technically a "cooked by someone else meal" but I felt compelled to mention it in the list as it looks so good! Each of their Cook at Home Kits serves four and includes steaks for the grill, Freddie Salad, Mac & Cheese, Asparagus, Sixteen Bricks Bread, and their yummy Compound Butter.
Tostados Grill (Columbia Tusculum) is offering a Family Package (serves 2 or 4) that includes your choice of chips with guacamole, queso or salsa. Along with chicken and steak fajitas served with rice, beans, pico, cheese, sour cream, lettuce and tortillas on the side. Top it off with delicious churros for dessert AND A 64 OZ MARGARITA!!!
BrewRiver Creole Kitchen (Eastern Ave.) is offering their Pasta Monica Family Meal and it can be sized up or down, depending on your needs. They offer a portion size that ranges from 2 people all the way up to 6 people. You'll need to look for their dropdown menu to change the menu from "drinks" to "food".
Tano Bistro (Loveland) offers Hot Family Meals including Bacon & Brisket Meatloaf (with two sides and dinner rolls), BBQ Pulled Pork (with 4 buns and two sides), and Whole Marinated & Roasted Chicken (with two sides and dinner rolls). They're also offering a Cold Take & Bake Meal of Sheperds Pie. Don't miss the opportunity to "Food Forward" and buy a second meal for a family in need.
Betta's Italian Oven (Norwood) has their entire menu available for curbside pickup. They have lots of pizza choices and they also offer family sized meals. Call in to inquire about their "pan sized" shareable entrees.
Redlands Grill (Rookwood) has Family Meals on their menu. Choose from Mr. Jack's Crispy Chicken Family Meal, Barbecue Baby Back Ribs Family Meal, or a Roasted Chicken Family Meal. All meals serve 4 and are picked up warm to be served immediately.
Buca di Beppo (Rookwood) has a number of Family Feast options (serves up to 5) including Pasta Feast with your choice of pasta plus bread and salad or Entree Feast with your choice of entrees plus bread and salad.
Jag's Steak and Seafood (West Chester) offers a Friday Feature for Four (only available on Fridays). They change the menu each week so be sure to check out this week's offering.
Dingle House (West Chester) has some nice Family Meal options on their menu including Fish & Chips, Irish Meatloaf, and Roasted Irish Chicken – all come with sides chosen from Potato Wedges, Coleslaw, Mashed Potatoes, Mixed Veggies, or Dingle House Salad.
Funky's Catering (Paddock Hills) is offering curbside meals for 2, perfect for those of you with just a few mouths to feed. Their featured Meals to Go menu changes weekly.
Keystone Bar and Grill (Clifton and Hyde Park) is offering Family Pans which feed 4-6. Choose your pan from a variety of their Mac & Cheese meals plus your choice of sides and protein.
A Tavola Bar + Trattoria (Madeira and OTR) offer Make Your Own Pizza Kits and Make Your Own Pasta Kits (couples and family sizes). You can find these option if you click "food" on their website menu. They also offer trays of Lasagne Bolognese and Take & Bake Pastas (call for more info).
P. F. Changs (Norwood, West Chester) has 2, 4, and 6 person meals available. Each meal includes Lettuce Wrap, Soup, Noodle & Rice, plus entree(s). They also sell half gallons of iced tea, lemonade, or strawberry lemonade.
Montgomery Inn (Montgomery and downtown) now has Family Packs on the menu. Select your pack from one that feeds 2-4 people (1 King Slab, 2 Quarter Chickens or 20 Chicken Wings, a pan of Saratoga Chips, a pan of Ribs King Salad, BBQ Sauce, and a Pie) or one that feeds 6-8 (2 King Slabs, 2 Quarter Chickens or 20 chicken wings, a pan Saratoga chips, a pan of Ribs King Salad or pan of Coleslaw, BBQ sauce, and a Pie).
Taste of Belgium (The Banks and Rookwood locations) has a very nice selection of Family Meals that serve 4-6 people. Selections include Waffle and Chicken, Meatballs and Frites, Salmon and Farro, Pasta Bolgnese, Quiche and Salad, and Harvest Salad. Find the family sized offerings at the bottom of their menu.
Eli's BBQ (Findlay Market and Riverside Dr.) sells their amazing BBQ and sides by the pound. Choose from BBQ pork or turkey, mac & cheese, mashed potatoes, baked beans, coleslaw, jalapeno cheddar grits – all by the pound. You can even buy their BBQ sauce by the bottle (news to me!).
The Eagle (OTR) offers The Eagle Family Meal. For parties of 6 or more, it's a family style selection of salad, sides, and fried chicken.
Che (OTR) is offering some great family style meal deals including a 12 Empanada Pack (you can specify ready to eat, par-baked, or frozen) or you can order 12 Empanadas plus two sides.
Taft's Ale House (OTR) has a Family-Style Meal menu that includes Tri-Tip Steak, Mac & Beer Cheese, Roasted Potatoes, Focaccia Rolls, Chips, and a Variety of Salads to choose from (order items individually).
The Hearth at Karrikin Spirits (Mariemont near) has a new menu item – a Family Chicken Dinner that serves 3-4. NOTE: 24 hours notice is needed for this menu item. Includes a Whole Roasted Chicken, Creamed Greens, Fried Brussels Sprouts, Mixed Green Salad, Carrot Cake, and Buttermilk Rhubarb Pie.
Butcher and Barrel (downtown) is offering a Lasagna Dinner for Four (braised beef, ricotta, mozzarella, handmade lasagna noodles) that comes with two full sized salads and two full sides. They also offer an Empanada Meal Deal that includes 12 Empanadas and two sides. Find the items on their online menu under "Family-Style Meals".
Sotto (downtown) is offering a Sotto Lasagna Family Dinner that serves 4-6. It's an Italian family-style meal created in their kitchen and baked in yours. Dinner includes 11 inch x 8 inch pan of Sotto lasagna, mixed greens salad with seasonal vegetables & homemade vinaigrette, Blue Oven Bakery garlic bread, and brown butter chocolate chip cookies. Baking instructions included.
Jean-Robert's French Crust Cafe and Bistro (downtown) has a Family Style Takeout for 4, packed and ready to heat at home. The menu changes weekly (perfect for a regular rotation!). Click on the MENU tab to find the current week's options.
---
Northern Kentucky Restaurants:
Parlor on Seventh (Covington) offers curbside service and a very nice selection of Family Style Meals including Hot Brown for 4 with shareable sides, 20 wings with pretzels/beer cheese, 4 Parlor Sandwiches with Kettle Chips, 4 Flatbread Pizzas with mac & cheese, and a Parlor Beet or Goat Cheese Salad Platter.
Keystone Bar and Grill (Covington) is offering Family Pans which feed 4-6. Choose your pan from a variety of their Mac & Cheese meals plus your choice of sides and protein.
Kitchen 1883 (Union) has a nice selection of Family Meals including Chicken and Waffles, Craft Beer Battered Cod, Meatballs & Linguini, and Sweet Tea Brined Pork Tenderloin.
The Farmstand Market & Cafe (Union) sells Family Meals but you will need to order in advance. The menu changes each week. They put out each week's offerings on their Facebook page.