I started looking for some spots that offer family sized takeout to fill in on those days where my hands just aren't going to make dinner AGAIN! And, surprisingly, a number of spots offer family sized meals to go!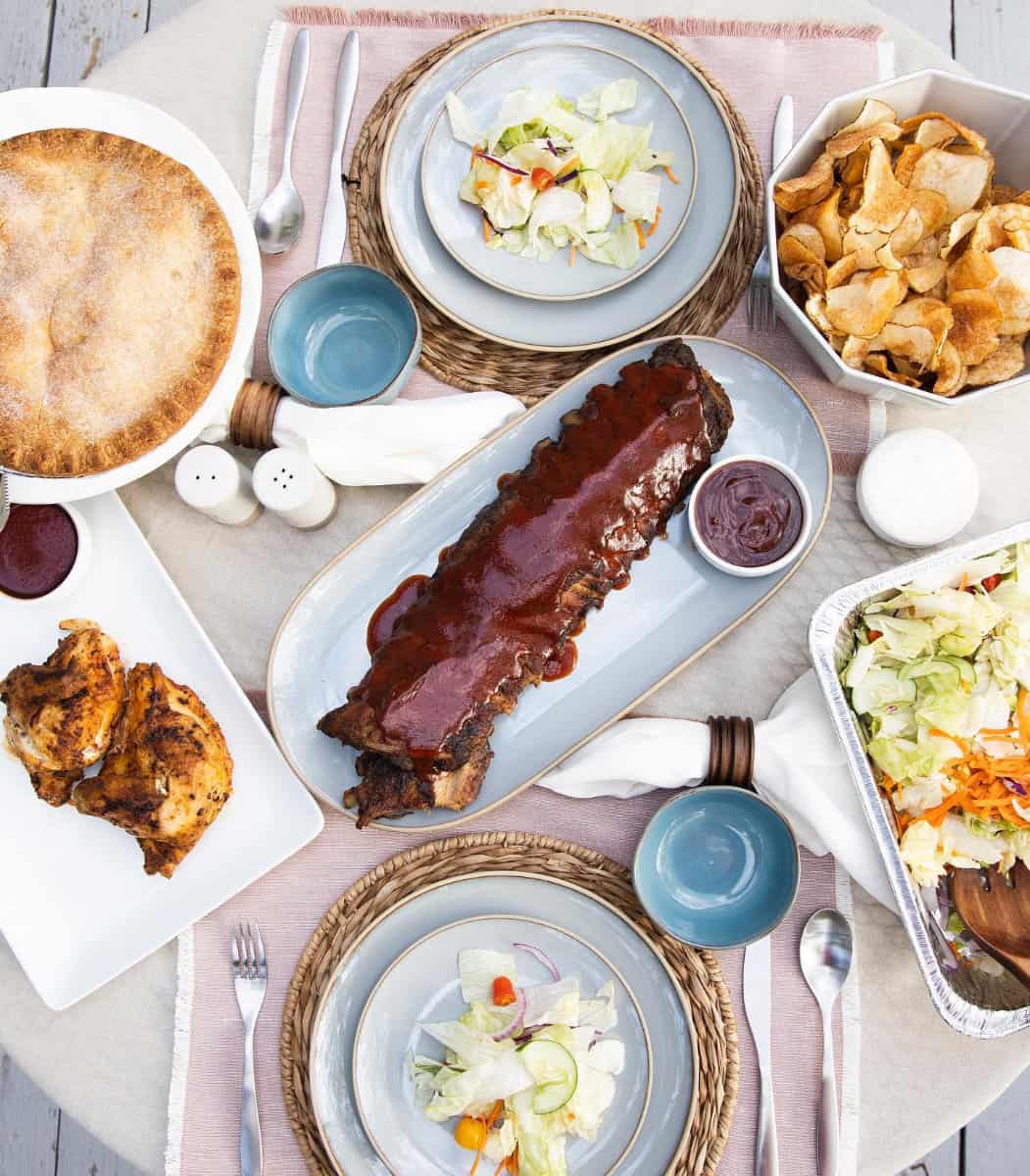 Here are my findings for those days when you just wish someone else would just put a great meal on the table!
Please keep in mind that menu offerings and availability will change and some places are only open on certain days. I've included a link for each menu so you can plan ahead for some yummy and oh-so-convenient meals.
LaRosa's Family Pizzeria (multiple locations) comes to my mind first when I think pizza and salad but did you know they also do GREAT wings (seriously, have the Diablo Sauce!) and just a few orders of Rondos will go a LONG way. They also offer a variety of items as "Crowd Pleasers" which feed 10 (pastas, salads, hoagies, desserts, etc.). Explore their extensive menu and you might be surprised!
Fusian (Hyde Park, Kenwood) has a fun "Roll it Yourself" DIY Sushi Making Kit for you. The kit includes everything you need to make your own maki rolls (2 rolls) – includes white rice, seaweed wraps, protein of choice, carrots, cucumber, sauce of choice, crunch, sesame seeds, wasabi, ginger, bamboo rolling mat, + recipe card w/ link to instructional video.
Tortilleria Garcia (Springdale, Mason and College Hill) offers Family Dinner Packs as part of their regular menu! You can purchase their meats by the pound (Carnitas, Pollo, Carne, and Al Pastor), or a whole Rotisserie Pollo. All of those come with 1 pack of Tortillas and Salsa. Choose your location from the middle of the page, click menu, and then look for the Family Dinner section at the end.
Nick & Tom's (Bridgetown) had a very nice selection of Family Meals (serves 4-6) including Fettuccini Alfredo, Chicken Chili Melt, Chicken New Orleans, The Big Easy, Chicken Club, plus lots of sides. Scroll down to the end of the menu for their family meal options.
Buca di Beppo (Rookwood) has a number of Family Feast options (serves up to 5) including Pasta Feast with your choice of pasta plus bread and salad or Entree Feast with your choice of entrees plus bread and salad. They also have Take and Bake options.
Montgomery Inn (Montgomery and downtown) now has Family Packs on the carryout menu. Select your pack from one that feeds 2-4 people (1 King Slab, 2 Quarter Chickens or 20 Chicken Wings, a pan of Saratoga Chips, a pan of Ribs King Salad, BBQ Sauce, and a Pie) or one that feeds 6-8 (2 King Slabs, 2 Quarter Chickens or 20 chicken wings, a pan Saratoga chips, a pan of Ribs King Salad or pan of Coleslaw, BBQ sauce, and a Pie).
Eli's BBQ (Findlay Market and Riverside Dr.) sells their amazing BBQ and sides by the pound. Choose from BBQ pork or turkey, mac & cheese, mashed potatoes, baked beans, coleslaw, jalapeno cheddar grits – all by the pound. You can even buy their BBQ sauce by the bottle (news to me!).