You have lots of options when you're looking for THE best burger in Cincinnati. I seriously had trouble narrowing it down to a list of just five! Don't settle for another hum-drum drive through burger with ketchup and mustard. No way!
These local Cincinnati burger joints will help you fill the bellies of your crew. All you have to do is order and pick them up!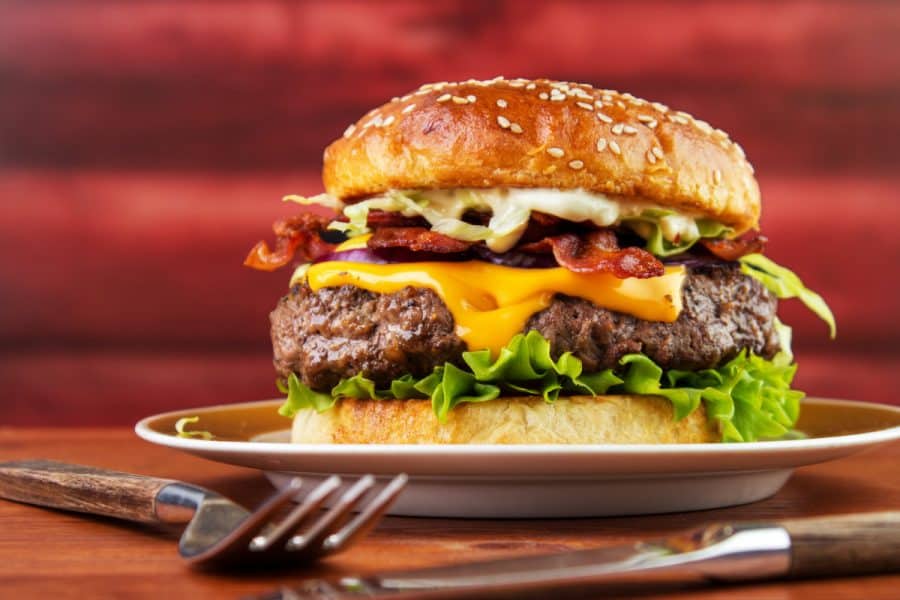 Here's this week's list of great takeout options – a list that is all about the best burger takeout!
---
Many businesses have had to make changes to their schedules, policies, and procedures in 2020. Always call ahead or visit your destination's website to stay up to date on closings, schedule changes, and health & safety requirements before your visit.
---
5 Must Try Cincinnati Burger Spots That Offer Takeout
Fifty West Burger Bar (7605 Route 50, Cincinnati, Ohio)

New to the Cincinnati burger scene, Fifty West Burger Bar has a great selection of burgers for you. Start by choosing a single, a double, or a plant-based burger. Then pick your style (how about "The Ohio" with Cincinnati chili, shredded cheese, mustard, and onion?) and add on fries if you'd like.

Order online or in person.

Note: You know it's good when their site says: "We have been experiencing extremely high demand! If online ordering is not available during open hours we have temporarily disabled it. Please do not call. Check back later or visit us in-person."
---
Quatman Cafe (Norwood = 2434 Quatman Ave. and Mason = 224 West Main Street)

When you're craving a fantastic old-school cheeseburger, Quatman's is your place! The original cafe is a staple in Norwood and they've been flipping burgers there since 1966. Served with your choice of lettuce, tomato, onion, and pickle as well as local favorite Husman Potato Chips or french fries. You have to have a Quatman's burger at least once in your Cincinnati life!

Tip: While you're ordering, ask about buying some of their burgers raw to take home and stick in the freezer. They sell their raw burgers for a just a few bucks each!

Carryout is available. They do not have online ordering. Order in person or give them a call at 513-229-0222 (Mason) or 513-731-4370 (Norwood)

They are closed on Sundays.
---
Sammy's Craft Burgers and Beers (4767 Creek Road, Blue Ash, Ohio 45242)
Sammy's is one of my favorite spots when I'm craving a good burger. There's sure to be something you love when you can choose from 18 burgers on their menu plus whatever they have as a special that day. My personal favorite is the Guacamole Burger (guac, chipotle mayo, bacon, pepper jack, field greens, and tomato) with their Bleu Cheese burger taking a close second. Their signature "burger grind" is ground fresh daily and their topping ingredients are always super fresh.

Order online or call 513-745-9484

Bonus: They now have a food truck too! Here's where to find them as they serve the folks all around Cincinnati.
---
Zip's Cafe (1036 Delta Ave., Cincinnati, Ohio 45208)
Zip's is another Cincinnati legend when it comes to burgers. This burger main stay is another solid, no frills, old school spot for burgers (and try the chili, too!). Choose from the Zip Burger or the Double Zip Burger. Go Cincinnati German with a Girth Burger (a Zip Burger with a split grilled mettwurst) or indulge in The Train Wreck ( a Zip Burger with ham, grilled mettwurst, and three cheeses!). The Flying Pig is a Zip Burger with shaved ham and two slices of bacon! They also offer a Garden Burger, a Black Bean Burger, and a Turkey Burger.

Carryout is available. Order by phone at 513-871-9876

They are closed on Mondays and Tuesdays.
---
Chandler's Burger Bistro (Delhi = 6135 Cleves Warsaw Pike, 45233 and Harrison = 10533 Harrison Ave., 45030)

When your burgers are made with 100% USDA choice ground chuck from Bridgetown Finer Meats and served on a locally made Servatti's bun, you know it's got to be good! Choose from 15+ burger combos including The Who-Dey Burger (ghost pepper cheese, Cajun Sriracha blend, lettuce, bacon, and their gouda cheese bites) and The Westsider (grilled pickles and onions, American cheese, tartar sauce and lettuce).
Order by phone at 513-941-0823