With all that's going on in 2020, we thought it would be great to highlight some locally owned and operated Cincinnati restaurants that offer great takeout meals…. great for those days when you just. can't. cook. another. meal!
We're trying to stay all local with this "Dining Out at Home" series (yes, it's a series we'll be doing each week so if you have any topic ideas or recommendations for us, leave a comment!). Watch for a new list every week!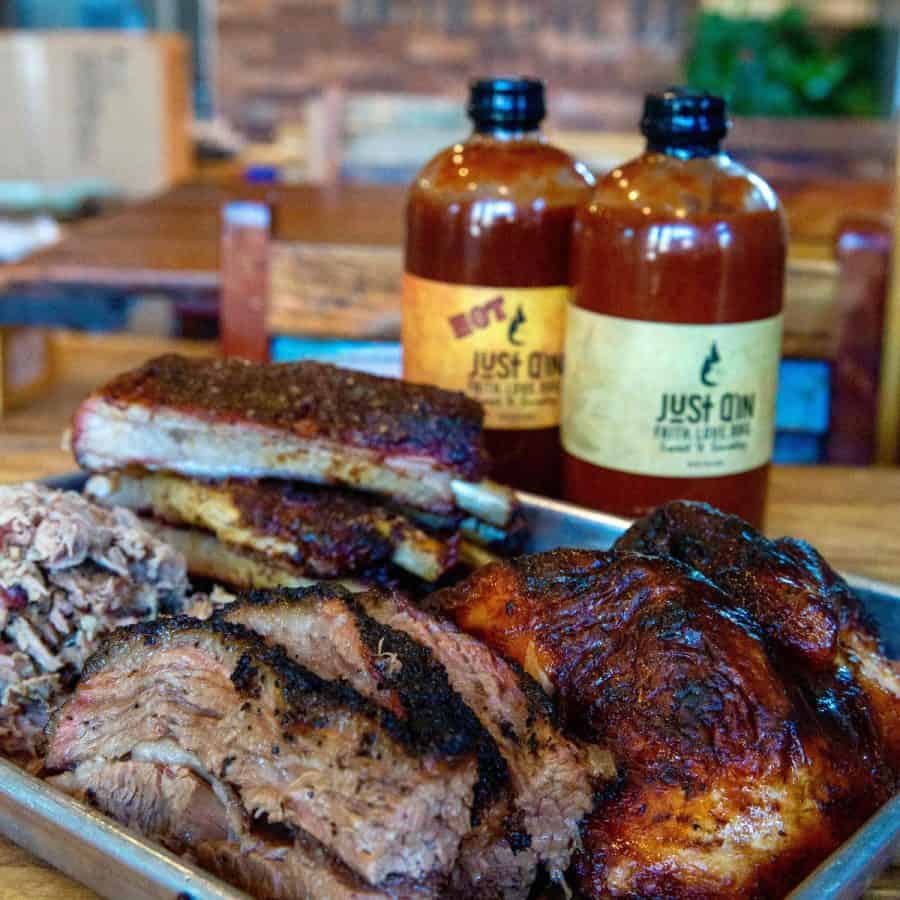 This week we're featuring some great spots for BBQ restaurants that offer takeout in Cincinnati. I'm sure you've heard of (and probably tried) a few of these but hopefully you'll discover some new ones too!
---
---
5 Must Try Cincinnati BBQ Restaurants That Offer Takeout
Eli's BBQ (two locations – Findlay Market and 3313 Riverside Drive, Cincinnati, Ohio 45226)

A long time favorite for many (including myself!), Eli's has a cult-like following that's well deserved. They serve up all kinds of BBQ goodness from pulled pork to smoked turkey to hickory smoked ribs, tips, and wings. Don't pass up their sides – everything from mashed potatoes to jalapeno cheddar grits.

My personal favorite: pulled pork BBQ sans the bun (try it!) with "dirty" mashed potatoes (they put burnt ends on top – yum!).

They offer their food as single meals or as "picnic portions" for families and crowds.

Order online or in person.
---
Sweets and Meats BBQ (2249 Beechmont Avenue Cincinnati, OH 45230)

Open for carryout with curbside service, this award winning BBQ spot cooks offers family packs, party packs, single serve entrees, and more. Choose from pulled pork and chicken, brisket, and ribs plus loads of sides and desserts.

Order online, in person or by phone at 513-888-4227.

Hours are Wednesday – Saturday 11am to 8pm and Sunday 11am to 6pm (or until they sell out).

Bonus! Sweets and Meats BBQ also has a food truck so be sure to watch for them all over town (food truck schedule found here). Keep an eye on their Facebook page for specials.
---
Lucius Q (1131 Broadway St., Cincinnati, Ohio 45202)
Lucius Q serves up a great mix of comfort food featuring smoked meats with traditional southern sides. Don't limit yourself just a sandwich here – their meats make for a great lower-carb option when you go without the bun (and you don't need it with this yummy smoked meat!).

You can order meats by the pound, sides by the gallon, and desserts by the dozen. It's perfect for large groups and families, or to freeze some for later! Or you can, of course, order individual meals.

Order online or by phone at 513-421-4BBQ.

Plan Ahead: they'd like to have you order an hour or more in advance. You can also schedule your pickup for whenever it's convenient.
---
Just Q'in (975 E McMillan, Walnut Hills, Ohio 45206)

Their meat is smoked, low and slow. All meats are cooked fresh daily and the sides are made in house daily too!

Order your food in single servings or by the pound. They even have "Feed the Crew" meals that include everything you might want for a great BBQ dinner.

Order online or by phone at (513) 452-MEAT.
They are closed on Sundays.
Bonus: They have a food truck at The Growler Stop in Newtown (Wed.-Sat., 12-7pm)
---
Montgomery Inn (9440 Montgomery Rd. and at the Boathouse downtown – 925 Riverside)

We can't have a BBQ list and NOT include Montgomery Inn, right? I know you all probably know you can get BBQ here but did you know they now offer family sized carry out?

Order your meals as single serve entrees or as family packs.

Curbside is offered Wed.-Sunday, 2-9pm

Order online or by phone: Montgomery (513) 791-3482, the Boathouse (513) 721-7427
---