The American Sign Museum in Cincinnati is one of the city's hidden treasures! From bright neon signs to iconic porcelain signs, this place is all about preserving and displaying signs from days gone by.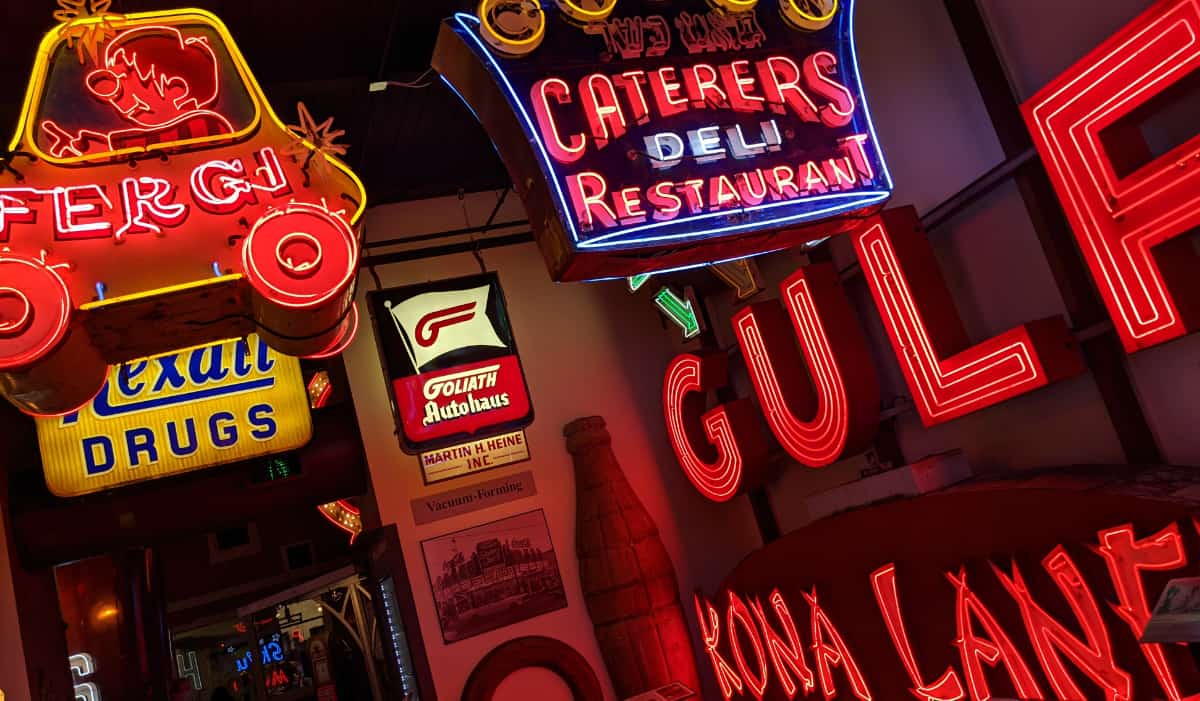 The American Sign Museum is the largest public museum dedicated to signs in the United States. Take a trip down memory lane as you wander the 20,000 square feet of space in Camp Washington. You'll discover pre-electric signs adorned in goldleaf, early electric signs, beautiful art-deco neon, modern plastic signs, small signs, huge signage, and so much more. You'll find wood signs, metal signs, gas, light bulb, neon, plastic… the list goes on and on.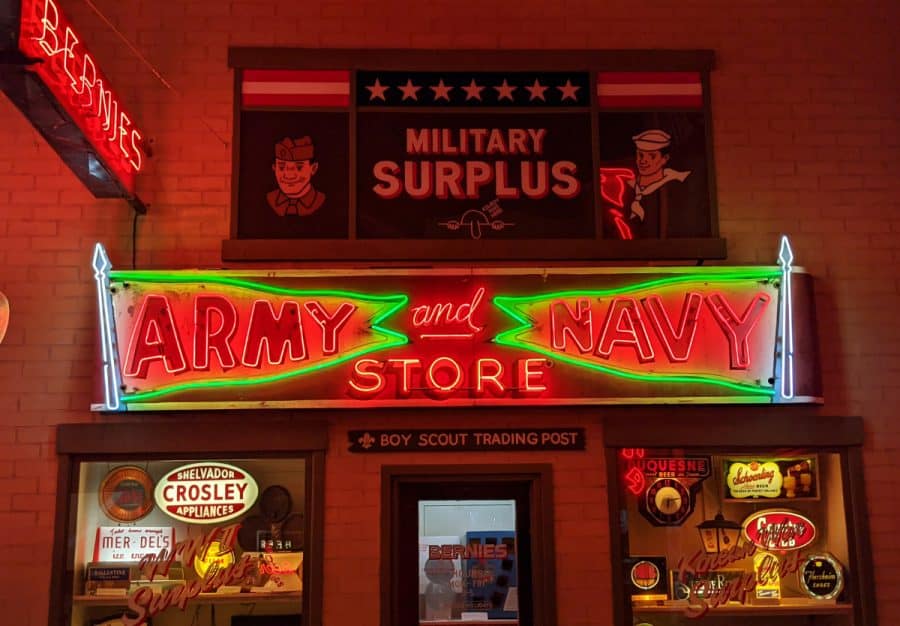 The signs come in all shapes and sizes. From a giant Holiday Inn marquis to rotating signs to shopfronts and shop windows re-created for the "Signs on Main Street" display (the museum's nod to Main Street USA), you'll find signs of every shape and color.
Where Did All the Signs Come From?
You might say that Founder Tod Swormstedt has signs in his blood. A fourth-generation editor of "Signs of the Times" magazine, Tod took all of his experience and passion for the craft and turned it into what is now known as the American Sign Museum.
Tod saw a need to preserve the 3D craftsmanship of vintage sign companies, to pay tribute to the craft, and to tell their stories to future generations.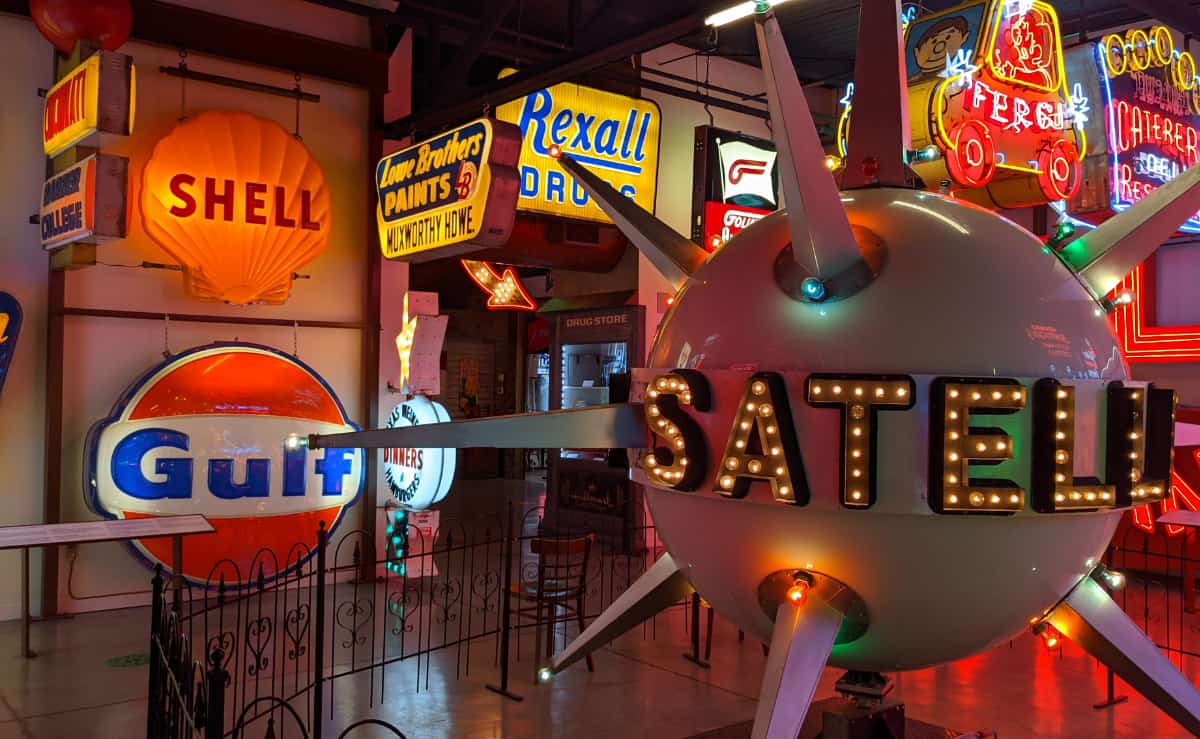 Most of the initial signs he acquired were contributions from companies. As he started picking up signs that were no longer wanted, word got out and his collection of signs grew and grew. About half of the massive current collection was donated.
Swormstedt's collection now includes more than 4,000 catalouged items. Because the museum is dedicated to craft of sign-making, the collection includes much more than signs.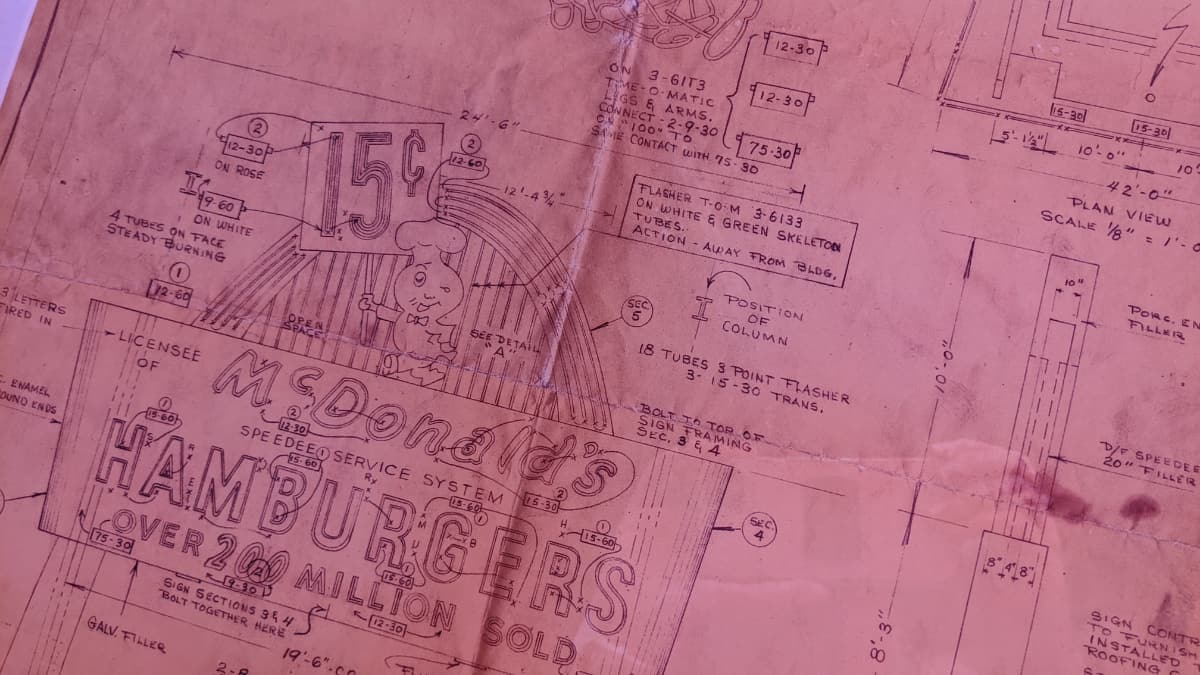 You can explore the history of the sign industry with a look at blueprints, books, catalogs, tools, and other sign-related objects throughout the mueum.
What are some Favorite Signs at the Museum?
Do you remember when McDonald's put how many burgers were served on their signs?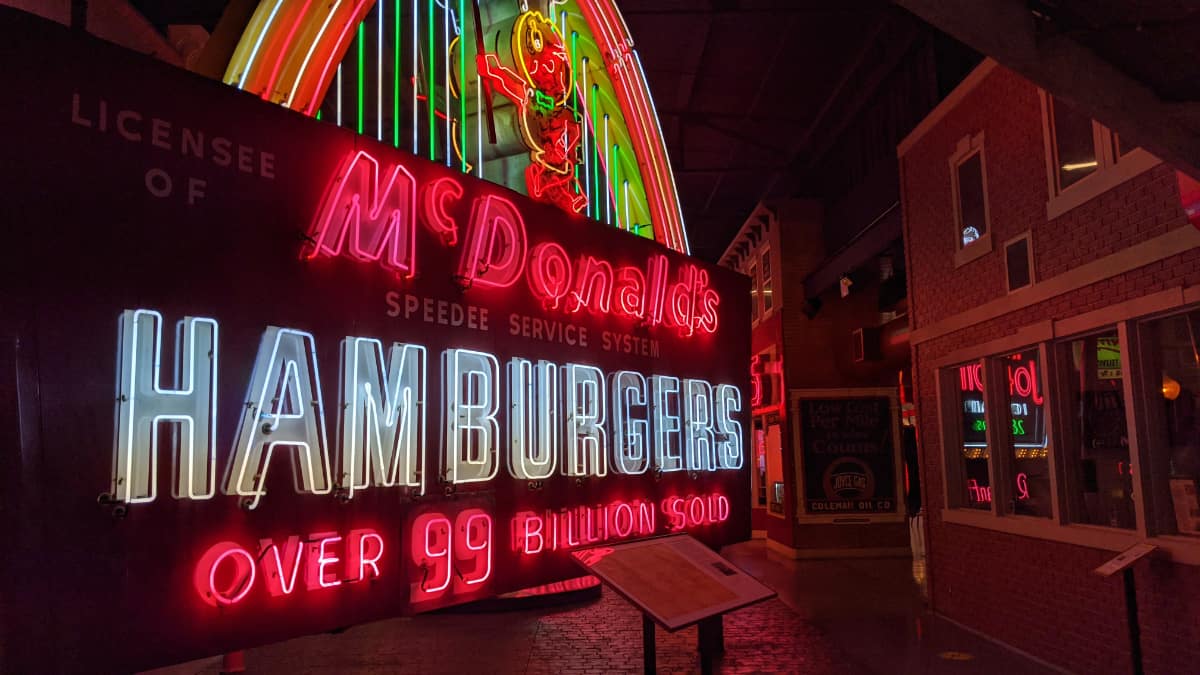 Big Boy is hard to miss when you visit this attraction. Look closely and see if you can find the differences in the 1960's version of Big Boy you'll find there (vs. those you'll find today). Do you remember Big Boy's slingshot…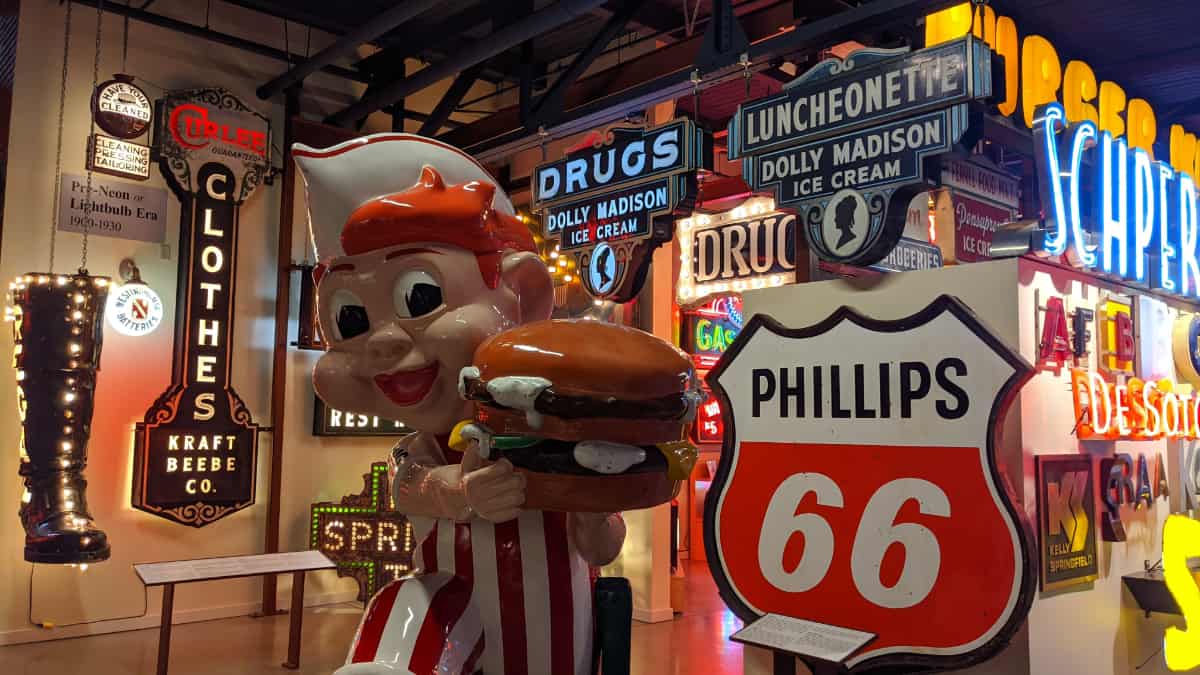 Don't miss the wall of Cincinnati related signs in the "Mail Pouch Room". Here you'll find painted signs as well as a number of lighted signs from Cincinnati days gone by. And while you're there, take a few moments and watch the short documentary that tells you more about the signs you've seen in the museum.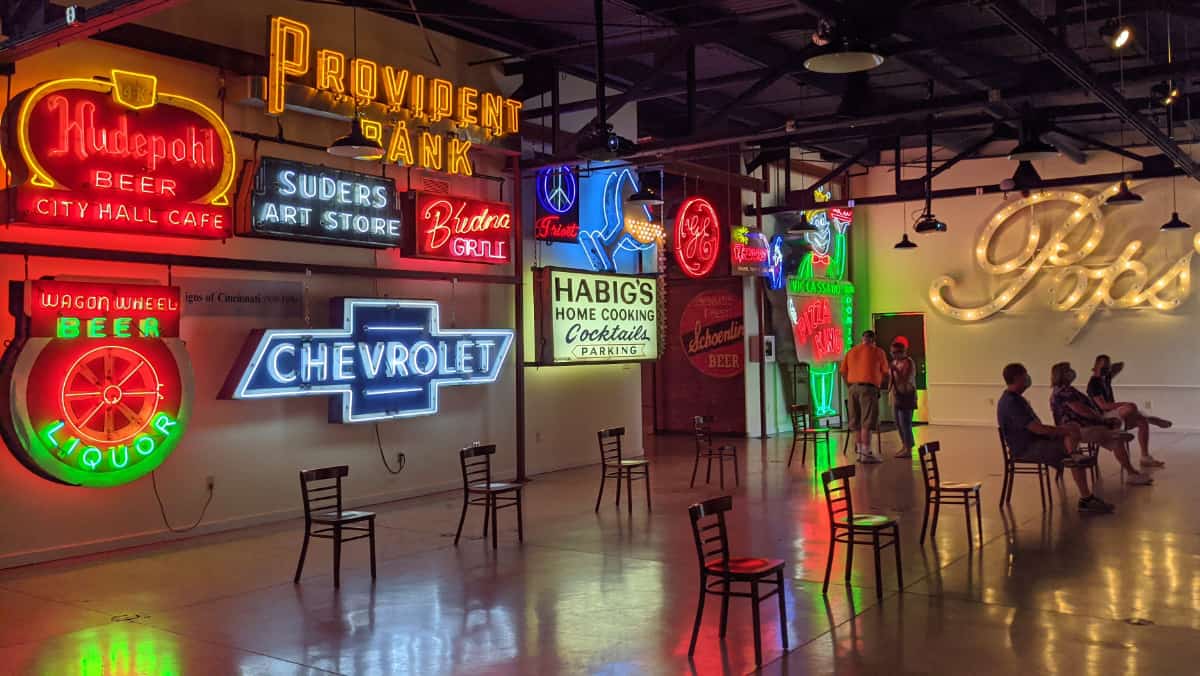 As you make your way through the sign history, be sure to take some time to read the informational signs that accompany the displays. From information about where the signs were originally displayed, the sign's era, and the stories of the signs, you'll gain a new appreciation for this art form!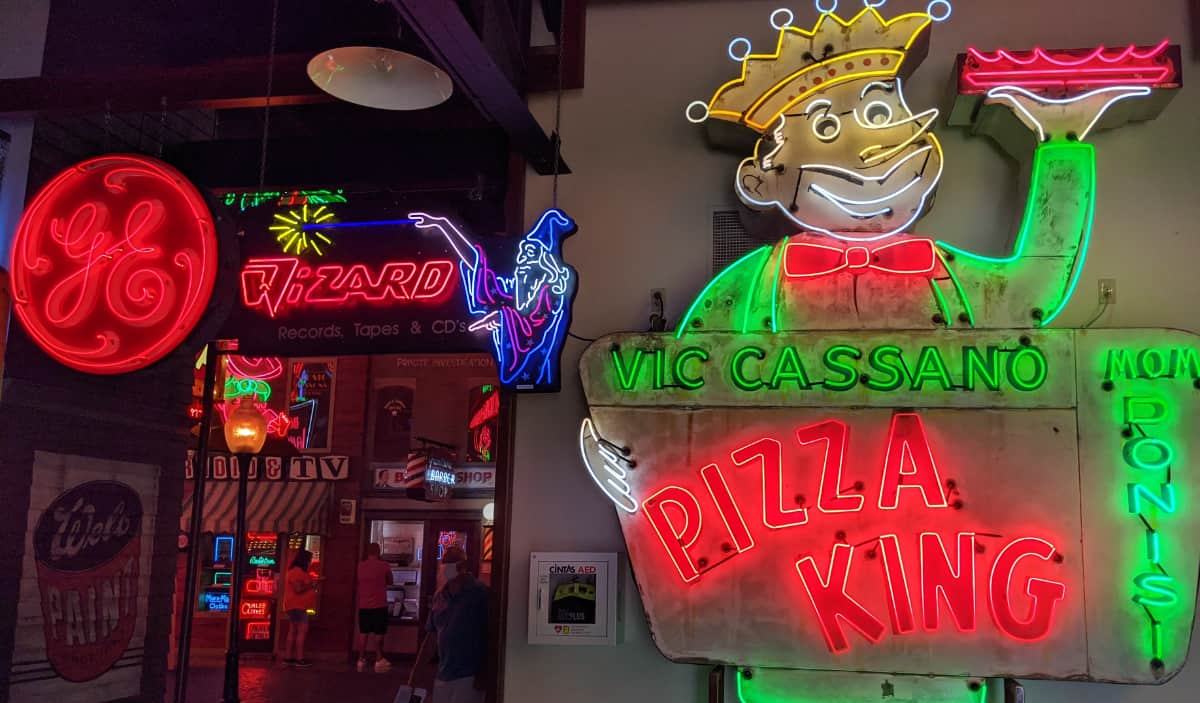 Sign Making and Restoration On-Site
Don't miss your chance to peer through the windows to see the workshop for Neonworks of Cincinnati. This working shop, dedicated to the art of neon signs, is housed within the museum and helps with their vintage neon restoration. In addition, Neonworks also makes new custom neon signs for local businesses, sign companies, artists, and individuals.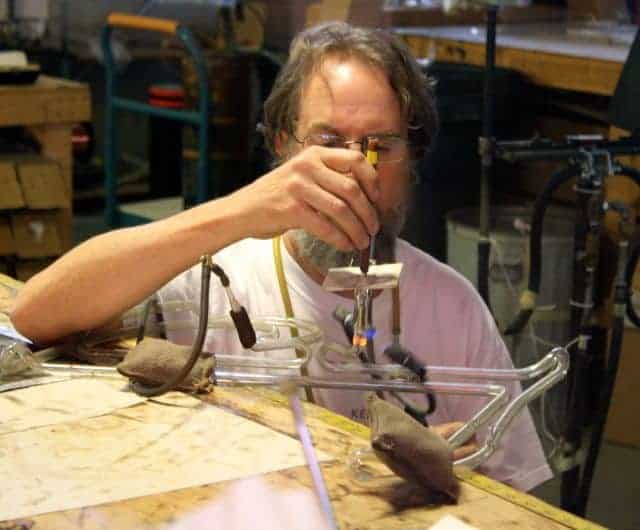 Do They Offer Tours?
Public Tours are offered at the at the museum on Saturdays at 12:30pm and 2:30pm and Sundays at 2:30pm (as of Feb., 2023). Join a guided tour to learn the stories behind the signs as well as how signs were made and why different materials and processes were used.
Group tours for this unique attraction can be requested (group tours require an additional fee). For more information and booking please e-mail jsandman@americansignmuseum.org or call 513-701-2191.
Audio tours are available online. Bring your earbuds or use headphones and simply start the tour (link here). The audio will guide you through the museum, taking you through the exhibits and telling you about the signage.
They also have printed highlights you can use for a Self Guided Tour.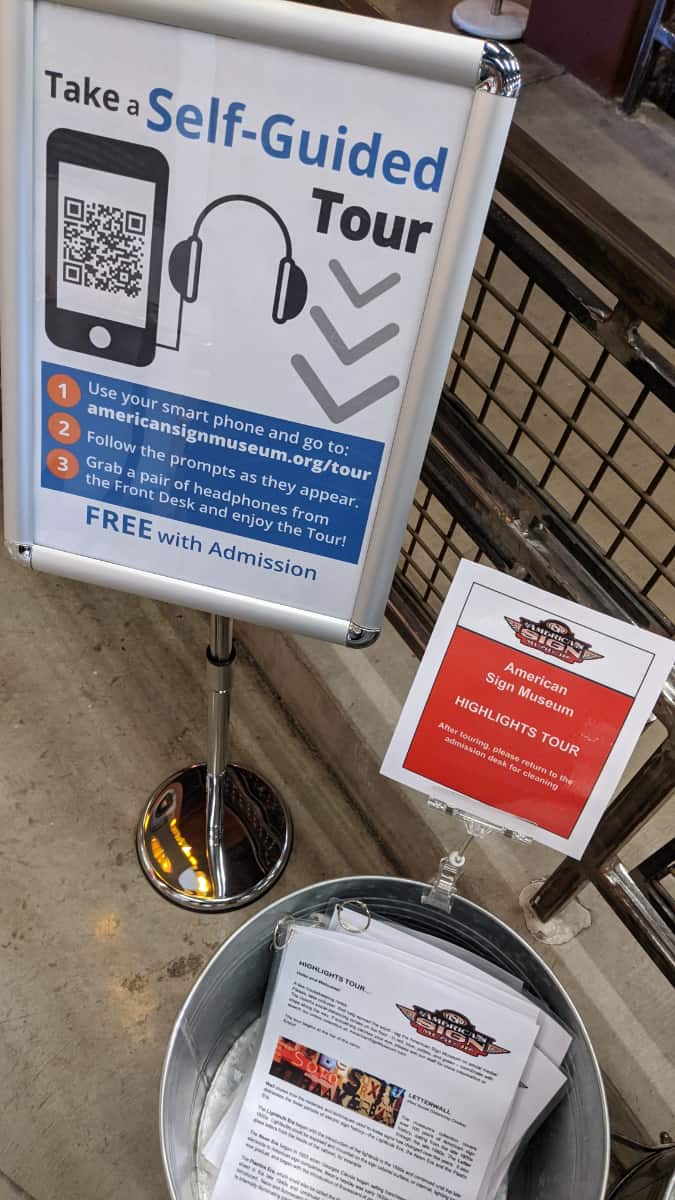 Do They Have Special Events or Programs?
The museum has many special events of their own. Look for Signs and Songs – an event with live music. You might see tube-benders working their craft making neon signage when they have Neonworks demonstrations on the calendar. Have kids in tow? Watch for their Family Day events too! Special events vary so be sure to check back often.
Find their current Museum Events here.
The museum can be rented for weddings, parties, meetings, trade shows, and more. Check out their options here.
They also offer a number of educational experiences. Be sure to take a look at their scavenger hunt printables before you go (especially if you're taking children). They also have some "ASM at Home" activities that might be a good follow up to your visit.
The museum even offers special programming for school groups, both in person and virtual.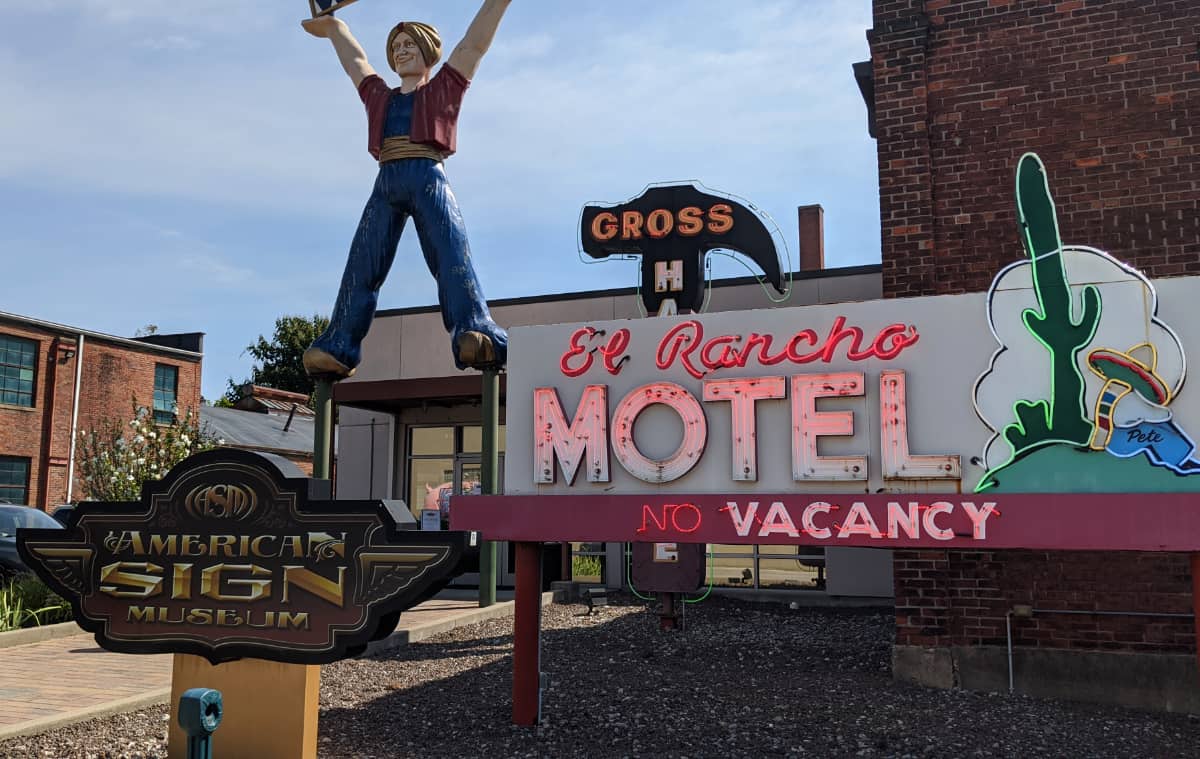 Learn More About the American Sign Museum:
We think this is one Cincinnati spot that is well worth a visit!
The American Sign Museum is located at 1330 Monmouth Avenue, Cincinnati, Ohio 45225
Admission is charged. Tickets are $15 per adult. Seniors and military/first responders are $10 . Youth ages 13-18 are also $10 with a policy of three children 12 and under being free with each paid adult. Rates for field trips and private tours are note included in those rates. (Pricing last updated Feb., 2023 – be sure to click the link above to verify current pricing.)
The museum is closed on Monday and Tuesday (last updated 2023).
You can expect to spend about an hour or two to see this local museum.
The museum has a free parking lot and there is street parking available on Monmouth Avenue.
---
Interested in visiting other Cincinnati Museums? Check out Must See Museums in Cincinnati