Here we are with another installment of "365 Things to do in Cincinnati" and today I am bringing you news about Holiday Junction featuring the Duke Energy Holiday Trains!
Opening on November 8, 2013, this is the 68th year for the train display!
What we have come to love and know as "our" Christmas train display actually got its start as a traveling model train set for the Baltimore and Ohio Railroad. In 1936, B&O sponsored a nation-wide model train building contest as part of a promotional effort for their new "Royal Blue", a train that offered air conditioned cars. To test the contest models, B&O constructed a portable layout for the trains. And THAT is how this whole little set was started!
So how did the train set end up in Cincinnati? In 1945, Ed Hodges (a CG&E employee) saw the display in Baltimore. He invited them to display the trains in Cincinnati for the Christmas season. The trains made their first appearance in Cincinnati in 1946 in the lobby of Cincinnati Gas and Electric.  The whole set up traveled back to B&O's headquarters for repair and storage each year.  The set was placed on permanent loan to us in 1968 and it was then that CG&E took over the storage and upkeep of the set.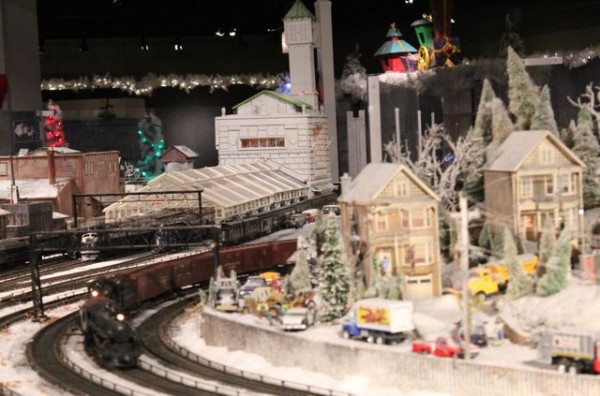 For years, the train set was displayed in the downtown lobby at the CG&E building.  Many of us remember that special holiday tradition of going downtown to see the trains (and to get a cookie!).
Today, the trains have a permanent home at the Cincinnati Museum Center.  The set no longer has to be deconstructed every year for storage.  It actually remains right there, all set up throughout the year.  The train masters can work their repair and install magic all year long. And the set doesn't have to suffer the wear and tear associated with being stored in crates each year.
The trains are "O gauge" (1/4″ to the foot) and they have 1,000 feet of track over which to run. There are 50+ locomotives and 300 pieces of rolling stock. 45 miniature signals are interspersed throughout the display and they actually work! The display started with just six buildings in 1946 and now has more than 200.  I could spend hours just looking at the miniatures including people and houses and animals and old trucks. But when a train comes by, it simply takes center stage.  What a treasure this is!
Of all of the amazing sets, my favorite has to be the sparkly circus trains. Tell me you wouldn't love to see these come down a real track all full of glitter!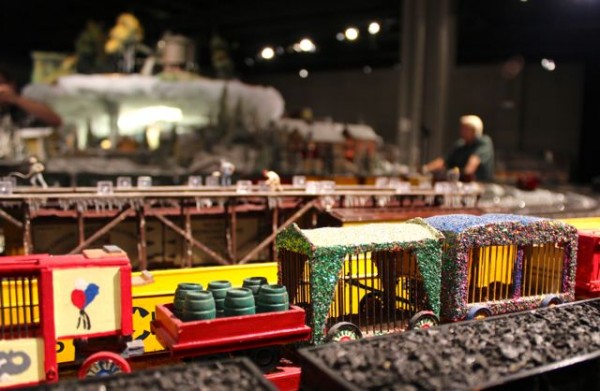 How did I come to learn so much about these trains?  From this guy…. Gayl Rotsching (below).  Gayl has been to see the train display every single year that it's been in Cincinnati (since 1946).  For those of you doing the math, that means his first trip to see the trains was when he was three!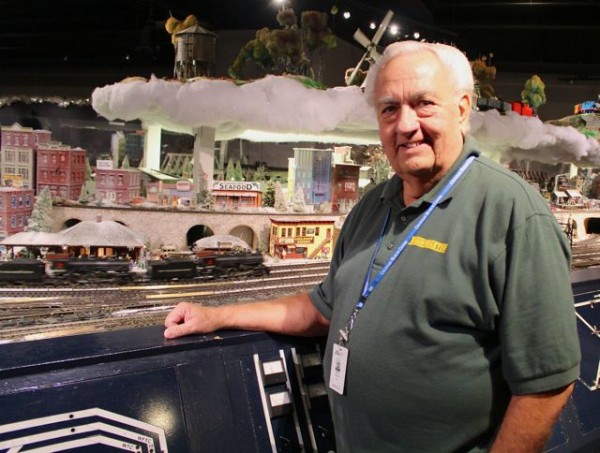 Gayl was a lifetime CG&E employee, now retired.  An avid train enthusiast, he is one of the train masters who oversees the Cincinnati Holiday Train display. I talked to Gayl for quite a while when I went to visit the display and what a gem he is!  He knows this system inside and out, including the technical aspects and the history. If you happen to see Gayl when you go to see the trains be sure to stop and say thanks for all these guys do in continuing to make this a holiday tradition for all of us.
The Duke Energy Holiday Trains are just part of what you'll see at Holiday Junction at the Cincinnati Museum Center.  Holiday Junction also includes the old Pogue's reindeers, more train sets, "Toys Through Time" (a vintage toy display), Santa, and more. Admission is FREE to Museum Center Members and to Duke Energy customers with a special confirmation code. Click here to get your code. More information about Holiday Junction and your Duke Energy passes can be found here. Admission that includes Holiday Junction and entry to all three museums (Cincinnati History Museum, the Duke Energy Children's Museum, and the Museum of Natural History and Science) is $12.50 for adults and $8.50 for children; entry to the just the Cincinnati History Museum only is $8.50 for adults and $6.50 for children and includes free entry to Holiday Junction featuring the Duke Energy Holiday Trains.  Cincinnati Museum Center parking is $6 per vehicle. After 4:30 p.m., parking is $4 per vehicle. (all prices for 2013 season) Click here to purchase tickets and for more information on admission