There is no better day to be in Cincinnati than Reds Opening Day! This city celebrates Opening Day like no other!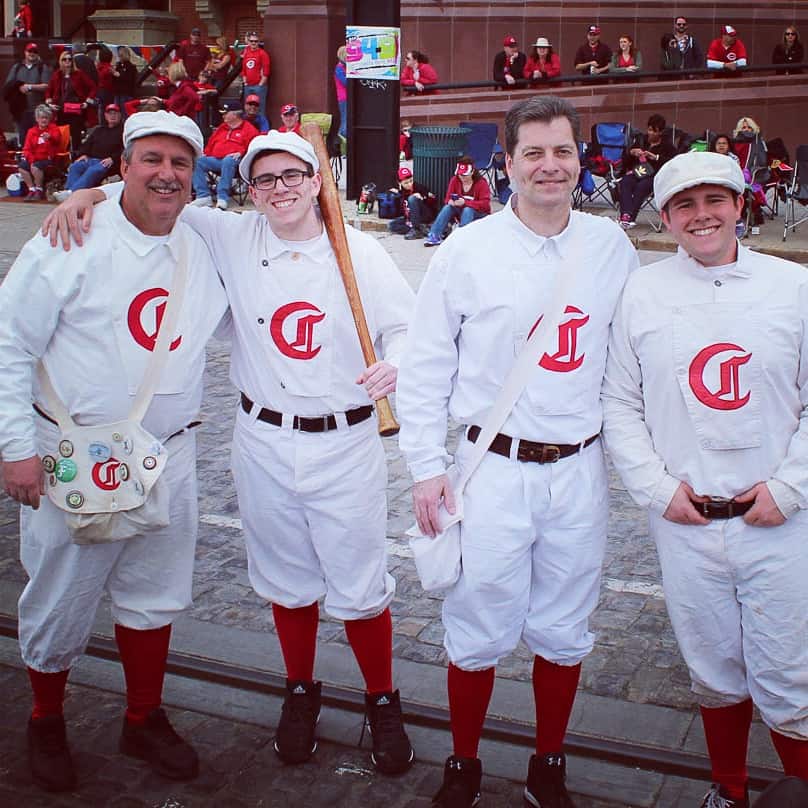 Major League Baseball opens its season earlier than ever this year – March 26, 2020. All teams will have opening day on that date. While the Cincinnati Reds are no longer guaranteed the first game of the season, we do get to have OUR first baseball game at home. That's a win we look forward to each and every year!
Get Ready for Cincinnati Reds Opening Day with this info:
Reds Opening Day 2020 info and details
Findlay Market Opening Day Parade details
Fun Opening Day Activities
Parking Info and Street Closures
Opening Day Bar Specials and Parties
Reds Opening Day Info and Details
Cincinnati Reds Opening Day is Thursday, March 26, 2020
The Cincinnati Reds play the St. Louis Cardinals at Great American Ballpark
The Reds game starts at 4:10 EST (weather dependent)
To be noted: Backpacks will no longer be allowed into Great American Ball Park beginning Opening Day on March 26.
The game will be televised on Fox Sports Ohio
Findlay Market Opening Day Parade Details
The 2020 Opening Day Parade begins at noon.
The Parade Route: The parade starts at Findlay Market (Race Street side). It then heads south on Race Street and turns left on 5th Street. The parade will pass Fountain Square and ends near the Taft Theater.
The Parade Grand Marshal is Marty Brennaman
Opening Day Activities:
Parking, Street Closures, Getting Around Town
The City of Cincinnati has an Opening Day Parking map – find it here.
There are lots of parking options around town (keep in mind that the parade route will involve road closures): downtown parking info
There will be Road Closures – see the map here (should be updated the week of the parade).
The Cincinnati Bell Connector is not likely to be running during the parade as it follows a similar route. We will update this when we have definitive information.
Metro will operate on Opening Day but you can expect detours. Click here for up-to-date Detours and Delays info.
Opening Day Bar Specials and Parties:
The following establishments have Opening Day related events: