It's Day 262 of "365 Things to do in Cincinnati" and today we're featuring a number of upcoming "birding" classes brought to us by the Hamilton County Park District.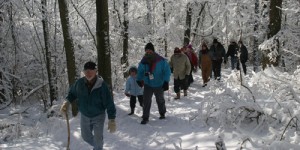 Looking for a hobby?  Something you can do all year round?  And free?  With the help of the Hamilton County Park District you can easily enjoy the hobby of birdwatching.  It can be done from any venue – a park, a lake, even your own backyard.
The Hamilton County Park District birding classes start this Sunday (Jan. 2, 2010) with "Winter Bird Feeding".  This class will be held at Fernbank Park at 2pm.  The class will feature tips on which bird feed (or suet) to use to attract the birds you like.
Sunday, January 9 you can take a "Snowbirds" class at Woodland Mound at 2pm.  This class will focus on the birds that call Ohio home all year round.
You can also take "Winter Birds for Beginners" that same day at Winton Woods at 3:30pm.  Perfect for the beginner, this class will cover what birds you might expect to see at your feeder.  And if time permits  you will get to practice your skills outside.
On Sunday, Jan. 16 you can meet up with fellow bird watchers to admire our feathered friends for "Birding at Armleder" (4:30 at Armleder Main Shelter).
And if you really enjoy your birdwatching, you might like to join The Cincinnati Bird Club. They meet monthly and go on field trips together.
These classes are all free.  You will need a Hamilton County Park pass to enter the park ($10 for the entire year and you can buy it at the park entrance).