from Bridgett Raffenberg, founder of 365Cincinnati.com
What is this 365Cincinnati site all about anyway?
Way back in 2010, I was listening to a podcast about a man who was operating his own 365 site in Portland.  I LOVED the idea and knew it would be a great way for me to reconnect with my husband (we were recent empty nesters).  That night I threw the site together, bought the domain, and got started.  My first post (April 9, 2010) was on Sharon Woods.
For the first year we went out and did something every single day. We'd come home and then write a post all about it. Along the way we learned about all kinds of new places, tried new things, ventured inside places we've always said we'd like to stop into, and learned about so many places we never knew existed.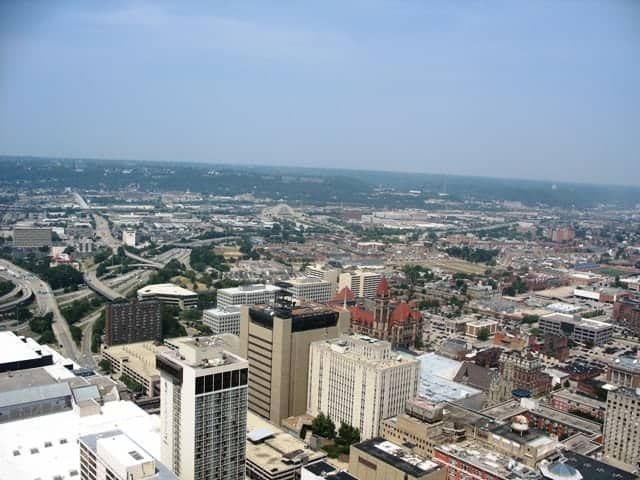 At some point this idea went way beyond my own little adventures and became much more. This site and the Facebook page (100,000+ strong) have connected Cincinnati lovers from all of the city, the area, and the country. We're all "hometown proud" – no matter where we currently live. And the site has given us all a place to come together in an effort to enjoy everything that makes Cincinnati the great city that it is.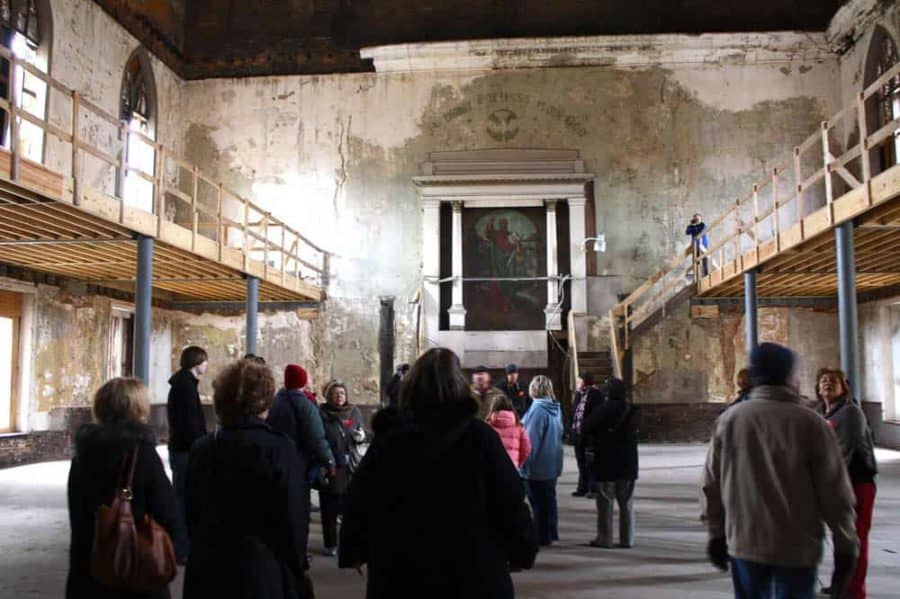 Fast forward to today… we are still writing about all kinds of things to do in Cincinnati. From brewery visits (see our 2019 project – 52 Breweries) to behind the scenes tours to theater to art to LOADS of great food, we hope to be YOUR online source for things to do in Cincinnati!
Take a look through the list below (our first 365 days) and peruse our site for ideas when you need something to do. I hope we'll inspire you to get out there and enjoy this fine city we call home!
Day 1 – Sharon Woods
Day 2 – The Wine Loft (now closed)
Day 3 – Burger's Farm and Garden Center
Day 4 – Clifton Plaza on Ludlow
Day 5 – Five Guys Burgers on Tylersville
Day 6 – Taste of Belgium
Day 7 – Spring Grove Cemetery
Day 8 – Dairy Corner
Day 9 – Sawyer Point
Day 9.5 – Earth Day at Sawyer Point
Day 10 – The Root Beer Stand
Day 11 – Findlay Market
Day 12 – Skyline Chili
Day 13- Friends of the Library Book Sale
Day 14 – Butterfly Show at Krohn Conservatory
Day 15 – Star Lanes on the Levee (now closed)
Day 16 – Walking with the Hounds at Germania
Day 17- Take the Cake (now closed)
Day 18 – Glenwood Gardens
Day 19 – Jungle Jim's International Market
Day 20 – Zips Cafe | Best Burger in Cincinnati
Day 21 – Party in the Park (this event is no longer offered)
Day 22 – Senor Roys Taco Patrol (now closed)
Day 23 – Newport Gangster Tours
Day 24 – Walking Tour of Downtown Cincinnati
Day 25 – Taste of Cincinnati
Day 26 – Camping at Winton Woods
Day 27 – Fresh Produce Stands | Daisy Mae's Market (now closed)
Day 28 – Cincinnati Zoo | Zoo Babies
Day 29 – The Goody Shop | Creamy Whip
Day 30 – Claddagh's Irish Pub (now closed)
Day 31 – Cincinnati Rollergirls
Day 32 – Purple People Bridge
Day 33 – Essencha Tea House
Day 34 – Abby Girl Sweets Cupcakery
Day 35 – Wildflower Cafe
Day 36 – Contemporary Arts Center | Shepard Fairey Exhibit
Day 37 – Self-Guided Walking Tour of Wyoming, Ohio
Day 38 – Cincinnati Observatory
Day 39 – Half Day Cafe
Day 40 – Acoustic Lunch Tuesdays at Piatt Park (event no longer offered)
Day 41- Ikea in West Chester
Day 42 – Terrys Turf Club
Day 43 – Enjoy Fountain Square
Day 44 – The Biergarten at Findlay Market
Day 45 – Civil War Re-enactment
Day 46 – Queen City Underground Tour
Day 47 – Putz's Creamy Whip
Day 48 – Miami Whitewater Forest
Day 49 – 20th Century Theatre
Day 50 – Wake Nation
Day 51 – Gordo's Pub and Grill
Day 52 – Anderson Ferry
Day 53 – Taste of Cincinnati
Day 54 – Ludlow Bromley Yacht Club
Day 55 – Cafe de Wheels (now closed)
Day 56 – Blooms and Berries Farm Market
Day 57 – Blue Chip Gourmet | Loveland (now closed)
Day 58 – Summerfair at Coney Island
Day 59 – Miller-Leuser Log Cabin in Anderson
Day 60 – Loveland Bike Trail
Day 61 – Mt. Washington Creamy Whip and Bakery
Day 62 – Frisbee Golf
Day 63 – FlipDaddy's Burgers and Fries
Day 64 – Woodland Mound
Day 65 – Wet Playgrounds
Day 66 – Sammy's Gourmet Burgers and Beer
Day 67 – The National Underground Railroad Freedom Center
Day 68 – Cooking with Caitlin on Fountain Square
Day 69 – Thrift Store Shopping
Day 70 – Local Farmers' Markets
Day 71 – Greenhills Creamy Whip
Day 72 – Parky's Farm
Day 73 – Celebrate Father's Day Cincinnati Style
Day 74 – LaRosa's Pizza
Day 75 – Meadow Links and Golf Academy
Day 76 – Molly Malone's
Day 77 – The Rookwood (now closed)
Day 78 – Panegyri Greek Festival
Day 79 – PAC Art Gallery (now closed)
Day 80- The Cincinnati Art Museum
Day 81 – Quatman Cafe in Norwood
Day 82 – Theodore M. Berry International Friendship Park
Day 83 – Ohio Valley Antique Mall
Day 84 – Ignite Cincinnati (event no longer offered)
Day 85 – Lavomatic Cafe (now closed)
Day 86 – Greenhills Swimming Pool
Day 87 – Red White and Blue Ash
Day 88 – Devou Park
Day 89 – Andy's Mediterranean Grille
Day 90 – Hamburger Mary's (now closed)
Day 91 – Berlin Wall
Day 91 – St. Rita Fest (event no longer offered)
Day 92 – Burnet Woods
Day 93 – Second Sunday in OTR
Day 94 – Gold Top Dairy Bar
Day 95 – Mt. Airy Forest and Treehouse
Day 96 – Mecklenburg Gardens
Day 97 – Western Bowl
Day 98 – Schutzenfest at Kolping
Day 99 – Neons (now closed)
Day 101 – Henke Winery
Day 102 – Watch the Cincinnati Reds at Great American Ball Park
Day 103 – Totter's Otterville
Day 104 – Zip Dip
Day 105 – Ault Park
Day 106 – the Betts House
Day 107 – Shakespeare in the Park
Day 108 – Play Outside at the Back Porch Saloon
Day 110 – Annabel's (now closed)
Day 111 – French Park
Day 112 – Coffee Emporium
Day 113 – Areti's Gyros
Day 114 – 365Cincinnati Scavenger Hunt at Findlay Market
Day 116 – It's Just Crepes (now closed)
Day 117 – MiCa 12/V
Day 118 – The Beach Waterpark
Day 119 – Florence Freedom
Day 120 – Morgan's Canoe
Day 121 – Ingredients
Day 122 – Play Me I'm Yours (this event has ended)
Day 123 – Carew Tower
Day 124 – Otto's
Day 125 – Avril's Marketplace
Day 126 – Downtown Library | Friends' Shop
Day 127 – Milford Cruise-In Car Show
Day 128 – Wiener Dog Races at River Downs
Day 129 – Burlington Antique Show
Day 130 – Wags Dog Park
Day 131 – Tour of the Rumpke Landfill
Day 132 – By Golly's
Day 133 – Sugar Cupcakery (now closed)
Day 134 – Downtown Library | Genealogy Department
Day 135 – Hopewell Meadows Park
Day 136 – Stratus Helicopter Ride over Cincinnati
Day 137 – Eden Park
Day 138 – the Grand Finale
Day 139 – Concert on the Commons | Greenhills
Day 140 – The Children's Section of the Library Downtown
Day 141 – Germania Oktoberfest
Day 142 – Mt. Adam's Bar and Grill
Day 143 – Civil War Cincinnati Tour
Day 144 – Farbach-Werner Nature Preserve
Day 145 – Minges Candy Shop
Day 146 – Harriet Beecher Stowe House
Day 147 – Rubber Duck Regatta
Day 148 – Guinness Oyster Festival
Day 149 – Willie's Sports Cafe (Kenwood location is now closed)
Day 150 – Riverfest
Day 151 – Fire Museum of Greater Cincinnati
Day 152 – Wooden Nickel Antiques
Day 153 – Music Hall Tour
Day 154 – Dixie Terminal
Day 155 – St. Mary's Cathedral Basilica of the Assumption
Day 157 – Ohio Bookstore
Day 158 – American Sign Museum
Day 159 – Joe's Diner (now closed)
Day 160 – Art Gallery
Day 161 – Christian Moerlein Prohibition Resistance Tour
Day 162 – Oktoberfest Cincinnati
Day 163 – Arnold's Bar and Grill
Day 164 – Old West Festival
Day 165 – Civic Garden Center of Greater Cincinnati
Day 166 – William Howard Taft National Historic Site
Day 167 – Clippard Park
Day 168 – Aronoff Center for the Arts
Day 169 – Great Outdoor Weekend
Day 170 – Paint the Street | The 2nd Annual Ta-Da (event is over)
Day 171 – Nada
Day 172 – The Lackman
Day 173 – Webb C. Gower Park
Day 174 – Mercantile Library
Day 175 – Bromwell's
Day 176 – Gorman Heritage Farm
Day 177 – Hudy Tailgate on the Square
Day 178 – Hathaway's Coffee Shop
Day 179 – 365Cincinnati City Hall Tour
Day 180 – Redtree Gallery
Day 181 – Cincinnati Premium Outlets
Day 182 – Marx Hot Bagels
Day 183 – TEDx Cincy
Day 184 – Aglamesis Brothers
Day 185 – Cincinnati Nature Center | Rowe Woods
Day 186 – Winton Woods Walking Trails
Day 187 – Pyramid Hill Sculpture Park
Day 188 – Caldwell Nature Center
Day 189 – Awakenings Coffee and Wine
Day 190 – Schappacher Farms
Day 191 – Sacred Heart Ravioli Dinner
Day 192 – Cincinnati Subway Stops Walking Tour (edit: no longer in business)
Day 193 – The Friendly Stop
Day 194 – 4th Sunday Mainstrasse Antiques
Day 195 – Lytle Park
Day 196 – Third Thursdays
Day 197 – Joseph Beth Booksellers plus Bronte's
Day 198 – Cincinnati Chocolate Festival
Day 199 – Gold Star Chili
Day 200 – Enjoy Halloween Happenings
Day 201 – Cappel's
Day 202 – Park and Vine (now closed)
Day 203 – Artworks
Day 204 – Venice on Vine
Day 205 – Cincinnati Cyclones Hockey Game
Day 206 – West Fork Park |Holiday Playland
Day 207 – Election Day
Day 208 – Blue Goose Sports Cafe
Day 209 – Walk the Suspension Bridge
Day 210 – Glass Barn (now closed)
Day 211 – Kenwood Towne Centre
Day 212 – Empty Bowls
Day 213 – Trammel Fossil Park
Day 214 – Bridging Broadway (event no longer occurs)
Day 215 – North College Hill Bakery
Day 216 – Memorial Hall
Day 217 – Taft Museum of Art
Day 218 – The Comet
Day 219 – Country Fresh Market
Day 220 – Sugar N Spice Restaurant
Day 221 – Donna's Gourmet Cookies
Day 222 – Holiday Toy Trains at the Behringer-Crawford Museum
Day 223 – Tour of the Plum Street Temple
Day 224 – Oakley Pub and Grill
Day 225 – Crafty Supermarket
Day 226 – Balluminaria (event no longer occurs)
Day 227 – Tewes Poultry Farm
Day 228 – Servatii Pastry Shop and Deli
Day 229 – Ice Skating at Fountain Square
Day 230 – Thanksgiving Day Race
Day 231 – Dee Felice Cafe
Day 232 – The Next Best Thing (now closed)
Day 233 – Owls Nest Park
Day 234 – CelebriTrees in O'Bryonville (event now over)
Day 235 – Ten Thousand Villages
Day 236 – Holiday Junction
Day 237 – Mr. Pitiful's
Day 238 – Dinos and Dragons
Day 239 – A Christmas Carol at Playhouse in the Park
Day 240 – Wine Tasting at Market Wines
Day 241 – Skirtz and Johnston (now closed)
Day 242 – Tour of St. Peter in Chains Cathedral
Day 243 – Holiday Show at Krohn Conservatory
Day 244 – Loveland Art Studios on Main
Day 245 – Little Dutch Bakery
Day 246 – Mt. Adams Reindog Parade
Day 247 – Graeter's
Day 248 – Arthur's Restaurant
Day 249 – Holiday Train Display at Duke Energy
Day 250 – College Hill Coffee Company
Day 251 – Cincinnati Cake and Candy Supplies
Day 252 – Fawn Candy Company
Day 253 – Holiday Light Show at Newport on the Levee
Day 254 – Niederman Family Farm
Day 255 – Queen City Cookies (now closed)
Day 256 – a Downtown Christmas
Day 257 – Holiday Lights
Day 258 – Live Nativity at Paul Young Funeral Home
Day 259 – Pit to Plate BBQ
Day 260 – Soho Sushi (now Fusian)
Day 261 – Shake It Records
Day 262 – Bird Watching
Day 263 – Veterans Memorial Park
Day 264 – A Book Nook (now closed?)
Day 265 – Pomegranate and Lime
Day 266 – Hueston Woods State Park
Day 267 – Crosstown Shootout
Day 268 – Cavalcade of Customs
Day 269 – Dilly Cafe
Day 270 – The OmniMax Theatre
Day 271 – Kentucky Haus Artisan Center (now closed)
Day 272 – Zumba
Day 273- Pipkin's Fruit and Vegetable Market
Day 274 – Mascot Broomball
Day 275- Mariemont Theatre
Day 276 – Perfect North Slopes
Day 277 – Reality Tuesday Cafe
Day 278 – IceFest
Day 279 – The Iron Horse (now closed)
Day 280 – Bluebird Bakery
Day 281 – The Century House (now closed)
Day 282 – The Odd Couple | See a play at The Carnegie
Day 283 – The Pendleton Art Center and Final Friday
Day 284 – The Senate Restaurant
Day 285 – The Cure Starts Now | Once in a Lifetime Gala
Day 286 – SugarPlums Cupcakery (now closed)
Day 287 – Clooney Watch!
Day 288 – Playhouse in the Park Scene Shop Tours
Day 289 – Cleopatra at the Cincinnati Museum Center (event is over)
Day 290 – Clermont County Airport
Day 291 – Cincinnati Auto Expo
Day 292 – Home and Garden Show
Day 293 – Joseph Williams Home
Day 294 – Maple Syrup Production
Day 295 – Brown Dog Cafe
Day 296 – Entertrainment Junction and the Amazen Fun House
Day 297 – Bockfest
Day 298 – Sewn Studio
Day 299 – Essex Studios
Day 300 – Bechtold Park
Day 301 – Canstruction
Day 302 – The Art of Food
Day 303 – St. Patrick's Day Parade
Day 304 – 20Brix
Day 305 – Gabby's Cafe
Day 306 – The Falcon Theater
Day 307 – Let Your Motto Be Resistance Exhibition (exhibit now over)
Day 308 – Tom and Chee
Day 309 – Cincinnati Reds Hall of Fame Museum
Day 310 – Opening Day Parade
Day 311 – The Blue Gibbon Chinese Restaurant
Day 312 – Stone Lanes
Day 313 – Lloyd Library and Museum
Day 314 – Party Source Classes
Day 315 – Yelp Drinks
Day 316 – Tour of The School for Creative and Performing Arts
Day 317 – Tunes and Blooms at the Cincinnati Zoo
Day 318 – Kite Fest
Day 319 – Lucky Dog Grille
Day 320 – The Bonbonerie
Day 321 – Cincinnati Magazine Events
Day 322 – Go Vibrant Cincinnati
Day 323 – Spring Grove Cemetery Tours
Day 324 – The Loveland Castle
Day 325 – SmoQ
Day 326 – Going Green with Building Value
Day 327 – Cirque du Soleil's OVO (event now over)
Day 328 – Marvin's Organic Gardens
Day 329 – Bobby Mackey's
Day 330 – The Bistro
Day 331 – The Flying Pig
Day 332 – Valley View Nature Preserve
Day 333 – Butterflies of Brazil (event now over)
Day 334 – Big Bugs at Highfield Discovery Garden (event now over)
Day 335 – Padrino Italian
Day 336 – Trains from atop the Cincinnati Museum Center (closed for renovations)
Day 337 – Best of Taste Awards 2011
Day 338 – CincItalia
Day 339 – Rookwood Pottery
Day 340 – Dojo Gelato
Day 341 – Pho Lang Thang
Day 342 – OTR Summer Celebration and 5k
Day 343 – Fish Toss at Fountain Square (event now over)
Day 344 – Cafe de Paris
Day 345 – Taste of Cincinnati 2011
Day 346 – The Summer Lager Tour
Day 347 – Paint by the Glass (now closed)
Day 348 – Bellevue Beach Park
Day 349 – Thyme Square (now closed)
Day 350 – Homearama
Day 351 – Take a Photography Class
Day 352 – The Promont House
Day 353 – MJ's on Main (closed)
Day 354 – Geochaching in Cincinnati
Day 355 – A Tavola Bar and Trattoria
Day 356 – Vinnie's Gourmet Pretzels
Day 357 – Alms Park
Day 358 – Unique Houses
Day 359 – Jean-Robert's Table
Day 360 – Explore the Covington side of the Ohio River
Day 361 – Window Dressings at the Old Shillito's Department Store
Day 362 – Schneiders Sweet Shop
Day 363 – City Flea
Day 364 – Coffee Emporium in Hyde Park
Day 365 – World Choir Games Kick-Off Celebration