Here we are with a new installment of "365 Things to do in Cincinnati" and today we are featuring a magical and wonderous event – LumenoCity.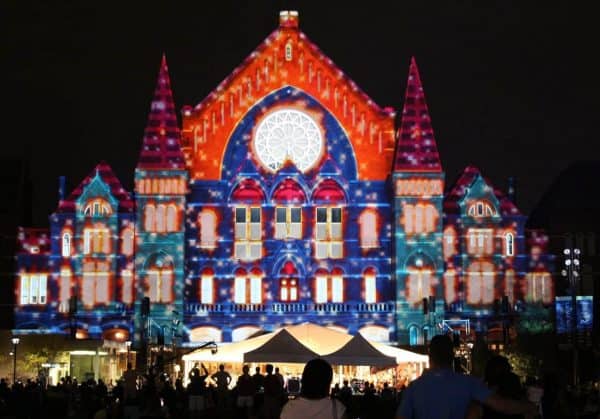 LumenoCity combines a spectacular light show with performances from our wonderful Music Hall stars including a unique musical combination of both the Cincinnati Symphony AND the Cincinnati Pops, The Cincinnati Ballet, The Cincinnati Opera, and the Cincinnati May Festival.
The event is a great way to see what the Ballet, Opera, and May Festival Chorus are all about.  I have to say my favorite part was the Opera's rendition of "Master of the House" – which was amazing!
As the evening progressed and the sun went down, the Cincinnati Symphony and the Cincinnati Pops started to play and Music Hall became the center of attention.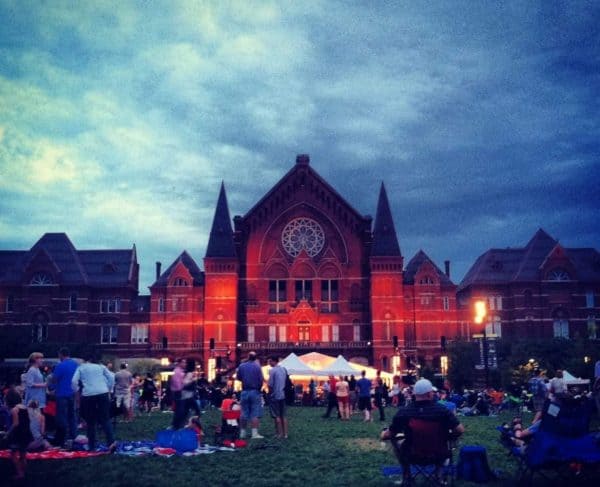 We all admire and love our Music Hall! But I would venture to say you've NEVER seen her like this before…
The "light show" was stunning… amazing… phenomenal. The lights were projected from a large trailer on Race Street (all the way across Washington Park) and the orchestra performed under a tent right in front of Music Hall.
But they didn't let that distance stop them from putting on an amazing synchronized show!
Every once in a while I realized – geez, that is LIVE MUSIC! The Symphony's performance was flawless.
The light show portion of the evening lasted well over 30 minutes and was completely mind-blowing.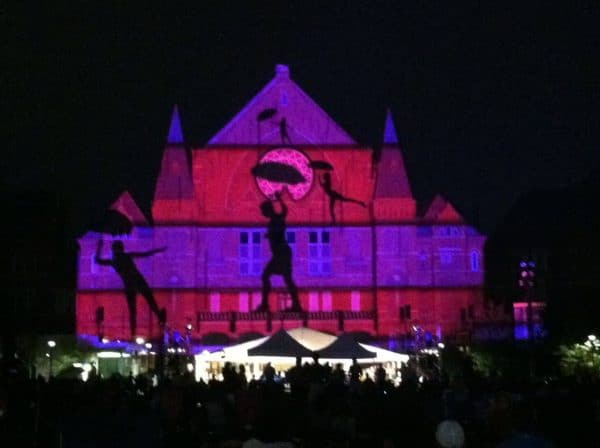 It was one of those nights where you're PROUD TO LIVE IN CINCINNATI!!!
You can catch LumenoCity yourself on Saturday and Sunday, August 3 and 4, 2013. The event is free and starts at 8:30pm both nights. LumenoCity takes place at Washington Park and Music Hall downtown (Elm and Race Streets near 13th/14th).
the following details are courtesy of The Cincinnati Symphony: Paid parking is available under and around Washington Park, as well as the surface lots between Music Hall and Memorial Hall on Elm St., the Court Street Center (Turner) lot on the corner of Central Parkway and Elm St., and at the Town Center (CET) Garage on Central Parkway. Additionally, free parking will be provided from the Cincinnati Museum Center at Union Terminal with the CSO providing free shuttles, generously underwritten by GBBN, running between Union Terminal and Washington Park starting at 6:30 p.m. both evenings. Click for Map
Update (added 8-4-2013):
Here are some tips for you in case you're going to LumenoCity tonight (8-5). Keep in mind your experience may be different and this is all based on my own experiences from Saturday's show.
1. Takes chairs
2. Arrive early. We got there around 6pm on Saturday night and just hung out at the park. We had no problem getting a spot at that point. I know a lot of people want to return again tonight so pack something to do and plan to get there EARLY, early, early.
3. If you don't mind NOT seeing the orchestra, singers, and dancers, sit all the way in the back; the light show is best from there.
4. Go to the potty and get your drinks EARLY. The lines were crazy long by about 7:30.  I read they're adding more PortaPotties today so that will help.
5. You can take food in with you. You can not take in alcohol. You can, however, purchase wine and beer there.  Food trucks were around and there are a few food booths in the park.
6. If you choose to sit in the middle of the park, be sure to get up and use the facilities early and adjust your intake from there.  The park goes really dark for the light show and you will have one heck of a time getting in and out of your spot in the middle.
7. Music Hall will have a LEGO replica of Music Hall on display in the foyer on Sunday (open today from 5-8pm)