It's Day 123 of "365 Things to do in Cincinnati" and today we're visiting the Carew Tower.  The Carew Tower has been a Cincinnati skyline landmark since the 1930's and it is still as beautiful as ever!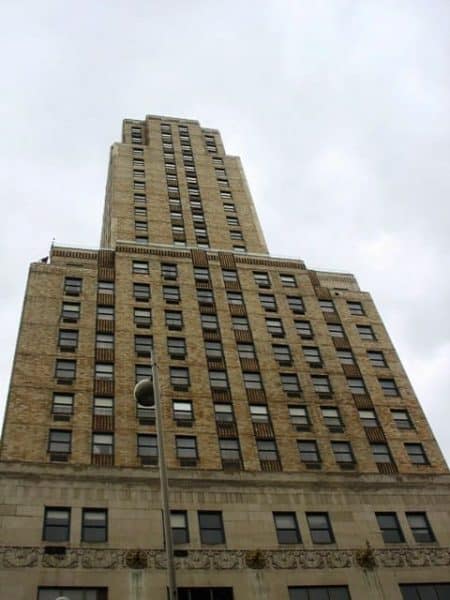 Construction began on the Carew Tower in 1930.  The building project was originally criticized because Cincinnati was believed to be too far west and too small for such a large building.  Today that's hard to believe.  Less then one hundred years later, just look at the surrounding city…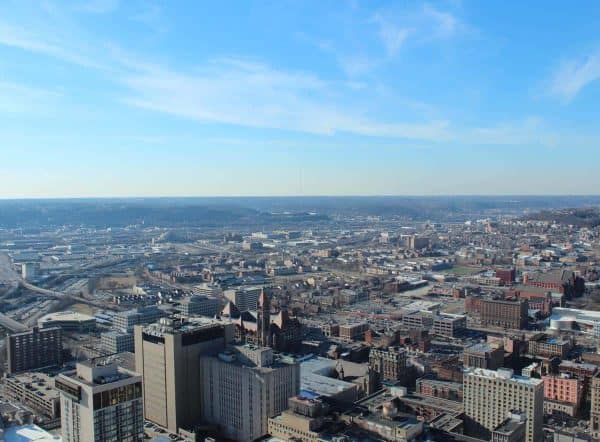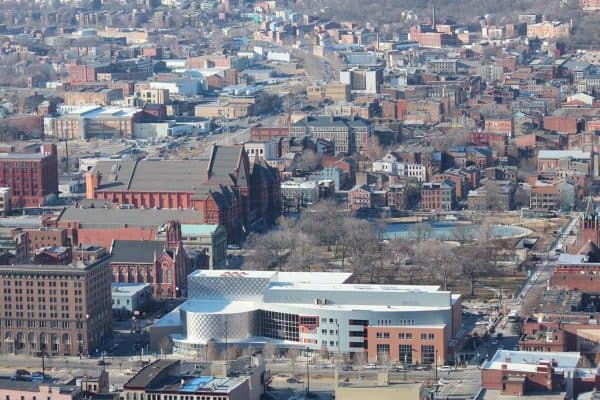 The Carew Tower has 23 elevators and stands at 49 stories tall.  It was the first office building downtown to have an unmanned elevator operated by push buttons.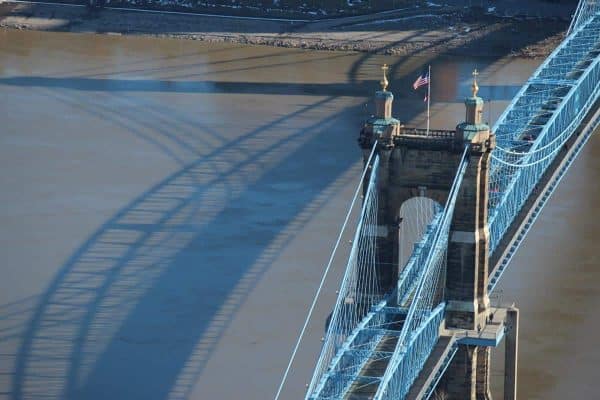 Hop on one of the many elevators and enjoy the panoramic view of Cincinnati that only the Carew Tower can provide!  Ride up to the 45th floor and then change elevators for the last few floors (or climb a few stairs) and you'll find yourself on top of the Carew Tower at the observation platform.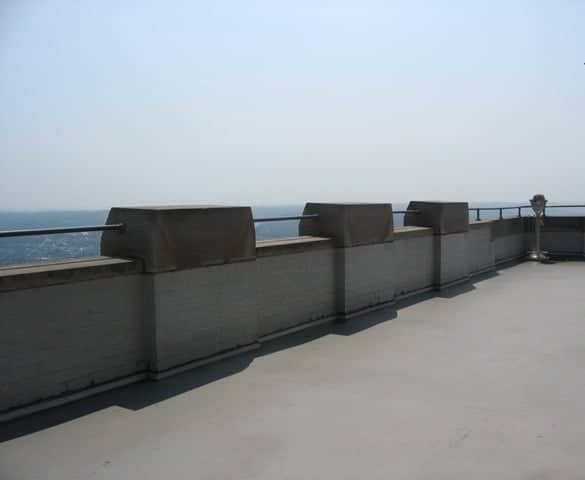 Surrounded by concrete walls, there's no need to fear the height.  You will be really high up but you will get to see the city from views you're not likely to have anywhere else.  Just look at this view of Fountain Square…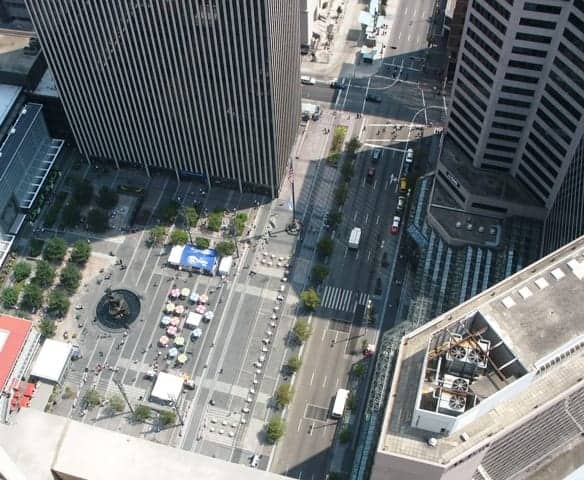 The Carew Tower allows one to really take in all that is Cincinnati.  From the Great American Ball Park right on the Ohio River…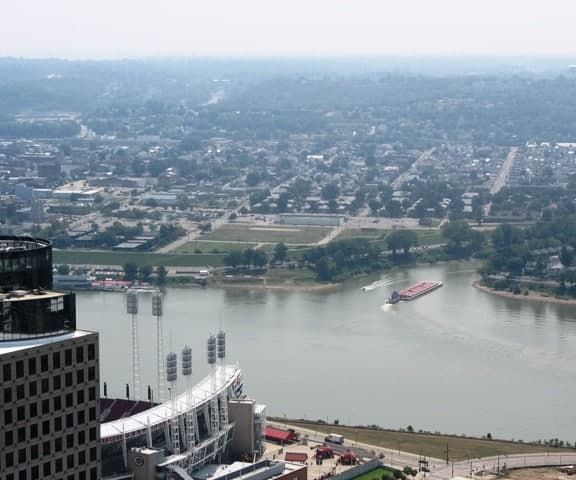 to the Paul Brown Stadium (and nearby practice field) trimmed by the bridges.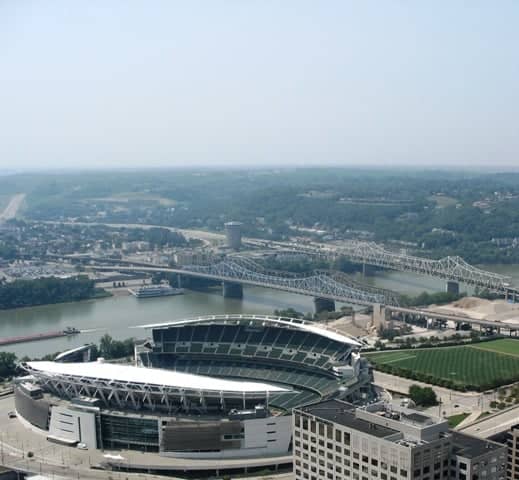 Look up the River and you'll see Mt. Adams with its own skyline landmark, Holy Cross – Immaculata Church (just left of center in the pic).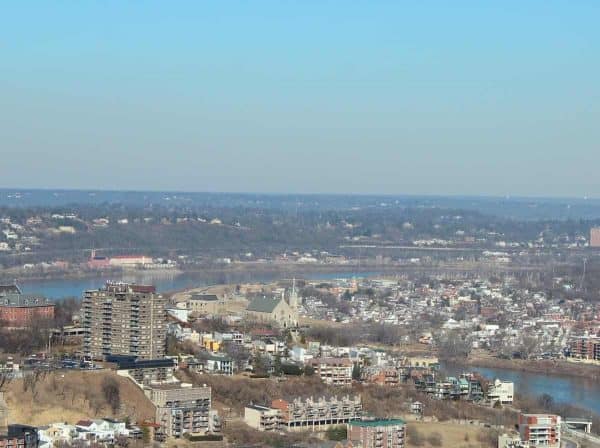 The Carew Tower was the tallest building in Cincinnati.  The recent construction of the Great American Tower unseated the Carew Tower and is now Cincinnati's tallest building.  But I would venture to say it will never win the hearts of Cincinnatians like the Carew Tower has.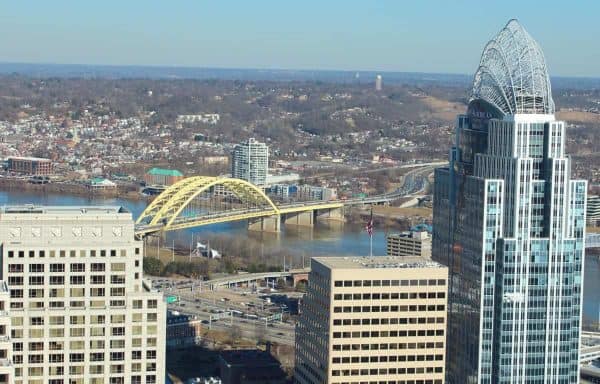 The Carew Tower observation deck is open to the public Monday-Thursday 9am-5:30pm, Friday 9am-6pm, Saturday and Sunday 10am – 7pm.  There is a nominal fee to go out onto the observation deck: $2 for adults, children 5-11 are $1 and children under 5 are free.
The Carew Tower is located at 441 Vine Street, right downtown and very close to Fountain Square