It's Day 206 of "365 Things to do in Cincinnati" and today we stopped by the Holiday Playland at West Fork Park.    This may look like your ordinary park from the street… but you're in for a surprise once you get a bit closer.  Read on….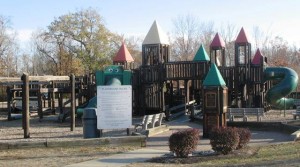 This park is amazing!  It's consists of a HUGE wooden play structure with lots of ins and outs, slides, climbing structures – you name it!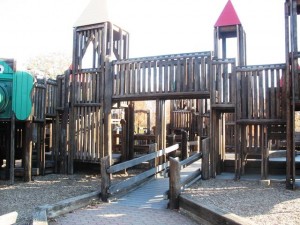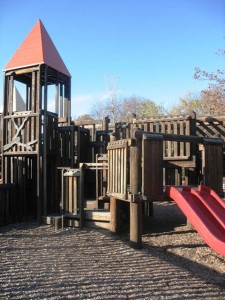 This is a perfect park for kids of all ages.   And it would be a perfect park to come to for a bit of outdoor fun now that cold weather is approaching.  You can pull right up to the park and let the kids run off some energy in this fun play structure.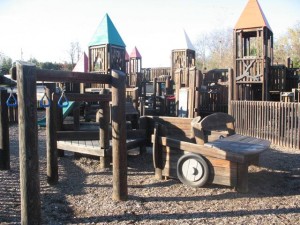 There's lots of opportunity for pretend play here with lots of castle-like turrets, a big wooden car (above) and a big wooden boat (below).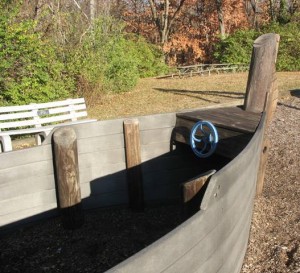 The park has an area that is surrounded on three sides by wooden fencing – a great place to bring little ones.  And they have lots of different swings – baby swings, a handicap swing with a large back support, "traditional" swings, and a tire swing too!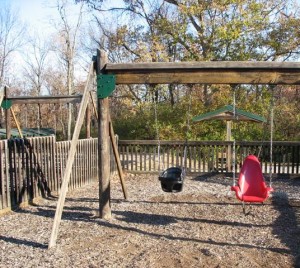 There is a large covered shelter in the back as well as a few covered picnic tables adjacent to the play structure.  There's also a few more picnic tables on the edge of the woods.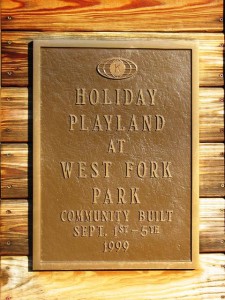 They do have nice bathroom facilities in the parking lot right next to the playland.  The park is handicap accessible (ramp from parking lot into the play structure).  This park is free and does not require any kind of parking pass or permit.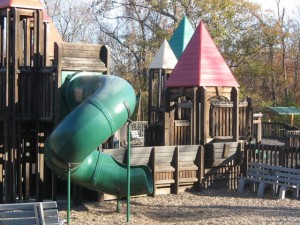 And if you're looking for something else to do while you're there, the Monfort Heights branch of the Cincinnati / Hamilton County Public Library is very close.  And there are numerous restaurants very close by (on North Bend Rd.). West Fork Park is located at 4764 West Fork Road