Here's our list of Cincinnati area Watch Parties for UC Bearcats vs. Alabama Crimson Tide in the Cotton Bowl, 2021.

The Bearcats are headed to Dallas to take on the Crimson Tide in the Goodyear Cotton Bowl Classic on New Year's Eve / Friday, December 31, 2021 starting at 3:30pm.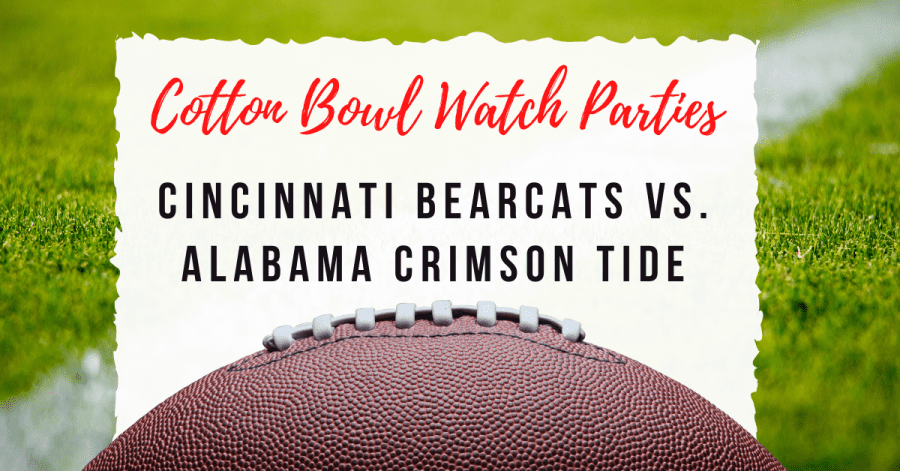 Put on your Bearcats gear and get out to enjoy the Cincinnati – Alabama semifinal game with lots of other fans!
Be sure to check your choice of venue (list and links below) for watch party offerings and details.
And check back often – we'll update this list as new UC Watch Parties pop up!
---
Copper and Flame OTR will be having a Watch Party with some "fun Cincinnati fave riffs on the menu" plus beer specials. We'll update as we receive more details. Watch their Facebook page for future announcements.
The Fermentorium (from the folks at Nine Giant) will have a Watch Party in their event space. Details have not been finalized. We'll update as soon as we have some news. Watch for details here.
The Fermentorium is located at 6111 Ridge Road, Cincinnati, Ohio 45213
Galla Park Gastro (at The Banks) will have a Watch Party starting at 3pm. Stick for dinner seating starting at 5pm and ring in the New Year with them too! Details are not out at published online yet – we'll update as soon as they are,
Galla Park Gastro is located at 175 Joe Nuxall Way, Cincinnati, Ohio 45202
Murphy's Pub will be having a Watch Party. They will be giving away UC swag during every time UC scores against Alabama. They will also have $1.50 happy hour going on at that time with well drinks for $1.50 during the game. Details were sent to us via message.
Murphy's Pub is located at 2329 W. Clifton Ave., Cincinnati, Ohio 45219
Keystone Bar and Grill, Clifton: Keystone will be having a watch day party and will serve up lunch and dinner that day (opening at 11:30am). Their game day drink specials are as follows: $3 Miller Lite tallboys, $4 Bearcat bombs, $10 Miller Lite pitchers, and $20 White Claw buckets. Details here.
Keystone Bar and Grill, Clifton is located at 249 Calhoun St., Cincinnati, Ohio 45219
St. Bernard Pub is hosting a watch party with official time TBD. See their Facebook event here.
St. Bernard Pub is located at 4537 Vine Street, Cincinnati, Ohio
The St. Clair will be hosting a watch party. The party starts when the doors open at 2:30pm with $3 Miller Lite tallboys, $4 Bearcat bombs, and $20 White Claw buckets from open – close. After the game, stick around for their New Year's Eve party and music from their resident DJ from 10pm – 2am! It's a big night in Clifton, so cheers to the Bearcats and 2022! Find all the details here.
The St. Clair is located at 245 Calhoun St., Cincinnati, Ohio 45219