With all the Christmas cancellations that are bound to occur in 2020, we're all going to be looking for clever ways to give the kids a safe opportunity to see Santa in 2020. You'll be glad to learn that Santa Claus is on the job and has some options for you! He's ready and willing to have a visit with your child this year with virtual visits with Santa!

We hunted down all the spots offering virtual visits with Santa this season and made it into a handy list. Some options are free and include some more personal add-ons and/or a fee. Check out the list and find one that suits your Santa visit style for 2020!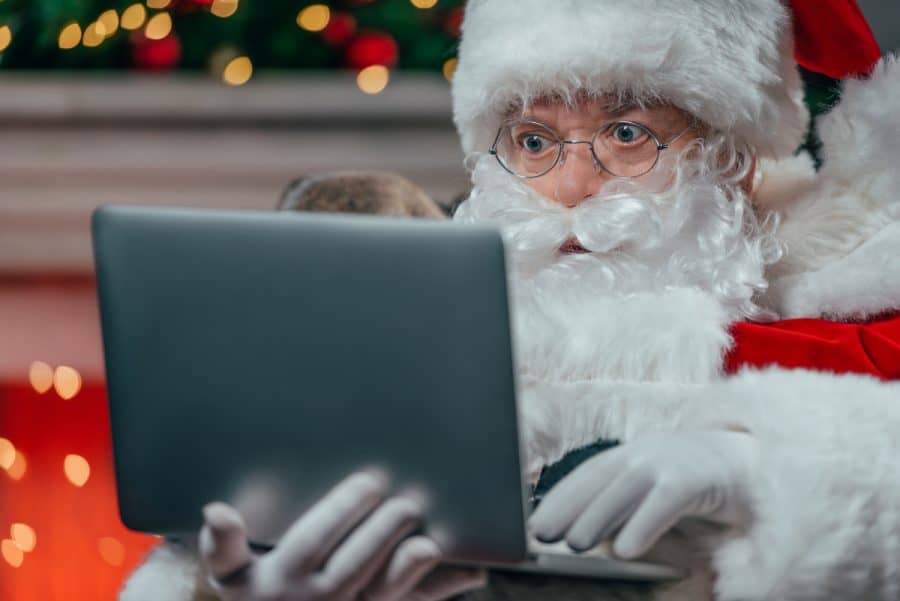 Get your Christmas list together and schedule your virtual visit with Santa today!
Abracadabra: Your virtual visit with Santa will occur via Zoom, straight to the comfort of your home. You'll reserve a day and time for you and your family to talk with Santa live and in real time. Families are able to join in from any location. Abracadabra also offers personalized pre-recorded messages from Santa.
Chit-Chat with Santa: Get your Christmas list ready and enjoy a live video chat with Santa. They also offer a pre-recorded Storytime with Mrs. Claus option where you'll have the choice of 3 Christmas classics (lasts about 10 minutes). Or choose from the Claus Clip – a personalized 60-90 second video greeting from Santa or Mrs. Claus.
Cincy Santa: Schedule a virtual visit with Cincy Santa, one of Cincinnati's top Santa's for over 12 years. The call with Santa lasts about 10 minutes and is offered for up to 3 children at a time. The visit happens via Zoom and a few different packages are available. Cincy Santa also offers pre-recorded personalized messages – fun for friends, co-workers, customers, etc.
Hire Santa: Book a live video chat with Santa! These video calls are with a live, real bearded, professionally trained Santa Claus. The social distancing friendly calls can be easily scheduled for a time that works with your schedule. Lasting anywhere from 7-10 minutes, your child will be able to chat with a live Santa Claus about their Christmas wish lists, family, friends, school, and ask any questions they're curious about. Unlike visiting Santa at the mall, Santa will know their name and details about them that make this a personalized experience unlike any other. Hop on the call with your family and friends from all over the world as they join in from their own locations. Perhaps you'd like to order a pre-recorded message from Santa? They offer those too!
JingleRing: Live from the North Pole… it's Santa and Mrs. Claus! JingleRing is a live virtual Santa visit that occurs from the safety of your own home. A standard JingleRing visit includes up to 3 children in your family (additional fee per child over 3 children with a limit of 5 total). Up to 4 guests can be invited to join in with your family. You can personalize your JingleRing when you provide Santa with information about your family (pet names, good grades, things they need to work on, etc.) They offer Santas in multiple languages (including ASL), ethnicities, and a Sensitive Santa option for children with special needs. You'll receive a shareable video of your visit with Santa and a group photo of your session.
Macy's Santaland at Home: Macy's has reimagined Santaland in 2020 and has created an online Christmas experience. Your experience will allow you to travel through Macy's Santaland at Herald Square in New York. Kids will meet the elves, play fun games, and meet Santa himself via an interactive video. Macy's Santaland at Home virtual experience will be available from Friday, November 27 through Thursday, December 24, 2020. Reservations are not needed and is a free experience.
Pigeon Forge, TN has a gift for families everywhere – Video Call with Santa and/or Send Your Child a Letter From Santa. The virtual chats with Santa happen via Zoom and are available on a first-come, first served basis (so register today!). You can register for personalized letters from Santa until Dec. 6, 2020. There is a limit of one video chat with Santa per family in order to talk with as many families as possible this season.
Santa / Ed Taylor: Have your Virtual Visit with Santa using the app of your choice: Zoom, Skype, FaceTime. Provide Santa with some info ahead of time and he'll work his magic for your virtual call. Various call lengths are offered (15 minutes all the way up to an hour) and you can save by booking off-peak calls.
A Virtual Visit from the Clauses: Choose from a Personalized Video Call (up to 5 minutes), an Extended Virtual Call (for larger families and older kids, 10 minutes), or the Party Package (great for extended family gatherings and/or up to 10 kids).