It's Day 356 of "365 Things to do in Cincinnati" and today we're featuring one of Cincinnati's Mobile Food Trucks – Vinnie's Gourmet Pretzels.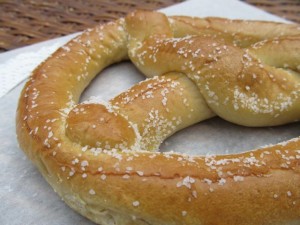 I found Vinnie's Gourmet Pretzels pulled up (in a very fitting mustard yellow mobile truck) to the mobile food truck lot on Race Street downtown.   From the truck, they serve up fresh and hot soft pretzels with a gourmet twist.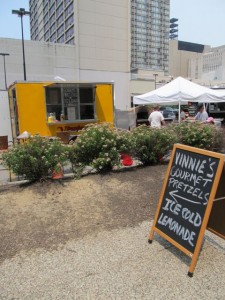 The pretzels come in a variety of "interesting styles" including:

The Pope ….. Parmesan Cheese ( died and gone to heaven ) The Morning Monk ….. Cinnamon Sugar ( sweet romance ) The Sister of Mercy ……Vinnie's Hot Sauce and Parmesan ( damn! ) The Sister of No Mercy ….Vinnie's Fire Sauce and Parmesan (damnation!) The Friar ….. Plain with Salt ….. ( Mustard's Main Squeeze ) The Abbot ….. Plain no Salt ….. ( ok, ok, if you insist! )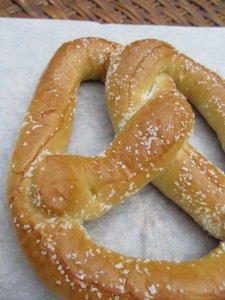 As you can see, I had the Friar (plain with salt).  It was very good – crispy on the outside and tender on the inside.  Vinnie's has yellow and brown mustard on the counter for dipping too.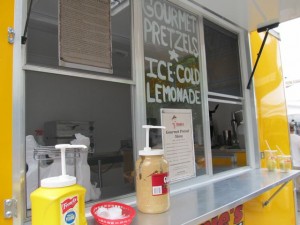 And they offer fresh squeezed lemonade to wash it down with.  I thought they were very reasonably priced as well ($3 for a pretzel, 2 for $5 or 3 for $7).  I will definitely return as it's a great spot to stop for a snack (or a pretzel meal as mine was that day!). Vinnie's Gourmet Pretzels can be found Monday-Friday 11am-3pm at the parking lot on 5th and Race downtown Connect with Vinnie's Gourmet Pretzels on Facebook