It's Day 308 of "365 Things to do in Cincinnati" and today we're featuring the cheesy goodness that is Tom and Chee.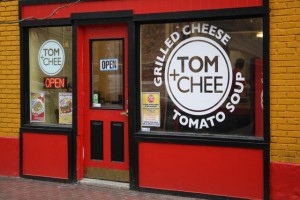 Tom and Chee is the ultimate grilled cheese lover's haven.  This new-to-the-downtown-scene eatery holds nothing back.  From its bold colored decor to its expansive and ever changing menu, these guys believe in go big or go home.  Seriously, have you ever seen such a pile of cheese?!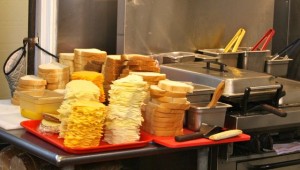 We stopped into Tom and Chee super early for lunch (around 11am) to take some pics so don't be alarmed when you see the empty dining room.  By the time we left every seat in the house was taken.  And once you see our food, you'll understand why…
I kept that picture huge so you can easily see what's between the bread…. yep – mac and cheese.  We decided to throw caution (and diets) to the wind and go with some wild lunch choices.  The hubby had the grilled mac and cheese sandwich with beer cheese soup.  Both arrived piping hot, creamy as all get out, and we had no problem finishing it all off!
I had the grilled cheese sandwich with salt and vinegar chips (inside) as well as the tomato and basil soup.  Yet another fine choice.  I honestly believe there's no bad choice at Tom and Chee.  Seriously.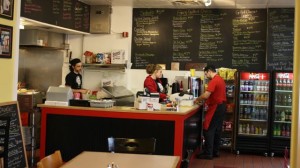 Tom and Chee just opened this restaurant last October.  Previously, they were only open on Fountain Square.  They started out selling grilled cheese and tomato soup near the ice rink in 2009-2010 and then spent the summer on the Square as a vendor.  They operated on Fountain Square for one day short of a year (364 days) before opening in the current location.  I do love a success story!
Tom and Chee can be grabbed to go or you can sit in their dining room.  Below is a picture that shows half of the dining area.  There's more seating around the corner to the right.  Metered parking is available right out front.  They're within a short walk to the downtown library.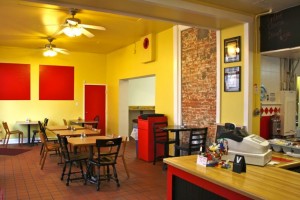 Tom and Chee is located at 133 East Court Street downtown. Connect with Tom and Chee on Facebook