You asked and we delivered! Day 12 of "365 Things to do in Cincinnati" takes us to the city's favorite – Skyline Chili.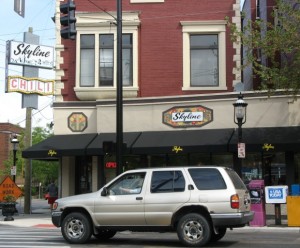 After our Facebook fans raved about the Skyline on Ludlow, we knew we had to make this one of our stops.  Located on the corner of Clifton Ave. and Ludlow, this Skyline location is conveniently located.  There is a large "Skyline only" parking lot just south of the restaurant.  It is just a block or so from the new Clifton Plaza if you'd like to eat outside.  And it is surrounded by lots of great places for dessert (Graeter's is just a block or so away and Servatii's is right next door).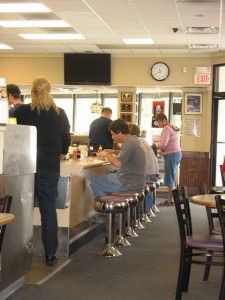 I went simple and had a small 4 Way with onions… YUM!  My food was delivered right after I ordered it, thanks to my wonderful waitress Jaimie (see her cute pic below).  Of course it came with a little dish of the world's best oyster crackers too.  It was piping hot and seriously good!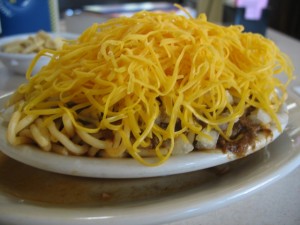 I try to get people talking by asking what's special about their location/restaurant.  I was surprised to hear that this Skyline seems to be a favorite of some of our local celebrities including Sarah Jessica Parker and Nick Lachey.  Valerie Bertinelli recently visited as well while she was visiting a friend.  Here's my waitress, Jamie, at their "wall of fame".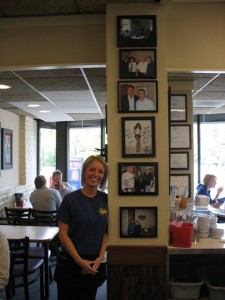 I was surprised to see just how many Skyline locations there are around Cincinnati – 90 according to Skyline's site.  And it cracks me up that they have quite a few in Florida too (we Ohioans are definitely Florida lovers!).  We could do a Skyline location every day and get 1/4 of the way through the year just by doing Skyline!
So, I'm thinking we will have to hit another Skyline… or two or three as time goes on.  Let us know which other locations we should stop at….
Skyline is on Twitter: @skyline_chili