Day 23 of "365 Things to do in Cincinnati" takes us on a teacher-led tour of Newport, Kentucky.  Now before you get all excited and tell me this is not Cincinnati, I will let you know that the Newport Gangster Tour guides are expanding into our wonderful city and are now offering Queen City Underground Tours.  We've heard great things about the Newport Gangster Tours so we decided to see what it's all about.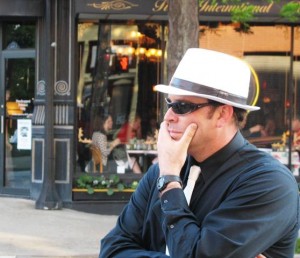 Voted Best Tour 2009 by Cincinnati Magazine and Listed by Southern Living as top attraction in state for 2010, these guys put on a very informative and fun walking tour of the city.   Above you will see a picture of one of our guides on our walking tour.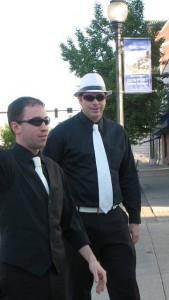 The tour was LOADED with information, scandals and Gangster stories.  The tour guides put on a great show and were incredibly knowledgeable (these teachers do their homework!).  We learned a lot about Newport and its rich history. Here's a brief summary of what they offer on the tour (taken from the Newport Gangster Tours site):
Dean Martin. Frank Sinatra. Jerry Lee Lewis. When their stars shined the brightest, these men held a national audience and played in the biggest hotspot of the day….Newport, KY. Anyone who arrived in Newport had an opportunity to brush shoulders with these celebrities, as well as some of the region's most notorious gangsters.

Initially run by local gangsters, the town grew to attract the attention of national crime syndicates. In the late 1950's, vice was so open in this small Northern Kentucky town that national magazines such as Time, the Saturday Evening Post, and Esquire published stories that shocked the nation.

Join our tour to learn how these events unfolded, and how our local gangsters inspired the design of casinos in Las Vegas.
The tour begins at The Gangsters Dueling Piano Bar (one block south of Newport on the Levee, next to the Newport Syndicate) on 5th Street.  Tours run every Saturday at 1pm and 5pm.  Admission is just $15 a person.  See their site for more details:
Newport Gangster Tour
Connect with Newport Gangster Tour on Facebook