Today you will find " 365 Things to Do in Cincinnati" at the Five Guys Burgers and Fries on Tylersville Road (West Chester).  I've heard great things about Five Guys and, being the burger lover that I am, I finally made the stop.  And I will say that Five Guys Burgers  lives up to all the hype.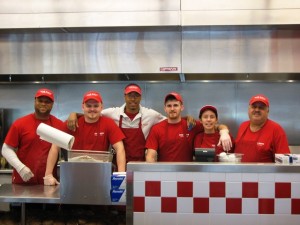 Before I go on about the actual burger, I must say that what impressed me the most was the staff.  These guys (and girl) were a great bunch.  They were friendly to the customers (even a guy in line with me mentioned it) and they obviously have a good time together.  They got the whole crew together and let me take their picuture…
Seriously, the owner and/or manager of this place should be very proud of putting such a fine crew together!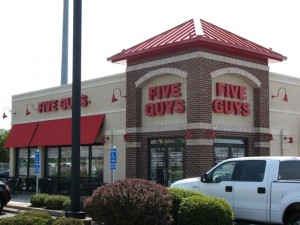 This particular Five Guys is relatively new.  It has plenty of seating indoors plus a nice seating area outside.  No one was outside today.  What was up with that?!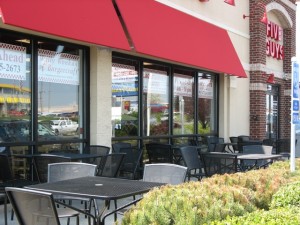 As you might expect, this place is all about the burger.  They have hamburgers and cheeseburgers – made however you want it.  They have a list of toppings that you can put on your burger – everything from the usual (ketchup, mayo, etc.) to peppers, A1, grilled onions and grilled mushrooms.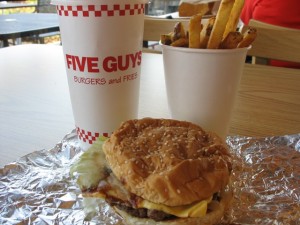 What I love is that they have a regular burger and a "little" burger.  I often find that restaurants feed me WAY too much food.  I ordered the Little Cheeseburger and the size was perfect (and I didn't feel like I was eating from the kid's menu).  The fries were great and you get a TON so don't order the big one.  My small could have easily fed three.  And if you're curious, I had my "LCB" with lettuce, grilled onions and A1.  It was mighty tasty!
And if you're hungry when you arrive or have a particular hankerin' for peanuts, you can pick up a tray of nuts when you walk in.  They're just waiting for you!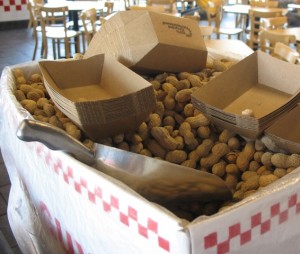 So what's YOUR favorite combo from Five Guys?