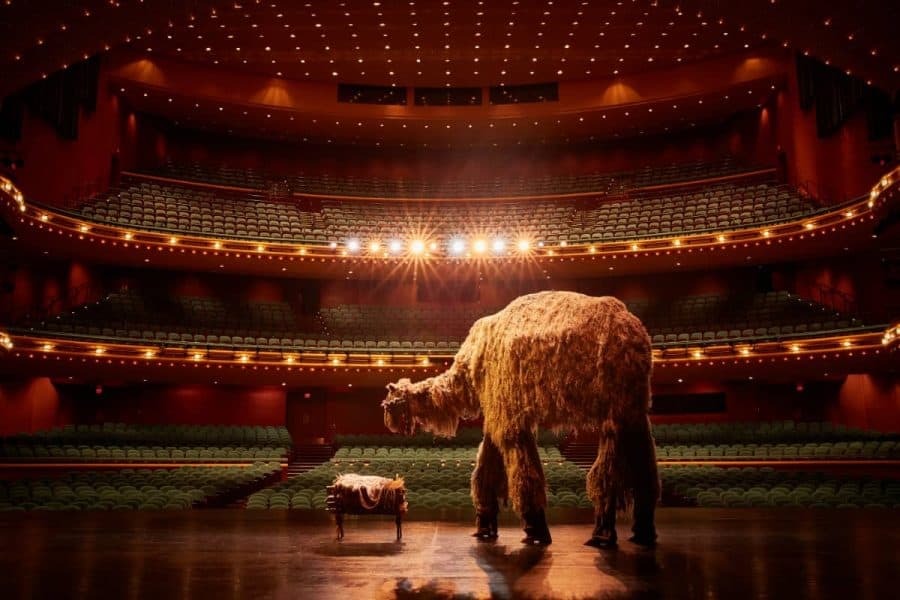 Performing Arts and Shows for this Weekend:
Awaited is at The Aronoff Center this year, Dec. 20-23. Awaited is a creative retelling of the Christmas story brought to life on stage by over 80 performers. Featuring original choreography and music, along with favorite holiday classics, this family-friendly production reminds you why Christmas is the ultimate season of hope. This weekend's show times are Fri. at 8pm and Sat. & Sun. at 2pm, 5pm, and 8pm.
Every Christmas Story Ever Told (And Then Some!) is playing at the Cincinnati Shakespeare Company. The show runs through Dec. 29. What begins as another annual production of A Christmas Carol, soon devolves into a slightly irreverent look at all of our favorite "Beloved Holiday Classics" including It's a Wonderful Life, Frosty, Rudolph, Charlie Brown, and more! Three actors (with the help of Santa) send up everything from Dickens to Dr. Seuss in 90+ minutes of high octane jollity and frivolity. This weekend's show times: Dec. 20 at 7:30pm and Dec. 21-22 at 2pm & 7:30pm. Tickets start at $30.00.
Miracle on 34th Street the Musical comes to the Covedale Center for the Performing Arts through Dec. 29. This holiday classic follows single mother, Doris Walker, and her six year old daughter, Susan. Their neighbor, Fred Gailey, tries to woo Doris by taking Susan to see Santa Claus at Macy's, where Doris works. Doris is not impressed, but when it turns out that Macy's Santa may, in fact, be the real Kris Kringle, a wave of love spreads across New York City that melts even the most cynical hearts. Show times with tickets left this weekend are: Fri. and Sat. at 8pm. Sunday is sold out. Tickets are $29/adult and $26/senior or child.
It is opening weekend for The Nutcracker from the Cincinnati Ballet, running through Dec. 29 at Music Hall. Celebrate the holiday season with Clara and her Nutcracker Prince as they journey to the Land of Sweets. Let your imagination transport you to a land of dancing snowflakes and childhood dreams. Victoria Morgan's whimsical choreography accompanies Tchaikovsky's timeless score performed by the Cincinnati Symphony Orchestra. This weekend's show times are: Dec. 20 at 7:30pm, Dec. 21 at 2pm & 7:30pm, and Dec. 22 at 1pm & 6:30pm.
---
Friday, December 20
Go behind-the-scenes at Rookwood Pottery on a Friday Tour. Explore Rookwood's 88,000 square foot production facility in the heart of Cincinnati's historic Over-the-Rhine neighborhood with a guided working factory tour led by resident historian, George Hibben. There are two tours happening at 10:30am and 1pm. Reservations required ($10).
Take the kids to Storytelling with Santa at Glenwood Gardens* in their Gardenview Room. Santa Claus will be stopping by Highfield Discovery Garden to read the holiday tale, "The Polar Express." Every child who attends will receive a 30th anniversary edition of "The Polar Express" thanks to the Literacy Network of Greater Cincinnati. After the story, children will have time to visit with Santa and explore Highfield Discovery Garden where families are invited to see the wonder of the Schott Train Display. Be sure to have your cameras ready! Light refreshments of hot chocolate and cookies will be served. Many activities are outside; dress accordingly. There are two story times: 11:30am and 12:30pm. Registration required. $9/person or $6.50/ person for Highfield Discovery Garden passholders.
Ever wanted to go behind the scenes at Cincinnati's legendary Music Hall? If so, check out Backstage and Beyond: Inside Cincinnati Music Hall on select dates through Dec. 31. It is a 60-minute tour that takes you through a variety of private spaces, public spaces, and Cincinnati history. Discover how this gorgeous building reflects the spirit of the past and present, why it was the envy of the Great Midwest in the 19th century, and what made it the cornerstone of the 21st century renaissance of Cincinnati's historic heart. Tours this weekend are: Dec. 20 at 2:30pm and Dec. 21 at both 9:30am & 11:30am.
Head to Rhinegeist for Cookie + Craft with Brown Bear Bakery for a delicious opportunity to pair some of your favorite Rhinegeist beers with the confections from Brown Bear Bakery. Brown Bear will have a pop-up offering various baked goods in the taproom from 3-7pm. The exclusive pairing of Slangria + Brown Bear's Lemon Square will be available at the main bar on a first come, first serve basis!
It's Ugly Sweater Day at King Island's Winterfest. Guests who arrive wearing an ugly sweater will get admission to WinterFest for only $19.99 per ugly sweater-wearing person – a savings of $20 off the front gate price. (NOTE: be sure to check out their list of what makes up an ugly sweater, see link above) To receive the admission discount offer, simply show your ugly sweater at any admission window located to the left of the park's entry gate. To keep the sweater theme going, the first 3,000 guests through the gate on Dec. 20, will receive a free WinterFest Coca-Cola® Souvenir Bottle Sweater.
It's Holiday Sweater Skate at the Warm 98.5 Ice Rink at Summit Park tonight. Wear your ugly sweater to be entered into their raffle for prizes from 5-9pm. The rink will remain open until 10pm. Skating is $6/person including skate rental. Groups of 3 or more people are $5/person including skate rental.
All aboard the Polar Express at the East Butler County Family YMCA from 6-7:30pm! Put on your favorite holiday pajamas and take a magical train ride to the North Pole and join Santa for an enchanting evening for the entire family. There will be cookie decorating, a refreshment bar with hot chocolate, peppermint candy canes, snow chilled milk from the North Pole, winter crafts like making Reindeer Food, and you can take pictures with Santa! This event is open to the Community. Cost is $5/child or $10/for the entire family. Register at the Front desk.
Keep cozy with your family this winter with a No-Sew Blanket Making Class at Fountain Square from 6-8pm. This blanket making class downtown provides all the ingredients to have fun and keep warm as chilly winter weather sets in. Participants of all ages are invited to have a hands on and step by step tutorial of no-sew blanket making. Kids blankets are $20; adult blankets are $30.
Luke "Fluke" Skywalker and the 501st Legion are visiting Newport on the Levee for the opening day of Star Wars: The Rise of Skywalker! This Cincinnati cosplayer, known for his striking resemblance to the iconic Star Wars star, Mark Hamill, will be coming to Newport on the Levee to take pictures with Star Wars fans before and after their showing of the newest Star Wars movie. Fluke Skywalker and other Star Wars characters from the 501st Legion will be at the Levee from 12-4pm.
This is the last Friday of holiday magic on the square. Santa is at Carew Tower from 12-8pm, and the Winter Market is open 4-9pm. Carew Tower Santa, and the Winter Market remain open throughout the weekend, but this is the last Friday. The Ice Rink is open from 10am-11pm today, but will remain open until early February. Events are rain or shine, but may be canceled in severe weather or heavy rain.
Head to Heritage Village Museum's* Train Days from 10am-2pm. Watch model trains chug through villages, around mountains, and through tunnels in these large model train displays inside an actual historic train station and Hayner House. At least 10 trains will be operating and they will include N, HO, O, and S scale model trains. Admission is $3. Museum members, veterans and active duty military members (with a military I.D.), and children ages 4 and under are free. Other dates are Dec. 27 and Jan. 2-3.
---
Saturday, December 21:
Head to Fountain Square for the last Saturday of holiday magic on the square. It's the last weekend for free Saturday Streetcar rides from 8am-1am. Macy's Downtown Dazzle on Fountain Square is from 5:30-7pm. This is your last chance to catch Santa rappelling off of a Cincinnati skyrise, and wait with anticipation for the sky to fill with light thanks to a fabulous Rozzi fireworks display. Santa rappels for the last time this holiday season at 6:30pm. It is the penultimate Santa Skates from 12-1pm, and the penultimate Winter Market at Fountain Square from 12-9pm. Free photos (bring your own camera!) with Santa at the Carew Tower are from 12-8pm today and continue through Dec. 23 (check schedule for 22-23 times). Outdoor events are rain or shine unless there is severe weather or heavy rain. All cancellations will be posted on Facebook.
See live reindeer at Northgate Mall (in front of Kathy's Happy Organs), 1-4pm.
Santa is coming to Joseph-Beth Booksellers in Crestview Hills this holiday season to enjoy milk & cookies with his favorite readers. Bring the whole family starting at 1pm for Christmas treats, a craft to take home, and pictures with Jolly Ol' St. Nick himself. Tickets are $5 per child; adults and children under 2 are free. Call the bookstore at 859-912-7860 to register today!
It's the last weekend for Santa's Workshop at the Washington Park Porch from 1-3pm. Join Santa Galen and his merry band of elves. Spend time in Washington Park making gifts, ornaments, and other fun creations. Stop by the wish-list station where elves will help you write a list to give to Santa when you meet him- or bring yours from home. Bring your family, your dog, your friends, but most of all–be sure to bring your cameras! This event is free, but you must bring your own camera for photos. After today, Washington Park Santa returns to the North Pole.
There are still spots left in the often sold out free tour of historic Findlay Market on Dec. 21 at 10am. The tour is half an hour and open to the first 20 that sign up online. Meet at the Market Center located at the center of the main market house across from Taste of Belgium.
Slip away from the hectic activities of the holidays with a stop at the Holiday Open House at Lloyd Library and Museum. From 12-4pm, visit one of Cincinnati's hidden treasures. Explore its latest exhibition: Treasures of Lloyd, and enjoy a cup of hot chocolate and cookies. Free and open to the public. As this is the third Saturday of the Month, the entire library is open to the public from 10a-5pm, as well. The Lloyd Library and Museum is a world renowned independent research library and exhibit space devoted to bringing science, art, and history to life.
The Great Parks of Hamilton County* are offering several Winter Solstice events today. On the shortest day and longest night of the year, experience the stars indoors at Winter Solstice Star Gazing. Come to the Nature Center at The Summit in Roselawn from either 2-3pm or 4-5pm, and learn how to identify a selection of constellations and then make your own twinkling star craft! (Free, register by 12/20). You can also participate in a Winter Solstice Hike from 3-5pm at Shawnee Lookout/Blue Jacket Trailhead. Experience the winter solstice through different cultures' folklores, celebrations, and stories. Then stroll through a beautiful winter forest to celebrate the shortest day of the year.
Head to the Cincinnati Nature Center from 6:30-8:30pm for their Winter Solstice Celebration, a modern observance of an ancient tradition. Gather around a fire, and explore the history and symbolism of this celestial event. Celebrate by participating in a community drum circle and contributing to a crowd sourced poem. Join a group hike lit by moonlight and deepen your understanding of the significance of the solstice. Warm drinks and bites available. This program is entirely outside; dress accordingly. Pre-registration required for all participants. Geared for adults and children ages 9 and up with a caregiver. Program participants should meet at the Abner Hollow Cabin (near the Nature PlayScape) at the Rowe Woods location. Member $10; nonmembers $15.
Time to dig out those ugly sweaters for the Third Annual Ugly Sweater Party at Listermann Brewing Company on Dana Avenue from 8-11:30pm. Come dressed in your ugliest sweater for a chance to win some Listy swag! Bartenders will be the judges for the contest; winners picked at 9pm. There will be a photo booth, music, and great beer!
Tonight is the night for the Santa's Goody Bag Band's 39th Annual Children's Charity Tour. This annual pub tour is the band's main fundraiser starting at 6pm until midnight with stops roughly every hour at The Silver Spring House, Shooter's (Loveland), Kirby's, Paxton's, Ramsey's, Buck's Tavern and The Belle and The Bear. On the tour, the band raises money for the Shriners Hospital and other charities/organizations which serve children in the Greater Cincinnati area, such as CancerFree KIDS, Pressley Ridge, and the Division of Developmental and Behavioral Pediatrics at Cincinnati Children's Hospital.
Book Bums in West Chester hosts a lot of holiday events starting this weekend and continuing through school age children's winter break. Up first is a Gingerbread House Making Party ($20) from 10- 11:30am for kids 6-12. Materials provided. Next is a Felt Craft Garland Making Party ($20) from 12:30-2pm where kids 8-14 can make gorgeous felt sweet treats to wear or decorate with. Tickets required and can be purchased online.
It is Cincinnati Observatory's Monthly Kids Club weekend where you will investigate the wonders beyond our world. This months topic is Planets. Explore the other planets in our solar system while designing your own planet. Classes are open to members and non-members in K-7th. You can stay with your child for the class or drop them off and pick them up after. Parents will not be charged as participants. Timing of the class depends on grade: grades K-3 meet 9-10am; grades 4-7 meet 11am-12p. Registration required: $3/per student for members; $10/student for non-members.
Come to the rotunda at Cincinnati Museum Center for their Winter Solstice Celebrations at Union Terminal. From 12-3pm, celebrate Hanukkah, Lunar New Year, Kwanzaa, and more! Enjoy fun, hands-on activities as you learn about holiday traditions around the world. Free, but parking not included. Although this event ends at 3pm, CMC is open with extended hours until 6pm. CMC Santa will be available until 5:30pm.
Come down to a Children's Christmas Party hosted by the Auxiliary VFW in Sharonville. All Kids ages 0 to 12 are invited to visit and receive a gift from Santa. Everyone welcome. Refreshments provided. 2-4pm.
Come to Paul R. Young Funeral Homes in Mt. Healthy for Free Carriage Rides Saturday and Sunday 4-7pm. There will be live music from 5-7pm. Their famous life-size wax nativity scene with live donkeys and sheep remains open until Jan. 1.
---
Sunday, December 22:
Joseph Beth in Rookwood and Crestview Hills are hosting a Hanukkah Story Time starting at 11am on this first night of Hanukkah. Join them for a special story time where they will read books about Hanukkah and play dreidel!
Mt. Adams comes aglow with the soft light of thousands of luminaries starting at 5:30pm. Residential streets and the business district are lined with the temporary lanterns inviting neighbors to get out and enjoy the sights and sounds of the holiday season. There will be caroling by local choral groups and choirs, local bars and restaurants will offer holiday specials throughout the evening, and Santa will visit the Monk Fountain at 6:00pm with tours running 6:30-8:30pm.
There is a Menorah Lighting in Blue Ash from 5:30-7:30pm at Summit Park. Join in celebrating Chanukah with a Menorah lighting at the observation tower. Outdoor activities include tower rides, a photo op and an exciting chocolate gelt drop! Indoor activities include Latkes, doughnuts, hot dogs, games, prizes, and Chanukah crafts! Free, open to the public, all ages.
Come for the viewing of National Lampoon's Christmas Vacation; stay for the free appetizers. For the 7th year, Tavern On The Bend is celebrating the holidays with the classic Clark Griswold movie and few free aps from 7-10pm.
There are two Mini Trio Make & Take Workshops at Board and Brush today in Montgomery: 1-130pm & 2-2:30pm. All materials and step-by-step instructions will be provided allowing you to create a beautiful piece for your home or a gift. All projects will be stained dark walnut; you can choose from a variety of paint colors in the workshop. Please note, due to the size of these projects, no personalization is accepted. Registration required, $20.
Take in a free presentation of A Madcap Christmas Carol from 3-4pm at the Evendale Recreation Center. The Madcap puppets turn this Christmas ghost story into a fantastically funny tale, bringing your favorite Dickens characters to life with giant puppets and exciting new twists. Ages 5 and up! Reserve your seat online or call 513-563-2247.
It is not too late to get a photo of your fur-kid with Santa thanks to the MadTree Taproom. Bring your furry friend in for a free 4×6 photo from 12-4 pm. Any donation will be given to Circle Tail, Inc., a local non-profit that provides service and hearing dogs to people with disabilities at no cost to the individual. They will have a few costumes and dress-up items on hand, but feel free to bring your own outfits.
Come to Paul R. Young Funeral Homes in Mt. Healthy for Free Carriage Rides Saturday and Sunday 4-7pm. There will be live music from 5-7pm. Their famous life-size wax Nativity scene with live donkeys and sheep remains open until Jan. 1.
Meet Santa at Krohn Conservatory from 6-7pm. Please bring your own camera. It is free with purchase of regular admission: adults/$10, youth (ages 5-17)/$7, children 4 and under are free.
---
*Great Parks of Hamilton County requires a Motor Vehicle Permit for entrance to the parks.

All events were accurate at the time of this posting but things do happen and events do occasionally get canceled or postponed. You should always double check with the event source before you head out the door. Links for each event are provided so that you can be sure the date is still accurate before you head out.