Partner, Get Your Tickets for The Old West Festival at 20% off in the Month of August!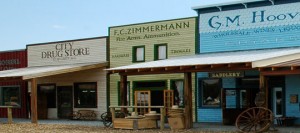 The Old West Festival is a one-of-a-kind event in Ohio – rolling back into town at its permanent site just 15 minutes from I-275, east of Cincinnati.  Visitors will be stepping back in history to a time when famous lawmen like Bat Masterson and Wyatt Earp reigned, where gamblers such as Doc Holiday played faro and Boothill was a place you didn't want to be at the end of the night.

The fourth annual Old West Festival – running weekends September 10 to October 9 – will transform rambling acreage of beautiful country into an authentic Dodge City Wild West town dating back to 1878. Come in your best period attire.  We have a patron "costume" contest each day in the Long Branch Saloon at 1pm.

Festival times and hours are Saturdays and Sundays running September 10 to October 9 from 10 a.m. until 6:00 p.m. The Festival is located at 1449 Greenbush Cobb Rd, Williamsburg Ohio, 45176 between Mt. Orab and Williamsburg, Ohio just off St. Rt. 32.

Want to see more?  Take a look at our post from last year when you click here: Day 164 – The Old West Festival
Get 20% off your ticket price when you order your tickets online in the month of August (2011).