Here we are with another installment of "365 Things to do in Cincinnati" and today we are shining the light on the new Taste of Belgium location on Short Vine.
We've been to the Taste of Belgium Bistro many times and it's one of our favorite places to eat. Their food is superb. Seriously, I like everything on the menu and I think I have actually tried every single thing! In addition to great food, the service at Taste of Belgium Bistro is top notch.  Knowing that, we were excited to get to try out their new spot.
To be honest, I wasn't expecting much as we walked up.  The restaurant is located on the street level of some University of Cincinnati graduate student housing maybe (?) and it looks pretty plain from the street.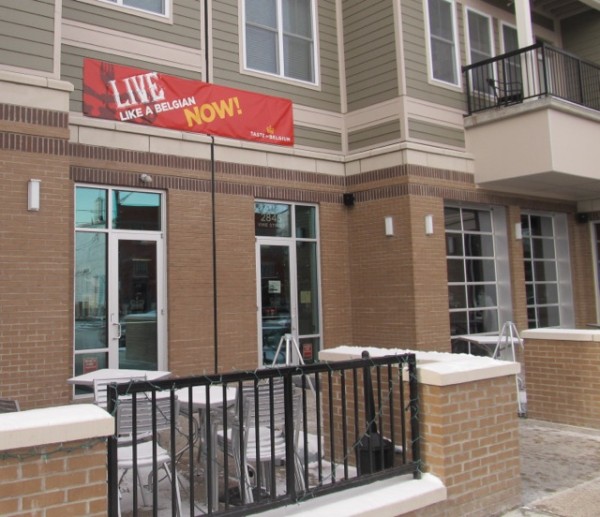 But when you walk in the door you realize you're in for a nice experience.  The entire place is open and full of light, thanks to the windows that run the entire front of the place.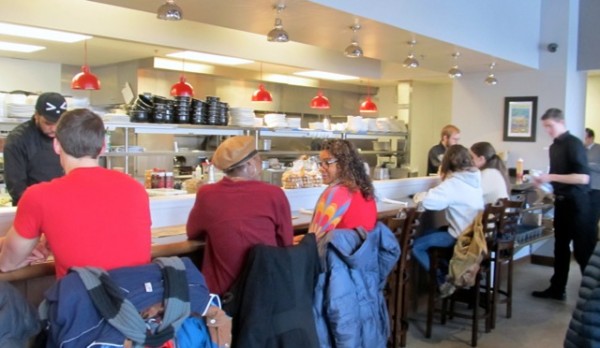 You have a number of seating options. There's a counter right at the kitchen if you like to watch it all happen. There are tables off to the right, near the kitchen. And more tables off to the left. You can also enjoy a seat at their full service bar (at which you can order food as well).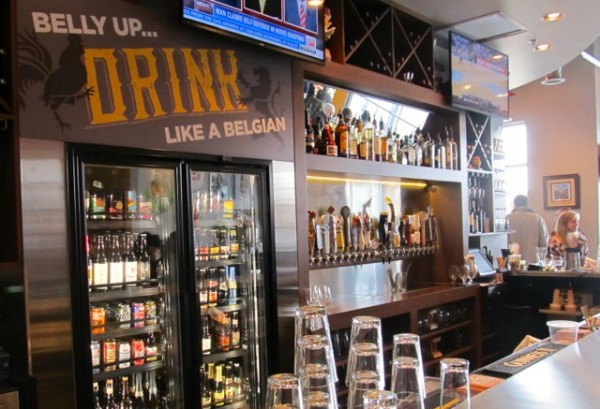 The decor is industrial and fits the space well. The walls feature some funky artwork. And I especially like the big brown craft paper menus that double as wall art. They fit right in with the whole industrial vibe of the place.
If you have a large group, they have a few long tables right at the window with gorgeous overhead lighting.  You can also sit there as a smaller group if you like the communal table experience (which we really enjoy).
But what about the food, you ask? Well, I never would have guessed that anything could beat my love for the Bistro's "Chicken and Waffles" but I was mistaken. My new favorite is Taste of Belgium's "Goetta Hash".
Goetta Hash is served up in a rather large bowl. At the bottom you'll find frites (Belgian fries).  Top that with sautéed peppers and onions.  Over that is a generous piece of crispy goetta. And if that wasn't enough, they top it all of with a fried egg. Oh my! It sounds like such an odd combo but let me tell you – this works! It is an amazing dish and one that I will definitely seek out again.  I should tell you, however, that Goetta Hash is only available during Brunch hours (but that is all day Saturday until 5pm and Sundays too).
We really enjoyed our Taste of Belgium on Short Vine experience and will definitely go back again… and it will probably be for brunch!
Taste of Belgium on Short Vine is located at 2845 Vine Street (near the UC campus)
Connect with Taste of Belgium on Facebook