It's our day 136 of "365 Things to do in Cincinnati" and today is one whopper of a thing to do – take a helicopter tour over the city!
Saturday was my husband's birthday and I bought him a helicopter tour of the city as a gift.  And I bought a ticket for me too :).  It was one of the most amazing things I've done yet and has taken the #1 spot for my favorite day so far.
The tour we took is offered by Stratus Helicopters.  The tour starts over at Newport on the Levee, just west of the riverboats and directly across the Ohio River from Great American Ballpark.  Stratus Helicopters has a launch pad and a small office right on the river bank just north of Newport on the Levee.
We geared up and jumped right in.  The helicopter can take three passengers – one in the front and two more in the back.  Every seat is a window seat – there's not a bad spot in the helicopter.  It didn't take very long to get airborne and off we went!  We got up to 500′ in the air at a speed of about 78 mph (ground speed).  Above you'll see a bird's eye view of a barge that was chugging down the river as we got started.
After we crossed the Ohio River we started our loop around the city.  First was Great American Ballpark.  What a cool view to be able to look down into everything!
Above you'll see a picture of our pilot.  My husband sat up front with him (it was HIS present after all) and I sat in back, right behind the pilot. That actually proved to be a mistake for me because I have a fear of heights and the pilot's window is open.  It freaked me out.  I would have been better off on the other side where it was all covered with window.  Lesson learned!  I found that I was fine as long as I looked through my own window and not out his opening.  Geez!
Everywhere we looked we saw green.  It's hard to see how many trees we have in our fine city until you get a look from above.  Look at all that green!
Above you'll see the Clifton area with Hughes High School at the bottom center and the University of Cincinnati's campus on the left.
We took the "Around the City" tour which lasted about 7 minutes.  That doesn't sound like a long time but it really was a great amount of time for the tour.  It would have been nice to stay out longer but it was a nice ride.  As we were heading back we headed over Eden Park (seen above) and Theodore Berry International Friendship Park.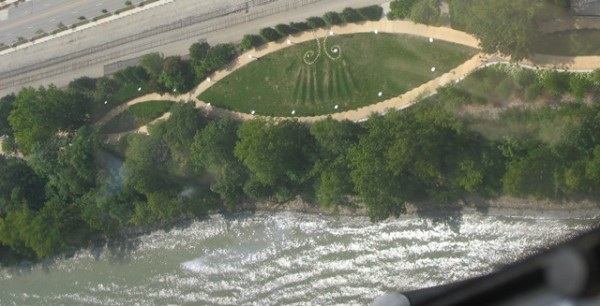 Friendship Park really does have incredible views from the air.  Then we headed back near the city skyline….
And then back across the Ohio River towards the landing pad.  The helicopter ride was amazingly smooth and the landing was like riding down onto a pillow.  We had an amazing pilot!
They also have a helicopter simulator on site that allows you to feel what it's like to sit behind the wheel of a helicopter.  The flight simulator has an amazingly realistic screen that moves to simulate your flight.  You can choose to fly over fields, mountains, water, etc.
And for those of you who would love to actually BECOME a helicopter pilot, they offer something called a "Discovery Flight" where you can have a 30 minute in air lesson accompanied by a 30 minute on land lesson to give you a taste for what it's like.
No reservations are required to take a tour and walk ups are welcomed.  They do have a limit of three people on the helicopter.  No flights can be conducted 1 hour before until 1 hour after any major sporting events such as a Reds game or a Bengals game.  Call them to check availability.
Stratus Helicopter Tours is located right on the Ohio River on the Kentucky side, on the river back west of the riverboats and directly across from Great American Ballpark. edited in 2015: Stratus now operates solely from their Lunken Airport location and is no longer operating out of Newport.
Connect with Stratus Helicopter Tours on Facebook