It's Day 260 of "365 Things to do in Cincinnati" and today we had lunch at Soho Sushi.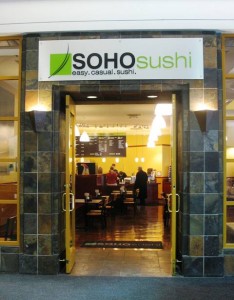 I know I just did a restaurant yesterday and I really had no intention of doing another one today. But we stopped here for lunch and it was so incredibly good that I just had to post this for you all to indulge in too! Soho Sushi is a relatively new place downtown. Located on the 4th Street end of Tower Place, you can enter from inside Tower Place or from the street (although today those doors were closed). By it's NOT in the food court area. This is a classy little place all its own.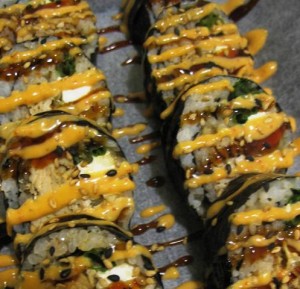 Let me tell you folks – I am a new sushi lover!!! This place was AMAZING.  Totally amazing. It is rare that I leave a restaurant excited about what I just had. And this place left me totally excited and ready to plan my next visit. Let me back track a bit and admit that I'd never had real sushi before today. I think I've tried a bite of crappy stuff from the grocery before and that made me swear off the stuff. Until today…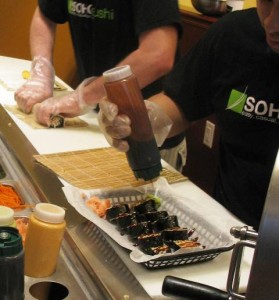 I was downtown shopping with my son and we decided to stop in Soho Sushi for lunch because he love sushi. We went up to the counter and ordered. It's kind of like a Subway or Chipotle experience – only with sushi. You choose your wrap (seaweed or soy – more on that later) and then your choose your meats and then you choose your veggies and they'll even top it all off with your choice of sauces.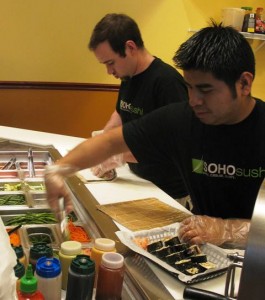 Or you can go with a predetermined roll like I did. Not knowing what I wanted, I played it safe and tried the Chicken Roll which was a seaweed wrap, tempura chicken, scallion, cream cheese, cucumber and spicy mayo. Everything is made fresh while you watch. You then take your food to one of the many tables they have in their dining area.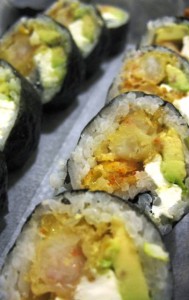 I was not prepared for a number of things here. Sushi lovers – feel free to laugh. They had no knives and forks (at least none that I saw). Evidently you just pick the entire thing up and stick it in your mouth. Being the delicate thing that I am (everyone else feel free to laugh now too) I tried to bite it in half which resulted in sushi all over the place. After that I decided an entire piece of sushi in my mouth was the way to go :). I'm going to be completely honest here and say that I was not thrilled with the seaweed wrap. I'm sure it was good to sushi lovers (my son loved his) but I just couldn't get past the texture. And it must have shown because the owner (Zach) came over with the soy wrapped sushi for us to try.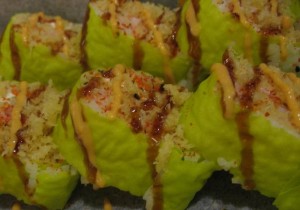 And let me tell you – the soy wrap is the way to go!!! It's a softer texture and has a neutral taste. This sushi was made with a soy wrap, shrimp, crab, rice, carrots, and I believe we had cream cheese in there too (although I'm not sure). Topping it off was tempura crunch (YUM!) and eel sauce. Oh my! It was so good. And it's VERY affordable.  I am just thrilled and want to tell everyone to RUN down there and try it out. And call me when you go – I'll meet you there! Soho Sushi is now called Fusian Connect with them on Facebook