We decided to make the trip downtown today to experience Snow at The Banks, a frosty fun event happening each weekend in January.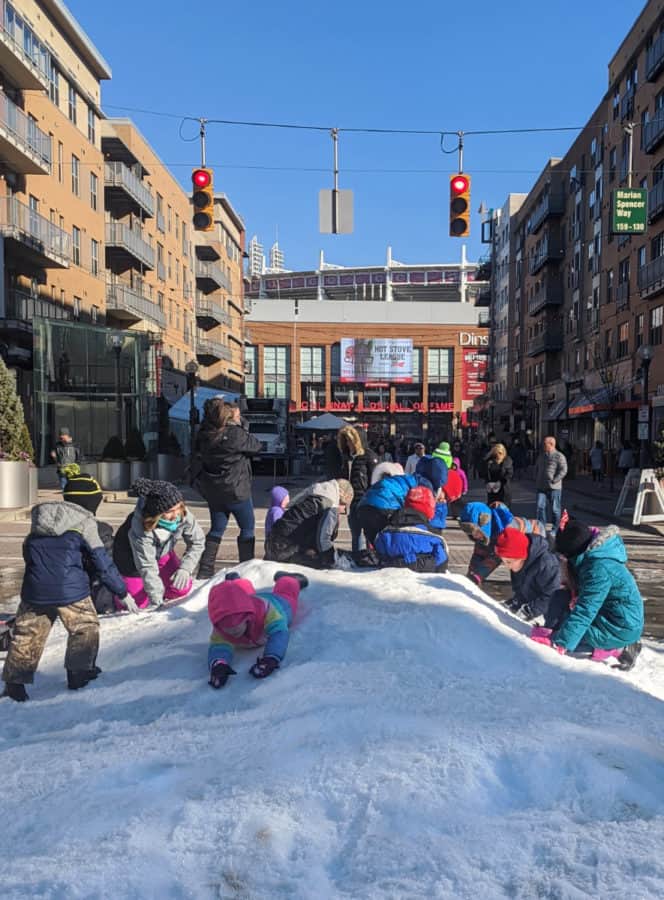 I feel the need to preface all of this by saying that IN MY OPINION and as a daytime excursion, this is an event that will be most enjoyed by families with young children. There are certainly some elements that will appeal to all ages (fire pits, ice sculptures, etc.) but the majority of the activities we saw were definitely more suited for young children.
Be sure to check out the more "adult" events at the end of this post.
My favorite part of the event was the Live Ice Sculpture Carvings at Great American Ball Park's Crosley Terrace. We watched as this man carved a penguin with an electric saw.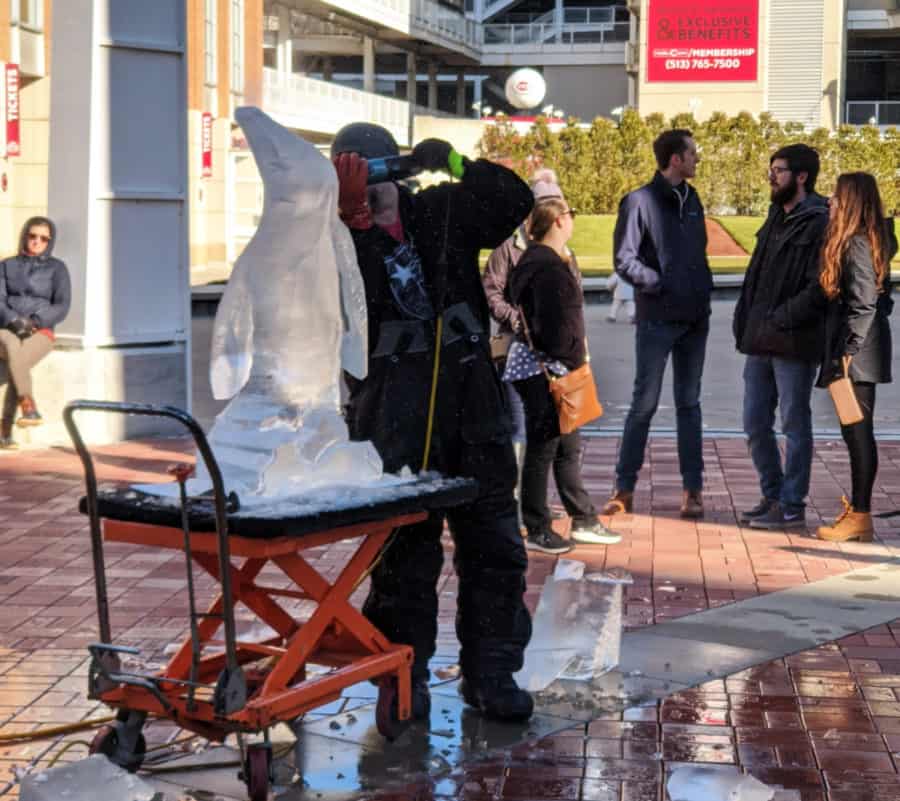 There were a few recently carved sculptures to admire as well.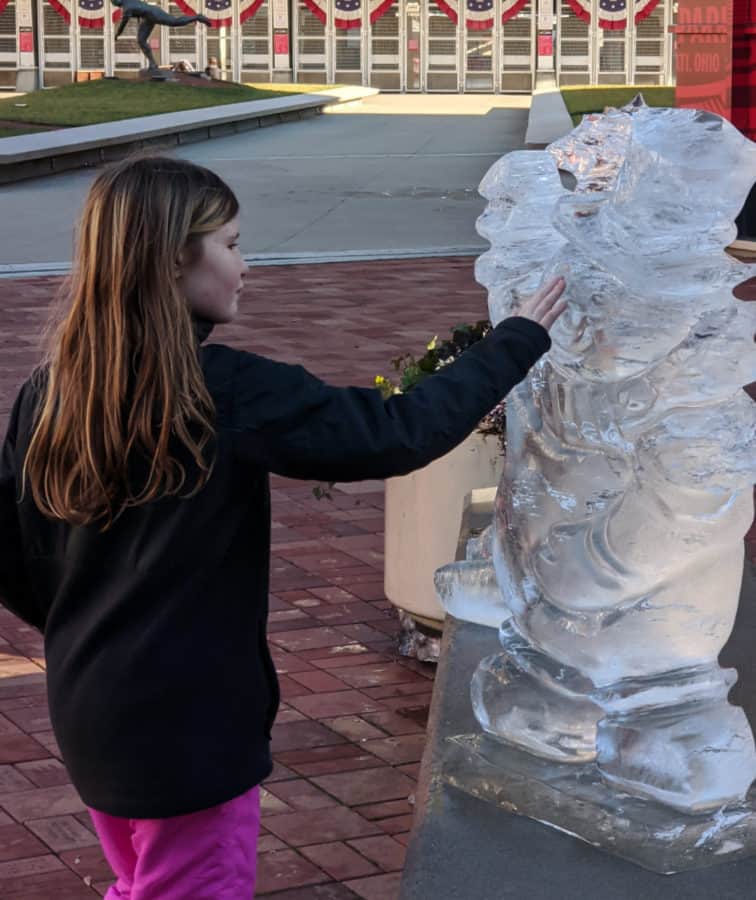 Kids will enjoy the Snow Blizzards / blowing snow that occurs on Freedom Way (on the half hour).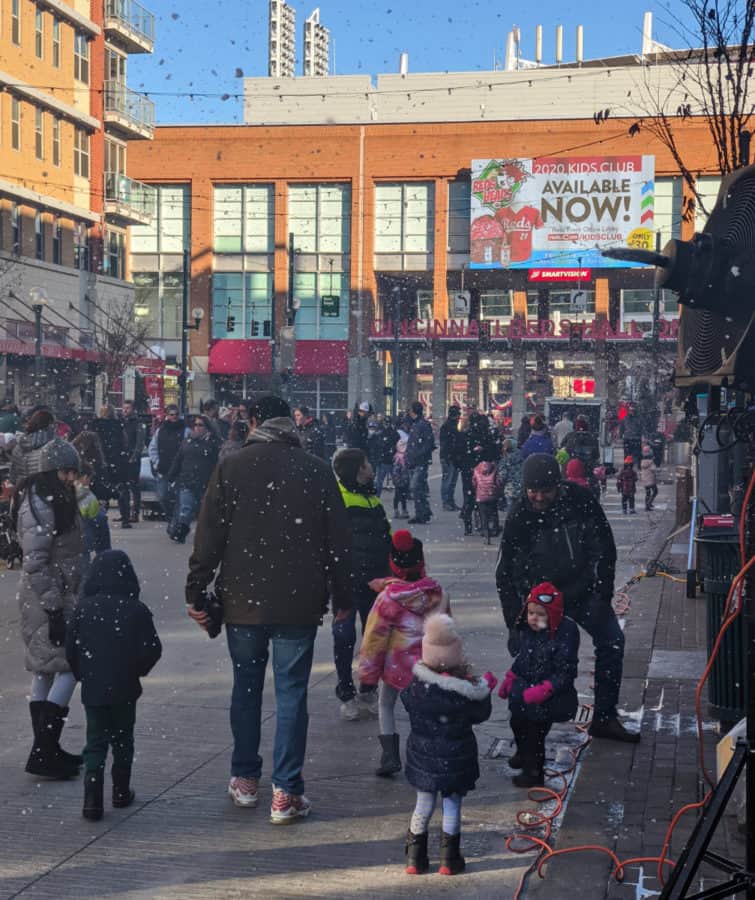 Kids were enjoying a ride down the 50-foot long snow tube ramp (located near the SkyStar Wheel). Tubes are provided for the ride.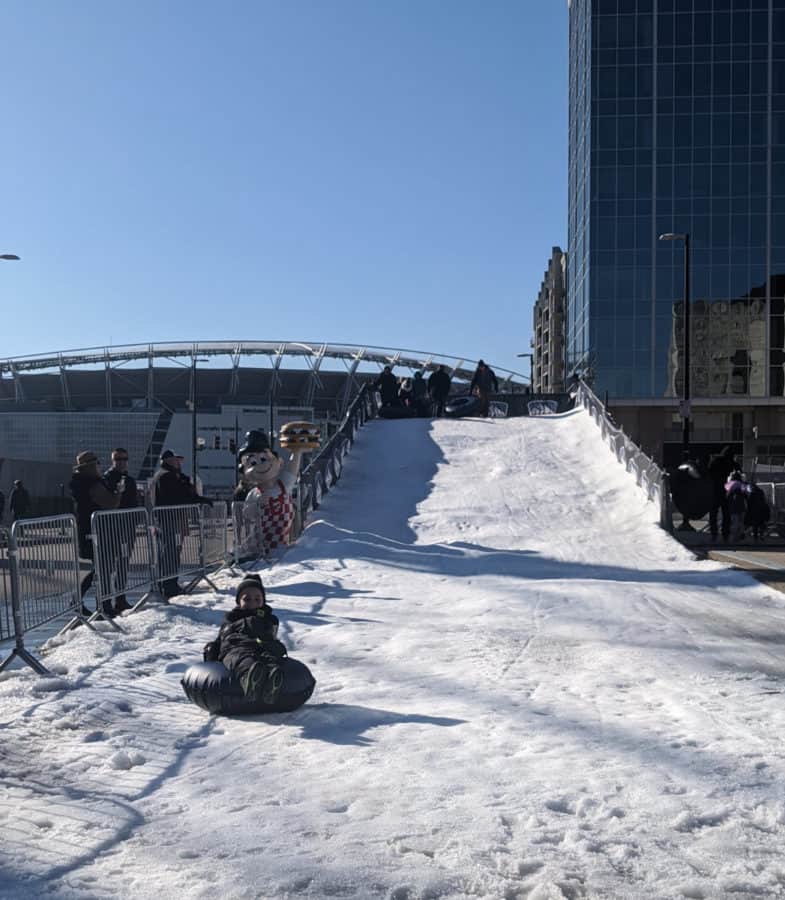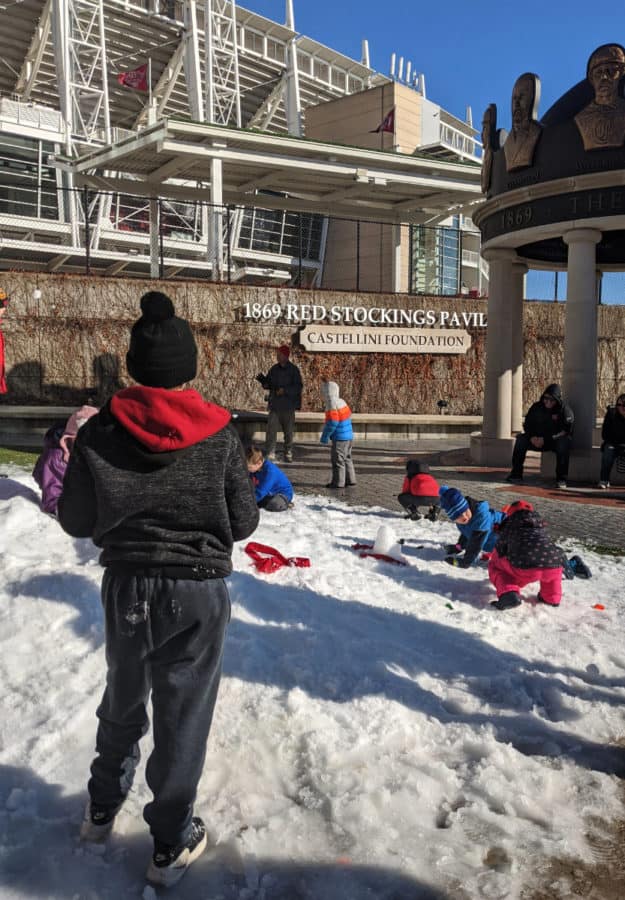 There's a "Snowman Making Village" just outside Great American Ball Park but, honestly, it was really more of a mound of snow today. I've got the feeling that the weather is putting a damper on the ability to produce and keep the snow supplies up. The weather was in the 40's today and the last two days have been rainy. I'm hoping this mound of snow will be improved upon over the next few weekends. Even if it's not, it makes a great snowball making area… and there were lots of kids enjoying it today.
Kids can grab a stick and play some street hockey, complements of The Cincinnati Cyclones.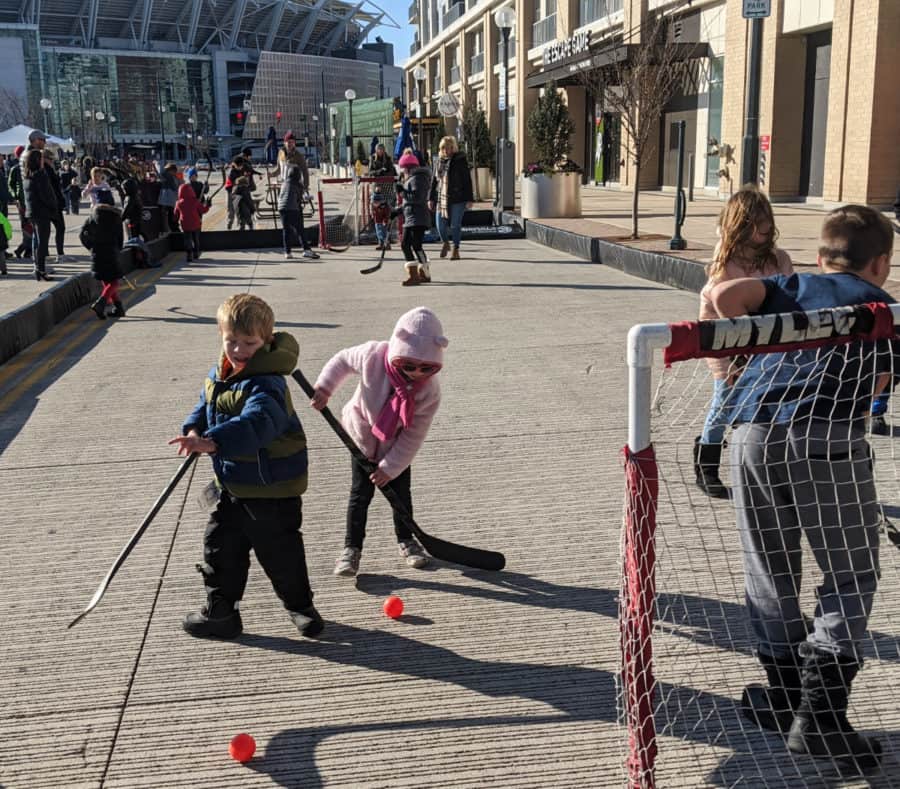 Don't miss the sledding hill on Joe Nuxhall Way (near Great American Ball Park). This hill is pretty tame and you can stand right along the side to watch the kids.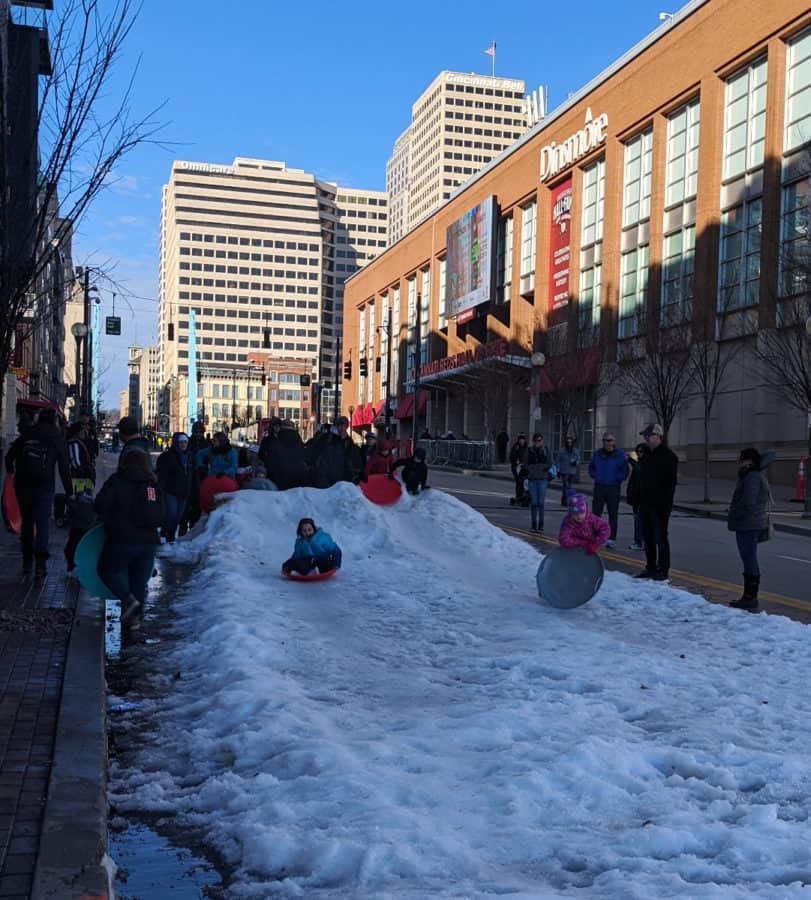 Adults will enjoy special Friday night programming (5-9pm) including the Frontgate Snow Lounge with fire pit seating, snow blizzards on the half hour, sing-a-longs from your favorite radio stations and beer/wine. No other snow attractions are open on Friday evenings. No admission is charged on Friday evenings.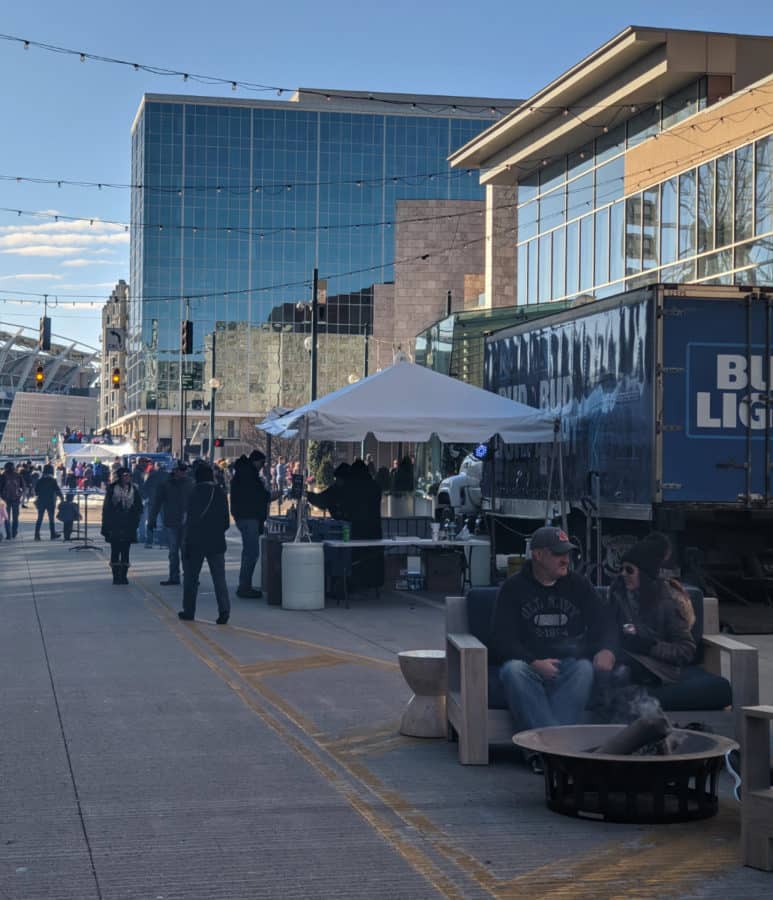 They do have a spot to buy a beer (reasonably priced) and they have fantastic fire pits and comfy outdoor couches all along Freedom Way. And, of course, the surrounding restaurants are happy to serve you.
Adults might also enjoy the live acoustic music performances at the Moerlein Lager House Beer Garden on Sundays. Featured artists include:
January 5, 2-5 p.m., John Ford
January 12, 2-5 p.m., Tracy Walker
January 19, 2-5 p.m., Chandler Carter
January 26, 2-5 p.m., John Ford
All guests must sign a waiver (parents/guardians to sign for children under 18) to purchase a wrist band and enjoy the snow activities. Please download your waiver to print/sign in advance to speed up your registration process.
You can enjoy Snow at the Banks on weekends in January, 2020.
Hours are Friday: 5-9pm, Saturday: 12-8pm, and Sunday: 12-6pm.
Admission is $5 and you must sign a waiver to participate.